With the release of new Nvidia and AMD graphics cards adding to the massive stock of their previous generation cards, there are many options to consider when buying a GPU. The price of last-generation cards has fallen by a lot and the newer ones have adjusted their prices.
Following a bad phase of an inflated market, and low stock of GPU, now is a great time to buy a graphics card. If you want the fastest thing on the market, you can simply go with RTX 4090 and be done with it. But, many buyers look at the best value GPU to power their rig.
This article will delve into a cost-per-frame analysis of all the graphics cards available in the Indian market.
Testing conditions and considerations
A total of 15 games are used for comparing the graphics card which includes many popular titles, competitive titles and even demanding titles. The list of games included are:
CS:GO
DOTA 2
PUBG
Apex Legends
GTA V
COD: MW2
Cyberpunk 2077
RDR2
God Of War
Forza Horizon 5
Plague Tale Requiem
Spiderman Remastered
Dying Light 2
Battlefield 2042
Horizon Zero Dawn
Valorant
The test is done at appropriate settings reflective of real-world scenarios and tested at both 1440p and 4K.
Disclaimer
The cost-per-frame analysis is a great tool to measure a GPUs worth but it is not perfect. You have to consider some other factors like the targeted resolution, encoding, decoding capabilities or performance in production workloads like Blender, etc. if you use your GPU for that as well.
With Ray Tracing becoming more mainstream, you might want to consider that as well. Although ray tracing or upscaling (DLSS/FSR) performance data isn't used here.
Although just from the perspective of the gaming, this is a great tool to understand the "value" of the GPU you want to buy.
Cost-per-frame: Current Pricing at 1440p, Indian Market
AMD has its mid-range cards at the top from RX 6600 to RX 6700XT. It is no surprise that RX 6600XT is the best value card for 1080p/1440p gaming. It can run most of the titles at respectable frames at high settings.
For a GPU under ₹30,000, AMD RX 6600XT is a perfect choice rivalling Nvidia's RTX 3060. Although, if you are into ray tracing, RTX 3060 might serve you better although it will cost you a little more.
Also Read: Nvidia vs AMD: GPU Price and Performance change in recent years
For budget GPU under ₹25,000 AMD takes the top spot again with RX 6600 defeating the Nvidia RTX 3050 both in performance and value. There is no reason to consider anything other than RX 6600 for a budget GPU under ₹25,000.
For GPU under ₹40,000, RTX 3060Ti and AMD RX 6750XT are great choices, RTX 3060Ti being slightly better in value and lower in price. You could even choose RX 6700XT for a slightly lower price and similar performance.
For 4K/1440p gaming going towards the mid-tier performance category, RTX 3070Ti is the best option. It can deliver great performance at both 1440p and 4K resolution. RTX 3070Ti can be a great choice if you want a decent 4K card at a relatively low cost. RTX 3070Ti sits just below ₹50,000 and is also a better deal than AMD RX 6800XT.
Also Read: The best value 1440p monitor in India
GPU between ₹50,000 to ₹70,000: RX 6800XT vs RTX 3080?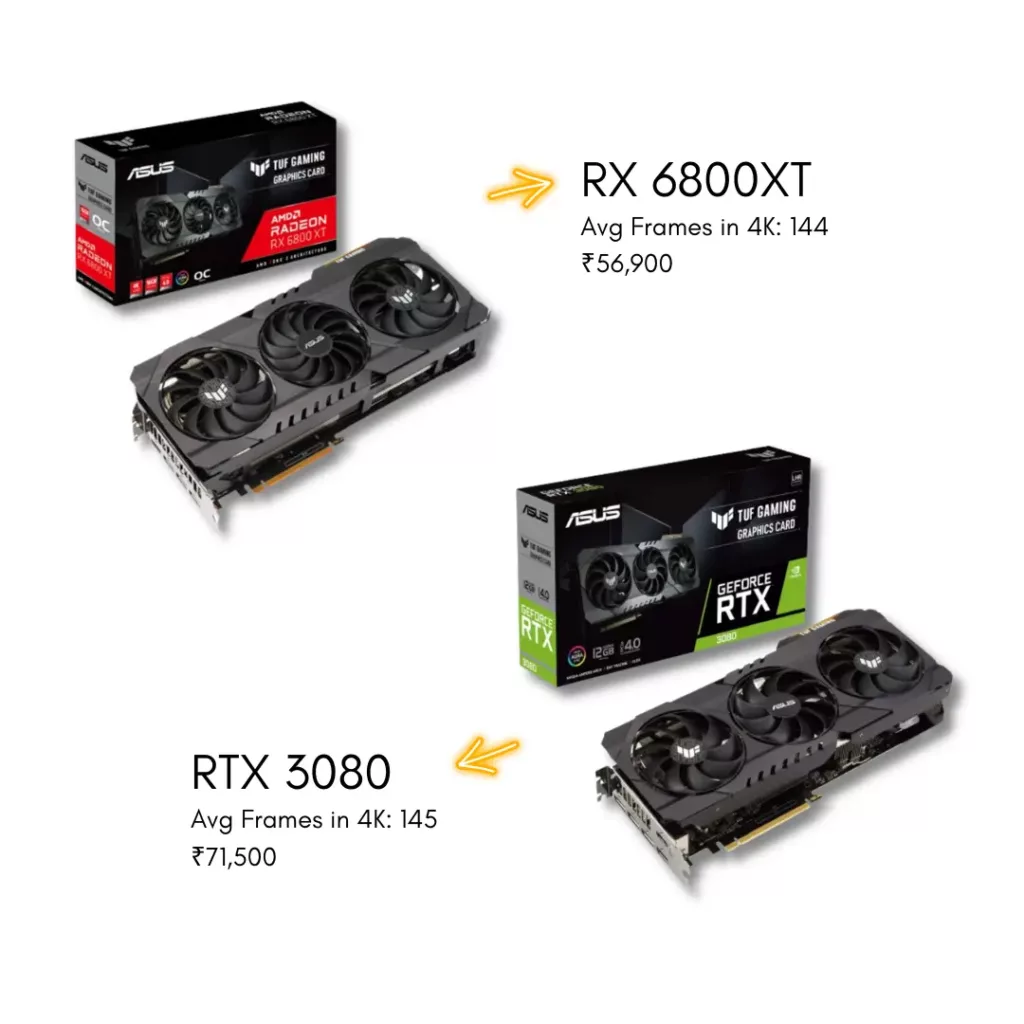 You must have noticed that there is no competition in the price category of ₹50,000 to ₹70,000. If your budget falls in this category and can't spend beyond this, RTX 6800XT is a good GPU to consider. Sitting at ₹56,000 you can easily run games at 4K as many latest games recommend RX 6800XT for 4K gaming.
RTX 3080 also falls in that price category but is far behind RX 6800XT in value. Ideally, you can go with RTX 3070Ti and save money as the RX 6800XT is only 15% faster for ₹10,000 more. When ray tracing and other small advantages are considered, RTX 3070Ti looks like a more compelling option.
Cost-per-frame: Current Pricing at 4K, Indian Market
Among the new generation of graphics cards from AMD and Nvidia, RX 7900XT is the best deal you can get as of now. Although RTX 4070Ti is a very compelling option at ₹80,000. This can be difficult to choose as the RX 7900XT is costlier but offers 13% more performance.
Also Read: Best value gaming PC build under ₹1 lac
RTX 4090 is the fastest GPU in the market right now and surprisingly it is a better deal than RTX 3090, RTX 3090Ti and AMD RX 6950XT. If you just want the fastest GPU, RTX 4090 provides an amazing performance but crosses the ₹1.5 lac mark.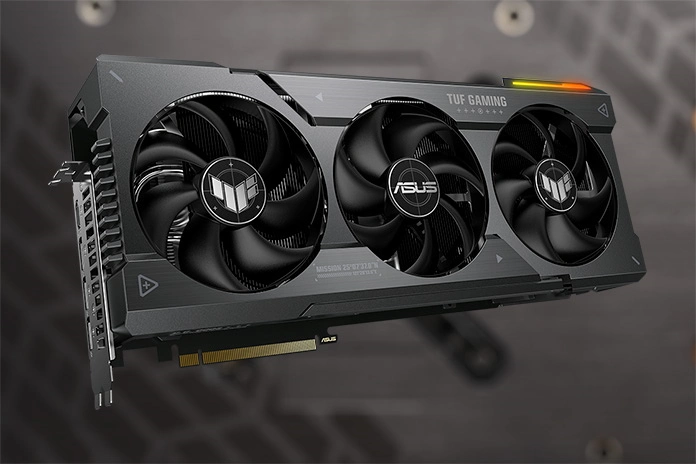 The actual better value GPU at the top-end is the AMD RX 7900XTX. Surprise! Sitting at just above ₹1 lac, it is the second fastest GPU on the market and is a significantly better value than RTX 4090 or even RTX 4080.
In the high-end segment, price isn't everything for a buyer. RTX 4070Ti and RX 7900XT might be better value cards than RTX 4090 and RTX 4080 but the choice can lean towards RTX 4090 because of its performance.
At 4K gaming, RTX 4090 is about 30% faster than RX 7900XTX and that is a very significant performance gap. There is a still reason to buy these cards at more than a lac. It wouldn't necessarily be a good deal but one might look at getting the maximum performance for a high-refresh-rate experience.
For budget 4K gaming, RTX 3070Ti or AMD RX 6800XT are very compelling choices as mentioned earlier. Just looking at the value, again RX 6600XT is the best card but you wouldn't be able to enjoy 4K gaming on a card that is meant for 1080p/1440p gaming.
Cost-per-frame analysis: Best Budget GPU in the Indian market, 1440p
AMD RX 6400 is the best-value budget GPU in the market for less than ₹15,000 although it comes with some problems. RX 6400 performs worse on PCIe 3.0 motherboards when compared to PCIe 4.0. To be fair, this won't be a problem if you are building a new PC because you can get an inexpensive PCIe 4.0 motherboard.
If you are on an older platform with PCIe 3.0, RX 6400 isn't recommended. The next best thing would be either GTX 1660 Super for ₹19,000 or GTX 1650 for ₹14,000.
RX 6500XT also has the exact same problem. Both of them also do not support an encoding chip although it only matters if you are into streaming or video editing.
In general, the lower tier category doesn't have amazing cards but if you have a PCIe 4.0 motherboard you can definitely choose RX 6400 and enjoy medium-high 1080p gaming. Even after years of release, GTX 1650 is a good choice for a GPU under ₹15,000.
Intel Arc A380 performs very similarly to GTX 1650 and is slightly more expensive but it has one advantage – more VRAM. Arc A380 has 6GB of memory which is usually limited to 4GB at this price point. Many games' performance is limited due to lower memory even at 1080p. If you play such a game which requires more memory even at 1080p, Intel Arc A380 isn't a bad option.
If you are considering GTX 1660 Super for its performance, it is recommended to spend a little more and get RX 6600 for far superior performance at a very minimal price increase.
What about Intel Arc GPU?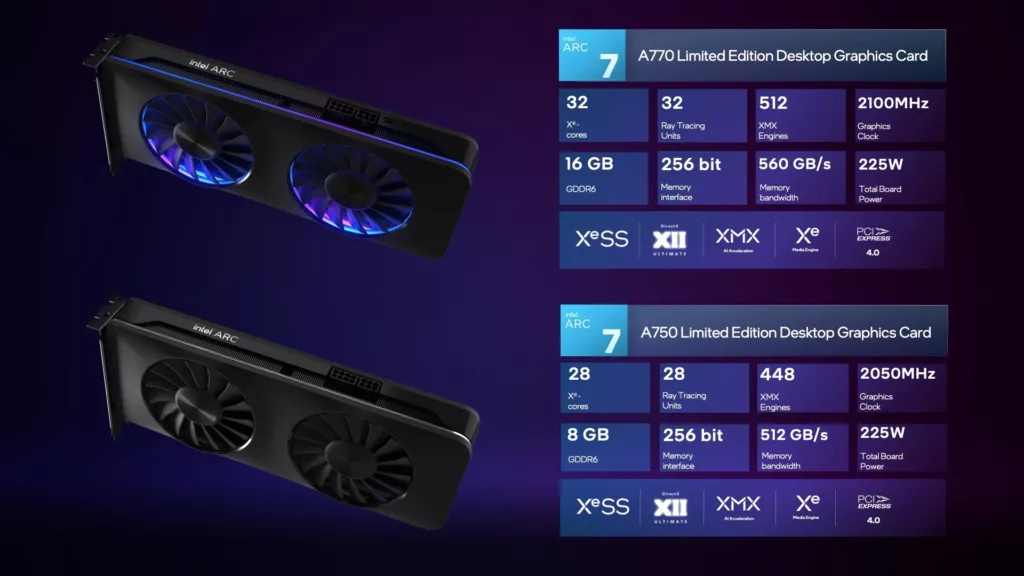 At the time of release, Intel Arc A750 and Arc A770 were riddled with bugs, performance issues and instability. Although with the recent update, the experience has improved, they still cannot compete with AMD's mid-range offering.
Intel Arc A750 performs similarly to RX 6600 and currently costs way more than RX 6600. Similarly, Intel Arc A770 has comparable performance to RTX 3060 and costs way more than RTX 3060.
Nevertheless, it is good to see another competitor in the GPU space who can potentially disrupt the market. It needs to be seen how Intel performs with their next-generation Battlemage GPUs.
Closing thoughts
Nvidia rules the mid-range segment with plenty of options whereas AMD has captured the value segment with its -60 class cards. At the top end, Nvidia has more options but doesn't necessarily provide the best deal.
The value proposition of a GPU can drastically change when the price drops after the launch. The MSRP of GPUs are getting higher and the biggest example of this is the AMD RX 6600/RX 6600XT.
For the launch price, it was considered a bad value card compared to the RTX 3060/RTX 3060Ti. Now that its price is considerably less than its competition, it is sitting at the top with respect to value.
While the cost-per-frame is not perfect, it paints quite an accurate picture of how good a deal you are getting for a GPU. There are things like encoding/decoding, ray tracing performance, AI performance or even memory that can affect your buying decision.
You can use the value chart as a reference to find the best GPUs in the budget you have considered.
There is also a serious lack of good cards in the lower tier and it needs to be seen whether AMD or Nvidia will try to capture this market. Intel has a great opportunity to capture this segment and gain a foothold in the GPU market.
FAQs
Where to get GPUs in India for the best price?
The best place to get GPUs at the best price is the computer market. For example, Nehru Place in Delhi, SP Road in Bengaluru, Lamington Road in Mumbai, etc. You can also order from online retailers like MD Computers, Prime ABGB, Vedant Computers, etc. These are official store partners through which Nvidia and AMD sell their GPUs.
Is GPU prices going down in India?
Following the shortage period and inflated market, GPU prices are now stabilised. It is a good time to buy a mid-range GPU from RTX 30 series or AMD RX 6000 series as they are selling at far below MSRP prices.
Which is best value 4K GPU?
Given the price and performance, RTX 4070Ti is a great 4K card alongside RX 7900XT.
Which is the fastest GPU in the market now?
Nvidia GeForce RTX 4090 is the fastest GPU in the market right now. Its current price in India is ₹1,56,000 ($1699 in US market).