1440p monitors are probably the best for gaming right now because of their decreasing prices, increasing quality and also more mainstream hardware capable of 1440p gaming. If you are hunting for a good 1440p monitor for gaming or even content creation, I have got a monitor that is an absolute value for the money. It can also be considered a budget monitor considering how much its price has dropped since its launch.
And this is not a list. This is meant to inform you of the best value-for-money 1440p monitor you can buy as of August 2022. These are not necessarily the best 1440p monitor on the market but this is more focused on value. The monitor I like to recommend is the Dell S2721DGF.
Dell S2721DGF
Quick Specs
Resolution: 2560 x 1440 (WQHD)
Panel and Size: 27″, IPS
Refresh Rate: 165 Hz
Colour Gamut: 92% DCI-P3/ 140% sRGB
Contrast Ratio: 1000:1
Brightness: 300 nits
Video Ports: 2 x HDMI, DisplayPort 1.4 mode
USB Ports: 4 x USB 3.0 downstream, USB 3.0 upstream
Dynamic Refresh Rate: AMD Freesync Premium, Nvidia G-Sync Compatible, 48Hz to 165Hz.
Good colour coverage

Good response times for mid-range option

Good build quality
Dell S2721DGF provides an excellent monitor at just ₹25000. Do not mistake it for another budget 1440p that just exists. It is on par with the top monitors in the market in many aspects.
Let's start with the basics. It's a 27-inch 1440p monitor with 100% DCI-P3 colour gamut which also corresponds to 137% sRGB. Although the out-of-box calibration is not good, you can tweak some settings and improve the colour accuracy.
Gaming performance and response time of Dell S2721DGF
The response times are great in this monitor consistently scoring below 5ms of response times keeping overshoot to a minimum even at 60Hz. At a higher refresh rate of 165Hz, it manages to have a response time of less than 4ms, which is fantastic.
With three Overdrive settings – Fast, Super Fast and Extreme, Super Fast is the best overdrive setting which keeps overshoot or ghosting to a minimum while giving better response times. At 144Hz and above, it is favourable to run it at Extreme overdrive settings.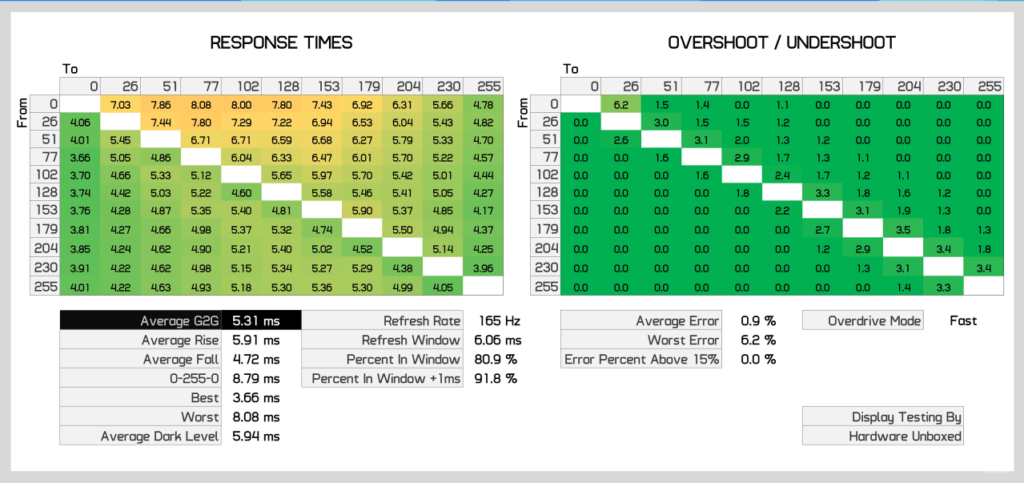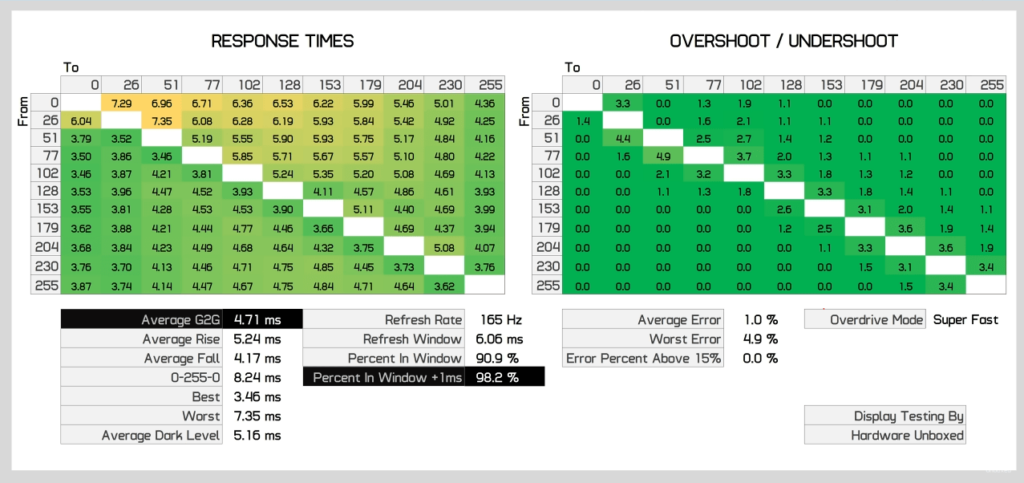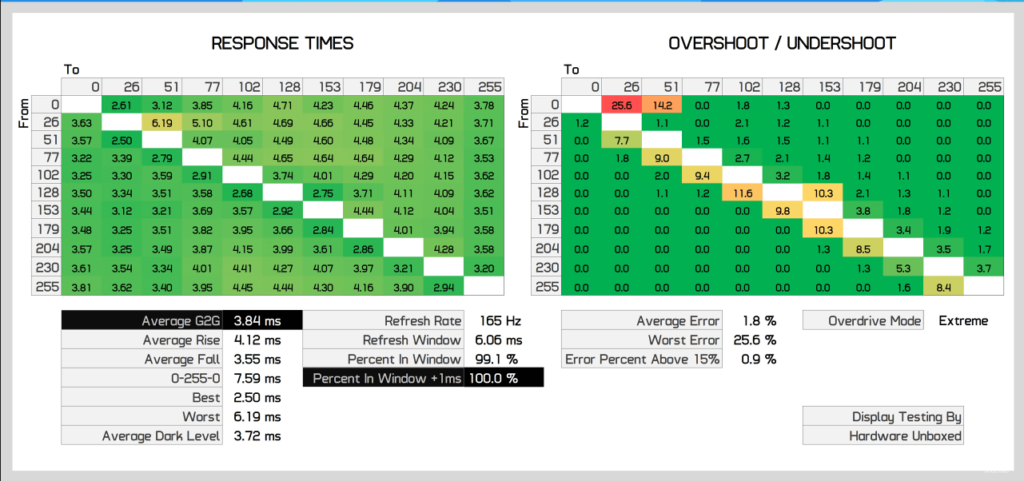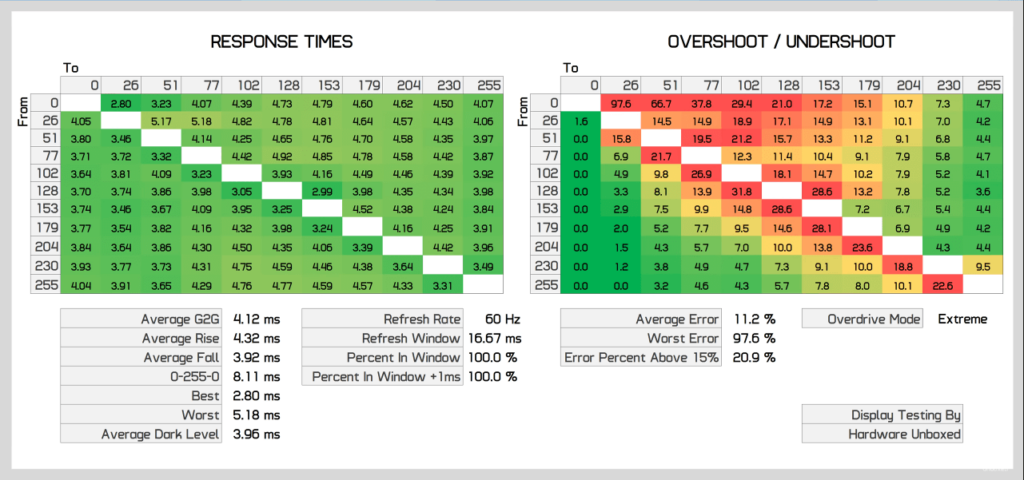 | | |
| --- | --- |
| Overdrive Settings | Refresh Rate |
| Super Fast | 48 to 120 Hz |
| Extreme | 120Hz to 165Hz (Overshoot is still negligible at 80Hz but starts becoming noticeable at 60Hz) |
Best overdrive settings for games
The best part is that you can use the single overdrive setting over a large range of refresh rates. Extreme mode improves response time but overshoot increases as you go to lower refresh rates.
I would recommend you to use Super Fast overdrive mode at all the refresh rates except for when you know you will get more than 144Hz consistently in a game. In that case, use Extreme overdrive mode.
It has AMD Freesync Premium Pro and Nvidia G-Sync compatible with a variable refresh rate in the range of 48Hz to 165Hz. 
The Colour performance of Dell S2721DGF
Gaming performance is excellent on this monitor but what about its colour performance and contrast ratio?
Dell S2721DGF has an excellent, wide colour gamut but the factory calibration is not good. It tends to oversaturate which might look pretty for gaming but for 100% accuracy, it might need some tweaking.
For content creation tasks which require accurate colours, you have to tweak colour settings since it doesn't support sRGB mode. To get started, apply these settings.
Gain
R: 98%
G: 95%B: 99%
Brightness
63
Contrast
80
Other settings
Default
The best colour profile and contrast settings for Dell S2721DGF
It has a slight backlight bleeding just like any other IPS panel and the white and grey uniformity are good enough although it could have been better. The contrast ratio is compromised for a faster response time which might make it difficult to showcase dark scenarios on the monitor with deeper, accurate blacks.
I do not see this as a major issue even while gaming unless you play a lot of games with stealth and hiding in the dark.
The peak brightness this monitor can reach is 385, at SDR, which is slightly more than the mentioned 350nits. 350nits is good even for a well-lit room and the anti-glare panel works well to avoid glare on the screen.
Why Do I Recommend the Dell S2721DGF as the best value 1440p monitor?
There are 3 main reasons:
It just costs ₹25,000.
It has an amazing response time with an average of 3.65ms with negligible overshoot and you can apply one overdrive setting over a large range of refresh rates.
Wide colour gamut
Note: This recommendation is only for the Indian market since the price is usually more for this monitor in the US or Europe. In that case, the best value monitor is MSI Optix MAG 274QRF-QD.
Downsides of Dell S2721DGF
It has a low contrast ratio which might not be appealing for people who want to use it more for content creation work or even for content consumption.
The black and grey uniformity is not ideal and the factory calibration is not good with this monitor. You have to tweak some settings by yourself to get the best experience.
As for the Indian market, you can make a case for the Gigabyte M27Q to be a better value but I would not consider it over the Dell S2721DGF. While the Gigabyte M27Q has a better contrast ratio, its performance is still inferior to the Dell S2721DGF.
For gaming, response times matter more than the contrast ratio. Even though it drastically improves its response time at higher overdrive settings, it creates a lot of overshoot which leads to inverse ghosting and it becomes visible at lower refresh rates.
Without overshoot, the response time falls behind that of Dell S2721DGF. It is also more expensive than the Dell S2721DGF in India.
Conclusion
₹25,000 is the budget segment for a 1440p monitor and it is astounding to see a monitor with this kind of performance at this price tag. While there are other monitors which are better than this but they are also priced significantly higher.
The performance it offers and the price tag it comes at makes it the best value 1440p monitor. There is another which is very close to being the best value monitor which has slightly better performance and better colour performance.
MSI Optix MAG274QRF-QD is an amazing monitor with accurate colours and slightly improved performance but it also costs significantly more. You can check out more about this monitor here.
Is 1440p worth it?
Yes, 1440p is worth it for gaming since it offers better image quality and much more details compared to 1080p. Considering the narrowing price difference between 1080p and 1440p monitors, 1440p is worth it and a nice upgrade if you are still on 1080p.
If you need more insight into if 1440p is worth for gaming, check this out.
Does Dell S2721DGF have G Sync?
Adaptive-Sync is supported by the Dell S2721DGF via AMD's FreeSync Premium Pro and NVIDIA's G-SYNC Compatible technologies. FreeSync supports the variable refresh rate (VRR) ranges of DisplayPort (48-165Hz) and HDMI (48-144Hz). It can also be used with Xbox consoles, with a VRR range of 48-120Hz at 1440p.
Should I use HDR on S2721DGF?
HDR on mid-range monitors are not great and HDR performance, in general, is not mature enough to implement in mid-range monitors. Dell S2721DGF has HDR10 but the HDR performance doesn't add much. While it has great SDR performance, HDR is not bright enough and can't fill the complete colour gamut. It also has a sub-par contrast ratio.
I would not recommend using this monitor for HDR.