The flagship GPU from AMD is out now a month apart from RTX 4090 and RTX 4080. AMD is competing with Nvidia on price rather than competing with its top performer RTX 4090. AMD had clarified that the RX 7900XTX is a competition to the RTX 4080 while also costing 200$ less.
While the expectations were high for RX 7900XTX, it fell short even by the number AMD put out during its announcement. AMD projected a 50% improvement, and higher, than its previous generation RX 6950XT but does it reach that level?
Is RX 7900XTX provide a better value than RTX 4080?
RX 7900XTX specifications
The primary CU (Compute Units) isn't that high compared to the previous generation flagship, RX 6950XT. RX 7900XTX has 96 CUs whereas the 6950XT has 80.
| | RX 7900XTX | RX 6950XT |
| --- | --- | --- |
| Compute Units (CU) | 96 | 80 |
| Ray Tracing Units | 96 | 80 |
| Boost Clock (GHz) | 2.5 | 2.3 |
| Game Clock (GHz) | 2.2 | 2.1 |
| Standard Memory Config | 24GB DDR6X | 16GB DDR6X |
| Memory Interface Width | 384-bit | 384-bit |
| Memory Speed | 20Gbpd | 18Gbps |
| Chiplets | 1xGCD and 6xMCD | N/A |
| Infinity Cache | 96MB | 128MB |
| Architecture | RDNA3 | RDNA2 |
| PCI Express Gen 4 | Yes | Yes |
| Graphics Card Power (W) | 355 | 335 |
RX 7900XTX Gaming performance
RX 7900XTX was hyped up a lot during presentations and people speculated it to have great performance beating RTX 4080 being significantly cheaper.
Here are some key performance numbers from RX 7900XTX:
Compared to RX 6950XT, RX 7900XTX has about 35% more performance.
Compared to RTX 3090Ti, RX 7900XTX has an average of 35% more performance in raster and similar ray tracing.
With the closest Nvidia competitor RTX 4080, RX 7900XTX performs the same but lags in ray tracing by about 20%.
Compared to the much older flagship RX 5700XT, the RX 7900XTX is almost 3 times more powerful.
1440p performance in RX 7900XTX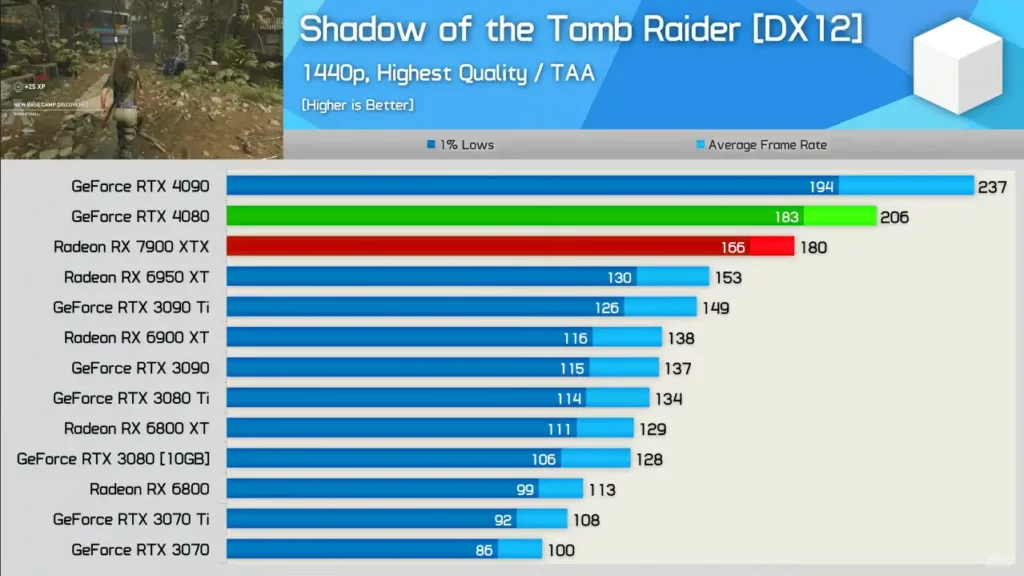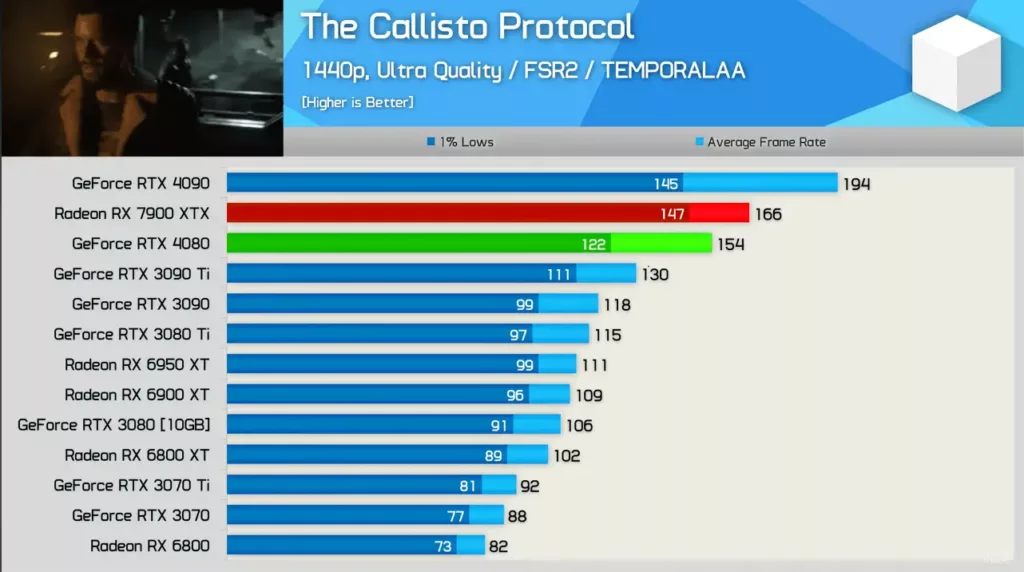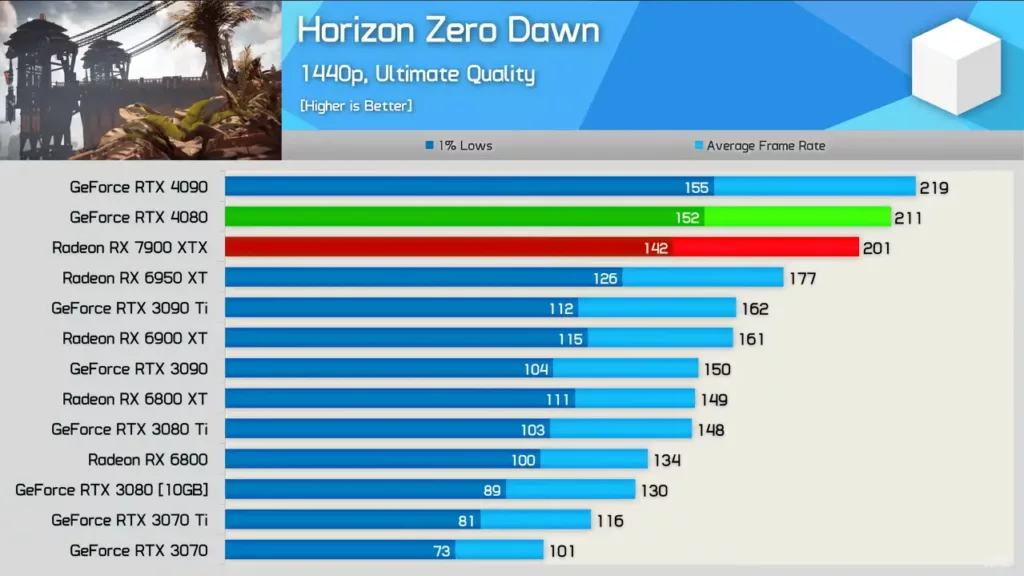 4K performance in RX 7900XTX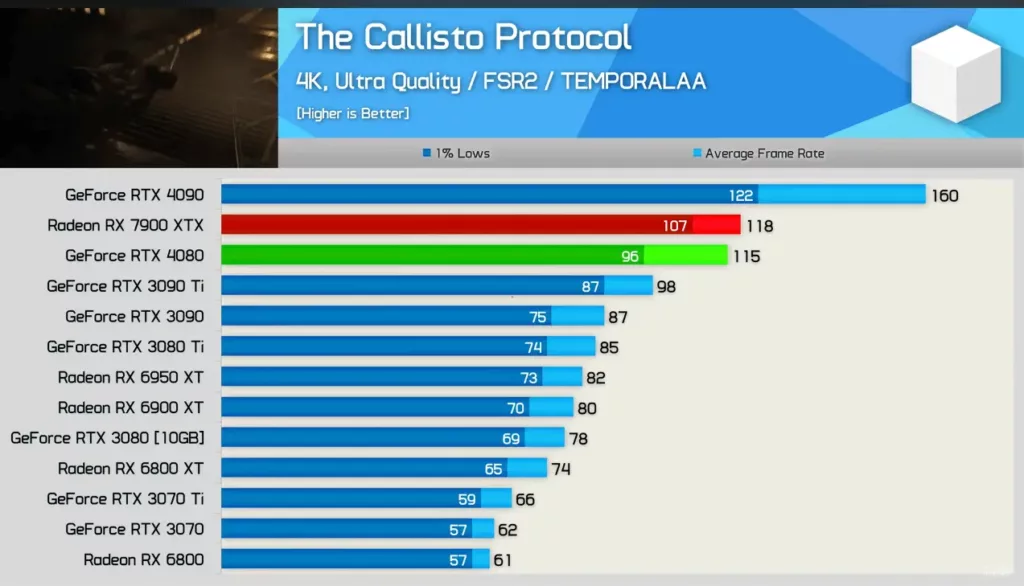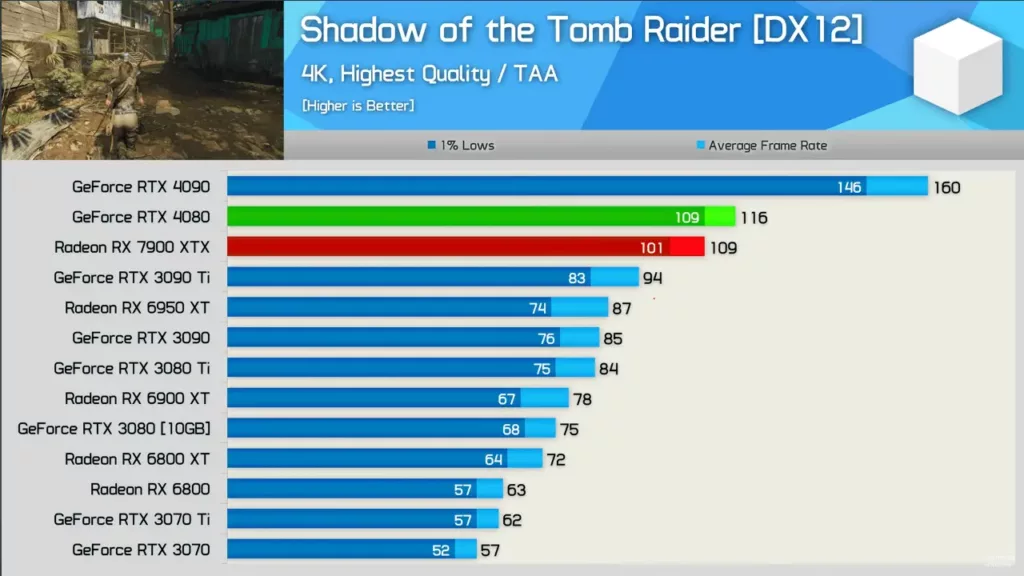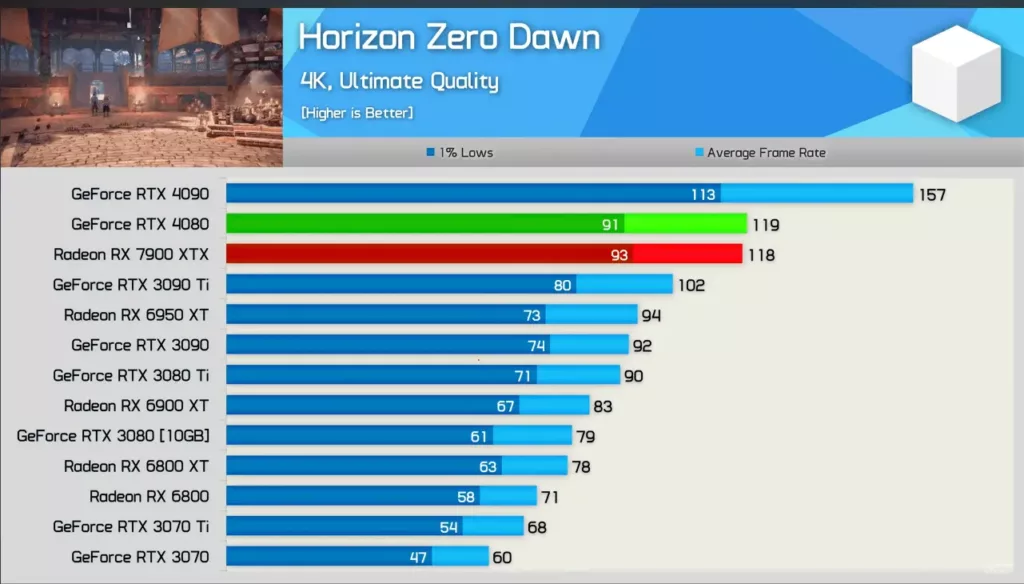 Ray Tracing performance in RX 7900XTX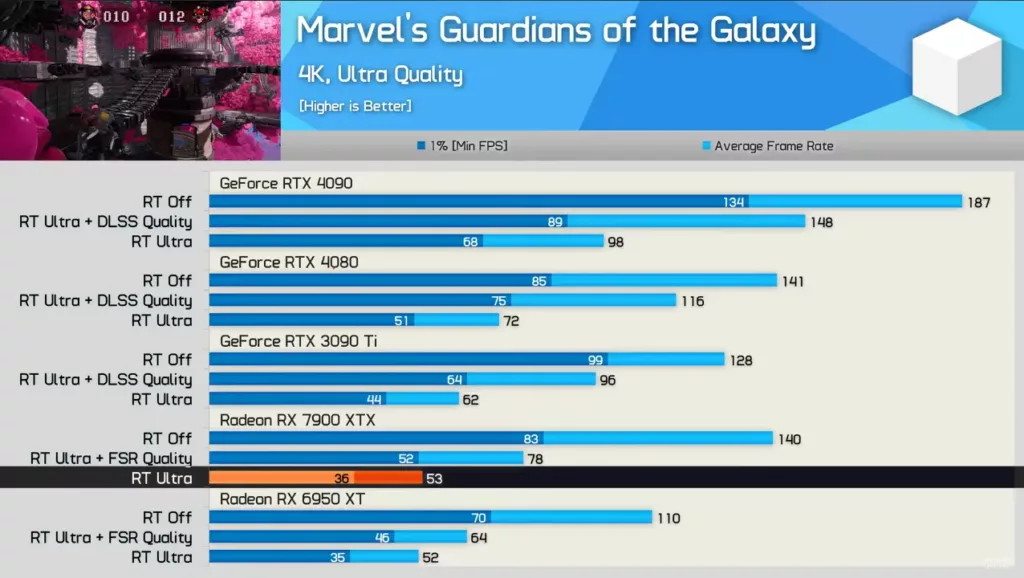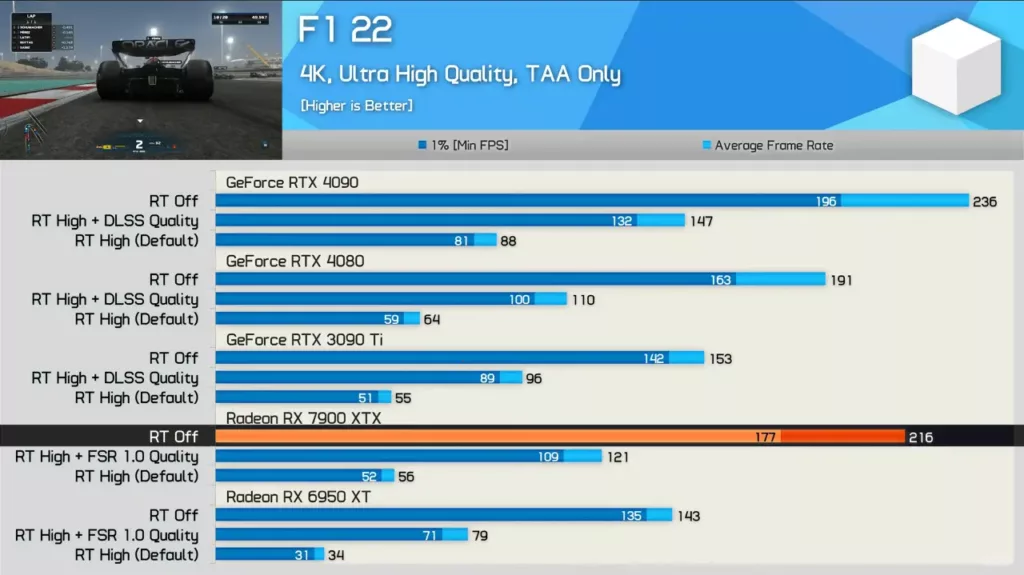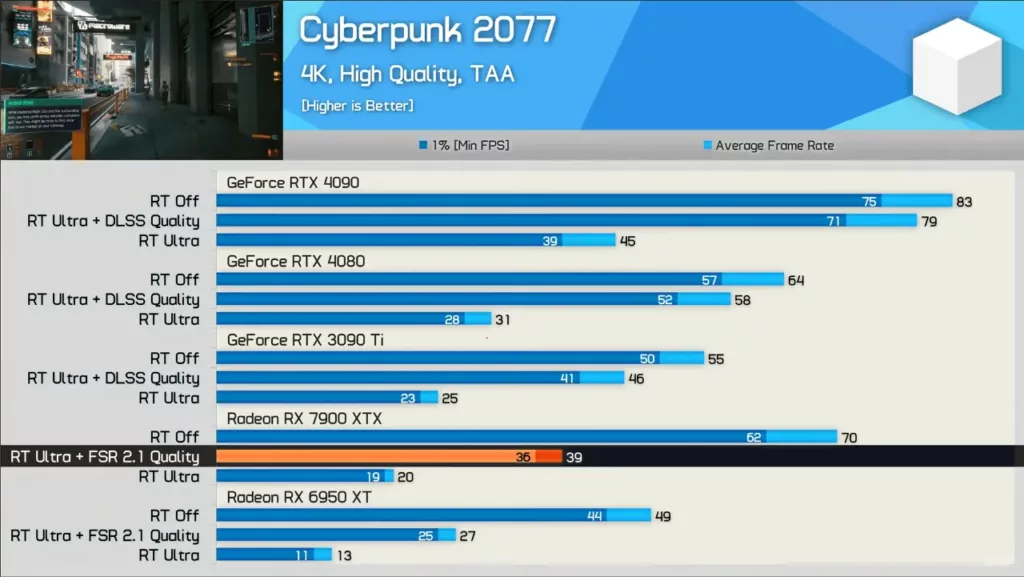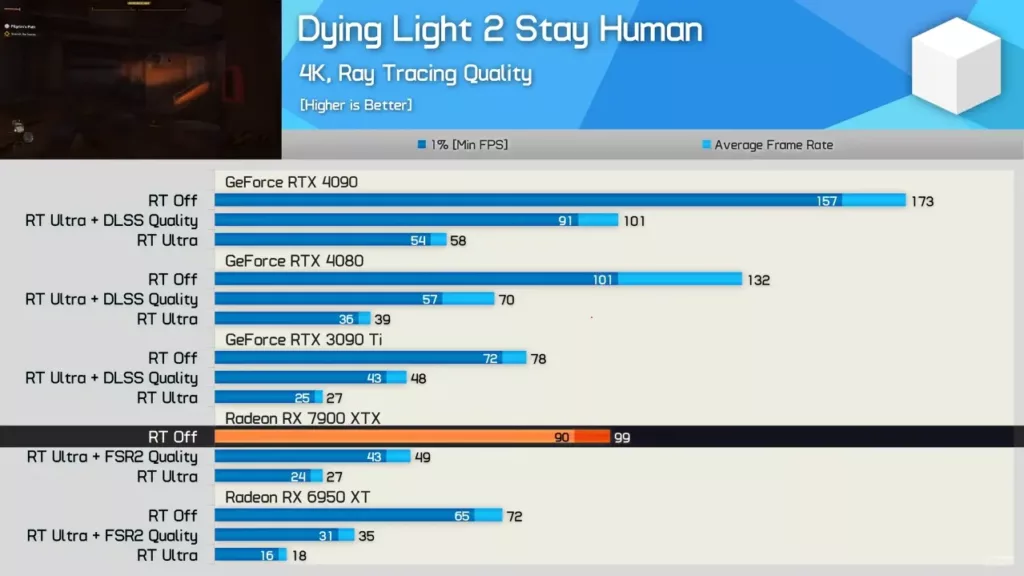 While the generational performance uplift is good, it's not as expected which was presented by AMD itself. The generational improvement stands at around 35% which might improve with driver updates but it will mostly be in this range of 30 to 35%.
When Ray Tracing performance is considered, RX 7900XTX is still significantly behind RTX cards. Compared to RX 6950XT, the ray tracing performance has improved by about 45% to 50% which is great but it is still behind its competition.
Also read: 4K gaming PC build with RX 6800XT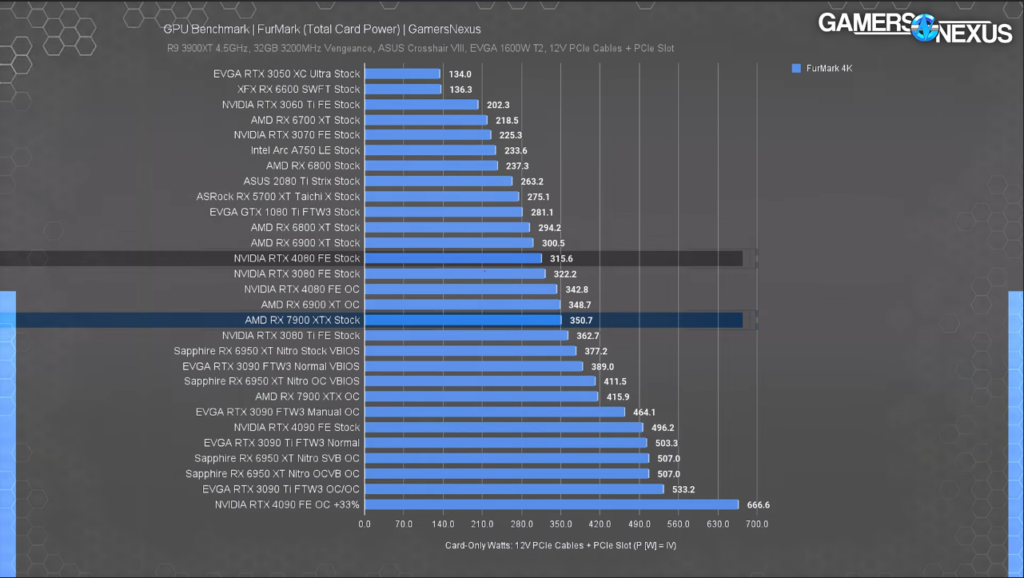 Talking about thermals and power draw, RX 7900XTX does draw more power than the RTX 4080 and is similar to the RX 6900XT but significantly lower than the RX 6950XT.
RX 7900XTX vs RTX 4080? Which is a better value?
Even though RX 7900XTX has an advantage with a lower price, at the 1000$ mark, one might think of spending a little extra and get the best in the market. This makes buying RX 7900XTX a little tricky.
Also read: Complete performance and review of RTX 4080
If it provided Ray tracing performance at least in the margin of 10%, RX 7900XTX would have been the clear winner but if you are concerned about ray tracing performance, you might have to make a choice.
The average street price in India is unknown yet, as the cards are not yet in the market sale (at the time of writing), the expected price is between ₹97,000 to ₹1,06,000.
If only rasterisation performance is considered, RX 7900XTX is a better value card but when your factor in Ray Tracing performance, RTX 4080 is at a significant advantage but the winner comes down to your budget preferences.
Check: Best GPU's to buy in 2022
Chances are that AMD might drop its prices if the cards are not well-received, like how it did with its Ryzen processor.
If the price is dropped by 15% to 20%, it might make the RX 7900XTX much more competitive. Since this is not the last of its flagship card as AMD is already planning to release more flagship cards.
Final Thoughts
RX 7900XTX is not a bad card, it can be a sensible choice at the top-end but it is certainly not for ray tracing. In all fairness, even the best GPUs cannot cross the barrier of 4K high-quality Ray Tracing without the help of DLSS/FSR.
From a rasterisation point of view, RX 7900XTX can be considered as it is priced lower than the RTX 4080.
Nevertheless, we are more excited about mid-tier cards from AMD and Nvidia.