After the disappointment that was 6500XT which was released a week ago, we were all waiting for RTX 3050 eagerly. Although it is a much better-performing GPU compared to 6500XT, is it worth buying RTX 3050 in India?
The official price of RTX 3050 in India is ₹22200 which is ₹3200 more than 6500XT and performs much better than the 6500XT, as it should.
Since the RTX 3050 doesn't have the reference design, the price will vary depending on the board partners.
As a 50-series card, it should have been priced similarly to 1660 Super which had the price of ₹20500. In terms of performance, it is between 1660 Super and RTX 2060. (above 1660 Super and below RTX 2060)
For those who are not aware of Nvidia's GPU lineup, RTX 3050 is a 50 series card that comes under the budget segment based on the latest Ampere architecture (30 series). This is the first time a budget graphic card will have Ray Tracing.
16 series was the last budget offering by Nvidia in the form of GTX 1650, 1650 Super, 1660, 1660 Super and 1660 Ti. All of these 16 series cards were based on the Turing architecture (20 series) without the Ray Tracing.
Let's jump into the quick specs of RTX 3050.
*Compare with RTX 3060, 1660 Super and 2060*
RTX 3050
RTX 3060
1660 Super
CUDA Cores
2560
3584
1408
Base Clock
Boost Clock
1.55 GHz
1.78 GHz
1.32 GHz
1.78 GHz
1.53 GHz
1.78 GHz
Memory
8 GB DDR6
12 GB DDR6
6 GB GDDR6
Memory Interface Width
128-bit
192-bit
192-bit
RT Cores
2nd Generation
2nd Generation
–
Tensor Cores
3rd Generation
3rd Generation
–
Architecture
Ampere
Ampere
Turing
PCI Express Generation
4.0, 8 lanes
4.0, 16 lanes
3.0, 16 lanes
Display Support
7680×4320 (8K). 4 monitor support
7680×4320 (8K). 4 monitor support
7680×4320 (8K). 3 monitor support
Max Power Draw
130 Watt
170 Watt
125 Watt
RTX 3050 specifications
Benchmarks
RTX 3050 is basically a 1660 Super with Ray Tracing. Although this level of performance is good, the price should have been lower or the performance should have been better than RTX 2060.
Compared to the RX 6500XT, it's much better and doesn't have the bottleneck of 4GB memory and 4 lanes PCIe 4.0.
It also supports the hardware encoding which is missing in the 6500XT. In comparison to 6500XT, it is obviously a much better performer.
Gaming benchmarks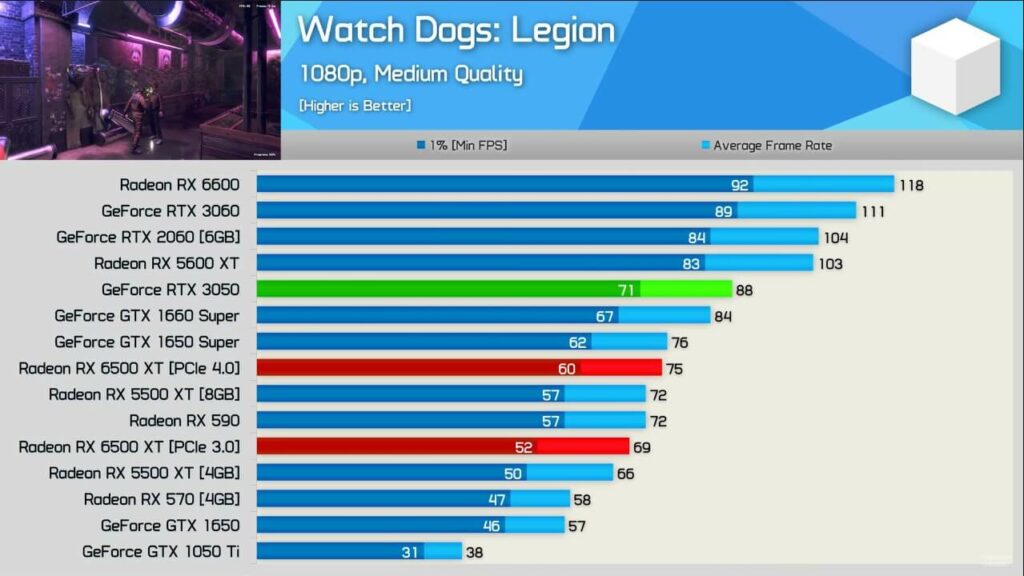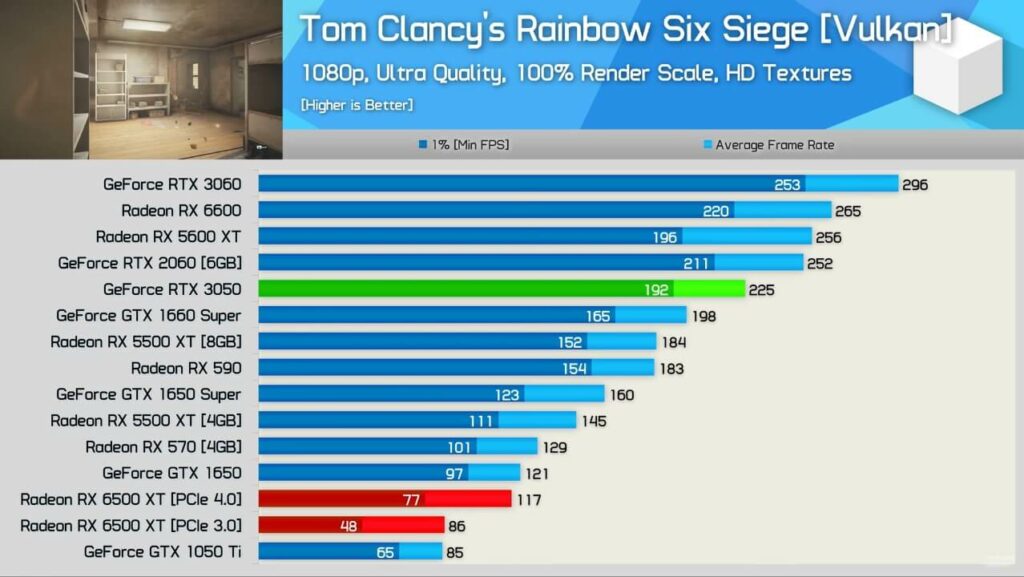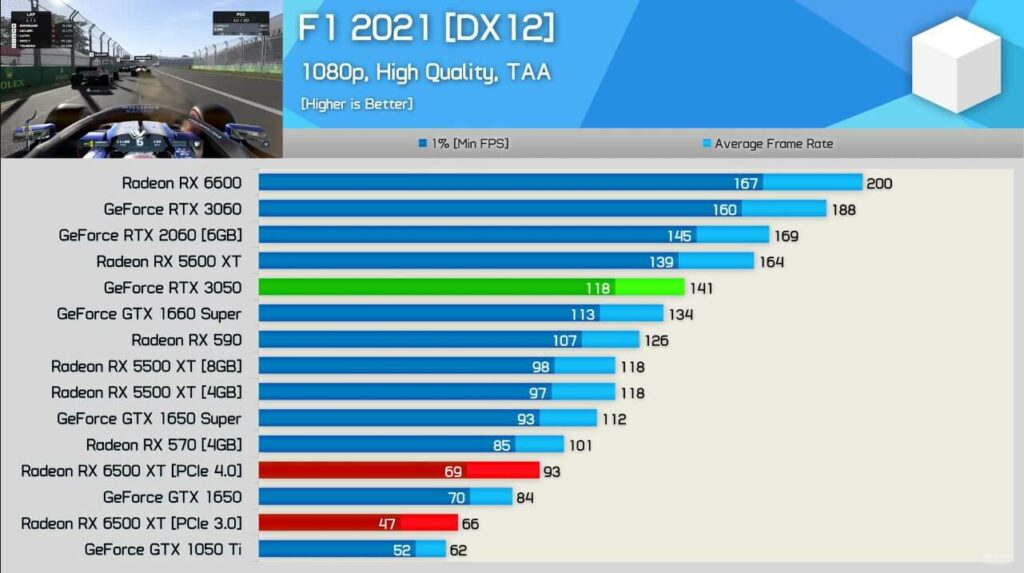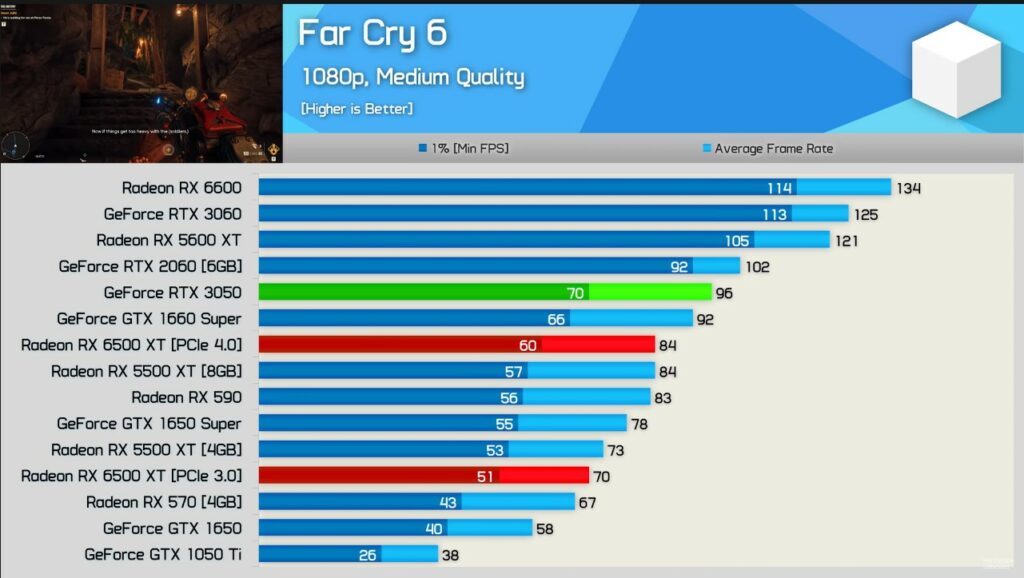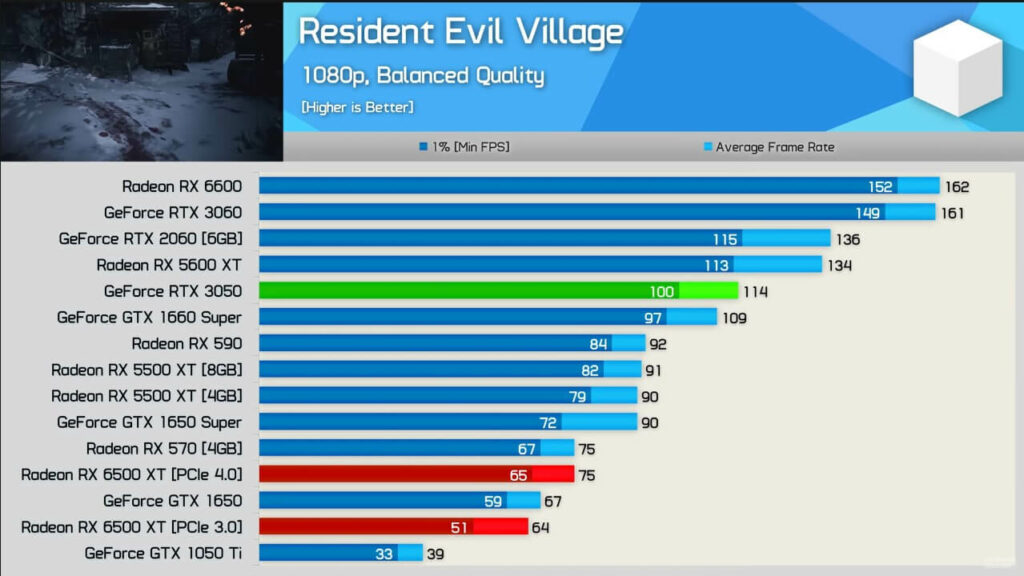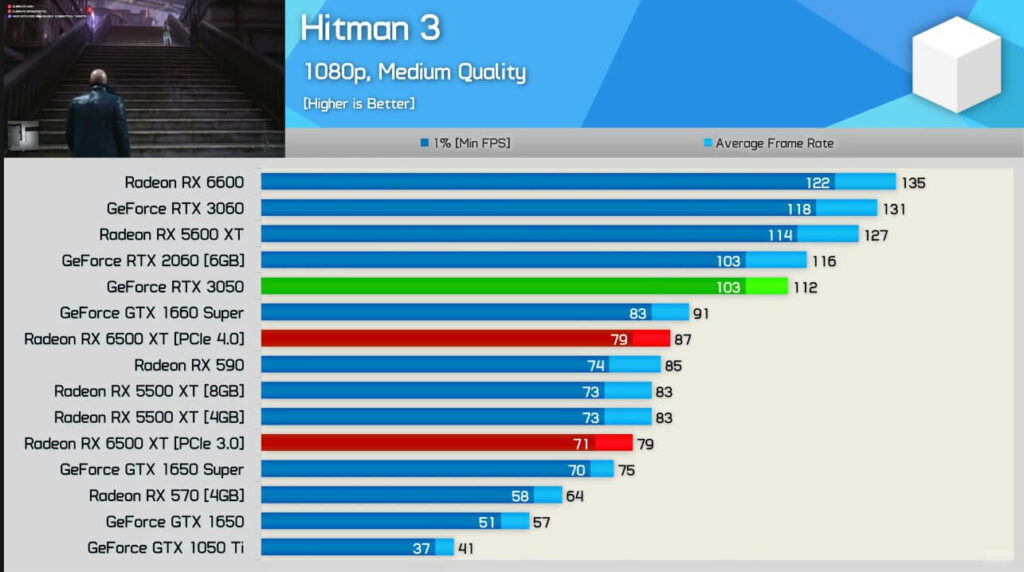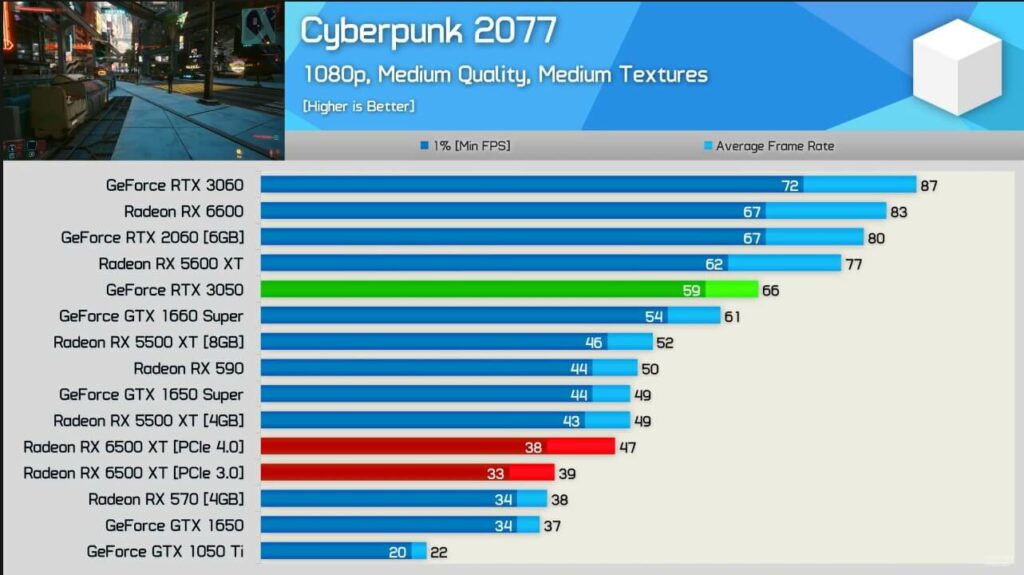 Ray Tracing Performance
RTX 3050 isn't exactly a Ray Tracing performer GPU, but it can do a decent job with optimised game settings. Although with DLSS, it can offer playable framerates.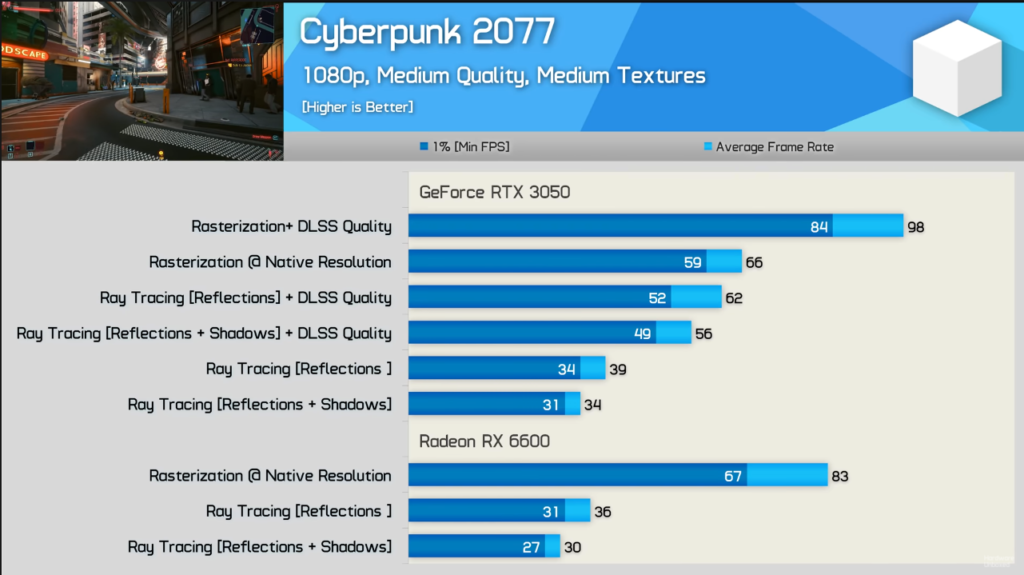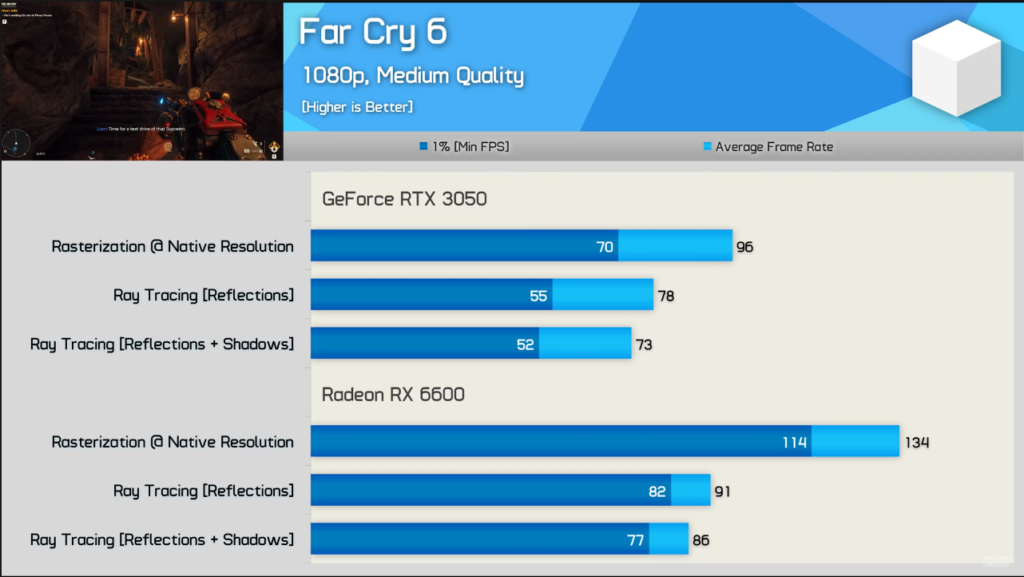 Availablity of RTX 3050 in India
As of now, getting RTX 3050 with Indian online retailers is almost impossible but you might find some after a couple of days.
While a few cards were seen online, it was priced absurdly at more than ₹35000. Absolutely insane!
Meanwhile, you can get RTX 3050 in local markets with offline retailers at a much better price. I found one for ₹29500 in Bengaluru. There is RTX 3050 available in stock but the price will be much higher than the official ₹22200.
The best thing is to find one locally in offline stores rather than finding it online.
Should you buy it?
Well, it's a good upgrade for people who are on the older generation of processors or graphic cards or you are on the PCIe 3.0 platform.
Although if you already have graphic cards like 1060, 980 Ti, 1660 or 1660 Super or any 20 series card, there is no reason for you to upgrade since all these are close to RTX 3050 performance.
If you are building a new PC on a budget, it can be a good choice only if you manage to get one below INR 30000. I can't believe, we are in a market where the sub-30000 card is being dubbed as a good budget card but that's the time we live in and it's unfortunate.
RTX 3050 will hold you off for a couple of years easily and the DLSS will be a real help since many more titles in the future will have DLSS support. Also, RTX 3050 can be a good entry-level 1440p card and along with DLSS, it can definitely run games comfortably at 1440p.
Avoid RTX 3050 if you are building a performance PC or you can extend your budget by a little. In such cases, RX 6600 or RTX 3060 is a much better option.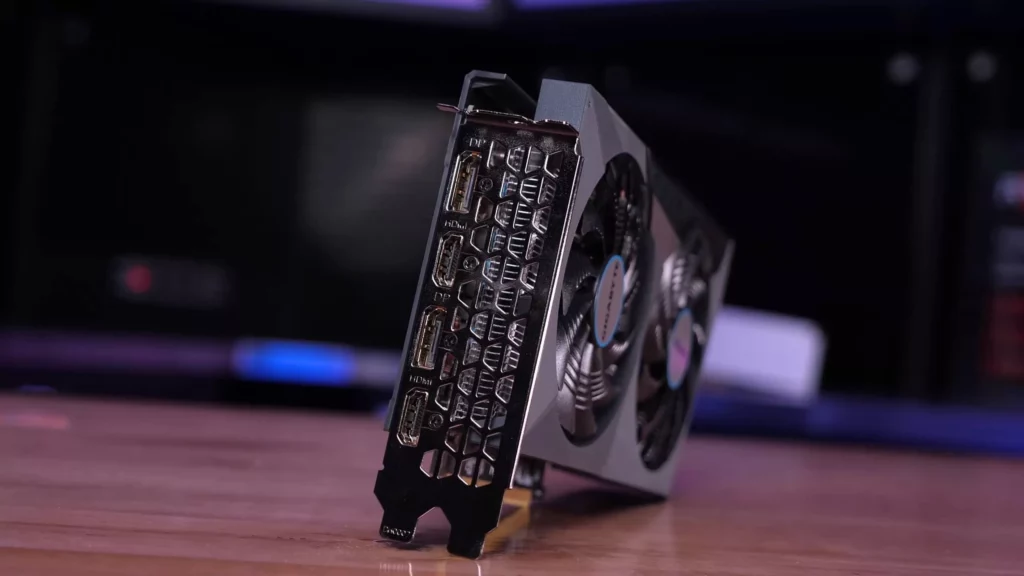 Right now with online retailers, the RTX 3050 is available for insane prices. The best option is to wait for a few days and search for a good deal in the local market. Online prices will always be higher than the prices in the local market.
Conclusion
It's a good card and in a normal market, it would have been criticised because of the price but this is the reality now. Your purchase decision will mostly depend on the price you can get this card.
Realistically, 6500XT is being sold for ₹26000, getting an RTX 3050 below ₹30000 could be a good deal for a new budget PC or an upgrade from older hardware.