I have a custom-built PC (mid-range) with a Ryzen 5 3600 processor and a GTX 1050 Ti. You might wonder why do I have a 6-year-old GPU with a decent processor like that. But, you might have guessed why is that.
You guessed it, right! I couldn't get my hands on any RTX or even a 16 series graphics card for a sane price.
Why is the market is so inflated?
To understand this we need to go back in time. When COVID-19 hit, most of the work worldwide had stopped which led to a massive disruption in the supply chain.
By 2020, there was a semiconductor shortage, mainly due to pandemic. When the whole world turned to remote work, the demand for computers (including desktop, notebooks, and laptops) surged.
Adding to this problem, cryptocurrency mining was at an all-time high in mid-2020 which led miners and scalpers to eat up most of the graphics cards supply.
In short, the two major reasons for the dramatic increase in graphics card prices were: crypto mining and decreased supply.
Naturally, with diminished supply and skyrocketing demand, the prices went up.
This is a brief recap of what has happened in the graphics card industry for about a year now. For the last few months, the supply has increased but the demand still remains very high since miners and scalpers are eating a huge amount of supply.
Well, what's the situation now?
Situation worldwide and in India is different. In India, there is enough supply and there aren't a huge number of miners who are hoarding all the supply.
Considering the situation worldwide, the prices have fallen down from the peak in June-July where graphics cards were barely available and prices were 3x the MSRP (the original base price).
In Sept 2020, an RTX 3060 was being sold at around ₹75,000 and it is down to around ₹60,000. This is definitely a good news. The situation is not that bad right now but still, the prices are too high for normal people to buy them.
The situation is somewhat better in India with enough supply and lower price compared to the USA for the same product.
For the past 2 weeks, the price has gone down steadily mostly because of improving supplies. Online sellers often sell at a higher price than the street price. Also, it's quite difficult to gauge the ground reality sitting at home.
I decided to visit the PC market of Bengaluru in SP road and check on the prices for myself. There is good news and bad news.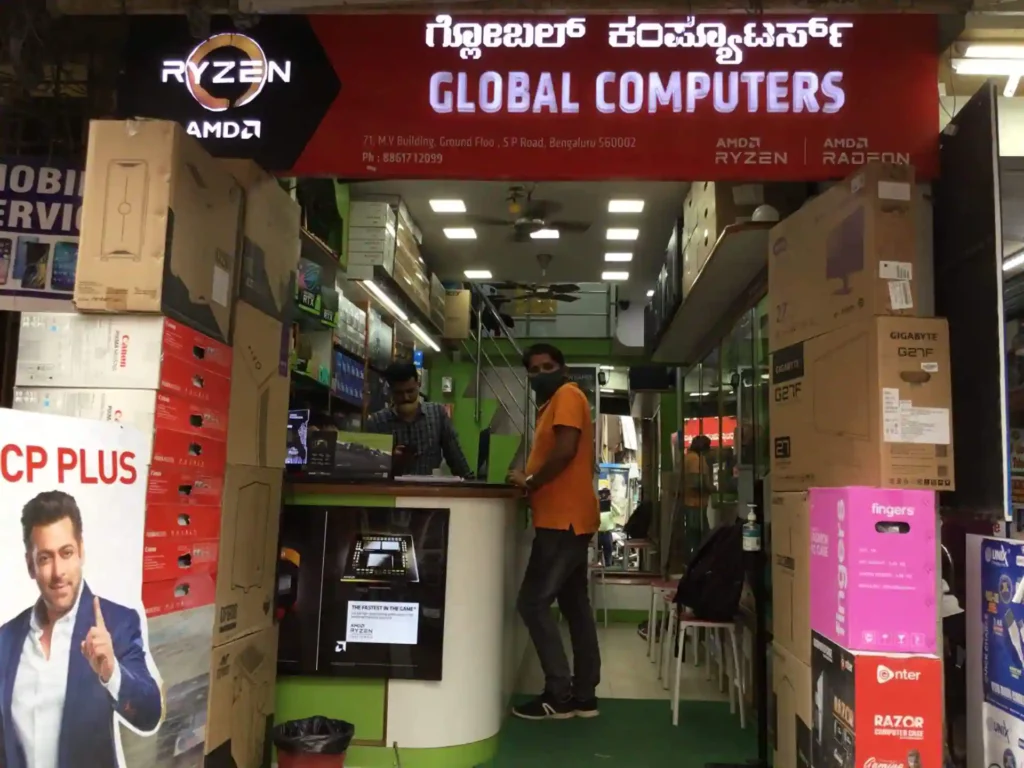 The good news is that, when you actually see the shops in the market, one cannot guess that there is a shortage going on. There are a number of shops selling GPU and each shop has a decent amount of GPU stocked.
Also, the price seems to be steadily decreasing for a couple of weeks now, at least in India. An RTX 2060 was being sold at no less than Rs. 60000 a month back, but now a couple of shopkeepers agreed to sell it at ₹43000.
RTX 3060 is super popular and is still being sold at around ₹60000.
Average street price of some of the popular GPU (In Bengaluru)
GTX 1660 Super – ₹49,000
RX 6600 – ₹45,000
RX 6600 XT – ₹62,000
RTX 2060 – ₹44,000
RTX 3060 – ₹59,000
RTX 3070 – ₹85,000
GTX 1650 – ₹26,000
GTX 1650 Super – ₹31,000
Usually, the street prices are lesser than online prices and the price trends will be similar across India, more or less. You can even bargain for a lesser price (take your mom with you). Also, on average, the prices for the AMD GPUs are "less ridiculous" than Nvidia's GPUs.
The bad news?
The bad news is, the price might not drop further and may even see an upward gain in the coming days. This is what most of the sellers told me. Although, it has to be taken with a grain of salt since sellers will say anything to sell their stock.
When you ask any seller about why the price is so high, they often state "because of mining the price is high" but the number of miners in India is not very high like in China or USA.
From my perspective and opinion, there is no actual reason for the GPU prices to be so high. There is an adequate supply and the number of miners in India is not very huge. Retailers are using the excuse of the crypto boom to justify their prices.
According to an old article covered by IGN India, many sellers are being forced to buy other slow-moving products like AIO's, cabinets and PSUs. Sellers are selling GPU at higher prices to compensate for the forced inventory they are getting.
This story was confirmed to be true by many sellers across the country. Although, sellers will not divulge this information to a normal buyer and they often use the excuse of shortage and crypto mining.
Most Indian consumers are moving away from PC gaming and turning to console gaming. This is not surprising since you can literally game in 4K at a price of ₹43000 which is still less than a 1660 Super.
Is there any chance of getting a GPU at MSRP?
Luckily there is.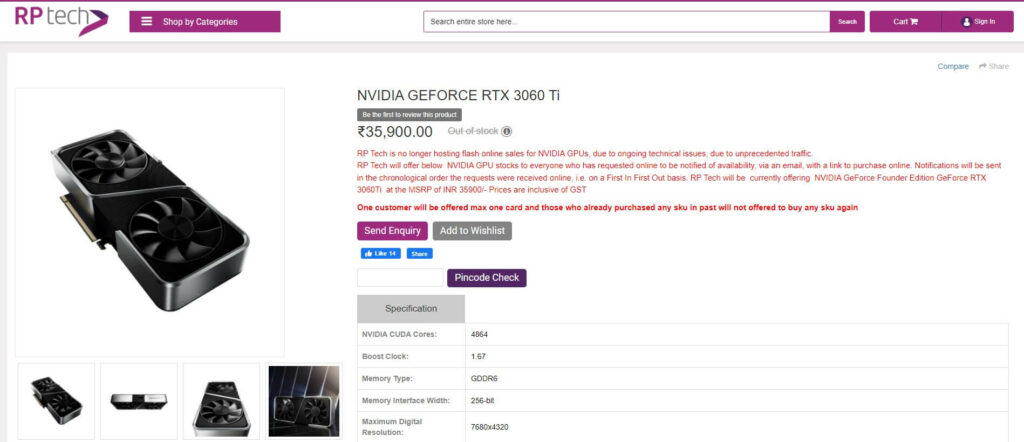 RP Tech is the only place in India where you can get RTX 30 series cards (Founders edition) at MSRP. The only problem is you have to wait for months to get it.
You can also keep an eye on online sellers like MD computers, ITdepot, Vedant computers, Easyshoppi and PrimeABGB. Or the best thing is to go to the city PC market if you live in cities in Mumbai, Delhi or Bengaluru.
Conclusion
There are new mid-range or low-end graphics cards from Nvidia (RTX 3050) and AMD (RX 6400, RX 6500 XT) that are coming soon in Q1 of 2022. We can hope that the arrival of new low-end graphics cards can help with supply issues a little bit. Even Intel's new GPUs (Arc) are going to hit the market soon.
In 3 months, gamers and buyers will have more options to choose from. But we don't know if newer cards can help ease the pain or that the crypto mining profitability will keep falling.
To spot the price drops, keep an eye on lower-end graphics cards like GTX 1650 or GTX 1050 Ti. Since these cards sell less than RTX cards if prices do go down, expect the price drops in popular cards as well.
We can only hope for the best and hang on until prices drop. I am waiting for the day when I can finally take out my GTX 1050 Ti and put in an RTX 3060. I hope that day comes soon.
Moreover, if you are thinking to buy a Laptop – check out this Ultimate buying guide]
Best Gaming Laptop under 70,000 – check this