While all the spotlight goes to choosing the processor and GPU, choosing the right motherboard is also a crucial decision. The motherboard is the central part of any PC build, figuratively and literally, which seats all the components you use in your build.
Although, choosing a motherboard can become quite confusing for many people because there are so many options to choose from.
The nomenclature of the motherboards is not helpful either, for rookie builders. If new to PC building, you might have heard this seemingly random arrangement of letters and numbers like B450, H510, Z590, X570, etc.
What do these even mean? How to choose a motherboard for a Ryzen processor? Which one is for Intel?
This step-by-step guide will tell you exactly how to choose a motherboard for your build.
Step 1: Choosing AMD or Intel
Well, there isn't much to discuss here. It's completely upon you which one you want to go with. Pick your team and jump to the next step.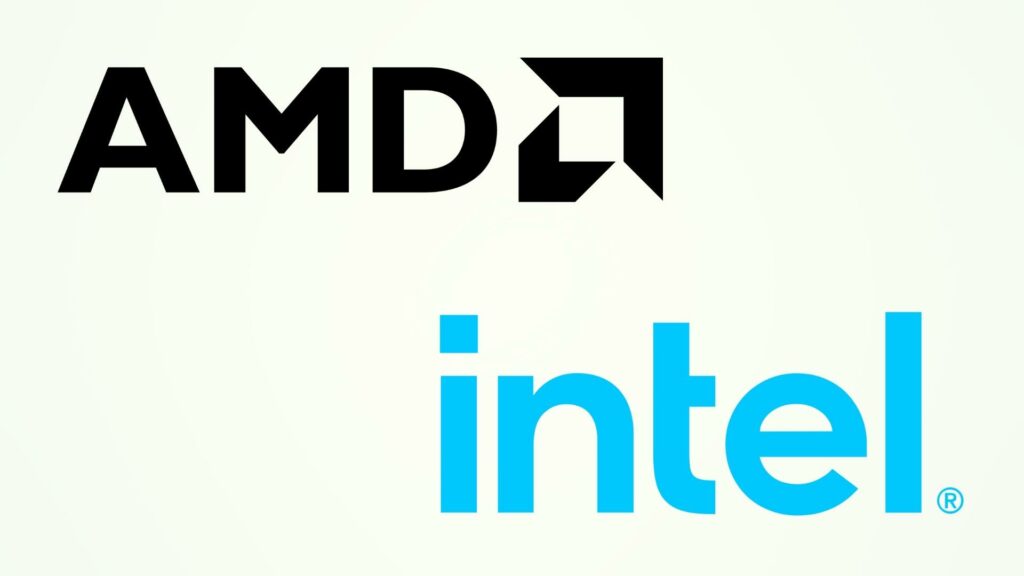 Step 2: Choosing the Compatible series of Motherboard with the processor
This is the primary step since your processor has to be compatible with the chipset of your chosen motherboard. Intel and AMD both work on the different chipsets, and both of them change or upgrade their CPU designs with successive generations. (usually)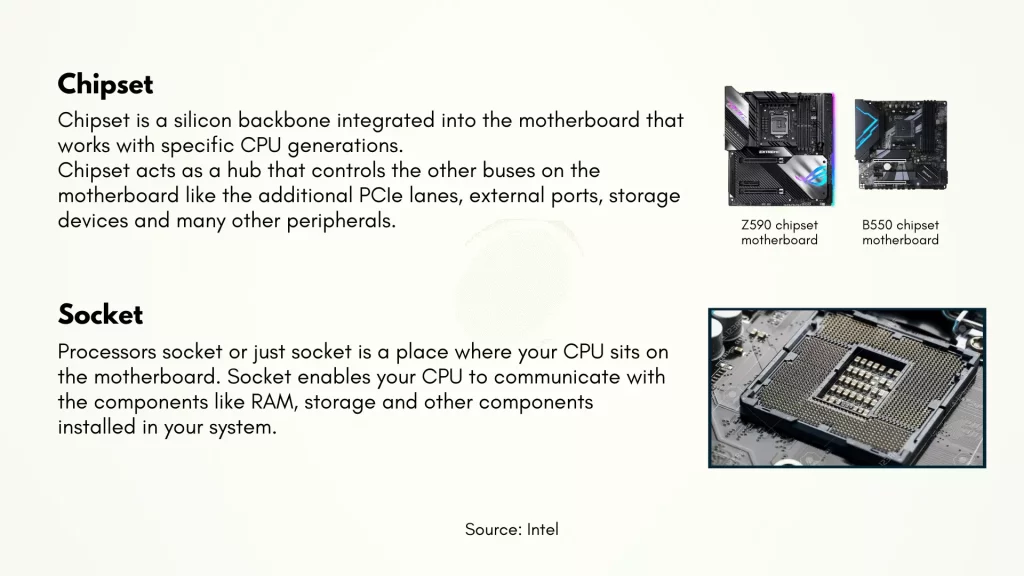 If you are going with Ryzen you have the option to choose from 1000 series, 2000 series, 3000 series or 5000 series processors. The latest 7000 series will be on a new platform called AM5.
If you are going with Intel, you have a lot of options to choose from. From the latest 12th gen to up to 7th gen processors. Realistically, you will be choosing from the 9th to 12th gen of Intel processors.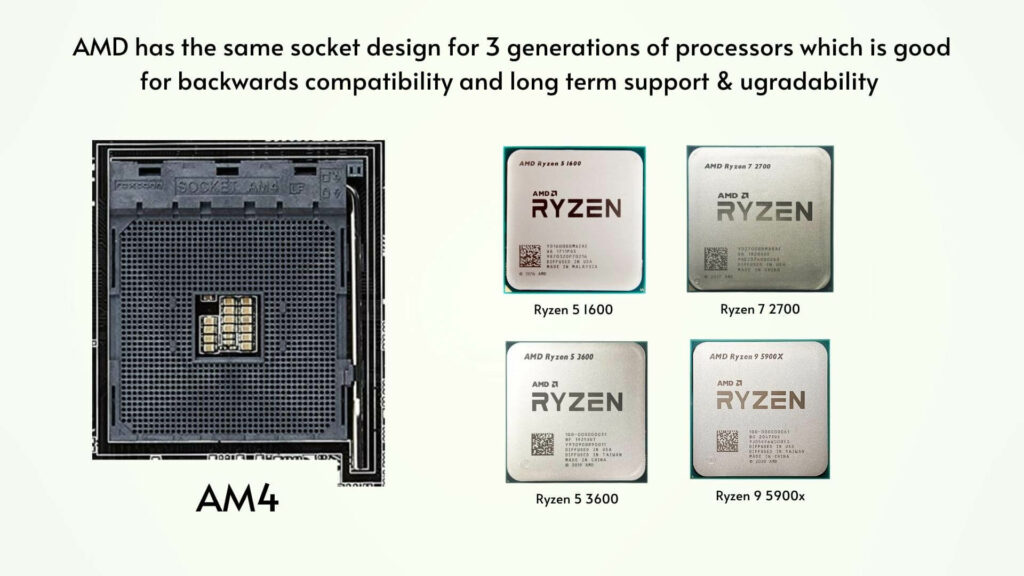 List of chipsets for AMD
AMD's supported motherboards are in 3 classes. X series, B(50) series and A series.
X series is a higher-end chipset which usually has all the fancy stuff a motherboard can have.
B series chipsets are the sweet spot for most people since it has all the things that are needed without the extra fancy stuff. In the case of AMD, B series motherboards are also capable of CPU and memory overclocking.
While the A-series is for more budget-oriented builds and will lack some of the features like overclocking and extra m.2 slots.
Let's say you choose a 3000 series (3rd gen) processor like the Ryzen 5 3600. It's not a high-end processor but is a decent performer. In this case, you most probably might not need an X series motherboard. The most optimal choice would be a B series motherboard.
Here is a list of motherboard chipsets for AMD
AM4 Socket (1000 series, 2000 series, 3000 series and 5000 series)
X370
X470
X570
B350
B450
B550
A320
A520
AM5 Socket (7000 series)
The number "3" or "4" between X_70 or B_50 denotes the generation of the motherboard. For example, a B450 can only support up to PCIe 3.0 for GPU while B550 can support up to PCIe 4.0. Different generations of motherboards also determine the max storage (RAM) speed and generation (DDRX).
The latest motherboards for the 7000 series, X670 and B660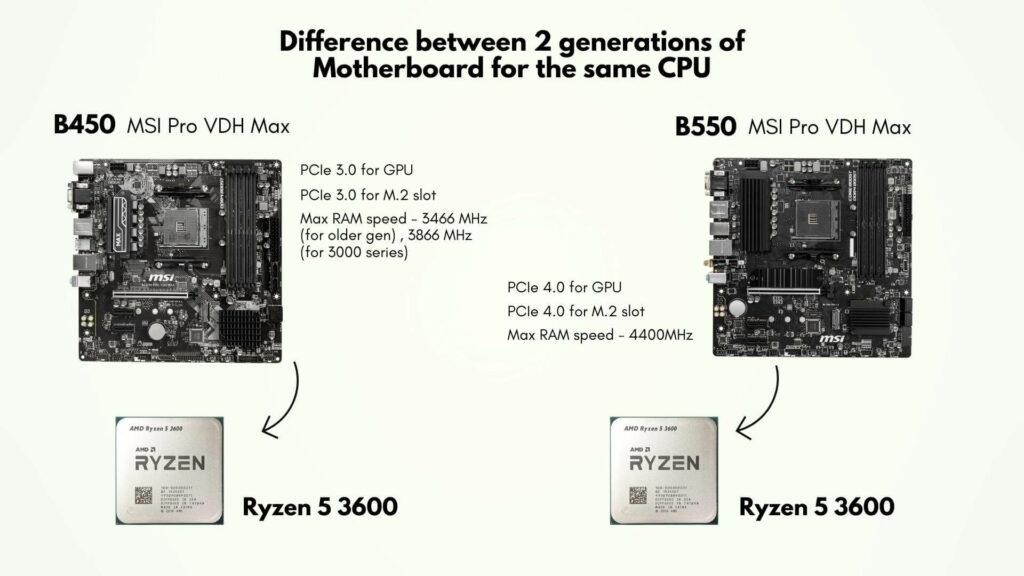 List of chipsets for Intel
On Intel's side, there are 3 classes. Z series, B(60) and the H series.
Z series are higher-end chipsets that are built for overclocking and have all the fancy features motherboards can have.
B series motherboards are again the sweet spot for most of the users. In the case of Intel, B series motherboards don't support overclocking of CPU and only support RAM overclocking.
The H series motherboards are geared towards the budget segment with no overclocking support of any kind and with overall fewer I/O ports and PCIe lanes.
Let's say you choose an 11th gen CPU like the Intel i7-11700K or the i9-11900K, you will need a Z series motherboard to take advantage of CPU overclocking. If you don't care for overclocking or you have a non-K Intel CPU, the B series motherboard is the optimal choice.
Here is a list of chipsets for Intel
LGA1151 Socket (8th and 9th gen)
LGA1200 Socket (10th and 11th gen)
LGA1700 Socket (12th gen)
We will not go till 7th or 6th gen Intel for this because why would you buy that CPU?
The nomenclature is essentially the same in the case of Intel too. The number after "Z" denotes the generation of the motherboard chipset, and also tells which generation of processor it supports. For example, an i7-11700k will need a Z590 motherboard or a B560 motherboard. (it will lack CPU overclocking though)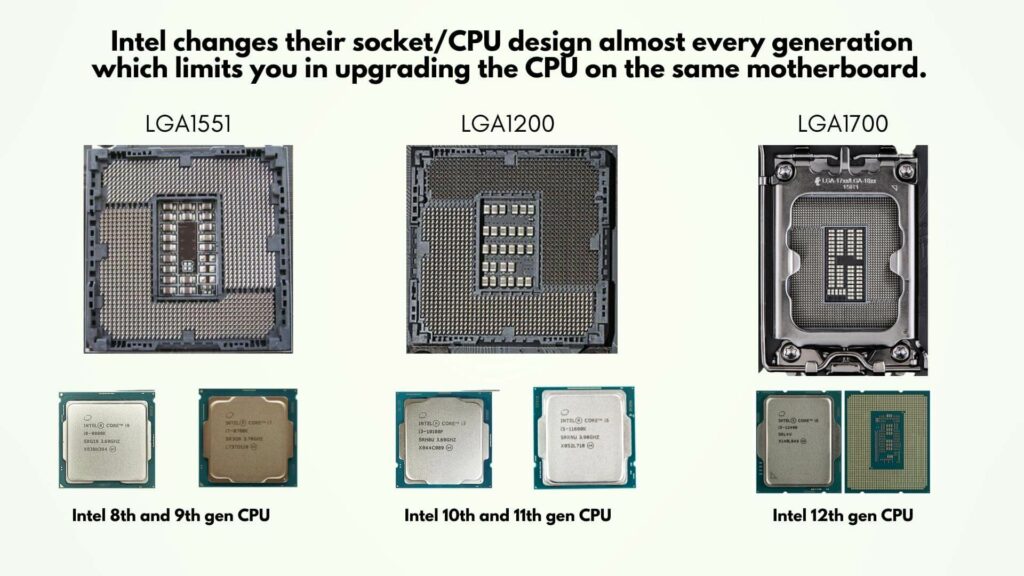 One thing to take care of when you choose an Intel CPU is compatibility. Unlike AMD processors, Intel changes the CPU design (socket) for almost every generation.
If you have a 9th gen Intel processor and B360 motherboard, you can't upgrade to a 10th or 11th gen Intel processor on the same B360 motherboard.
Now that you are clear with what motherboard chipsets are for both Intel and AMD, let's narrow down your choice based on the processor you choose.
How does a processor affect your motherboard buying decision?
The max supported RAM transfer speed and the generation of RAM supported by the processor
Processor Overclocking ability
Whether it is an APU (integrated graphics) or not (in some cases)
RAM speed
For example, the newest and latest Intel processor i9-12900K only supports DDR5 and hence you will need a motherboard that supports DDR5. This is important because you can't use DDR4 RAM in DDR5 slots since both are different in design.
In the case of RAM speeds, Intel processors like i5-10400F support up to 2666MHz DDR4 RAM but the next generation, i5-11400 supports up to 3200 MHz DDR4. Although both of these can be used with the same motherboard, using a motherboard that doesn't support 3200 MHz RAM speed will limit your performance.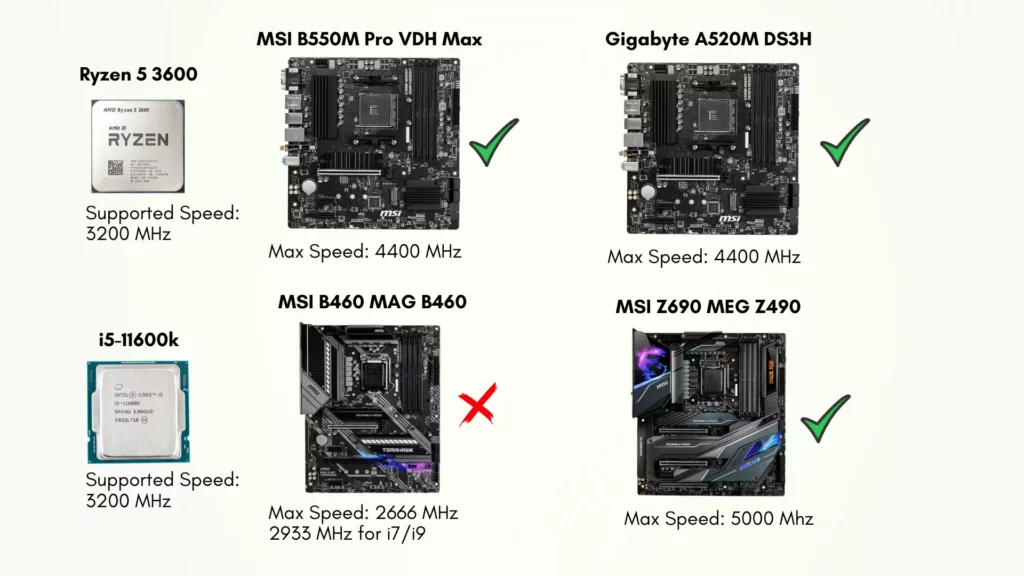 In short, the upper limit of your motherboard's supported speed should be higher than the supported speed by your chosen processor.
CPU overclocking
CPU overclocking is not for everyone. It's mainly for enthusiasts and an average buyer would not want to risk overclocking.
If you go with an Intel CPU, its -K series of CPU are the only processors which are capable of overclocking and you would need a Z series motherboard to do that. For example, i9-11900k would need a Z590 and i7-12700k would need a Z690 motherboard.
For AMD, every Ryzen processor can be overclocked but not every motherboard can do it. If you want to have a good experience with overclocking, getting an X series chipset motherboard (X490, X590) is recommended.
Although you can overclock with the less pricey B series motherboard as well. But, some low-priced motherboards can have potential problems due to overclocking. It's fine as long as you choose a motherboard from a good brand.
APU (Integrated Graphics)
In the case of AMD's processors with Radeon graphics (G series – Ryzen 5 5600G, Ryzen 3 3200G, etc), some motherboards may not be compatible. Check this website to get a complete idea of which motherboards support Ryzen CPU with integrated graphics.
As a rule of thumb, for APU, it is better to stick with the parallel generation of motherboard and CPU. Example: For Ryzen 5 3400G, stick with a B450 or X470 motherboard. For Ryzen 7 5800G, stick with a B550 motherboard.
Step 3: Choosing the form factor of motherboard for your build
The size of the motherboard is pretty much standard no matter which brand you choose. But even with the standards, there are 4 different form factors you can choose.
ATX and mATX is the most popular and mainstream choice. ATX is a full-size motherboard while the mATX (micro ATX) is a more compact size. ITX motherboards are the smallest a motherboard can get and are typically used in small, compact builds.
eATX (Extended ATX) is a form factor that is an extended form of the standard ATX. This form is not very popular and uses cases are very slim.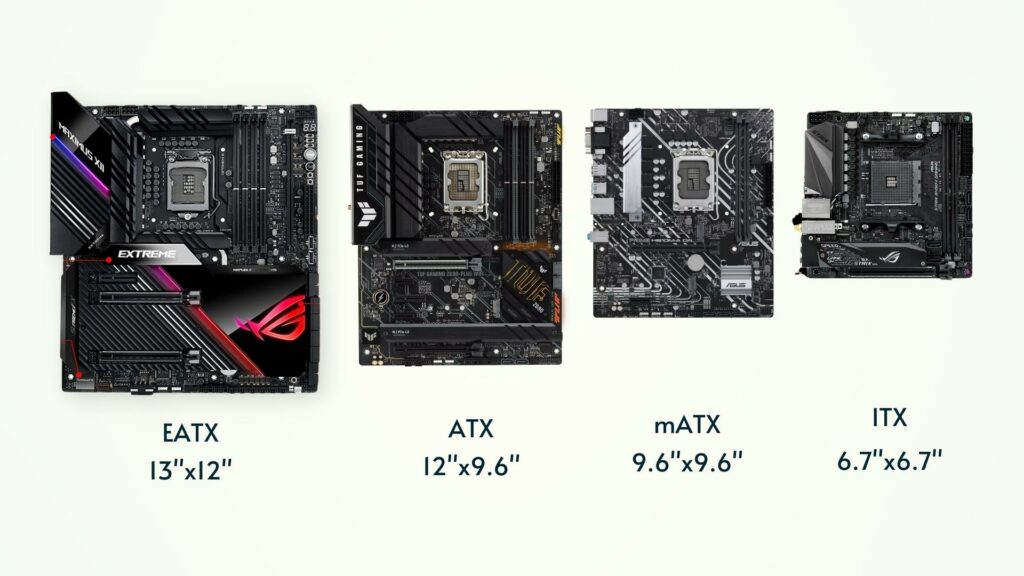 Step 4: PCIe Slots for GPU and nVMe SSD
PCIe, also Peripheral Component Interconnect Express is a serial expansion bus that is integrated into your motherboard's chipset. PCIe is used to install components like graphics cards, SSD, network adapters, capture cards, etc.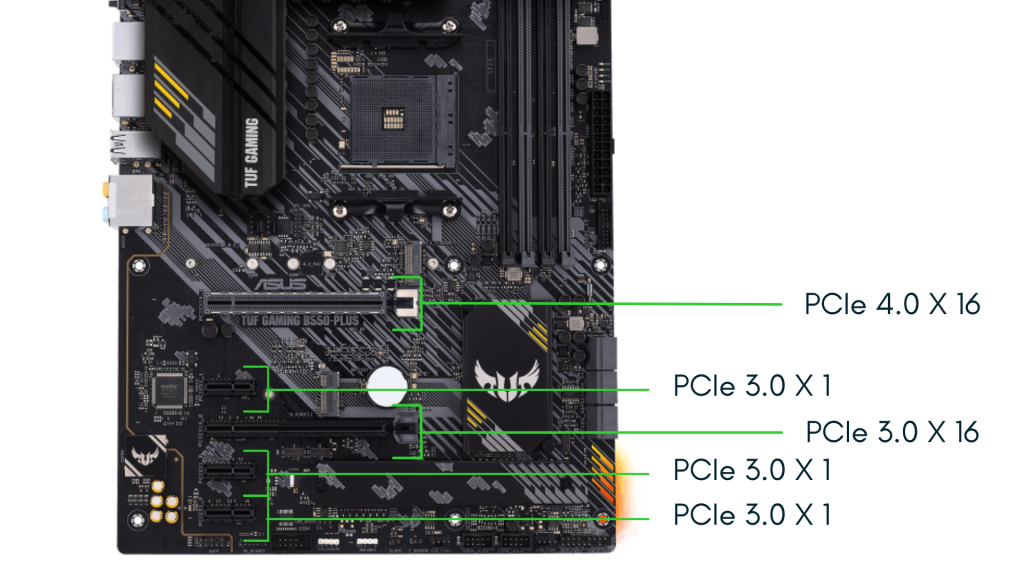 The current standard generation PCIe is 3.0 and 4.0. The latest motherboards for 12th gen Intel CPU support PCIe 5.0 but cannot be called a standard as of now.
AMD's X670-E and B660-E will have PCIe. 5.0 for both GPU and NVMe SSD.
Most graphics card virtually performs the same on PCIe 3.0 or PCIe 4.0 but there are rare cases when the performance might differ. The performance increase with PCIe 5.0 is yet to be seen with the new generation, RTX 4000 of Nvidia graphics cards.
Let's take an example to understand this better. The recently launched RX 6500XT is a budget graphics card from AMD. It performs considerably worse on PCIe 3.0 and better on PCIe 4.0. In such cases getting a motherboard with PCIe 3.0 and pairing such GPU might not be a good idea.
Please note that such cases are very rare and you need not break your head about this. Most graphics card performs the same on either of the PCIe generation given that you are connecting your GPU to the X16 lane slot.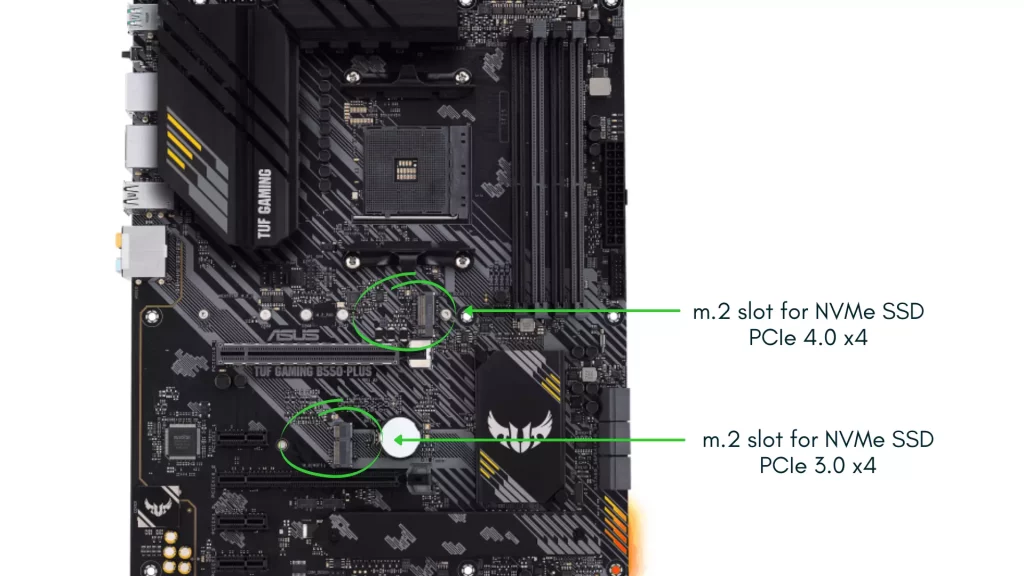 The same thing applies to the SSD as well. You can either buy an NVMe SSD that runs on either PCIe 3.0 (Max Read speed up to 3500 MB/s) or PCIe 4.0 (Max Read speed up to 5000 MB/s).
If you choose a B450, you get PCIe 3.0 speeds and if you choose B550, you get PCIe 4.0 speeds. Realistically, the speed difference isn't much. If you are confused in such cases, get a motherboard of advanced generation if the price is similar.
Step 5: I/O ports, SATA and Wi-Fi
By now, you must be clear on which chipset/generation of the motherboard you should choose. The next big decision is the brand you should go with.
All the factors mentioned above are pretty much the standard for any brand when the chipset is the same. Each brand mainly differs in terms of the quality it provides and the extra features it carries.
If you don't know how many brands make motherboards, here is the list.
Asus
ASRock
MSI
Gigabyte
Galax
Colourful
Here is a table of the popular line of motherboards you can choose based on the budget/class of your build
| | |
| --- | --- |
| Use Cases | Motherboard Series |
| Budget | Asus Prime, MSI Pro, Gigabyte Ultra Durable, Galax, ASRock |
| Performance | Asus TUF, Gigabyte Gaming, MSI MAG |
| Top-End | Gigabyte AORUS, Asus ROG, MSI MEG, MSI MPG |
Popular lines of motherboard based on uses cases/budget
These are the things to consider when choosing your motherboard after knowing which chipset you are going with.
I/O Ports
Does the motherboard you are choosing have the I/O ports you need? You might have a preference for a USB Type C or a Thunderbolt 4. Check whether your chosen motherboard has USB 3.0 or greater.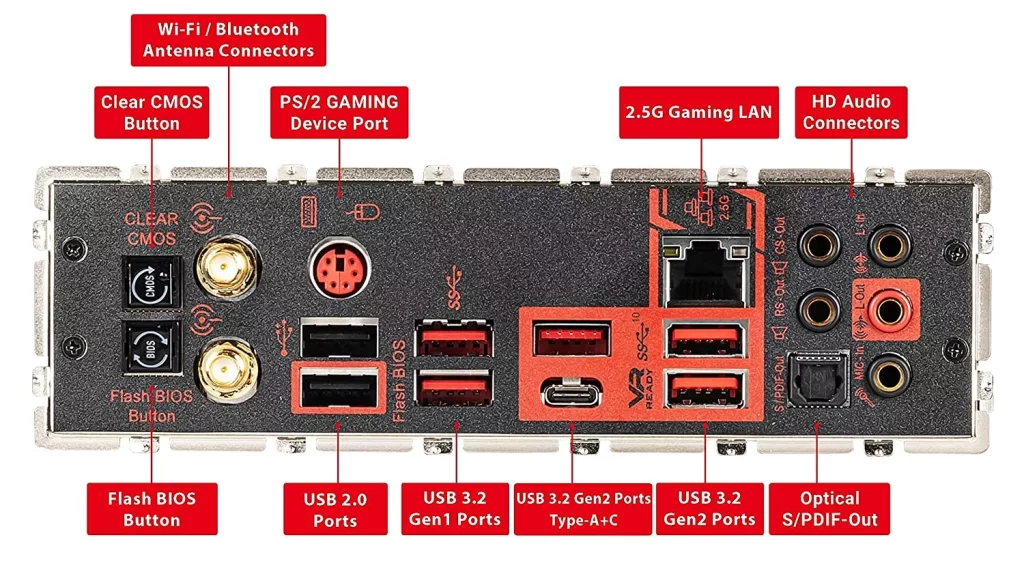 Some might have a preference for a higher number of USB ports. Consider all you need and choose your motherboard based on that.
Go to the official site of the brand and check the complete list of I/O ports for the motherboard you go with to avoid any confusion.
WiFi and Bluetooth
Many motherboards don't come with an option of onboard Wi-Fi and Bluetooth. If you prefer Wi-Fi and Bluetooth onboard the motherboard, choose one which has both. But, it might be a little pricier than the non-WiFi option.
Alternatively, you can get Wi-Fi and Bluetooth dongle for less than ₹500 (10$)
SATA Ports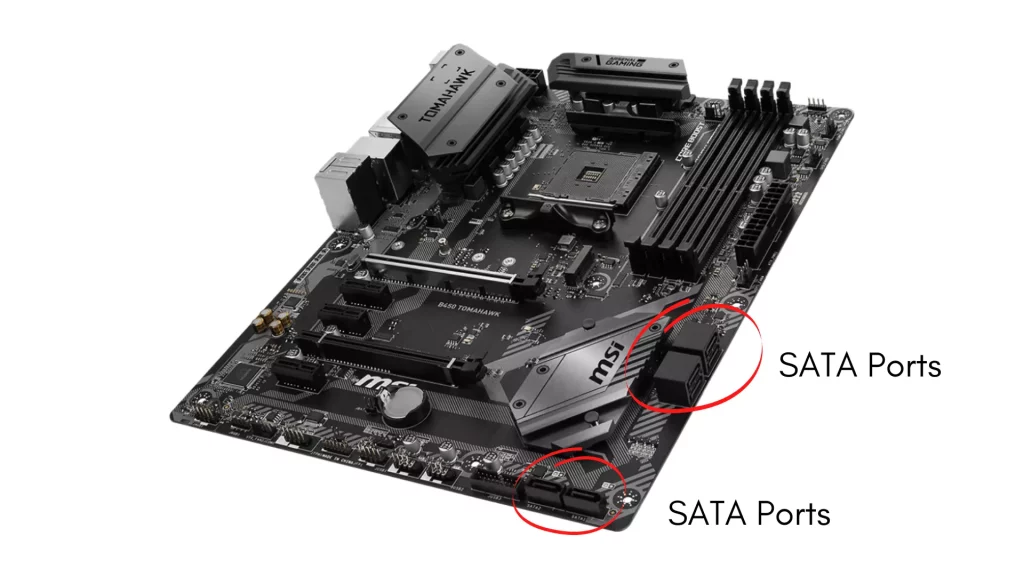 SATA Ports are essential for storage upgradability. The more SATA ports you have, the more storage (2.5-inch SATA and HDD) you can keep adding in the future. A decent motherboard will have 4 SATA ports on it.
Although having more SATA is not necessary, it might be good for some people who might want to add more storage in future.
Step 6: Extra Fancy Stuff
At this point, you can pretty much choose a motherboard for your build. But, you might wanna look into some extra stuff which you might need. Like RGB or ARGB. If you fancy controlling all the lighting with your motherboard, it's better to get a motherboard with an ARGB header.
ARGB header allows you to play around with RGB customisation.
You also might want extra M.2 slots. Adding NVMe SSD is always easier than adding SATA SSD so having one or two extra NVMe might be a good thing if you need it.
Conclusion
It is actually very easy to overspend on a motherboard because it doesn't give you any real substantial performance boost by choosing a top-end, over-budget one.
This guide covers all the aspects that you might wanna look at for choosing your motherboard. Apart from PCIe and RAM speed, choosing a fancier motherboard will not give you any FPS boost in your games.
Many people end up spending more than they require on the motherboard. That's why it is important to understand what you need and not get lost in the sea of options available. Choose your motherboard methodically to arrive at the right one.