The RX 7900XTX and RX 7900XT will be available in the market soon in a couple of weeks. In November, AMD announced two flagship GPUs, RX 7900XTX and RX 7900XT, with very competitive pricing.
For now, RX 7900XTX, AMD's flagship, is priced at $999 whereas the RTX 4090 and RTX 4080 are priced at $1599 and $1199 respectively. The RX 7900XT is priced at $899.
While the price is competitive, either of the RX 7900 is not expected to top RTX 4090 and AMD has clarified that they are meant to compete with RTX 4080, not with 4090.
This raises the question "Then, what will compete with RTX 4090?".
Well, we have an answer for that. According to numerous leaks, reports and from RedGamingTech, AMD is already working on RX 7900 refresh with 3 new SKUs.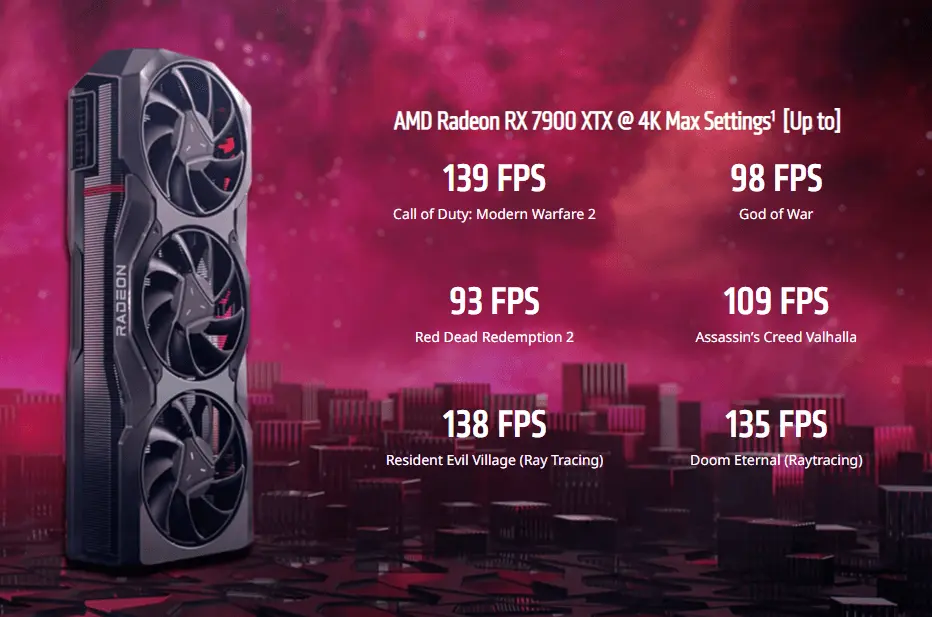 If the most recent leaks from Paul of RedGamingTech are correct, AMD may be planning just that with up to three new RX 7900 variants with faster clocks and, maybe, the 3D V-Cache.
According to Paul, AMD may rework the Navi 31 chip to address clock speed difficulties that are preventing the RX 7900 XT and RX 7900 XTX from hitting 3 GHz at low power consumption. 
The new RDNA 3 cards with the updated Navi 31 GPU could include the RX 7950 XT, RX 7950 XTX, and RX 7990 XTX. Let's look at some leaked specifications of the new refresh cards.
Also read: AMD's Zen 4 processors get price cuts making it better value
The RX 7990XTX
First, the RX 7990 XTX will reportedly have 96 RDNA 3 Compute Units (CUs), each with a boost frequency of between 3.3 and 3.6 GHz. The card will include 24 GB of VRAM, a 384-bit interface, and a memory speed of 24 Gbps.
The RX 7990 XTX will reportedly be the only RDNA 3 SKU to use 3D V-Cache because it has 192 MB of Infinity Cache, according to the leaker. Finally, a 405 W TBP is reportedly included in the RX 7990 XTX, the same as the RTX 4090.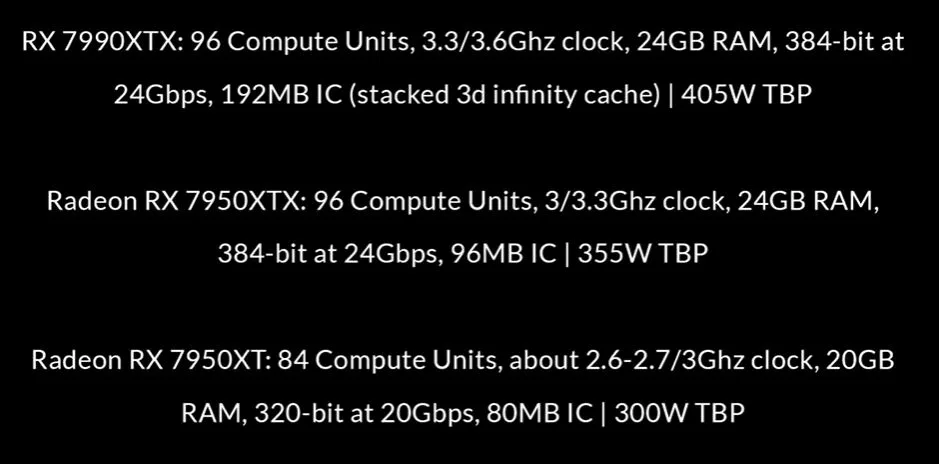 In order to provide a point of comparison, the RX 7900 XTX has the same quantity of CUs and VRAM, but it can only boost its clock speed to 2.5 GHz and has 96 MB of Infinity Cache at 355 W TDP.
Paul says it won't be unexpected if the updated Navi 31 outperforms the RTX 4090 and even the RTX 4090 Ti. Although, there are no reports of an RTX 4090Ti as it is too early and it might come out much later or maybe in response to the 7990XTX when it comes out.
So, take this with a grain of salt.
Also read: RTX 4090 review and benchmarks
RX 7950XTX
Similar to the -50 refresh of RX 6000 cards, this will be the refresh of RX 7900XTX which is evident from the similar specifications it carries.
The leaker claims that the Radeon RX 7950 XTX will share the same CU count, VRAM, bus width, and memory speed as the RX 7990 XTX. The main difference between the two GPUs could be the RX 7950 XTX's lowered 3 to 3.3 GHz clock frequency, 96 MB Infinity Cache vs 196 MB of the RX 7990 XTX, and a significantly lower 355 W TBP.
Essentially, RX 7950XT will be an overclocked refresh of RX 7900XTX.
RX 7950XT
Similarly, this is going to be a refresh of the RX 7900XT card with higher clocks and the same specifications as the RX 7900XT.
The RX 7950 XT is expected to include 84 CUs, 20 GB of VRAM, a 320-bit wide bus running at 20 Gbps, 80 MB of Infinity Cache, and a TBP of 300 W. Clock speeds are expected to increase and could range between 2.6-2.7 GHz and 3 GHz.
Also read: RTX 4080 review and performance
Finally, Paul believes AMD will deliver the RX 7990 XTX, RX 7950 XTX, and RX 7950 XT in mid-to-late 2023, so quite far off and we are more excited to see the mid-range and lower end SKU's from both AMD and Nvidia.