AMD has come out with a brand-new set of Ryzen Processors, specifically for handheld gaming computers – Ryzen Z1 and Ryzen Z1 extreme.
AMD Ryzen Z1 and Z1 extreme feature a trusted combo of Zen 4 cores and RDNA 3 visuals – similar to existing Ryzen 7040HS series (Phoenix) chips.
AMD Ryzen Z1 Specifications
Cores
Threads
Base
Freq
Turbo
Freq
L2
Cache
L3
Cache
GPU
TDP
Ryzen Z1 Extreme
8/16
?
?
8 MB
16 MB
12 RDNA 3 CUs
15 – 30 W
Ryzen Z1
6/12
?
?
6 MB
16 MB
4 RDNA 3 CUs
15 – 30 W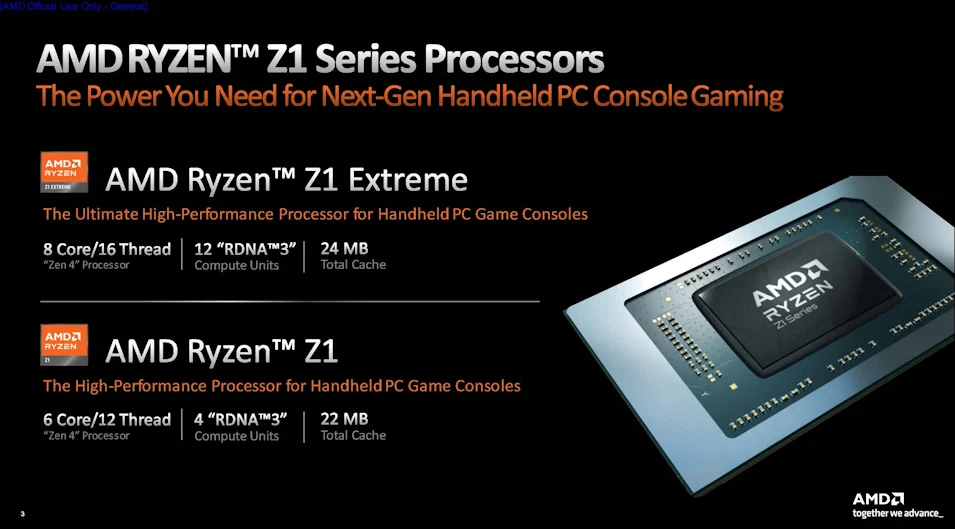 The Ryzen Z1 Extreme rocks a powerful 8-core processor, plus 12 RDNA 3 architecture compute units, while the standard Ryzen Z1 has 6 cores and 4 CUs.
The Ryzen Z1 Extreme and its counterpart boast a generous 16MB L3 cache – plus, the Extreme has an extra 2MB of L2 cache on top due to its extra cores.
No matter what, the Ryzen 1 and Ryzen Z1 Extremes deliver serious computing power due to their many CPU cores and the utilization of AMD's newest Zen 4 cores. With a hexa-core processor, handheld gaming should be covered easily – both Ryzens will outpace AMD's classic quad-core Zen 2 SoC in Valve's Steam Deck.
Though AMD have yet to reveal the time speeds for their two 4nm chips, we already know how many of these units are set to launch.
AMD's device offers all the AMD's graphics technologies, from Radeon Chill to enhance battery life via frame rate readjusting per game's activities, plus FSR and RSR.
These processors offer a full range of power, with a high TDP at 30 Watts and low at 15.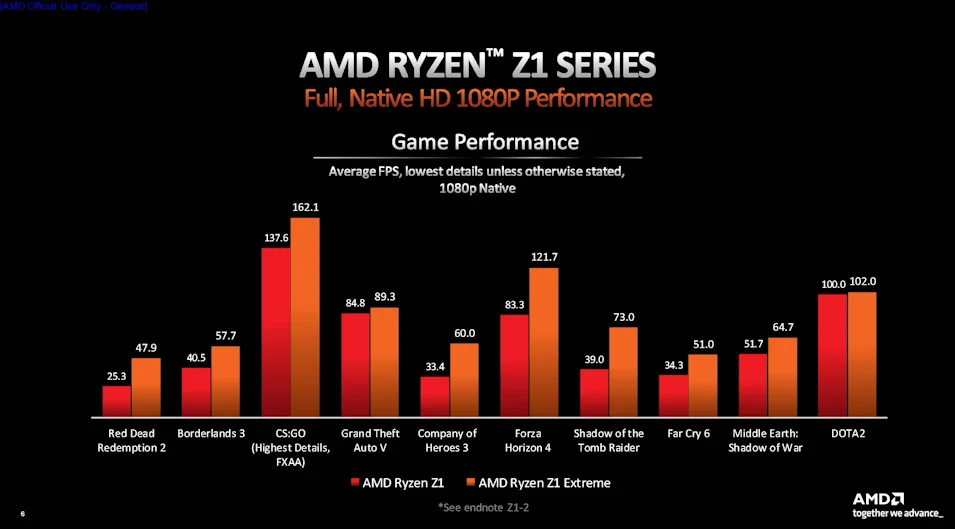 To prove the Ryzen Z1's capability, AMD ran some tests using an Asus ROG Alloy – the results indicated that it easily achieved over 60 FPS across many games when set to low parameters and 1080p/720 upscaled to RSR.
Initially, Asus is getting the jump on everybody else with its Ryzen Z1 series with their ROG Ally, but expect to see more companies adopt the 4 nm chips. Get ready to game like never with Asus' ROG Ally, the first-ever handheld console featuring AMD's Ryzen Z1 Extreme processor. All the details, including pricing, will be revealed on May 11th – mark your calendars!