Last Updated on October 21, 2022 by Nahush Gowda
Intel has announced their next generation of processors, officially called the Raptor Lake and number-wise, the 13th generation. It will be on the same platform as the 12th gen and will also support DDR4 memory which was the biggest question everyone had.
This time around, the timing of AMD and Intel's processor launch is a bit out-of-place since the 7000 series just launched a couple of days before and they are supposed to be a competition with 12th gen Intel. But, 13th gen processors are going to arrive soon and AMD will have it tough duking it out with 2 generations.
With the release of AMD 7000 series processors, AMD was back at the top of the charts again and now Intel is all ready to take up the top position again.
Intel's new processors
Intel announced their i9, i7 and i5 processors and stated there will be around 50 SKUs in the 13th gen including processors for the mobile lineup. The numbers shown by Intel were impressive and here is a complete look at the specs for the new processors.
Key points to note about the new Intel processors
Increased E-cores. While there is no increase in the P-cores in the Raptor Lake processors, the new processors are getting more E-cores compared to the 12th gen. 13900K will have 16 E-cores, 13700K and 13600K will have 8 E-cores, which has doubled compared to the 12th gen.
Check: i9-13900K performance benchmark and review
It will support DDR4 Memory. 13th gen processors can be used with the same 12th gen platform and will also continue to support DDR4 memory which is a welcome feature for budget buyers.
Prices have remained the same except for i5. Earlier, Intel indicated that their 13th gen flagship processor will get a price hike but the price has remained the same except for the i5-13600k which costs 30$ more than 12600K.
Power consumption has gone up. Power consumption has gone up across the board with peak power touching 251W for 13900K. Intel claims that despite high power, it will be efficient. They claim that 13900K will perform similar to the 12900K even at 65W.
All the processors will have 125W of base power but i7 and i9 can reach up to 253W for maximum turbo power. The i5 will go up to 181W for max turbo power.
13th Gen performance comparison
13th gen Intel shows some impressive performance gains over their last generation. Since they didn't have the AMD 7000 series sample, they compared their processors with the Ryzen 7 5800X3D as a competition.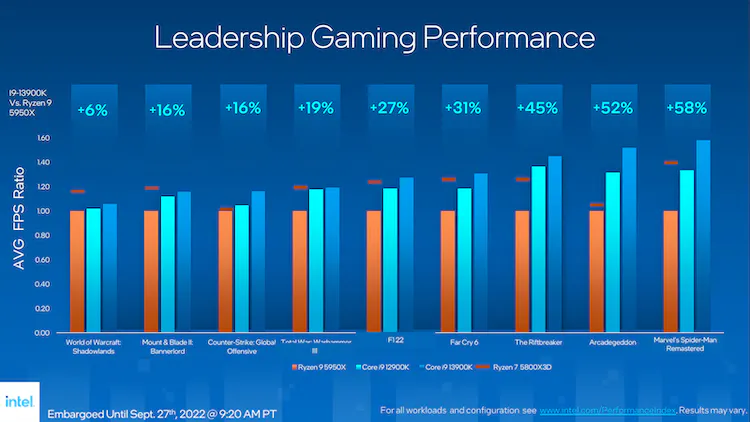 Intel didn't show much useful benchmark or data but it showed 13900K losing and wiinnig against Ryzen 7 5800X3D. There was no data which directly compared the 13th gen to AMD's new 7000 series. We will have to wait until detailed reviews come out.
Conclusion
The same price seems like a good idea but the power draw is still a concern keeping efficiency in mind. But, both AMD and Intel have been raising their power limits and efficiency will be a major point to consider for many buyers.
The new processors will be available starting with 13900K on October 20. Intel also showed off their new Intel Arc A770 which is their flagship model and will be available on October 12 for $329.
Intel's 13th gen seems to on its way to dominating charts and the overall platform price remains to be in favour of the 13th gen processor.