The end of 2022 is near and in the last 2 years, processors have seen a massive jump in performance year-on-year, unlike GPUs. The processor market has been really interesting and there are a lot of choices whether you want to build a new PC or upgrade to a new platform or simply upgrade your processor on the same platform.
There is a processor for each price segment whether you want one for gaming or productivity. With intense competition with Intel and AMD, both companies have managed to put in significant improvements in their processors.
Here are some of the best processors in the market right now according to each price segment.
Budget Segment (sub-₹10000)
Intel i3 – 12100F
This segment is for people who want to build the cheapest gaming rig with decent performance. In this price range, Intel's i3-12100F is the absolute best choice which costs around ₹8,500.
If you are building a new PC you cannot go wrong with this processor as it performs better than the older generation's i5 processors and even trumps some of AMD's processors like Ryzen 5 3600 in games.
For 1080p gaming with a budget build, 12100F is a perfect processor. You can also invest in a slightly better motherboard for future upgrades to the likes of the 13th gen. The only disadvantage this processor has it your upgrade path is limited to 13th gen only.
Check Out: Budget PC build with 12100F
Ryzen 5 4500
There is another processor in this category – Ryzen 5 4500. I would not recommend getting this processor if you are building a new PC. Although this can be a good choice if you are using a very old Zen processor such as Ryzen 5 1500X or Ryzen 3 1200 or something similar.
While Ryzen 5 4500 performs worse than 12100F, it is not that bad in productivity. If you are looking for mixed usage, Ryzen 5 4500 can be a good choice if you want to upgrade on the same AM4 platform from a very old CPU.
Budget Value Segment (₹12000- ₹20,000)
This is the segment where many mainstream gaming PCs use processors in this price category. There are quite a few options in this category but the best ones are Ryzen 5 5600 and Intel i5-12400F.
Ryzen 5 5600
Ryzen 5 5600 is a great AM4 upgrade if you are coming from older Zen processors. Ryzen 5 5600 is perfect for gaming on a value-oriented PC builds. Realistically, with mid-range processors, a good 6-core processor will give you enough performance without any bottlenecks.
For mixed usage of gaming and productivity on the side, Ryzen 5 5600 is a great option. Please note that Ryzen 5 5600X is only marginally better than non-X 5600 and costs more so Ryzen 5 5600X is not recommended here.
Intel i5-12400F
Another great option in this price category is the Intel i5-12400F. It is more or less identical to the Ryzen 5 5600 without even much difference in gaming/productivity performance. Both are 6 cores, 12 threads processors with great value performance.
The only thing to keep in mind with these 2 processors is the upgrade path. While you get to upgrade to better 13th gen processors with 12400F, if you choose Ryzen 5 5600 you cannot upgrade to the next generation of AMD processors.
Check: PC build with 12400F and 5600
Realistically, by choosing both options, your upgrade path is basically dead. For Ryzen 5 5600, it makes more sense to upgrade when you are already on the AM4 platform with much older processors.
For 12400F, it makes more sense to use it when you are building a new PC.
Processors with Integrated graphics
Intel i5-12400
If you are looking for processors with integrated graphics and do not plan to use a discrete GPU for whatever reason, you can opt for i5-12400 (non-F) for good productivity performance on tasks like Adobe Photoshop, Premier Pro, code compilation, etc, which doesn't need a lot of GPU power.
Ryzen 5 5600G
If you want an AMD option in this price range, you can go for Ryzen 5 5600G for significantly less cost.
Performance Segment (₹20000 – ₹30000)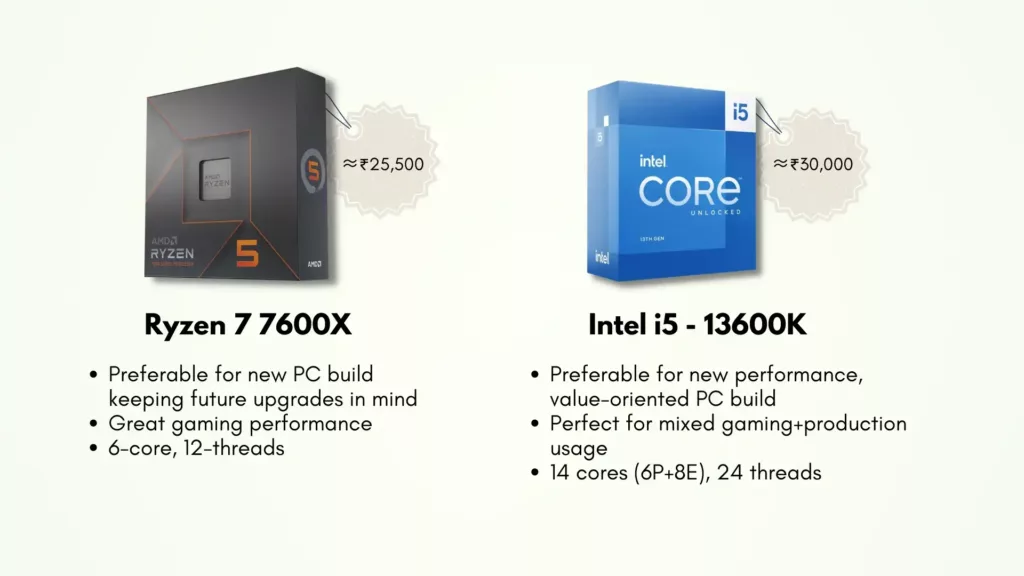 Ryzen 5 7600X
Ryzen 5 7600X is part of AMD's new Zen 4 lineup. The Zen 4 was not well received because of the sky-high prices of B650 and X670 motherboards and 13th-gen processors providing better overall performance.
Nevertheless, at this moment motherboard prices have come down and the prices of the Ryzen 5 7600X have dropped to around ₹24,000. Its direct competitor, 13600K is significantly costlier with prices around ₹29,000 to ₹30,000 in India.
If you are building a new PC, Ryzen 5 7600X can be a great option because of its longer upgrade path and overall great performance. While it may be lagging behind in the competition to 13600K, for gaming both of them are similar.
7600X is a good option to consider if you want to continue with the new AM5 platform and want to have the option to upgrade to a better CPU after a few years as AMD has promised AM5 support for at least until 2025.
Intel i5-13600K
For productivity 13600K is better, especially in multi-threaded applications like Blender and Premier Pro.
If you want to build a new overall cheaper PC, 13600K is a great option that will stay relevant for quite a long time. You can carry over your older DDR4 memory to further cut down the cost. With Intel, you get the option to choose DDR4 or DDR5 in the current platform. Plus, the cost of the motherboard for 13600K is less and has more options.
Check: PC build with Intel i5-13600K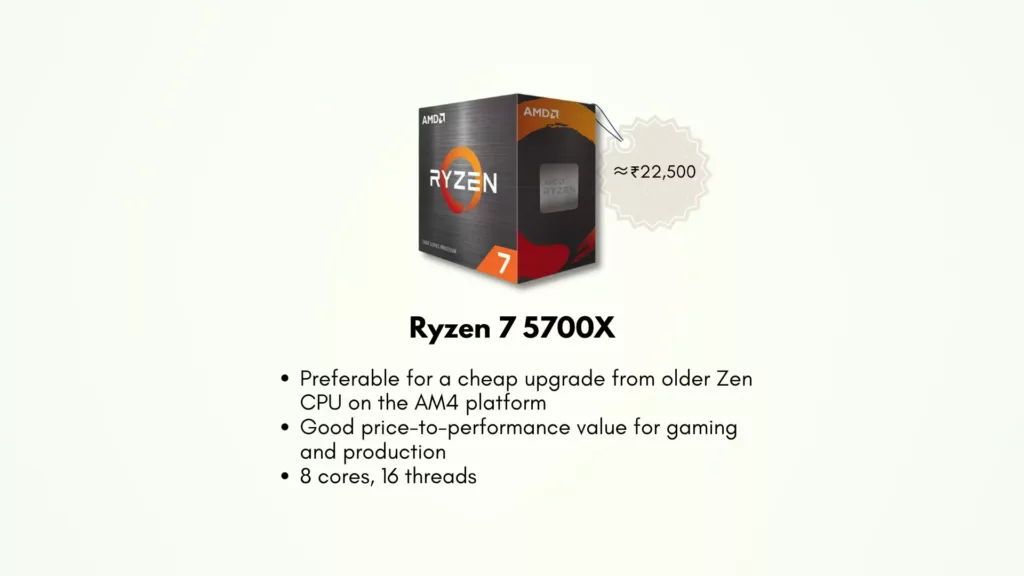 Ryzen 7 5700X or Ryzen 7 5800X
If you want to upgrade to a better processor on the same AM4 platform, Ryzen 7 5700X or Ryzen 7 5800X can be a good option depending on your budget. For less than ₹25,000 consider 5700X.
While you can consider Ryzen 7 5800X, there is a better option for slightly more money that you can consider for significantly higher performance.
Check: PC build with Ryzen 7 5800X
High Performance Segment (₹30000 – ₹40000)
There are quite a few options here to consider depending on your situation.
Intel i7-13700K
If you are building a new PC, the Intel i7 – 13700K is the sensible high-end option that is again on the top of the charts whether it is for gaming or production applications. The only problem with this processor is that it is at the end of the upgrade cycle. Although it doesn't matter much because this processor will stay relevant for a long time.
Ryzen 7 7700X
If you want longer upgrade cycles, AMD's Zen 4, Ryzen 7 7700X can be a good option to consider although it is not a great value if you are primarily looking for production workloads as it is bested by even i7-12700K and significantly by i7-13700K.
The only real advantage of 7700X is its superior AM5 platform and competitive gaming performance.
Check: Ryzen 7700X detailed review and performance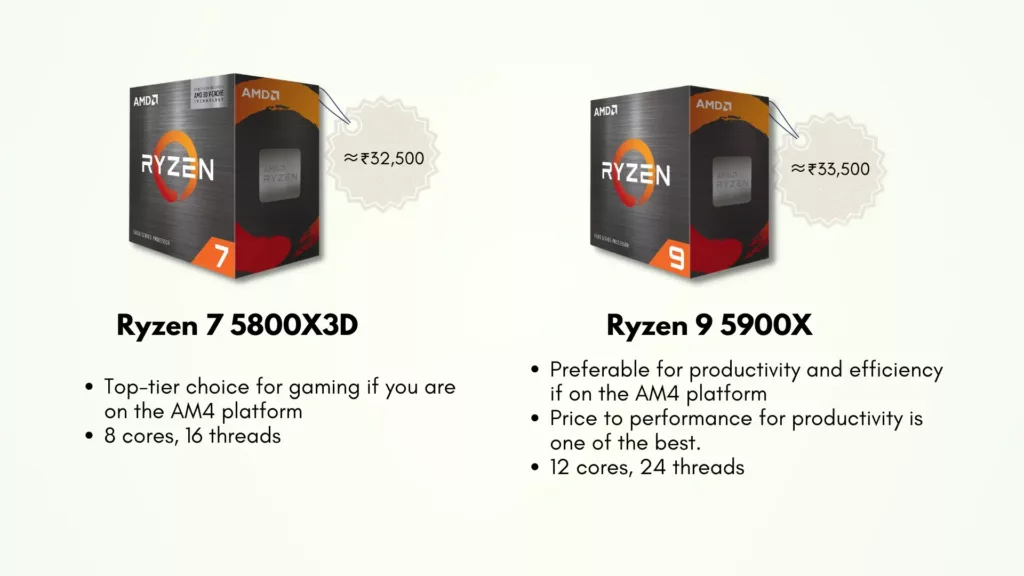 Ryzen 7 5800X3D
If you are majorly focused on gaming performance and coming from an older generation of Zen processors (anything below Ryzen 5 3600), you can consider upgrading to Ryzen 7 5800X3D which is on par with top processors which cost significantly more.
In gaming performance, it is on par with the newer 7700X, and 13700K and in some games even securing top spots on the chart. While it doesn't improve in productivity over Ryzen 7 5800X, gaming performance is significantly improved because of 3D Cache.
Ryzen 9 5900X
If you are looking for production and efficiency and you are on an AM4 platform with older processors, Ryzen 9 5900X can be a good option to consider. Ryzen 9 5900X is still a worthy contender for production workloads (for the price) and has a power efficiency that is unmatched.
Top Tier Peformance (₹40,000 – ₹60000)
Realistically, anything above 13600K, you will get a similar gaming experience which will majorly depend on the GPU you are using. Above this price segment, the only real difference in processors is their production workload.
Productivity is where differences are noticeable in real-life. For gaming, most of the processors in this price range will give you a more or less similar experience.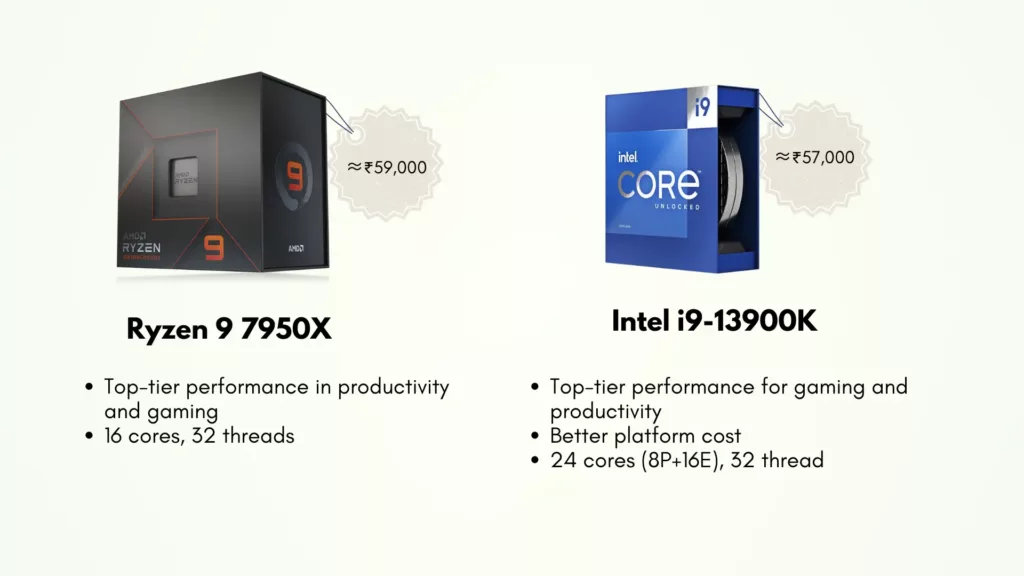 Intel i9-13900K and Ryzen 9 7950X
When it comes to productivity and top-tier performance, both Ryzen 9 5950X and Intel i9-13900K have similar performance in both single and multi-core performance. There is not a right or wrong choice here since performance is similar and choice will depend on things other than performance.
Both are similar in price and Ryzen 9 7950X has the advantage of the superior platform but 13900K will cost you less overall because of the option to use DDR4 memory and cheaper motherboards.
Although 13900K is highly power inefficient and it uses power as brute force to keep it on the top spot.
Processors to Avoid
The processor that you have to avoid in this price range is the Ryzen 9 7900X because it is better to choose Ryzen 9 7950X if your profession or work demands faster rendering and saving time on production workloads. If budget is the problem, you can opt for Ryzen 7 7700X which is quite close to the Ryzen 9 7900X while costing significantly less.
Check out: How to choose the best motherboard for new PC build
Another processor that you must avoid is the Intel i9-12900K which has been replaced by the i7-13700K in terms of core/threads and performance while costing less.
Note: If you are looking to upgrade from an older processor on the AM4 platform, Ryzen 9 5950X can be a good option but I would recommend waiting for the next generation or building a new PC since 5950X costs as much as the Ryzen 9 7900X.
Final Thoughts
The processor you pick depends on whether you are upgrading on the same platform or building an entirely new PC build. Currently, it also matters if you want a processor for just gaming or productivity.
The current latest generation is in a weird spot considering Intel is at its final upgrade path for its current platform (only supports 12th gen and 13th gen) which is Intel's disadvantage. For AMD, the 7000 series is being bested by 13th-generation Intel processors but offers a superior platform, efficiency and lower processor cost.
Advantages of AMD processors
Better value Zen 3 processors on the AM4 platform
Better power efficiency than Intel
The disadvantage of AMD processors
High cost of motherboards for Zen 4
7000 series loses in terms of production workloads against 13th gen
DDR5 is the only option increasing platform cost compared to Intel with both DDR4 and DDR5 options.
Advantages of Intel processors
Better overall performance of 13th gen over 7000, especially in production
The 12th gen has great budget processors
Lower platform cost for both 12th-gen and 13th gen
Disadvantages of Intel processors
Power efficiency is not good for high-end processors
End of upgrade path with 13th gen
The processor's segment is very interesting and the choices can get overwhelming because of the sheer number of opinions at various price segments. Consider your budget, primary use case and whether you want to upgrade (on the same platform) or build a new PC to pick the best processor possible.
FAQs