Meta might soon launch a text based social media App. We already covered about this upcoming project previously with App being called P92. Now there is new updates and features. The app will be based upon Instagram and will be decentralized. The launch is scheduled potentially by the end of June.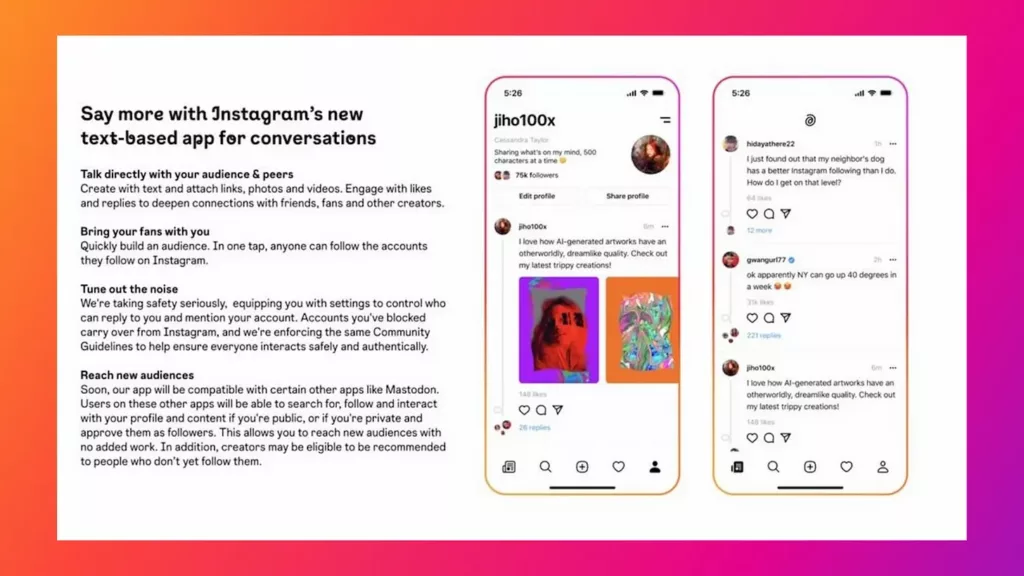 More updates came to limelight from secretive meetings which are being hosted by Meta for select creators. Meta has shares some details about upcoming application. It's codenamed "P92," alternatively referred to as "Project 92" or "Barcelona," and is being touted as a platform designed for "creators and public figures," with the tagline, "Instagram for your thoughts."
What is currently known about the New App
The upcoming text based app is a decentralized platform built on Instagram's framework. Yet, it also be compatible with other decentralized social applications like Mastodon.
It promises a seamless transition for existing Instagram users, who will be able to use their Instagram credentials for single sign-on. Moreover, your Instagram handle, bio, verification status, and follower base will carry over to the new app.
Features of the App
The platform promises to enhance user engagement with features like a centralized feed that showcases your followers and recommended content.
Users will be able to post text updates of up to 500 characters and attach links, photos, and videos of up to five minutes in length. Interaction options will include likes, replies, and reposts.
User Control and Safety features
emphasis on creator controls and account safety. Users will have the power to control replies and mentions, and block or report spam.
Additionally, any accounts blocked on Instagram will be automatically blocked on the new app, and any words users have chosen to hide on Instagram will also be hidden on the new platform.
Two-factor authentication will be enabled for enhanced security, and Instagram's community guidelines will be enforced.
Monetization: A Question Mark
Interestingly, there seems to be no monetization plan currently being shared, suggesting the app might initially be ad-free. This implies an emphasis on organic social strategy, at least in the early stages.
The Future of Social Media?
With its focus on text updates, Instagram's new app may change how users share thoughts online, potentially replacing the Twitter screenshots currently dominating feeds.
As Twitter still struggles with new management and changes. A number of new platforms have attempted to capitalize in recent months. Meta's new P92 may be a step in new direction.
However, as with any new app, predicting audience response is challenging, and users will need to be prepared to adapt to the evolving social media landscape.
As the countdown to the launch begins, the anticipation surrounding Instagram's text-based app is palpable. It will be interesting to see how this new platform shapes the future of online content creation and social engagement.