Novi, a cryptocurrency wallet from Meta Platforms Inc, will allow users to send and receive money through the messaging app, WhatsApp.
WhatsApp a popular messaging app, will allow its users to transfer and receive money from its wallet Novi through a pilot program which will be limited to a certain number of users in the US. Meta platforms formally known as Facebook have been working on the wallet app for several months. Regulatory concerns have prompted the company to defer plans to launch a digital currency called Diem globally.
Novi's money transfer system
As per the pieces of information available on Novi's website when the user adds money to Novi's wallet, it gets converted into USDP or pax dollar which is issued by Paxos trust company. USDP has standard value with respect to USD i.e 1 USDP = 1 USD.
The tool will be available through a user's conversation, where they will choose the amount to be sent. They will, after that, see the receiver's name and the amount to be received, Novi will function on a fee-free basis and let individuals link their debit cards.
This will surely make transmitting cash using cryptocurrency with WhatsApp simple as "sending a message," at least in the United States
Through this wallet, users will be able to transfer and receive payments as frequently as they wish in a few simple steps, according to an official Novi post. Users must create or log into their Novi accounts in order to utilize the functionality. Novi's "24/7 account monitoring" will be aided in detecting "strange behavior" as a result of this.
Novi, a project of Meta, the recently rebranded parent company of WhatsApp and Facebook, was piloted on its own in Guatemala. Meta's progress toward launching Diem has faced setbacks including opposition from US senators and early backers leaving the project. Novi says that it's still committed to Diem and that the cryptocurrency is part of the long-term plans for the digital wallet.
David Marcus, the outgoing head in Novi, said in a tweet that the WhatsApp pilot was "another small step in the right direction," adding that he said that it's the best farewell gift.
Stephane Kasriel, the current head of Novi referred to the pilot program as the 'entry point' in a tweet and said that the company will look to expand after receiving feedback.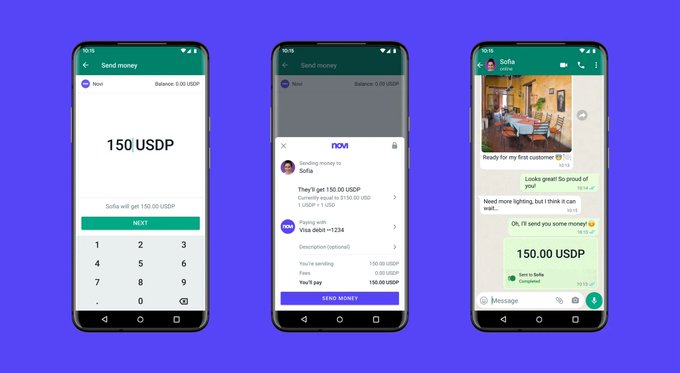 Stephane Kasriel in his tweet said that "Since we introduced the Novi pilot just six weeks ago, we've been able to test and learn which features and functionality are most important to people and focus our efforts on making those even better. We often hear that people use WhatsApp to coordinate sending money to loved ones, and Novi enables people to do that securely, instantly, and with no fees. Payments will appear directly in people's chat."
Furthermore, he added "We're still very early in the Novi pilot journey, so we made the decision to test this new entry point in one country to start and will look to extend it once we've heard from people what they think of this new experience. Using Novi doesn't change the privacy of WhatsApp personal messages and calls, which are always end-to-end encrypted."
Although the cryptocurrency transfer through WhatsApp is limited to a few users in the US, it is still a remarkable achievement for Meta led messaging app.