WhatsApp has introduced a new update, "Channels" which makes one-to-many broadcast possible. Turning WhatsApp into more like a social media or Facebook-esque platform.
Highlights:
WhatsApp launches a new feature named 'Channels' for one-to-many broadcasts.
Channels aim to replace Twitter feeds by offering a private space for important updates and creator content.
WhatsApp plans to integrate payment and monetization services into Channels.
Channels are not end-to-end encrypted but assure privacy by restricting admin data and limiting the channel history to 30 days.
A Glimpse at WhatsApp's Latest Feature: Channels
In an ambitious stride towards a broader social media environment, WhatsApp has unveiled 'Channels', an innovative feature designed for one-to-many broadcasts. This new addition strays from the traditional conversational dynamic we've come to associate with WhatsApp, aiming instead to become "a private way to follow what matters" such as local and sports updates.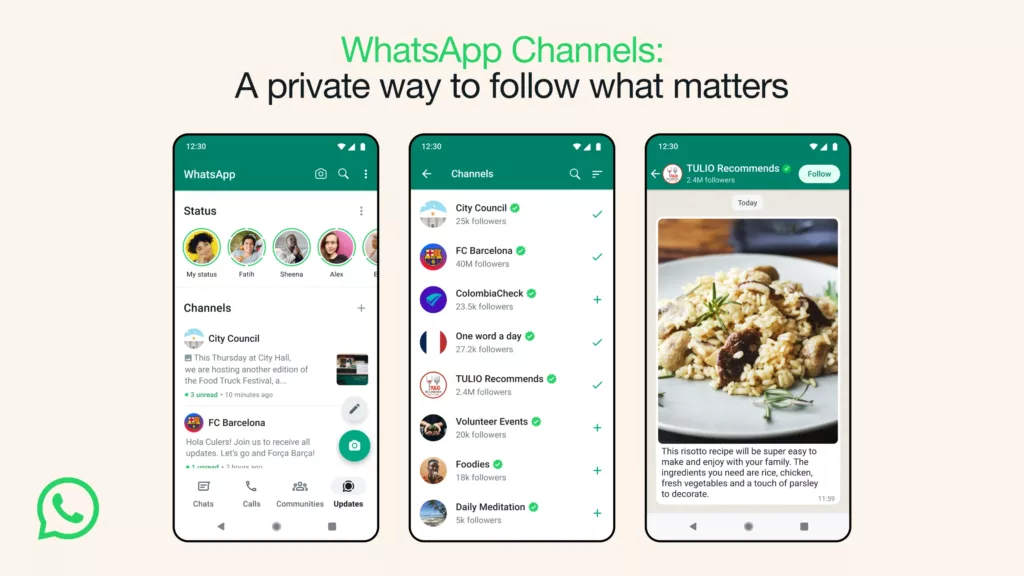 The Concept of Channels: Twitter Minus the Clutter
'Channels' functions much like a streamlined version of a Twitter feed, sans all the reply threads and cumbersome metrics. The inspiration for Channels is derived from the need of governments, transit agencies, brands, and other entities that require a fresh, non-Twitter platform to disseminate their most significant updates.
Moreover, Channels also double as a creator tool, allowing those with a significant audience to "send text, photos, videos, stickers, and polls," according to WhatsApp's launch blog post.
Privacy and Monetization: Two Key Pillars of Channels
Channels are built around the concept of privacy, with admin information remaining undisclosed and channel history being limited to the past 30 days. In terms of monetization, WhatsApp has plans to introduce payment and other services into Channels, aligning it with the latest creator monetization trends.
However, Channels do not offer end-to-end encryption, being more in line with messages with businesses, which are also not entirely private. Despite this, WhatsApp hints at exploring ways to encrypt some channels in the future.
WhatsApp recently also introduced Privacy-focused feature – Chat lock – which enhance chat privacy.
The Social Shift in WhatsApp's Identity
This introduction of Channels signifies a significant shift in WhatsApp's identity, which was primarily seen as a personal messaging platform. WhatsApp has rapidly evolved over the past few months, introducing features that make it more akin to a social media platform than just a chat app.
This move is reminiscent of similar features present in Instagram and Telegram. Channels bring more relevance to the information users receive, making it feel more natural within a messaging app than the overcrowded feeds of Twitter.
WhatsApp Channels – When it is launching and which countries
Starting small, WhatsApp plans to launch Channels with "leading global organizations and select organizations in Colombia and Singapore," and the feature will only be available in those two countries initially. However, the expansion to other countries and more users is expected "in the coming months."
As WhatsApp continues to evolve, there is an evident shift from being solely a messaging app towards becoming a super app, striving to be much more than a platform for chatting. WhatsApp recently introduced a feature which allows the same account on multiple devices. As the company looks to expand and increase its revenue, it's clear that Channels is just the start of this exciting new chapter.