Intel Arc A series is not done yet. The benchmarks of Arc A580 have resurfaced and it is shaping up to be a very competitive option in the mid-range market. In the latest Geekbench 5 OpenCL benchmarks, the Arc A580 scored 88,019 points, which puts it 6% ahead of the AMD Radeon RX 7600 and almost on par with the Nvidia GeForce RTX 3060.
Here is a quick look at the specifications of the Intel Arc A580:
It features 24 cores, 384 EUs, and 3072 ALUs.
It has a boost clock speed of up to 2.4 GHz.
It has 8 GB of GDDR6 VRAM on a 256-bit bus.
It has a TDP of 185 W.
It supports PCIe 4.0 and DisplayPort 2.0.
It is expected to launch in Q4 2023.
This is a significant improvement over the Arc A580's previous benchmark score, which suggests that Intel has been working hard to improve the performance of its Arc GPUs. In addition to its strong performance, the Arc A580 is also expected to be priced very competitively.
Also read: RTX 4060 Review Roundup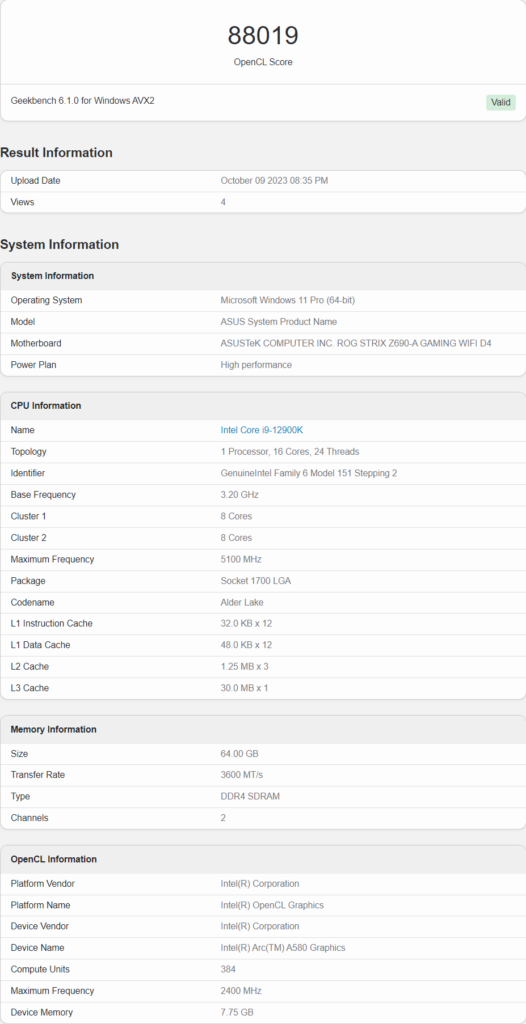 According to a recent listing at Japanese retailer Bic Camera, the ASRock Challenger OC variant of the Arc A580 will cost 38,880 Yen, which is around $270 USD (INR 21000) which is less than the price of the RX 7600. If the Arc A580 is priced similarly in other markets, it could be a very compelling option for budget-conscious gamers.
Intel itself is comparing the Arc A580 to the AMD Radeon RX 6600 and Nvidia GeForce RTX 3050 graphics cards, which are both positioned in the lower-mid-range segment.
However, the Arc A580's performance benchmarks suggest that it is actually closer to the RX 7600 and RTX 3060 in terms of performance. This means that the Arc A580 could offer a better value proposition than the RX 6600 and RTX 3050, especially if it is priced competitively.
Also read: Reports suggest AMD is ending Navi 23 GPU Production: Best time to buy AMD Radeon RX 6600 series
Intel Arc A580 is looking like a very promising graphics card. It offers strong performance, competitive pricing, and a number of features that are unique to Intel Arc GPUs, such as XeSS upscaling and AV1 encoding. If Intel can continue to improve the performance and reliability of its Arc GPUs, it could become a major player in the GPU market.