RTX 4060 is out now on the market for ₹31,000 ($299) and it is cheaper than its previous generation RTX 3060 which shows that it is a good generational improvement. But, is it really? Let's round up all the reviews and get an idea of where this card stands.
RTX 4060 Specifications
Compared to RTX 3060, RTX 4060 gets higher clock speeds but gets downgraded in memory and RT, and Tensor cores. The memory cut-down is the biggest concern and it shows in several games how memory limits the performance.
However, the significantly lower power consumption is a bright spot and Nvidia claims that the increased L2 cache can compensate for cut-down memory. Spoiler alert: It does nothing.
| | | |
| --- | --- | --- |
| Specs | RTX 4060 | RTX 3060 12GB |
| CUDA cores | 3072 | 3584 |
| Boost clock | 2.46 GHz | 1.78 GHz |
| Base clock | 1.83 GHz | 1.32 GHz |
| Memory size (VRAM) | 8 GB GDDR6 | 12 GB GDDR6 |
| Memory width | 128-bit | 192-bit |
| Memory clock | 2125 MHz | 1875 MHz |
| Ray Tracing Core | 24 / 3rd generation | 28 / 2nd generation |
| Tensor cores | 96 | 112 |
| PCIE | Gen 4 x8 | Gen 4×16 |
| L1 cache | 128 KB (per SM) | 128 KB (per SM) |
| L2 cache | 24 MB | 3 MB |
| TGP | 115 W | 170 W |
| DLSS | DLSS 3 | DLSS 2 |
"It is not laughably bad as RTX 4060Ti but it is still bad" – Hardware Unboxed.
Hardware Unboxed certainly wasn't happy about the new mainstream 1080p-focused GPU but was clear that it isn't bad as RTX 4060Ti 8GB. In their 15-game average benchmark, RTX 4060 was 3% faster than the AMD RX 7600 at 1080p and just 15% faster than the previous generation RTX 3060.
At 1440p, the performance gap narrows down. RTX 4060 is roughly the same as the RX 7600 and RX 6650XT which is bad. RTX 3060Ti stays at a 12-14% lead which costs almost the same as RTX 4060 and scales well with the increasing resolution.
"A good graphics card with wrong name" – PC Gamer
PC Gamer is a lot more optimistic about the RTX 4060 than other reviewers but makes a fairly well-rounded point from the perspective of an average buyer.
For anyone with a mid range RTX 30-series or Radeon RX 6000-series card or higher, the gains simply aren't worth it. Unless you factor in DLSS 3 and Frame Generation, that is; they really do add value and free performance.
Even though it beats the RTX 3060, although not by a lot, DLSS3 and Frame Generation are something that can help the card stay relevant. DLSS3 is helpful and a useful feature if you primarily play non-competitive titles and aren't really looking for visual anomalies.
Credit where it's due, DLSS3 has gotten so good that it is quite difficult to spot visual defects in Quality settings if you are not looking for them. This might benefit an average user who wants smoother gameplay but again, it costs ₹31,000 and there are certainly much better options to look at.
"It's really terrible to be beaten by the prior generation product that you are supposed to be replacing" – Gamers Nexus
Steve from Gamers Nexus isn't really happy about the RTX 4060 either but he makes it clear that is not as bad as the RTX 4060 Ti 8GB. Even though RTX 4060 is faster than the RTX 3060 on average, in some of the titles, RTX 3060 does take a lead and in terms of cost-per-frame value, RTX 3060 is still better.
Steve urges the buyers to skip this generation and RTX 4060 altogether if you already have an RTX 30-series or AMD RX 6000 series card. You can upgrade to this from much older platforms but again, you have so much better deals from the previous generation that you don't need to look at RTX 40 series GPUs.
In rasterization, RX 6700XT is still competitive. It's not always as consistent in frame times but it's often I had an FPS enough that it doesn't really matter. It's just a better alternative. That lead, however, diminishes as we enter Ray tracing scenarios, but if you're able to get one close to $300 and especially if you mostly play rasterized games it is strongly worth considering as a top choice.

Gamers Nexus, Steve
RX 6700XT seems to be a better choice overall as the price is almost the same. At the time of writing, RX 6700XT is around ₹32,000. For less than ₹2,000 you get around 14% more performance at 1080p and 21% more at 1440p.
Again, at this price range, many expect to play at 1440p and RTX 4060 is currently in the 1440p price bracket while delivering 1080p performance. If you want better ray tracing performance, you can also opt for RTX 3060Ti for the same price.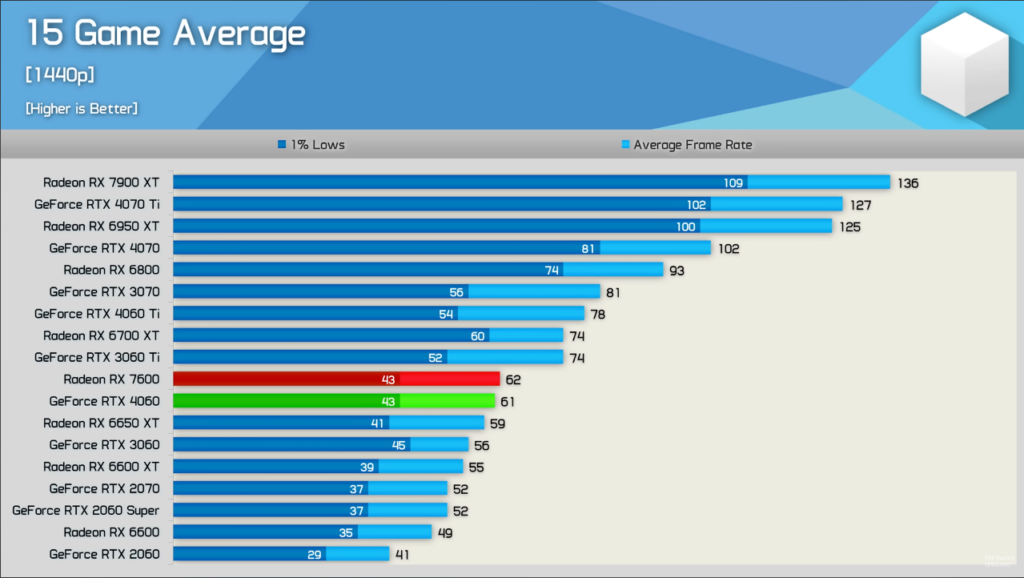 For RTX 4060 to make sense, it needs to be on par with RTX 3060Ti or priced much lower than it is now.
"RTX 4060 is not just overpriced, it's hate priced" – Linus Tech Tips
Folks at Linus Tech Tips weren't happy with the RTX 4060 and made an excellent point about Nvidia just turning their back on mainstream gamers. And why would they care about the gamers? There is a far more lucrative AI industry to cater to.
Coming to the RTX 4060 performance, they showed some gaming performance where RTX 4060 is slower than the RX 7600 in titles like Cyberpunk 2077 and F1 2022.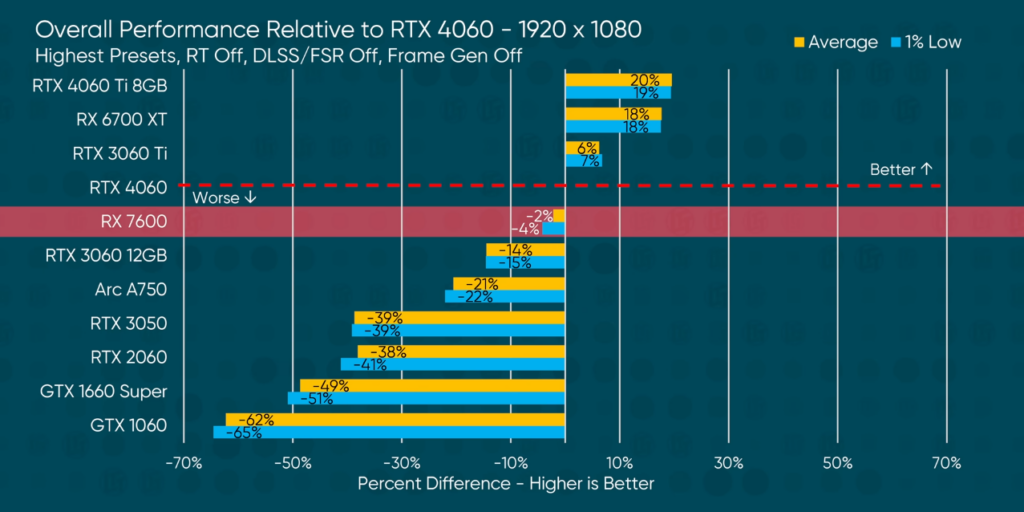 LTT shows a higher difference in performance between RX 6700XT and RTX 4060 in their benchmarks. Nevertheless, everyone agrees on the fact that RX 6700XT is a much better option for anyone looking to buy a GPU in this price range.
Also read: Intel Arc A750 and A770 – better than RTX 3060? Should you buy it?
Nvidia's strong suit is its productivity performance and it does beat RTX 3060 in Blender at least. However, with other applications like 3DSMax, and CATIA, it essentially ties wit RTX 3060 and is worse than the RX 7600.
"Hopes that sometime in the future, it will come down in price and make sense to buy"
Our Key Takeaway
Skip the RTX 4060. For now, at least. You are better off with a RTX 3060Ti/RX 6700XT at the same price or if you are looking for a sub-₹30,000 GPU, you can get yourself RX 6700 or RX 6650XT or RX 6600XT. Even RX 7600 seems like a better deal!
RTX 4060 will only make sense to buy if the price comes down by a lot! For now, it's not worth it.
FAQ
What is the price of RTX 4060 in India?
The MSRP of RTX 4060 is ₹31,000 in India. Currently, you can find RTX 4060 for less than the MSRP at e-tailers like PrimeAGBG, MDComputerrs, and others. You can find it even cheaper at retail shops and PC markets.
Is RTX 4060 better than RX 7600?
Performance-wise, there isn't a lot of difference between the two with less than a 3% performance gap in 1080p and virtually no difference in 1440p.
Will PCIe 4.0 x8 affect the performance of RTX 4060?
It won't affect the performance in any way as long as you are on a platform or motherboard with PCIe 4.0. On older motherboards like B350 with PCIe 3.0, it can lower the performance.