Last Updated on February 10, 2023 by Nahush Gowda
Do you want to run Forspoken at 1080p 60fps? You need an RTX 3060Ti or higher! Forspoken is coming to PC and PS5 soon in a few days on January 24. Square Enix and the developer Luminous Productions are finally releasing this game after many delays.
It is one of the games people are highly anticipating but it has some serious system requirements which even beats the infamous Cyberpunk 2077 for its initial system optimisation.
The minimum system requirements for Forspoken are given as follows:
CPU: AMD Ryzen 5 1600 / Intel Core i7-3770
GPU: AMD Radeon RX 5500XT 8GB / Nvidia GTX 1060 6GB
RAM: 16GB
Storage: 150GB HDD or more
The minimum specs are for running at 720p 30 fps! RX 5500XT and GTX 1060 are decent cards and they can't even run at 1080p, let alone at 60fps. Given that GTX 1650 and GTX 1060 are two of the most popular cards, according to the Steam Hardware survey, with these GPUs, you won't have a pleasant experience running them.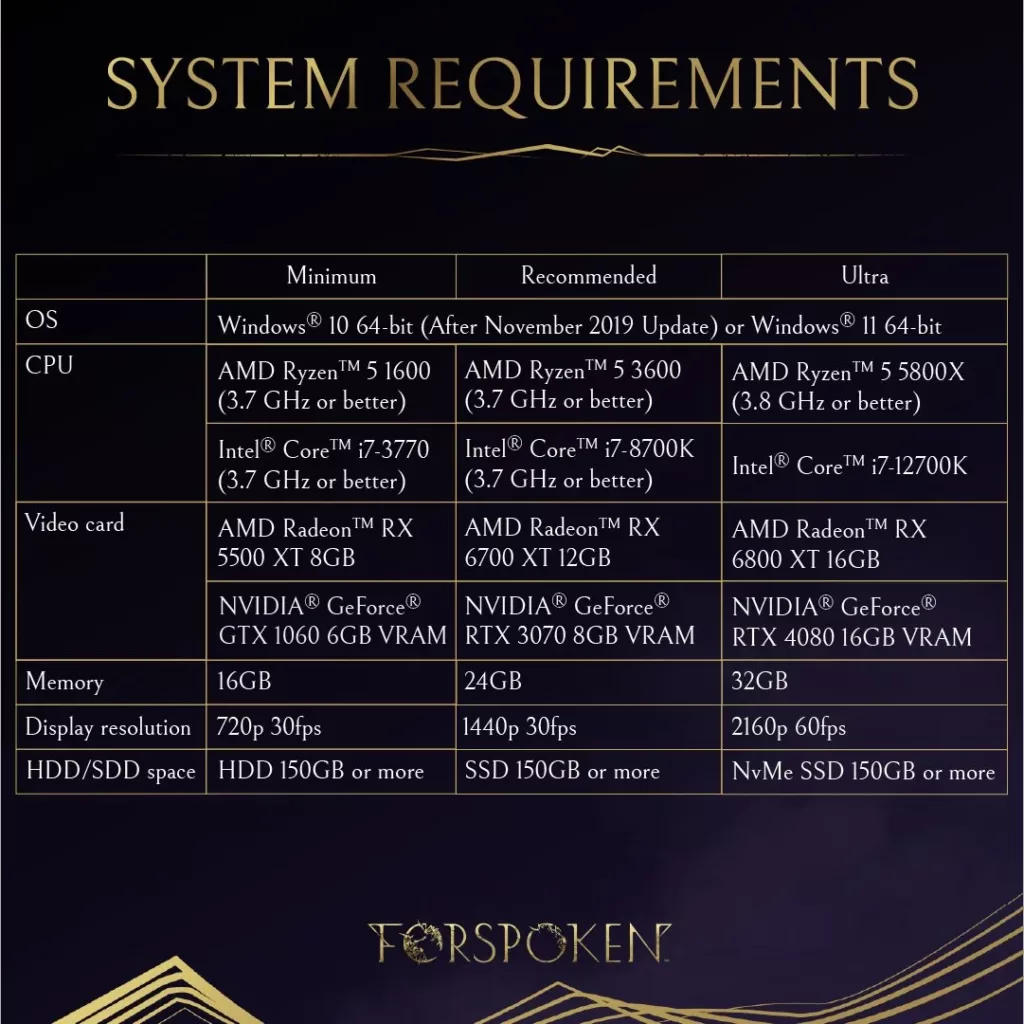 As for 1080p 60fps, we have no clue because Square Enix for some reason thinks that we won't need that. The recommended system requirements for 1440p 30fps are as follows:
CPU: Ryzen 5 3600 / Intel Core i7-8700K
GPU: AMD Radeon RX 6700XT 12GB / Nvidia RTX 3070 8GB
RAM: 24GB
Storage: 150GB SSD or more
The required system for 4K 60fps is as follows:
CPU: AMD Ryzen 7 5800X / Intel Core i7-12700K
GPU: AMD Radeon RX 6800XT 16GB / RTX 4080 16GB
RAM: 32GB
Storage: NVMe SSD of 150GB or more
The 4K FPS chart doesn't make much sense because the recommended GPU is either an RX 6800XT or an RTX 4080 which are miles apart in performance. RX 6800XT is akin to RTX 3080 and about 50% slower than the RTX 4080.
Either the given RTX 4080 is overkill and it will run fine with RTX 3080/RX 6800XT or it just magically needs less graphical power on AMD cards. If the AMD counterpart is considered, the 4K requirements do seem normal but the recommended graphics are too high.
1440p is becoming more popular and cards like RTX 3060 or RX 6600XT should run fine with 1440p high settings but given the suggested requirements, these cards cannot even run 1440p at 30fps.
Also read: Is 1440p gaming worth it over 1080p gaming?
What's worrying is that the scaling from 720p 30fps to 1440p 30fps does seem accurate as the RTX 3070 is about 1.8x faster than the GTX 1060 and 1440p has four times the pixels of 720p (for simplicity). The free demo that was released for Forspoken didn't garner too much positivity and the PC version is looking like will be riddled with optimisation issues.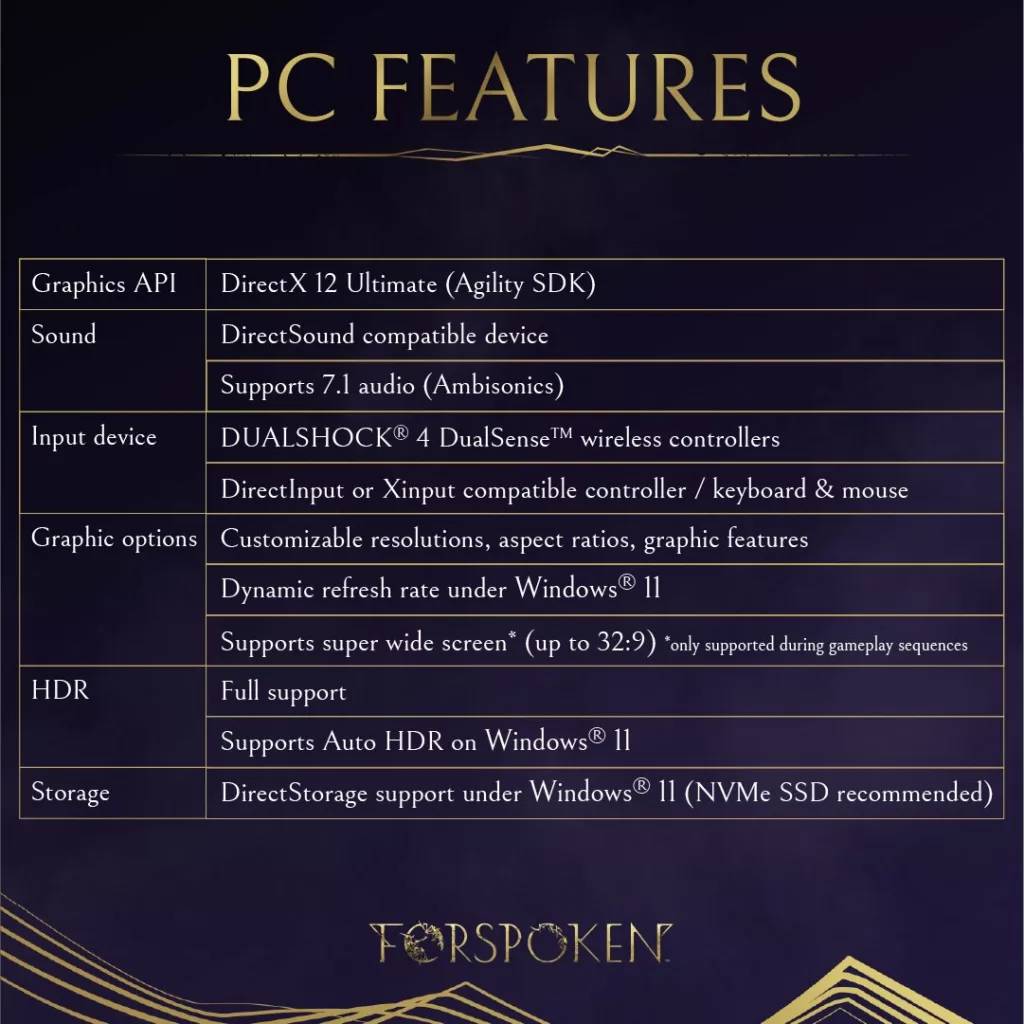 Many people are likely to be interested in the game because it will be the first to use Microsoft's DirectStorage API on a PC. Level load times should be reduced for Windows 11 users who use NVMe SSDs, as seen in PlayStation 5 and Xbox Series consoles. Forspoken, according to Square Enix, can load new scenes in roughly one second on SSDs that achieve 5GBps, implying either PCIe 4.0 or 5.0 drives.
Also Check: Value gaming PC build under 1 lac
Square Enix has also revealed PC-exclusive features such as 32:9 ultra widescreen (except during cutscenes), HDR, and FSR 2.0. Although the firm did not mention DLSS, games that use FSR 2.0 are more likely to obtain mods that include DLSS because the labour involved in the two upscaling techniques is identical, with Judgment being a recent example.
Also read: Can you build a gaming PC at the price of PS5?
Forspoken lands on PC and PS5 on January 24.