Laptops webcams poor? Do you wish your Laptop webcam had better video quality? Yes, I know. I also wish the same. But unfortunately we all are still stuck with that grainy low quality videos of us looking like villains in our meetings. While Virtual meetups are the new normal. But, laptop Webcams apparently are making it tough for us all.
The laptops webcams have not changed at least for the last 9 years. That's a long duration in today's world. So, what are the reasons laptops webcams have not changed at all. While at the same time smartphone cameras continue to evolve and getting great with every new phone launch. Read On because this article will explore this issue in detail.
Table Of Contents
Add a header to begin generating the table of contents
Quick Introduction
When you do a quick google research about "laptop webcam poor" you get the bunch of search results to articles trying to explain the reasons for that. When you read those articles they size constraints of the laptop screen and less area available for webcam up at top of screen. That is somewhat incorrect. While size is the part of the problem but its is only the minority reason.
Reasons for laptops webcam poor
At large in my research and findings. The whole thing can be summed in three points. With major of being the technical reason and other reasons kind of related to that only
1. Technical Reason –
If you look at most laptops and check their webcam specification. You will see they are limited to a 1MP or 720p camera. The reason is that the webcam are attached internally to the main board of the laptop via USB 2.0 interface. And USB 2.0 interface has this limitation that they cannot be used for cameras above 1080p resolution.
For 1080p resolutions or above the MIPI interface is used, this is already used in smartphones. The use of MIPI is a bit more complex compared to USB 2.0 interface. That is why not used in laptops as it. Also, the MIPI interface hasn't been redesigned for use in Laptops. Especially for the narrow and long pathways (distance between the main board of the laptop and webcam location) along the screen bezels of a laptop screen. On top of it with laptop screen bezels are getting smaller and smaller.
In a phone, the camera is soldered directly on the PCB (Printed Circuit board) or has a very short connection. There is no distance between phone main board and camera. The connection distance in a laptop is larger. So what is really needed is that laptop manufacturers to, make a better standard of laptop webcams. Use their huge R&D budgets to make laptops webcam great by redesigning the interface for modern camera technologies.
Some laptops do have 1080p cameras such as the MSI GE76, however generally the quality isn't too much better and laptop webcam still poor overall. For example recently launched Lenovo Legion 5 has some greatest performance but poor camera.
2. Size reason
While the main reason is the lack of MIPI interface in Laptops. One other reason (related to technical reason as well) is size constraint. You see laptops screens have very limited space for webcams. As today's laptops screens are becoming thinner and narrow bezels around the main scree. That leaves very little room for the webcam to add all the webcam hardware and wiring. Maybe this less space is also the reason for laptop manufacturers struggling to add a new MIPI interface to the laptop. Which is needed for better cameras.
I came across this explanation from Jarrod Tech's website – Check the article here.
3. Money Reason
As we have already talked about the main reason of lack of MIPI interface (to attach webcam with main board) in laptops. All that is needed is Laptop manufacturers to do redesign some parts of laptops to add MIPI interface for better webcams. But this will take considerable R&D and increase cost to manufacture a Laptop.
Manufacturers don't want to lose their profits by designing laptops with better webcams. Which is unfortunate as I think people will prefer for the laptops with better webcams over other laptops (assuming other specifications are similar).
So, all these above reasons for the Laptops webcams poor performance. But, there are other ways with which you can have much better camera for your laptops and not look like a dark villain with poor webcam. Let's explore how we can improve the laptop webcam image/video quality.
How to Improve Laptop webcam quality ?
While we have to wait for laptop manufacturers to bump up their Laptop webcam quality by re-engineering. Which may take time. There are a lot of ways we can improve the video quality of our current laptop webcam. I have covered in depth about the ways to improve laptop webcam here– you can check that out. But let me just give highlights.
1. Improve the Lighting
This one is dead simple. Just improve the lighting where you sit for video conferencing. Like increase the available lighting behind you when you are sitting in front of a laptop webcam. You can simply buy LED lamps and lights to help with that.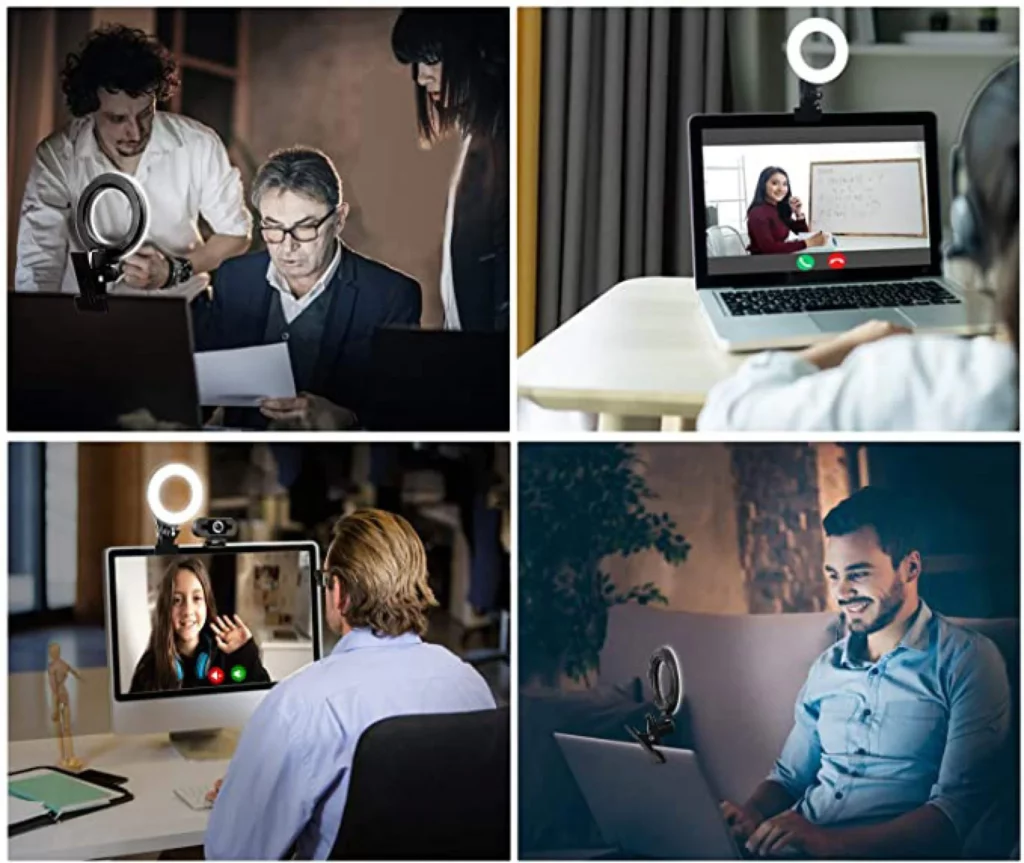 You can buy the ring light from Amazon here – https://amzn.to/3cFRcdQ
2. Buy external Webcam
If the laptop webcam is poor. You can just buy an external webcam and immediately improve your video quality. Like for example, the Logitech C922 1080p camera for online meetings, has decent image/video quality. It is a great starting point.
But if you are dead serious or video meeting are a crucial part of your life. You can step up and buy a 4k webcam by Logitech, BRIO Ultra HD Webcam. Buy here from Amazon – https://amzn.to/3ljraBl
3. Use your Smartphone as a webcam –
It is kind of an innovative approach we have smartphones with great camera performance. Why not use them as webcam. It can be easily done, but involves a few steps. You can know how to do it step by step here.
These are the major steps you can follow to improve your Laptop webcam poor performance. But there are many other small ways as well which you do to improve your performance. You can read my in depth article here.
In Conclusion
Laptop have become major part of our lives these days. Need for a great quality webcam have never been felt so much as current times. Why sadly laptop webcam are poor for which you know the reasons as well. Now it's all up to laptop manufacturers to give us better webcam. We will happily pay extra.