I have always been a fan of Asus laptops. They have pushed the boundaries of what a laptop can do and how a laptop can be. From dual-screen laptops to powerful, 13-inch laptops, Asus has done some amazing things.
Asus ROG laptops are flashy, powerful and a little pricey, but worthy. Continuing and improving its ROG lineup, we now have an idea of what's coming for 2023 with ROG laptops.
Table Of Contents
Add a header to begin generating the table of contents
Asus ROG Strix lineup has now been expanded and it's very confusing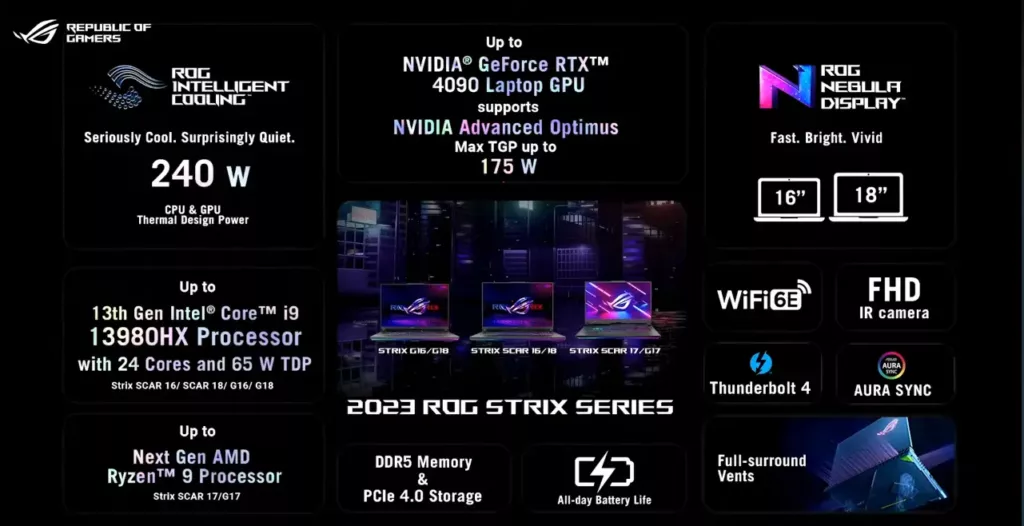 Asus ROG Strix is the top flagship line of ROG laptops which are heavily focused on gaming. The new line of Strix laptops will now include 18-inch models.
Strix G16
Strix G18
Strix Scar 16
Strix Scar 18
Strix Scar 17
Strix Scar G17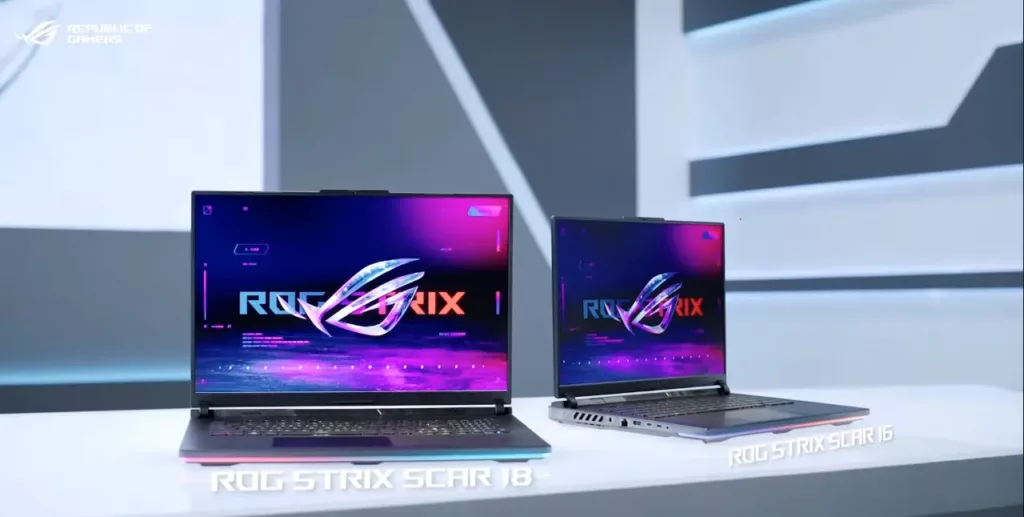 The Strix G16/G18 and Strix Scar 16/18 will be powered by Intel processors up to 13th Gen 13980HX processors which is a 24-core processor with 65W TDP. While the Strix Scar 17 and G17 will be powered by the mobile Ryzen 9 processors.
Read more: Intel 13th gen mobile processors released at CES 2023
For the GPU, the Strix lineup will use Nvidia's latest Ada architecture, RTX 40 series mobile graphics, up to RTX 4090 with a TGP of 175W. It will also support Advanced Optimus which connects your display directly to the dedicated GPU.
Read more: Nvidia announces RTX 40 GPU for laptops and desktop RTX 4070Ti
Asus also mentioned that the new laptops will have improved cooling, a new display standard and an enhanced experience in using the AuraSync (RGB control). The cooling on the new laptops will now feature a full-width vent for maximum cooling.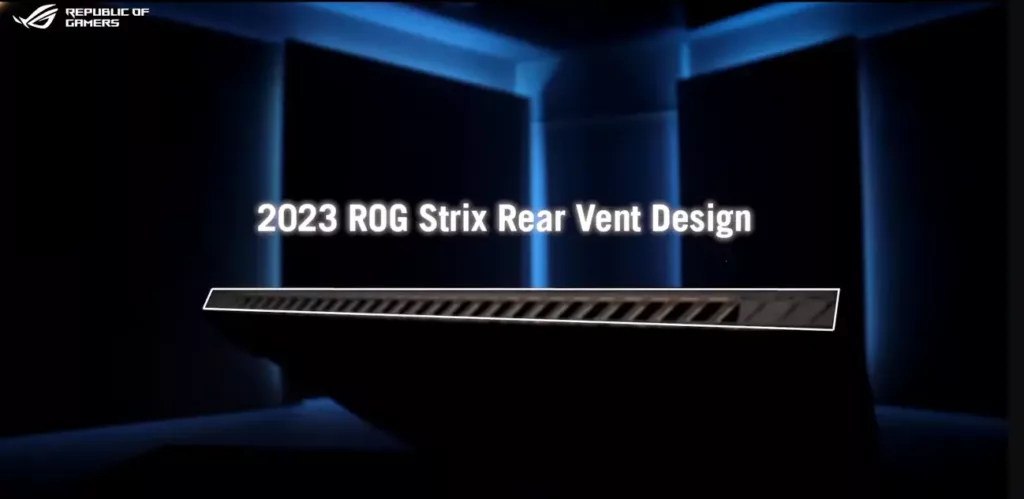 The heatsink will be bigger and will cover almost the entire width of the laptop. The ROG Intelligent Cooling will dynamically change the fan speed to match the working condition ensuring quiet usage while doing menial tasks.
Also read: New Ryzen Zen 4 laptop processors form AMD announced at CES 2023
ROG Nebula Display
The new Strix laptops will also feature the Asus' new ROG Nebula Display standard which needs to meet some requirements in order to have that badge. The requirements for Nebula Display include a 100% DCI-P3 colour gamut and the ability to switch to sRGB mode when needed, more than 240Hz refresh rate, QHD or higher resolution, and at least 500 nits of peak brightness.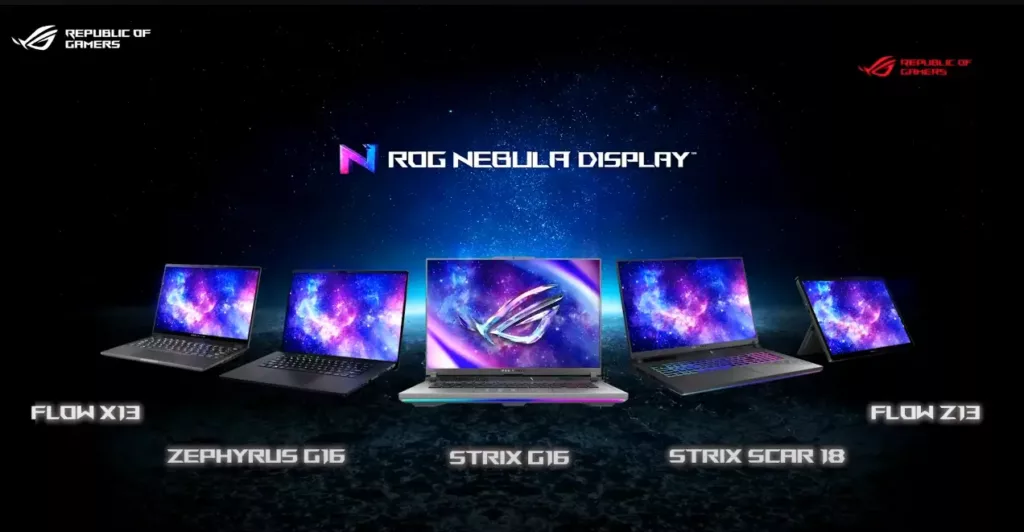 These are quite demanding requirements and you can expect them in top-end models of ROG laptops.
The ROG Nebula Display HDR will combine the mini LED and separated backlighting zone to deliver a good HDR experience. The new laptops (with HDR display) will feature 1024 dimming zones and brightness of up to 1100 nits.
Another important thing about the new Strix laptops is that they will now include an FHD webcam. Finally! Apart from that, it will feature Wifi 6E, DDR5 memory and PCIe 4.0 storage.
Also read: Asus TUF lineup for 2023 announced at CES 2023
ROG Zephyrus lineup also adds a new 18-inch laptop
ROG Zephyrus lineup has always been fascinating and is mainly focused on productivity, style and portability.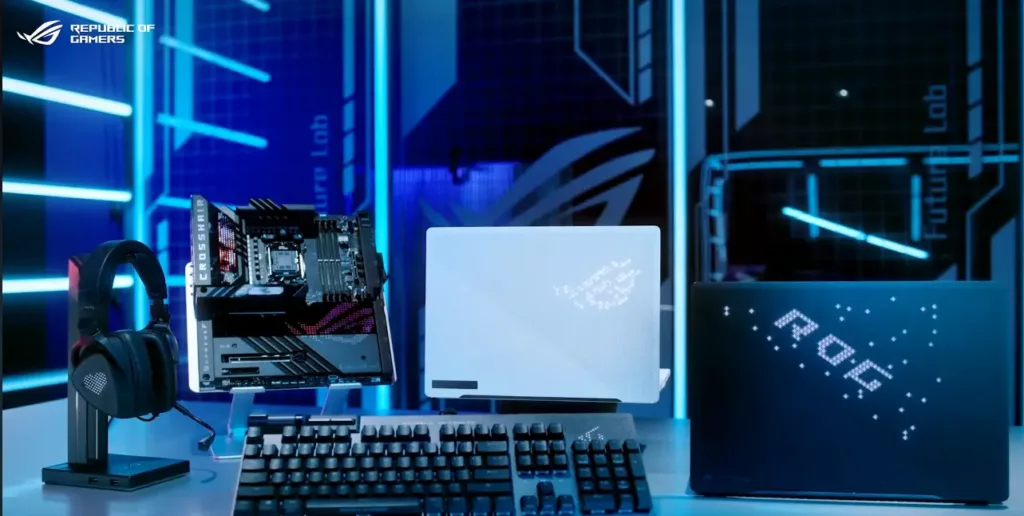 The new Zephyrus M16 and G16 will feature Intel processors of up to 13th gen 13900H while the Zephyrus Duo 16 and Zephyrus G14 (as always) will feature the latest mobile Zen 4 processor upto 16-core Ryzen 9 processor.
For graphics, it will be powered by Nvidia's latest RTX 40 series mobile graphics, up to RTX 4090 with 145W TGP (also supports Advanced Optimus).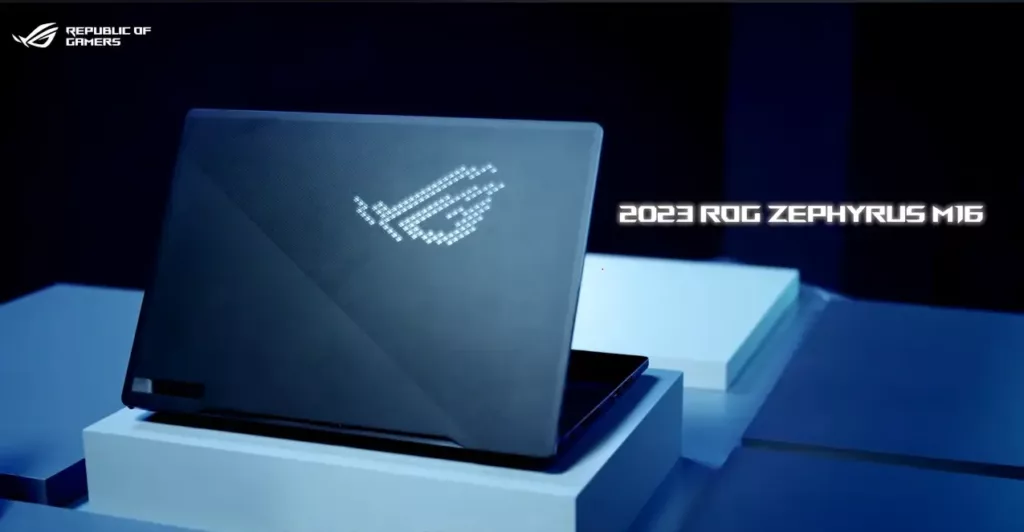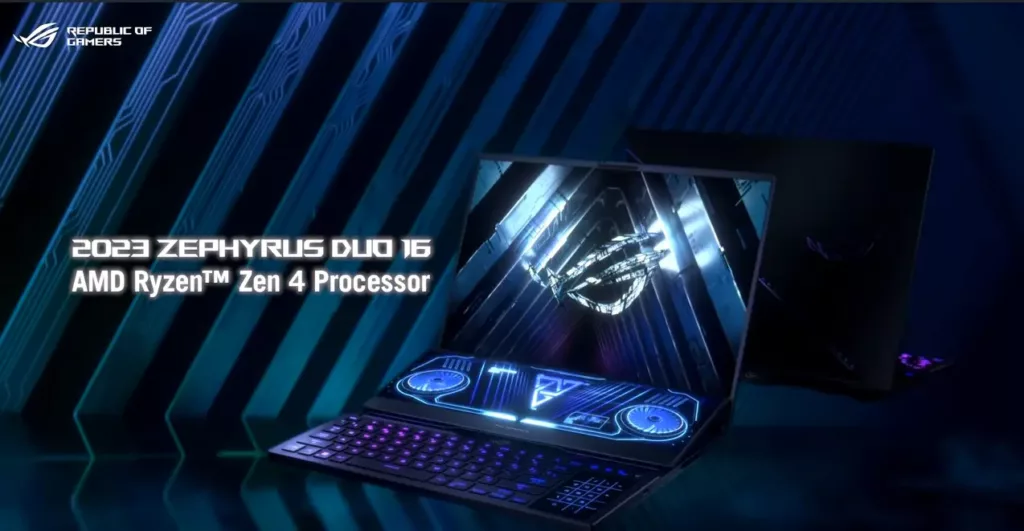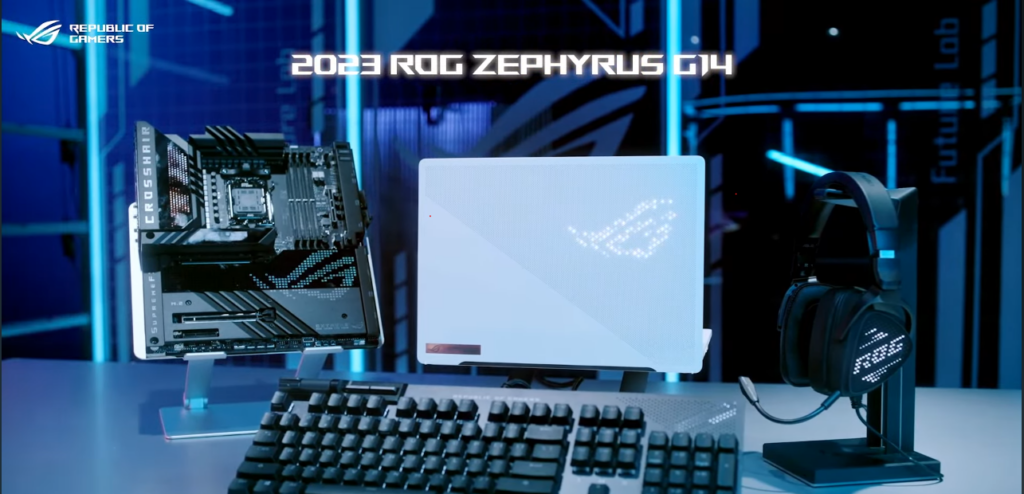 The Zephyrus Duo 16 and G16 which will feature AMD processors will support AMD Precision Boost overdrive which will let you undervolt and overclock your processor for more performance or fine-tuning.
There are no major changes in design from earlier models and seems to remain mostly the same apart from the new off-black colours that Zephyrus laptops will be available in along with its signature AniMe Matrix in Zephyrus M16 and G14.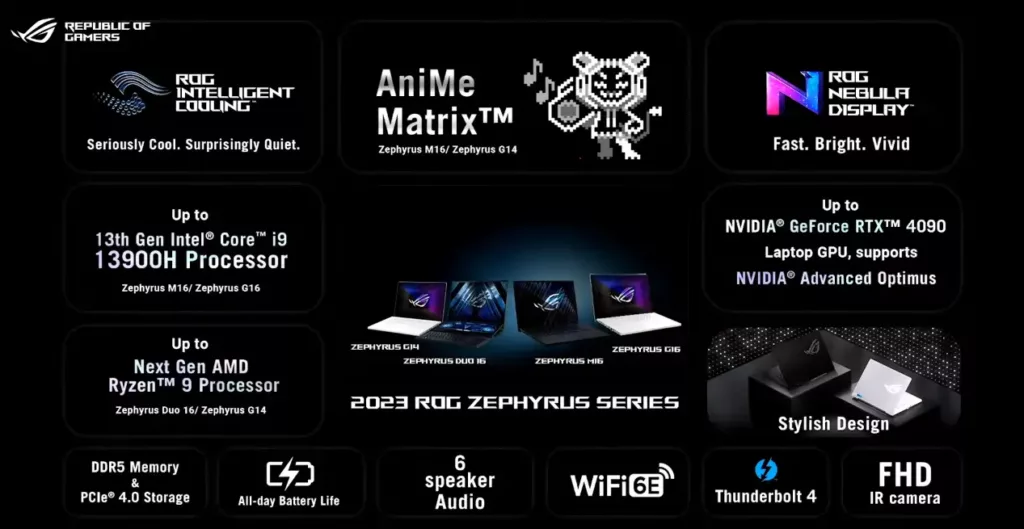 Similar to the Strix lineup, Zephyrus laptops will also have the ROG Nebula display in some laptops and an FHD IR camera. Apart from that, it will feature Wifi 6E, DDR5 memory and PCIe 4.0 storage.
Also read: Zephyrus competition, Dell Alienware x14 and x16 announced at CES 2023
ROG Flow adds a new 16-inch member and RTX 4090 XG mobile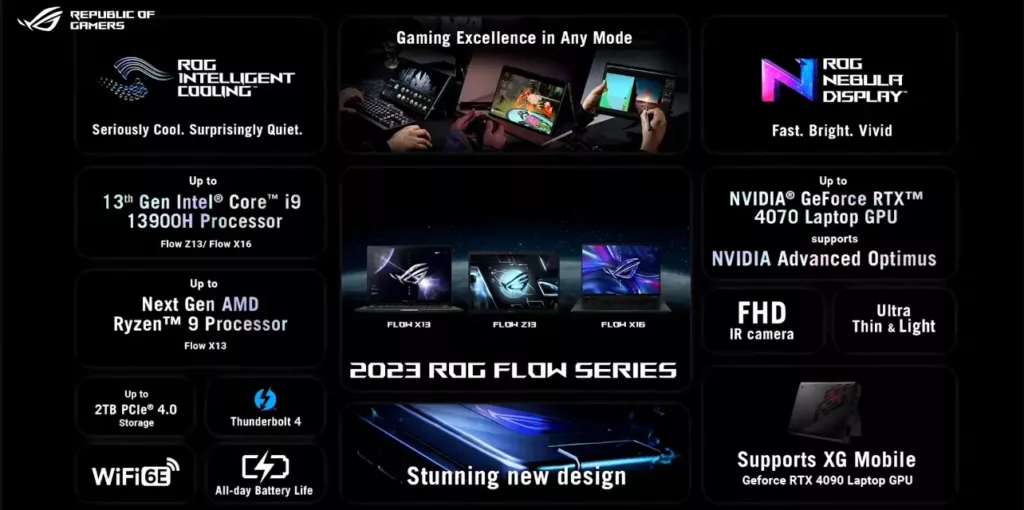 In 2021, Asus launched its first ROG Flow X13 which packed quite a lot of power in a tablet form factor and allowed the use of an external GPU, XG mobile, for more gaming power. This lineup was expanded with Z13 in 2022 and now it adds a new Flow X16.
The ROG Flow is a convertible laptop with a touch display and supports the use of an external GPU.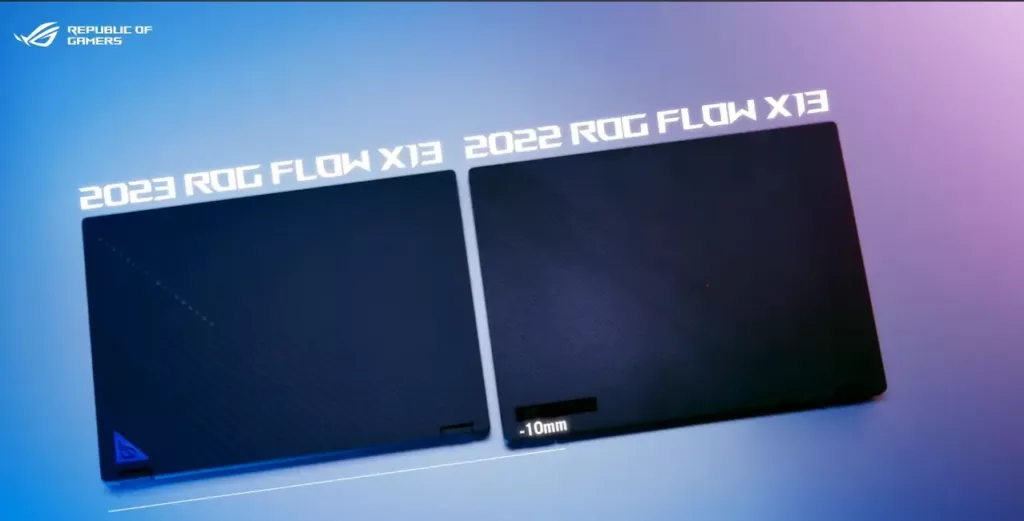 The new ROG Flow X13 will be more compact and will feature slightly redesigned aesthetics. It will be powered by AMD's next-gen Zen 4, Ryzen 9 mobile processor and up to RTX 4070 mobile graphics (also supports Advanced Optimus). It will feature a larger 75Wh battery and the new ROG Nebula Display.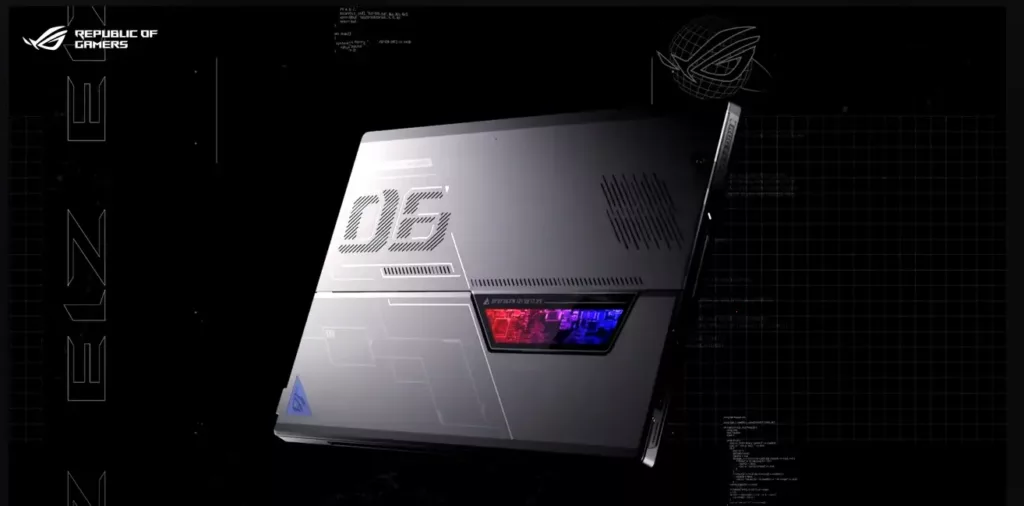 Also read: Asus Vivobook, Zenbook lineup for 2023
The ROG Flow Z13 features a unique design (space theme) and will now feature graphics up to RTX 4060 laptop GPU. It will be powered by an Intel 13th gen mobile processor, up to 13900H. It will also be upgraded with ROG Nebula Display.
The newest addition, ROG Flow X13 is the big brother of Flow X13 featuring a more capable GPU of RTX 4070 and Intel 13th gen 13900H. It will also allow you to upgrade your storage and memory.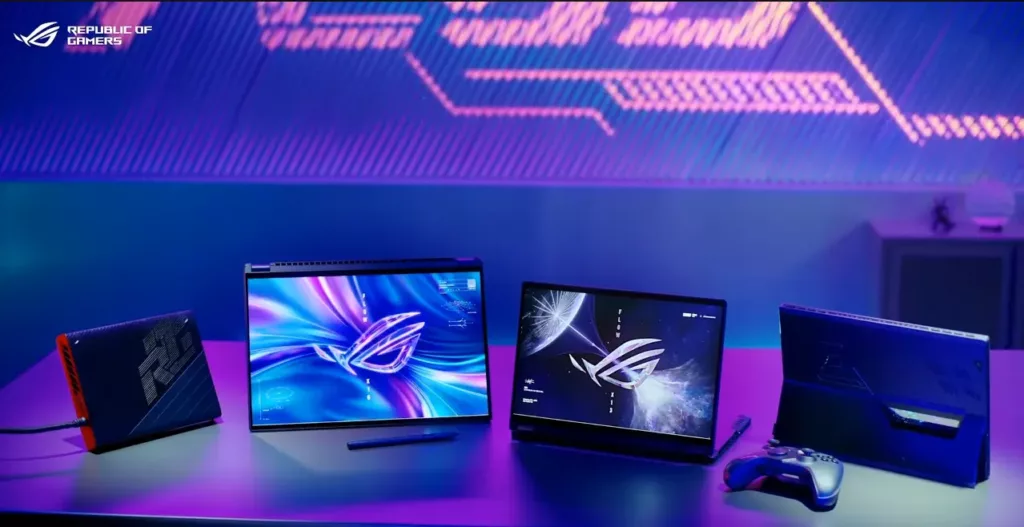 Asus also announced their new XG mobile external GPU with RTX 4090 laptop GPU. You can connect this external GPU with any of the Zephyrus laptops and enjoy top-tier RTX 4090 gaming performance.
At Nvidia's CES 2023 address, it was revealed that RTX 4080/RTX 4090 laptops will be out starting from Feb 8th while the RTX 4050/RTX4060/RTX 4070 laptops will start rolling out a little later, starting Feb 22.
We can expect Asus ROG laptops to hit the shelves in Q1 2023 itself.