There is an upgrade in the storage technology of your smartphone. The UFS v4.0.
For you and your smartphone, speed, and performance have become paramount. Most of us think, smartphone processing power is the only aspect for speed and performance.
This is only partially true, while a smartphone's processing power is indeed crucial, but equally important is its storage speed, which significantly impacts overall usability.
Understanding UFS Storage: Now, the UFS is the storage technology through which your smartphone stores data. UFS stands for Universal Flash storage. Now UFS v4.0 is the latest version of UFS, higher the version, better the speed and performance.
Now, why this UFS v4.0 is a big deal, how it is better than the previous version UFS v3.1, how it is making or will make your devices much faster. We will explore it all.
A bit of History about UFS
Let's rewind a bit. The Universal Flash Storage (UFS) standard was announced and published in 2011 by JEDEC.
JEDEC (Joint Electron Device Engineering Council) Solid-State Technology Association is a global organization which develops and announces new standards for micro electronic industry.
The first smartphone to have UFS technology was the Samsung Galaxy S6, launched in 2015. It was based on UFS v2.0, the UFS memory was developed by Samsung.
Before UFS, Android devices and smartphones relied on eMMC-based flash storage. eMMC is another type of technology used for storage.
But, as smartphones became more and more powerful and the demand for faster storage methods arose. This gave the origin to UFS technology.
How is UFS better than eMMC?
Compared to UFS, eMMC is a bit slower in processing data.
The major reason for this is how the memory module interacts with the Smartphone SoC (System on Chip)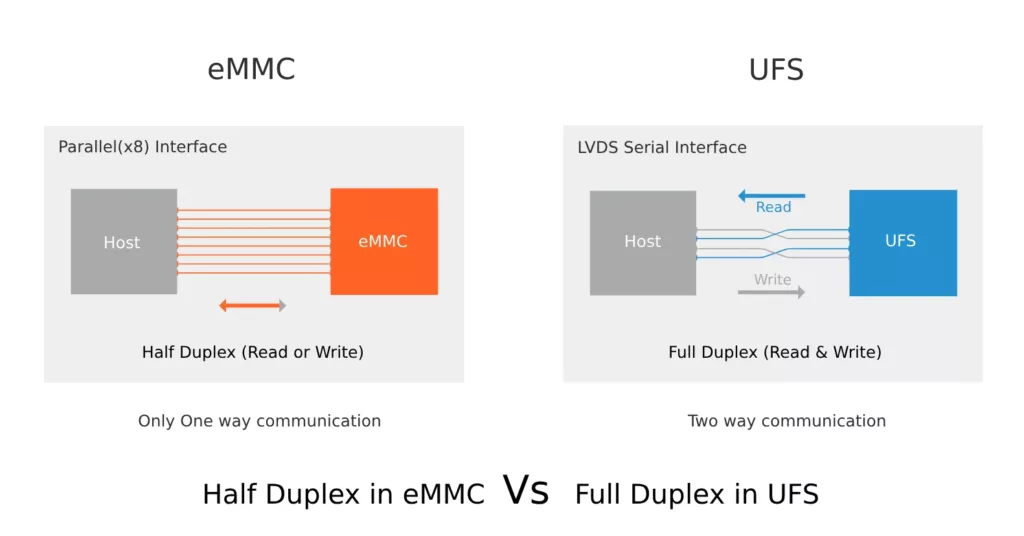 UFS memory module has a full-duplex interface that allows simultaneous reads and writes, providing significant advantages
While eMMC's uses a half-duplex interface, which restricts operations to one at a time.
Additionally, UFS consumes less power than eMMC, making it a preferred choice for modern smartphones. Building upon the success of UFS 3.1, the upcoming UFS 4.0 standard is set to redefine mobile storage capabilities.
| | | | | |
| --- | --- | --- | --- | --- |
| | Sequential read (MB/s) | Sequential write (MB/s) | Random read (IO/s) | Random write (IO/s) |
| eMMC 5.1 | 250 | 125 | 11000 | 13000 |
| UFS v3.1 | 2100 | 1200 | 100000 | 70000 |
| UFS v4.0 | 4200 | 2800 | N/A | N/A |
Read/Write speeds comparisons between eMMC Vs UFS v3.1 Vs UFS v4.0
From above, it is clearly visible how UFS is miles ahead of eMMC in terms of speed and performance.
We have covered more about the differences between UFS and eMMC and why UFS will replace eMMC, especially in the smartphones segment.
Now moving on to UFS v4.0
What is The UFS v4.0 standard
UFS v4.0 is the latest version of UFS (Universal Flash storage) interface. The UFS 4.0 standard was introduced in August 2022 by JEDEC.
The previous UFS version, UFS v3.1 was announced in 2020. The UFS v4.0 supports latest version of MIPI M-PHY v5.0 and UniPro v2.0 underlying protocols.
To give you a quick overview – M-PHY and UniPro are essential part of UFS system.
M-PHY acts as the "communication highway" that allows devices to talk to each other at high speeds, ensuring smooth data transfer.
On the other hand, UniPro acts like a "traffic controller," managing the flow of information between different parts of the UFS storage system and makes sure everything works efficiently.
Again, you can know more about MIPI, M-PHY and UniPro in our detailed article about UFS explained.
Samsung was the first company to launch the UFS v4.0 memory module. Samsung launched their UFS v4.0 in around Q3 2023.
Followed soon by Kioxia (Previously Toshiba) which announced their UFS v4.0 offering in May 2023.
Micron also announced their UFS v4.0 module in June 2023.
Key Features of UFS v4.0
Blazing Fast Speeds:

UFS 4.0 showcases exceptional sequential read and write speeds, reaching 4,200 MB/s and 2,800 MB/s, respectively.

Enhanced Power Efficiency:

UFS 4.0 takes a significant leap in power efficiency. For instance, Samsung UFS v4.0 delivers a sequential read speed of up to 6.0 MB/s per milliampere (mA).
This represents a noteworthy 46% improvement over UFS 3.1, enabling smartphones to operate longer without sacrificing battery capacity.

Robust Security:

UFS 4.0 also incorporates important security measures, including data encryption and Replay Protected Memory Block (RPMB).
These features ensure the utmost protection of your data's confidentiality, thwarting replay attacks through eavesdropping.

Compact Size:

The UFS v4.0 solution boasts an incredibly small form factor, measuring a maximum of 11 mm x 13 mm x 1 mm. The thickness is even lower at 0.8 mm for UFS v4.0 from Kioxia
This compact size enables further space savings in mobile applications, making handsets even sleeker and more streamlined.
Comparison of UFS v4.0 with UFS v3.1
Faster Read/write speeds –

Read/write speed of UFS v4.0 is 4,200 MB/s / 2,800 MB/s in comparison UFS v3.1 has Read/write speeds of 2,100 MB/s / 1,800 MB/s
This marks a remarkable 2x improvement in read speed and a 1.6x improvement in write speed compared to the previous UFS 3.1 product.

Better Power efficiency

UFS v4.0 shows approximately 46% improvement over UFS 3.1 in terms of power efficiency, enabling smartphones to operate longer without sacrificing battery capacity.
| | | | |
| --- | --- | --- | --- |
| Read/Write Speed | 4,200 MB/s / 2,800 MB/s | 2,100 MB/s / 1,800 MB/s | Approximately 100% faster for both read and write speeds compared to UFS 3.1. |
| Power Efficiency | Up to 6.0 MB/s per mA | – | UFS 4.0 demonstrates a significant 46% power efficiency improvement over UFS 3.1. |
| Security | Data Encryption & RPMB | – | UFS 4.0 includes advanced security features like data encryption and Replay Protected Memory Block (RPMB) for enhanced data protection. |
| Size | 11mm x 13mm x 1mm | – | UFS 4.0 boasts a compact form factor, measuring 11mm x 13mm x 1mm, contributing to space savings in mobile applications. |
Comparison UFS v4.0 vs UFS v3.1
Enabling Future Technologies: UFS 4.0's improved transfer speeds also play a crucial role in paving the way for emerging technologies like augmented and virtual reality. Devices such as the Meta Quest VR headset stand to benefit immensely from the enhanced read and write speeds, particularly as screen resolutions and asset sizes continue to grow in the years ahead.
Real-world benefits/Advantages of UFS v4.0
Overall Faster performance of your device
Less loading time of you Apps and games especially Online games.
Faster recording of high-resolution and High-frame-rate videos
Better battery life – UFS v4.0 Low power and
Improved data security and protection
Smartphones with UFS v4.0 memory :
UFS 4.0 has already made its way into the latest flagship consumer devices, with Samsung Semiconductor commencing mass manufacturing in the third quarter of 2022.
The Samsung Galaxy S23 – this series leads the pack, featuring UFS v4.0 storage across all variants, except for the 128 GB version of the base model.
One Plus 11 – this is another flagship smartphone with UFS v4.0 memory
Xiaomi 13
Most flagship devices of 2023 and beyond are certain to have UFS v4.0 memory. Specially with the Snapdragon 8 Gen 2 chipset.
Expectations for the Future:
Even though, UFS v4.0 initially comes with a slight price premium compared to existing storage solutions. Flagship smartphones and tablets (Like Samsung Tab S9) will be among the first to incorporate UFS v4.0, capitalizing on its superior performance and allowing manufacturers to maximize profit margins.
Over time, as the technology matures and costs decrease, UFS 4.0 will inevitably be common in the mid-range market, ultimately benefiting a broader range of consumers.

If you want to deep dive further into the depths of UFS technology and know What, Why and How of UFS. Read our full in-depth article on UFS explained.
FAQs
What is the latest version of UFS
UFS v4.0 is the latest version, Samsung Galaxy S23 series was the first to feature UFS v4.0.
Is UFS v4.0 better than UFS v3.1
Compared to UFS 3.1, UFS 4.0 offers approximately 100% faster sequential read and 95% faster sequential write speeds,
What storage capacities are available in UFS v4.0
UFS v4.0 supports storage capacities ranging from 128 GB to 1 TB, making it suitable for a wide range of mobile devices, including smartphones and tablets.
Can UFS v4.0 enhance gaming experiences on smartphones?
Yes, with its fast read and write speeds, UFS v4.0 significantly reduces loading times for mobile games, providing a smoother and more immersive gaming experience.