Still unsatisfied with refresh rate of your computer display? Meet the ASUS ROG Swift 500Hz. Asus and Nvidia have announced the world's first 500 Hz display. The display is 24-inch 1080p display and specially designed for esports as per Asus.
The announcement came from both Asus and Nvidia at Computex 2022.
The 500 Hz display is impressive. But let's just be real here, for common consumers 500 Hz is an overkill. The 360Hz display is still not common, and here we are talking about 500 Hz.
That is why, NVIDIA and Asus specifically stressed more on the display being specially tuned for esports and games like competitive games such as CS:GO, Valorant, Overwatch, and Rainbow Six Siege.
Nvidea explained in detail about benefits of faster screen for competitive gaming. Summarizing and correlating that higher the refresh rate leads to higher the scores in game.
Nvidia claims this new 500Hz monitor will make target tracking in the games easier thanks to smoother animations, and less ghosting, minimizing the distractions during games. Nvidia was able to showcase the display performance by using its impressive Phantom VEO 640S motion camera. The camera records Valorant gameplay at 1,000 fps. Thanks to its 72 GB of RAM.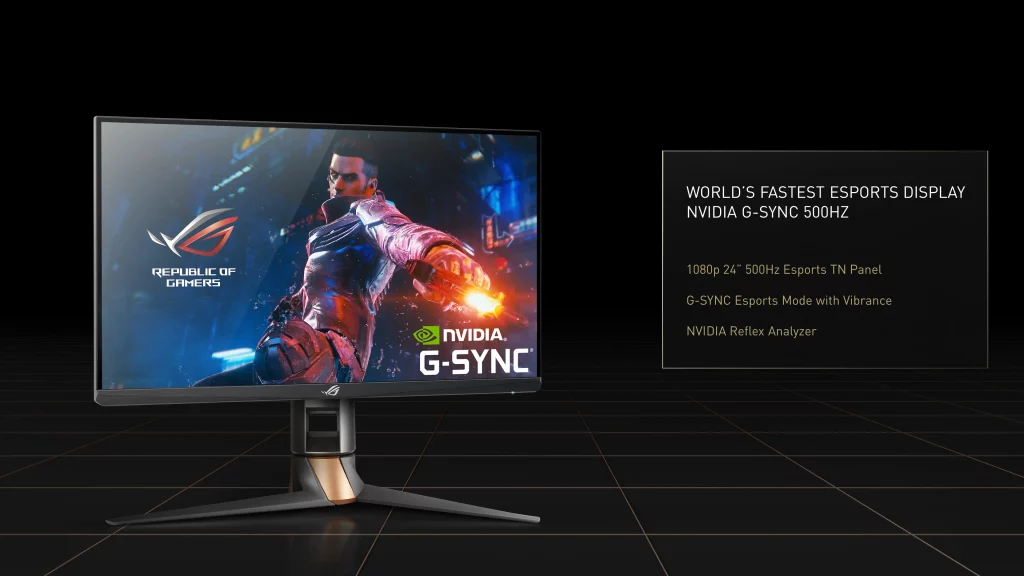 The technology behind the screen is new Esports TN (E-TN) technology, which offers 60% better response times than standard TN panels, allowing us to reach a new milestone in speed and clarity. ROG was able to push refresh rates to the limit by using new Esports TN (E-TN) technology, which offers 60% better response times than standard TN panels. This allowed for reaching this extreme feat.
Another additional feature utilized by Nvidia is NVIDIA's Reflex Analyzer – "detects clicks coming from gaming mice with Reflex and measures the time for the resulting pixels (gun muzzle flash) to change on screen.
With NVIDIA's Reflex Analyzer and G-SYNC built-in. The game players can tune their display for the lowest possible input lag, without stuttering or tearing. Plus, adjustable vibrance mode that "allows more light to travel through the LCD crystals.
Talking more about Nvidia Reflex, it is a software technology By Nvidia that lowers the latency of the screens. The technology is supported by Nvidia-based GPU's provided the game we are playing supports it.
Nvidia along with launch of ASUS ROG Swift 500Hz also announced that Nvidia Reflex added to new games –ICARUS, My Time At Sandrock, Soda Crisis, and Warstride Challenges.
The 500 Hz also needs a powerful CPU and GPU to run. The newly announced Ryzen 70000 desktop processor and upcoming launch of Nvidia next gen 4090 GPU. Things are already in place.
The ASUS ROG Swift 500Hz is definitely a great technology, but in general better suited for competitive gaming or esports. Normal consumers should be fine with 144 Hz to 240 Hz screen display.