During a webinar for channel partners on maximizing server deployments with AMD Ryzen processors, AMD shared details about their upcoming Zen 5 microarchitecture. AMD has confirmed that its next-generation Zen 5 architecture will be used in the Ryzen 8000 series of desktop processors. This is the first time that AMD has not skipped a thousand-number sequence for its mainstream-desktop series, which is interesting.
The Ryzen 8000 series will be codenamed "Granite Ridge" and will feature up to 16 Zen 5 CPU cores across up to two CCDs. The processor I/O (and its 6 nm cIOD) is expected to be largely carried over, except that it could be upgraded with support for higher DDR5 memory speeds.
Also read: AMD Ryzen 5 7600, Ryzen 7 7700, Ryzen 9 7900 Performance and Value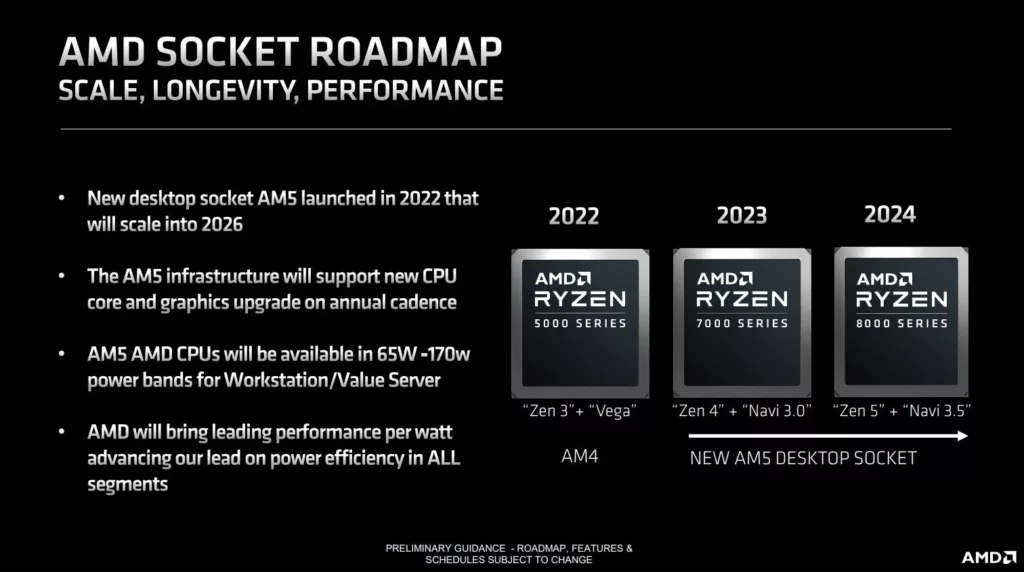 AMD has confirmed that the Ryzen 8000 series of processors will be compatible with the current AM5 platform. This means that users who already have an AM5 motherboard, such as the X670E or B650E, will be able to upgrade to a Ryzen 8000 chip without having to purchase a new motherboard. AMD has not yet confirmed whether or not a firmware update will be required to enable support for Ryzen 8000 processors on AM5 motherboards.
AMD has also mentioned a new Navi 3.5 GPU for the Ryzen 8000 series. This could be an incremental upgrade to the Navi 3.0 GPU that is used in the Radeon RX 7000 series, or it could be a die shrink to a new foundry node such as TSMC 4 nm or 3 nm. This would allow AMD to increase clock speeds and improve performance.
AMD's current GPU product stack is a bit of a mess. The Navi 31 GPU is able to compete with NVIDIA's high-end SKUs, but the company's performance segment and mid-range GPUs may have missed their performance targets. This is why AMD is rumoured to be releasing a slightly faster RX 7950 series to compete with the RTX 4090.
The Ryzen 8000 series is expected to be released in 2024. It will be interesting to see how AMD's new Zen 5 architecture and Navi 3.5 GPU perform.