Nvidia has finally released their mid-range card, but ₹62,000 ($599) for a 1440p capable mid-range gaming GPU is where we are. Sitting right in the middle of entry-level and high-end GPU, the -70 class of Nvidia was always an excellent choice for gamers who wanted uncompromised performance but didn't want to burn a hole in their pockets.
While it may seem expensive, surprisingly, RTX 4070 is the best value card we have got from Nvidia in the 40 series. Let's dive into the performance, and benchmarks and understand if RTX 4070 is really worth buying.
RTX 4070 Specifications
| | | |
| --- | --- | --- |
| Specs | RTX 4070 | RTX 4070 Ti |
| CUDA Cores | 5888 | 7680 |
| Boost Clock (GHz) | 2.48 | 2.61 |
| Base Clock (GHz) | 1.92 | 2.31 |
| Standard Memory Config | 12GB DDR6X | 12GB DDR6X |
| Memory Interface Width | 192-bit | 192-bit |
| Ray Tracing Cores | 3rd Generation | 3rd Generation |
| Tensor Cores | 4th Generation | 4th Generation |
| NVIDIA Architecture | Ada Lovelace | Ada Lovelace |
| PCI Express Gen 4 | Yes | Yes |
| Graphics Card Power (W) | 200 | 285 |
| Maximum Resolution & Refresh Rate | 4K at 240Hz or 8K at 60Hz with DSC, HDR | 4K at 240Hz or 8K at 60Hz with DSC, HDR |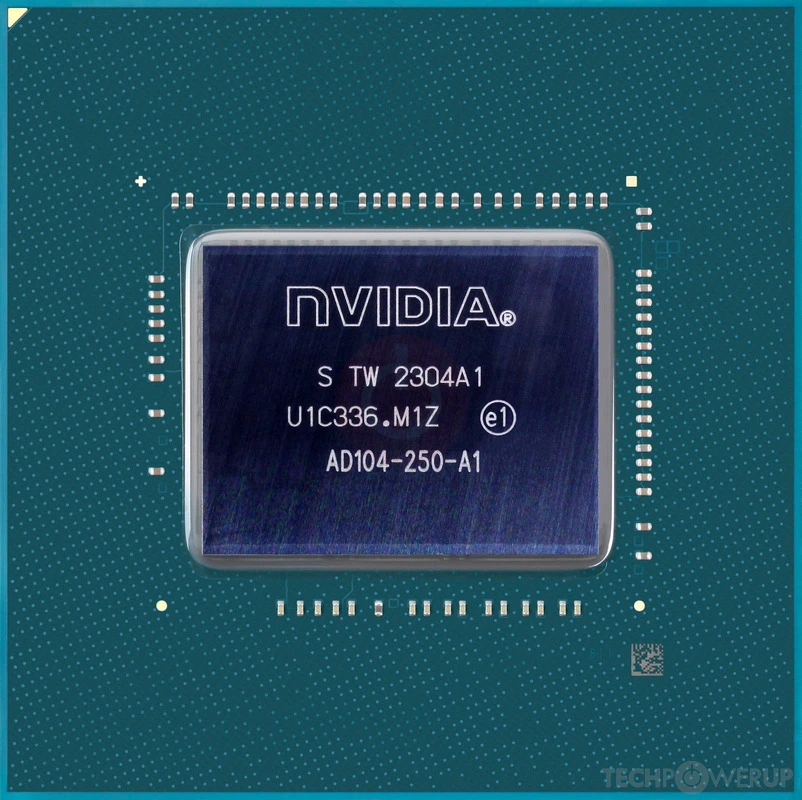 RTX 4070 is just a cut-down version of RTX 4070Ti with lesser CUDA cores and lower clocks. It carries the same memory configuration and memory width.
RTX 4070 Gaming Performance
RTX 4070 is meant for high refresh rate 1440p gaming and is also capable of 4K gaming.
RTX 4070 is on par with the previous generation RTX 3080 and AMD RX 6800XT. Although depending on the games, RTX 3080 can be faster and at 4K, RTX 3080 does perform 2-3% better on average.
Generationally, RTX 4070 is around 30% faster compared to RTX 3070. Compared to the RTX 2070, RTX 4070 is about 90% faster.
Also Read: RTX 4080 performance and benchmarks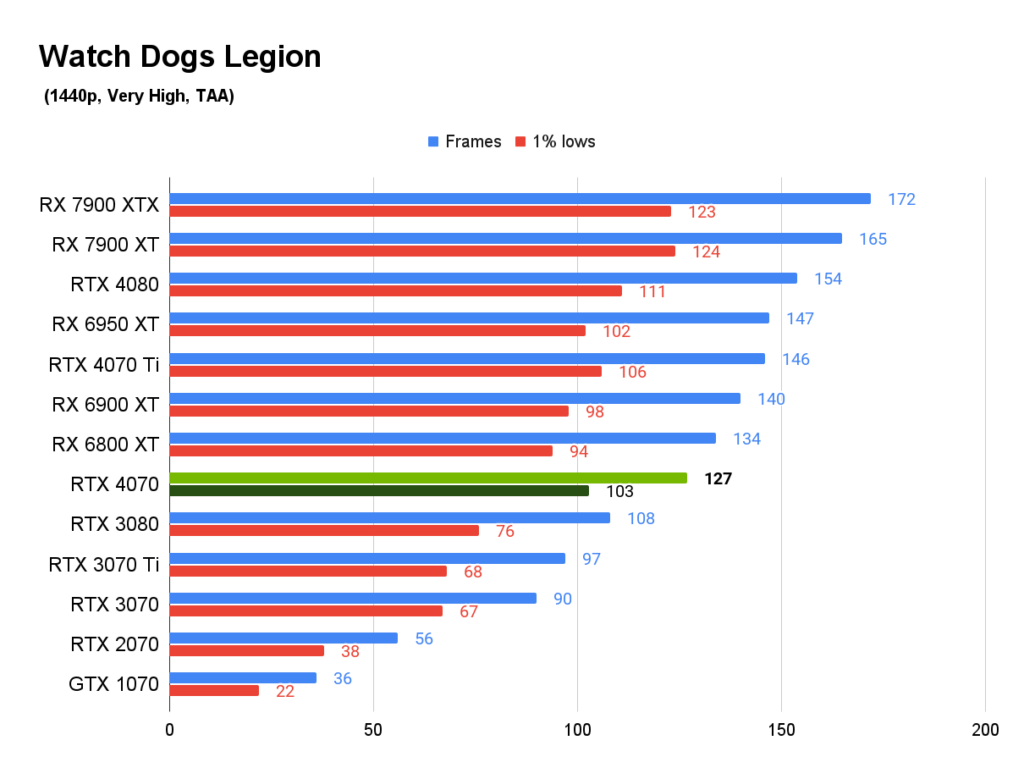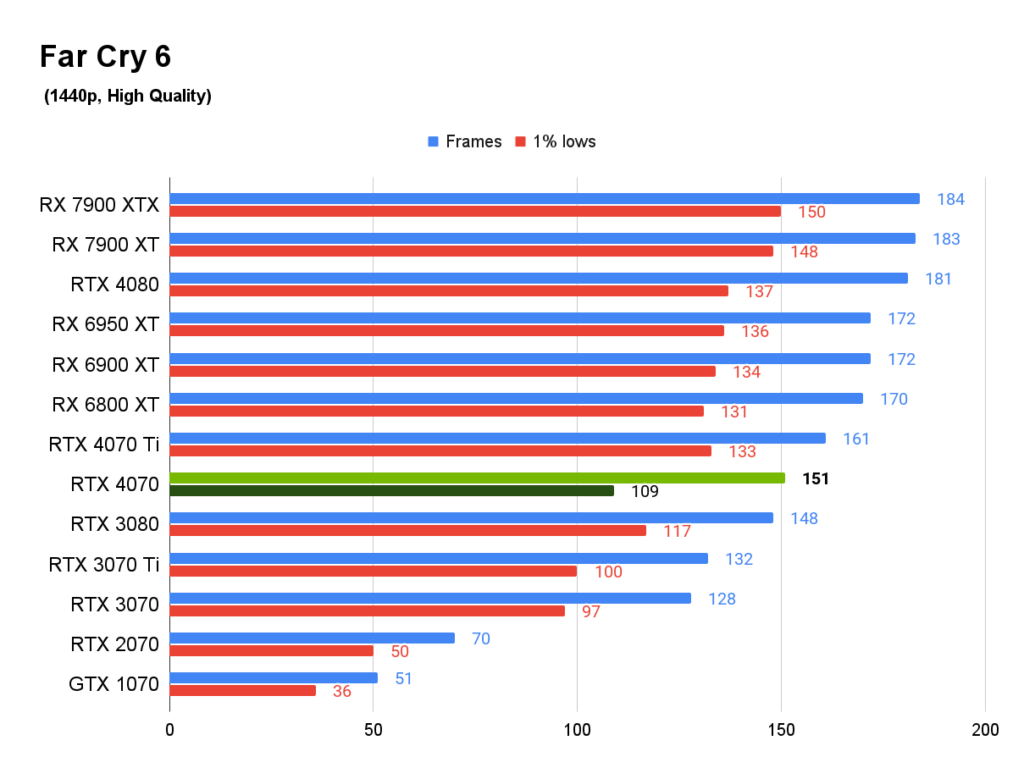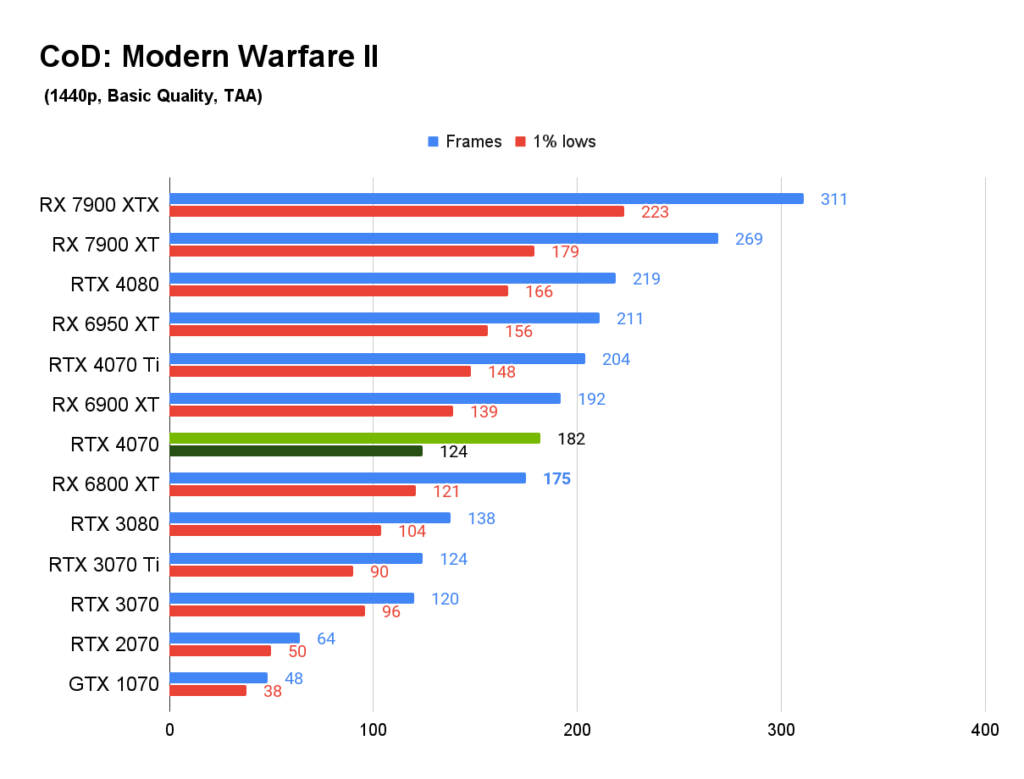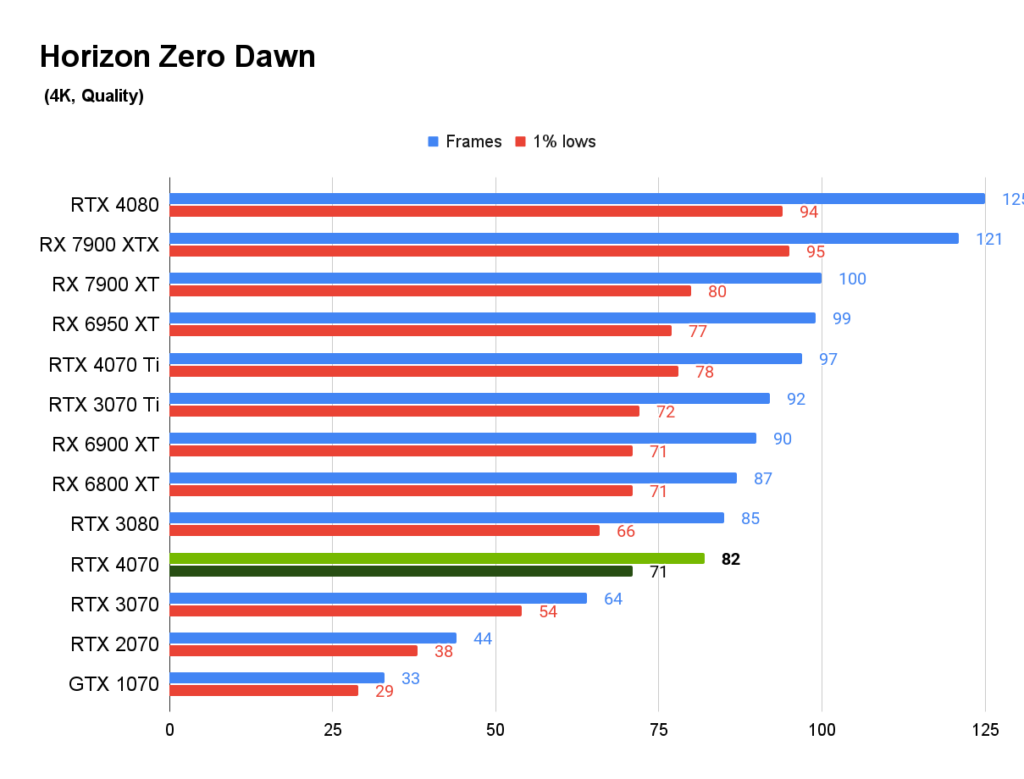 Note: We do not do our own testing. Presented data are taken from other reputed sources.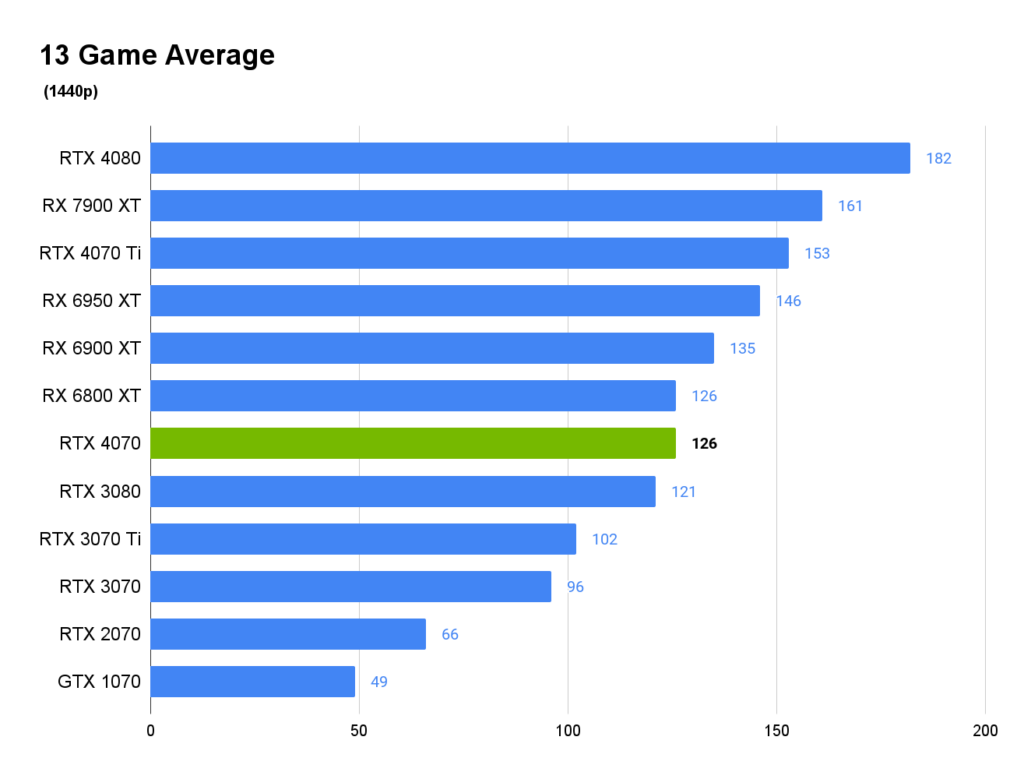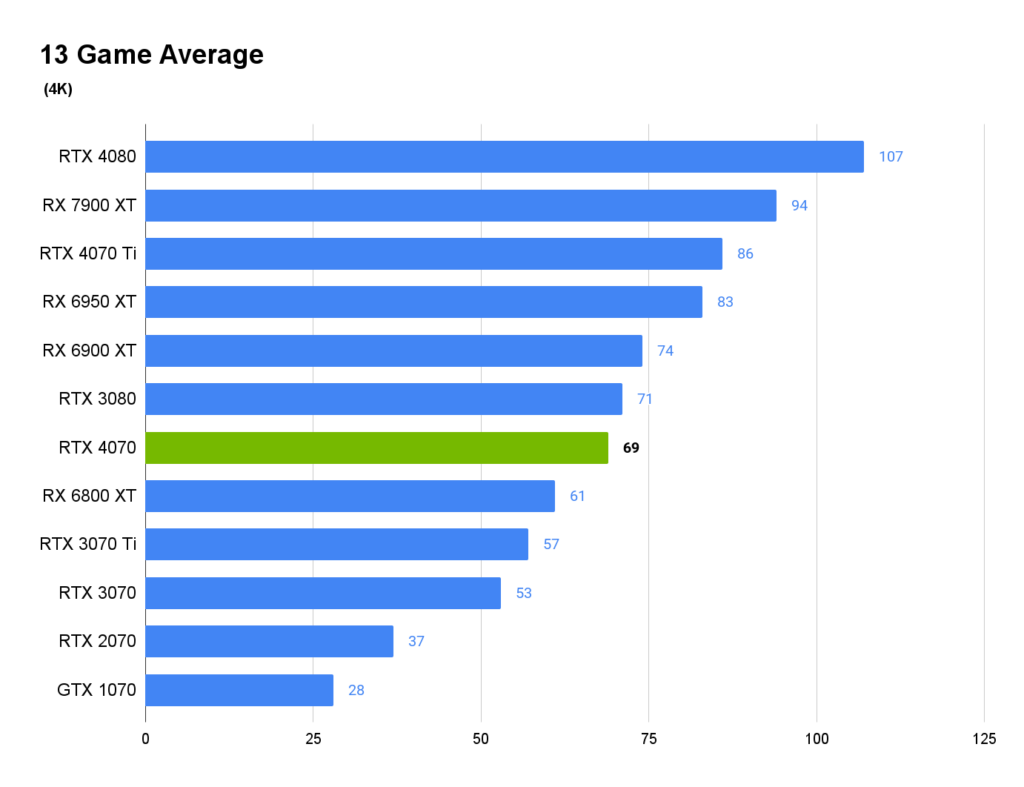 Ray Tracing Performance
In Ray Tracing, the RTX 3080 and RTX 4070 performs virtually the same but the RTX 3080 does perform slightly better in 4K. Compared to the slightly more expensive AMD RX 6950XT, RTX 4070 is slightly better by 1-2%.
Also Read: Best 4K Gaming PC build under 1.5 lakh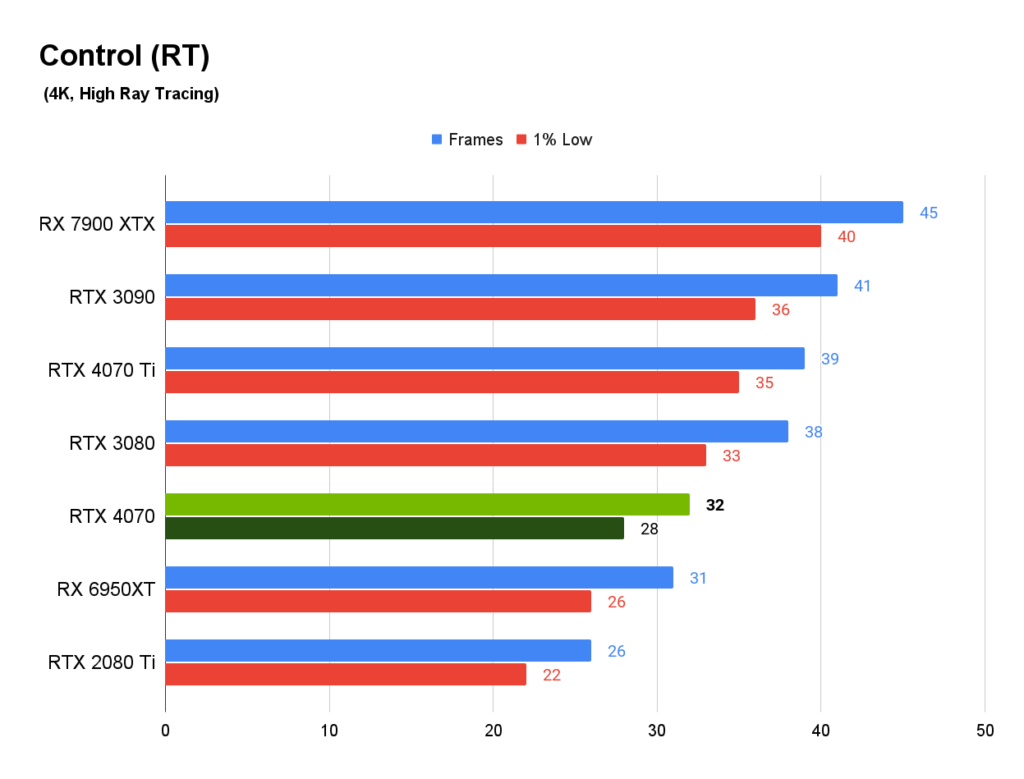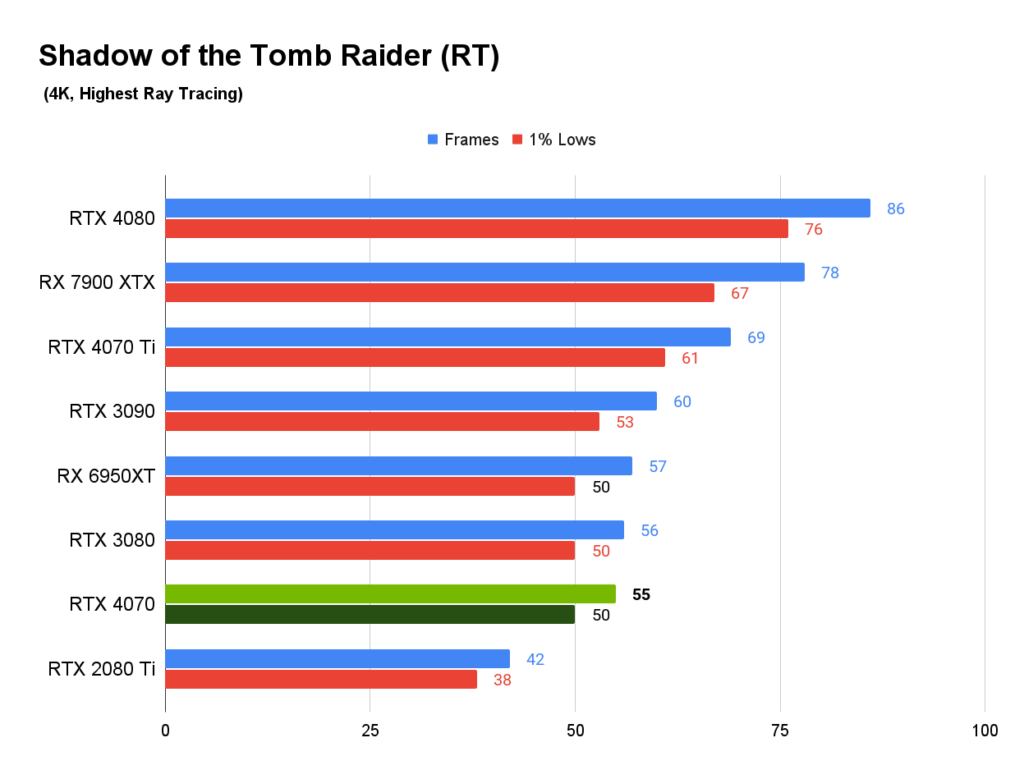 RTX 4070 Productivity Performance
In productivity tasks like Blender, RTX 4070 is much faster than the previous generation RTX 3070 by about 54% and slower by 54% compared to RTX 4080. RTX 4070 is faster than AMD RX 7900XT by about 6%.
Nvidia RTX 4070 is slower than RTX 3080, AMD RX 7900XT and even Intel Arc A770 in Photoshop. In Adobe Premiere, RTX 4070 is just 3% faster than RTX 3070 and 17% faster than RTX 4080.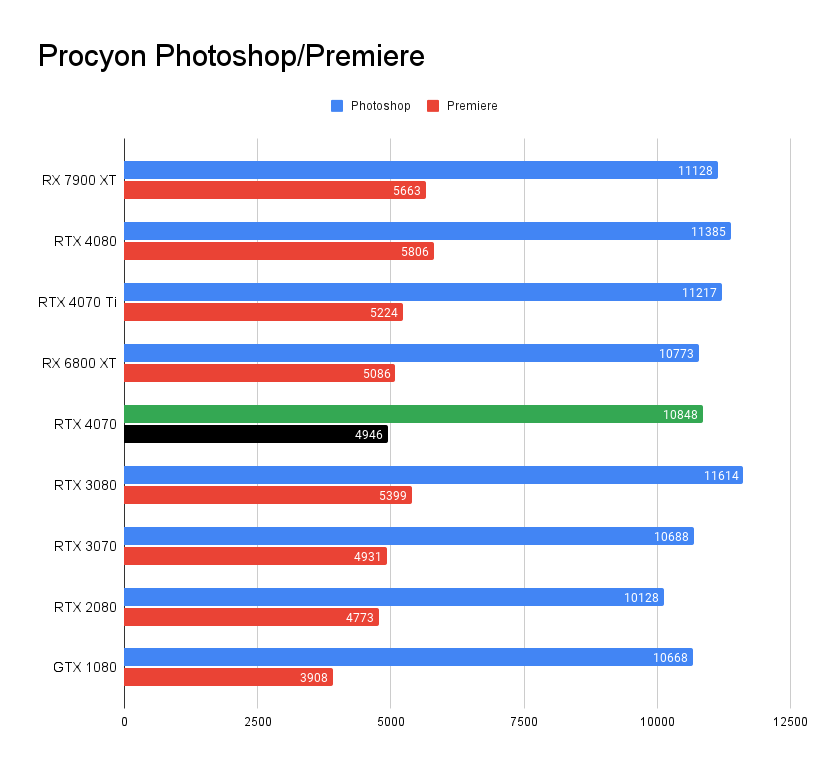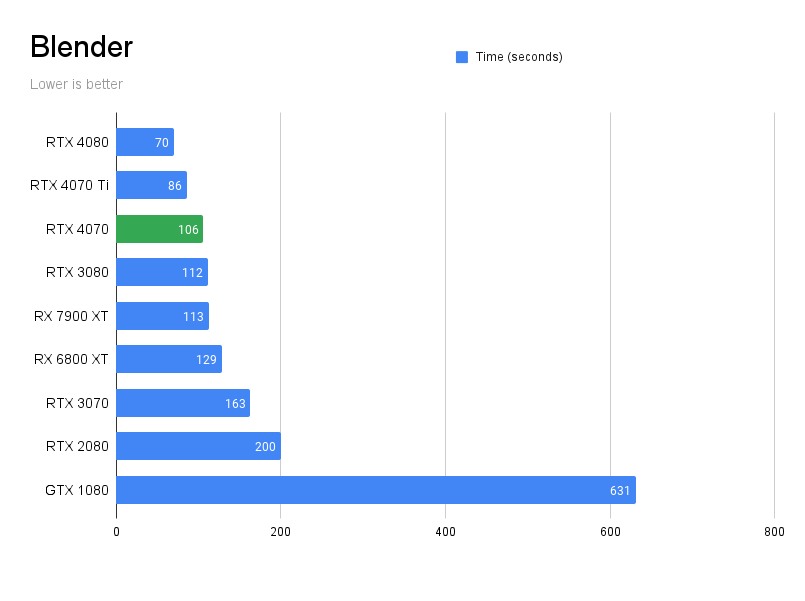 RTX 4070 – Value proposition and Cost-per-frame analysis
The launch price of RTX 4070 is ₹62,000 in India but the price has fallen considerably in just a few days. Currently, the lowest price for RTX 4070 is ₹59,700 from board partners like Inno3D. When compared according to price, the RTX 3080, RTX 3070 Ti and AMD RX 6800XT, RX 6900/50XT are similarly priced.
Also Check: Cost per Frame Analysis of GPU: Indian Market 2023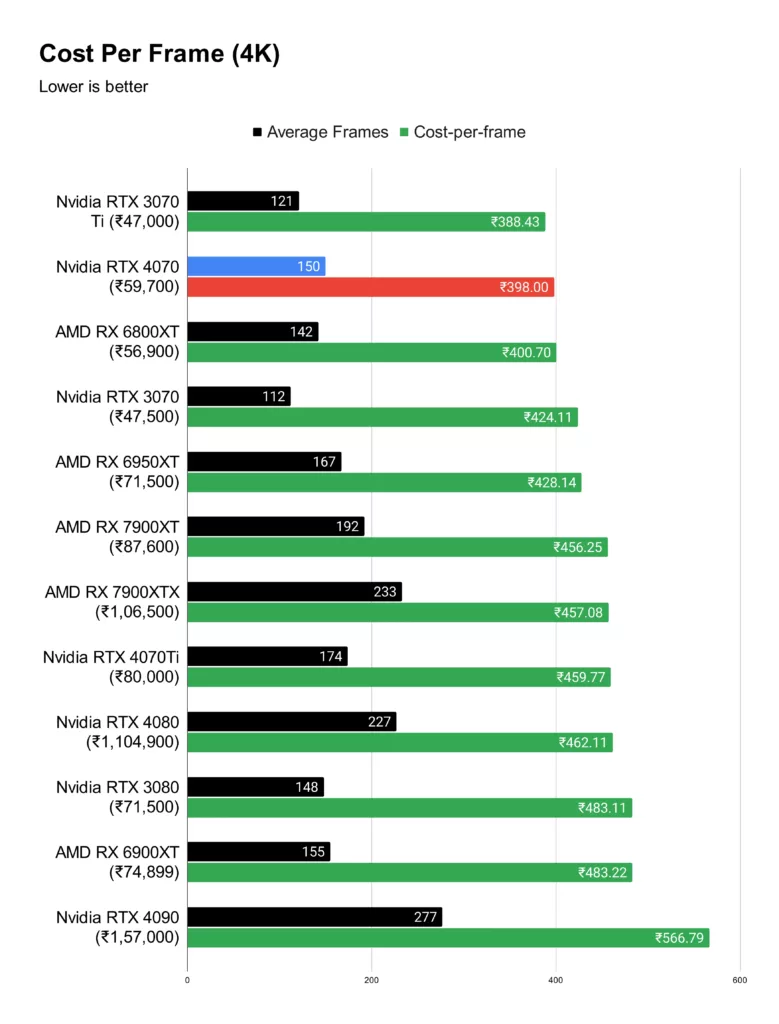 Surprisingly, RTX 4070 is the best-value GPU above ₹50,000 in the current market. In terms of value, it is much better than RTX 3080 and both the AMD flagships, RX 7900XT and RX 7900XTX. Compared to the previous generation RTX 3070, RTX 4070 is just slightly behind in terms of value.
Conclusion
RTX 4070 is not a great card but it is not bad either. Despite the price increase of ₹11,000 ($100) compared to the previous generation RTX 3070, it is still the best-value new generation GPU in the market right now.
For a 21% price increase, RTX 4070 only gets a 30% performance improvement compared to RTX 3070 which is not terrible but not good. It does deliver good performance and has better power efficiency. If you are upgrading from much older GPUs like GTX 1080 or RTX 2070, you will get a significant performance boost.
Note: This is according to the prices in the Indian market and may not necessarily be true for other markets.
It does seem like a good value maybe because other cards from Nvidia are terrible value. Nevertheless, the price of RTX 4070 has already dropped to less than ₹60,000. Overall, if you are looking for a good 1440p/4K card and have money to spend, I guess you can buy RTX 4070.