RTX 4070Ti was the last Nvidia GPU launched and it wasn't received very well because of its price. People have been waiting for more mid-range cards like the RTX 4070 and RTX 4060Ti for an upgrade that doesn't burn a hole in pockets.
Also Read: Cost per frame analysis of GPU in the Indian Market
While there have been plenty of reports and leaked specifications of the RTX 4070, Gigabyte has gone ahead and confirmed the existence of the RTX 4070 and RTX 4060 pretty early.
Also read: RTX 4080 performance and benchmark
Gigabyte has added support to two SKUs in its Control Center which is its central software to control graphics cards and motherboards. The most recent "23.03.02.01" version appears to provide support for two cards that have yet to be released:
Gigabyte RTX 4070 AERO OC 12GB (GV-N4070AERO OC-12G)
Gigabyte RTX 4060 GAMING OC 8GB (GV-N4060GAMING OC-8GD)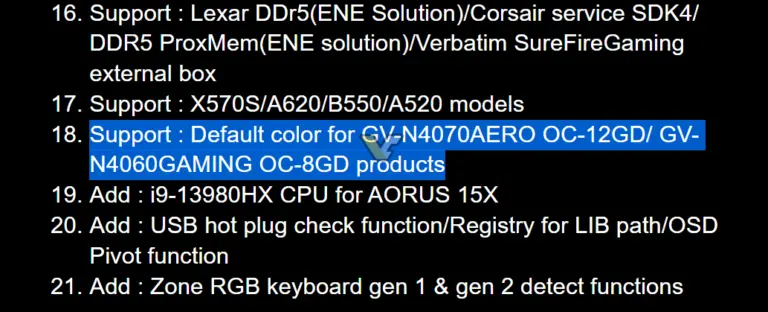 Because Gigabyte product IDs are very simple to read, this would be the first confirmation from a board partner on the RTX 4060 memory configuration. The card is believed to have an 8GB capacity, as previously reported. The RTX 4070's 12GB standard, on the other hand, should come as no surprise.
According to a leaked embargo timeline from Videocardz, NVIDIA will unveil the RTX 4070 on April 12th, only to ship it the following day. The RTX 4060 series does not currently have a release date, but board partners now expect both SKUs to be available in May at the latest.
What do we know about RTX 4060Ti?
It is reported that RTX 4060Ti will have 160W TGP which is less than RTX 3060Ti's 200 W TGP. While, it is a good thing that power draw has reduced and Ada architecture looks pretty good in efficiency, the CUDA cores, and memory bus has also reduced.
RTX 4060Ti which is based on ADA106 GPU will reportedly have 4352 CUDA cores which are less compared to the RTX 3060Ti (4864 cores). It is also reported to feature 8GB of GDDR6 memory with a narrow memory bus of 128-bit compared to the RTX 3060Ti.