We have a bunch of information on the mid-range and lower-tier RTX 40 series GPU. Nvidia has only already launched RTX 4090, RTX 4080 and RTX 4070Ti and as reported earlier, RTX 4070 is coming in April.
RTX 4070 leaks
An embargo leak by Videocardz puts the release date for RTX 4070 on April 13 and the announcement on April 12. We have no information available on the price but there have been many leaks from the board partners about some information.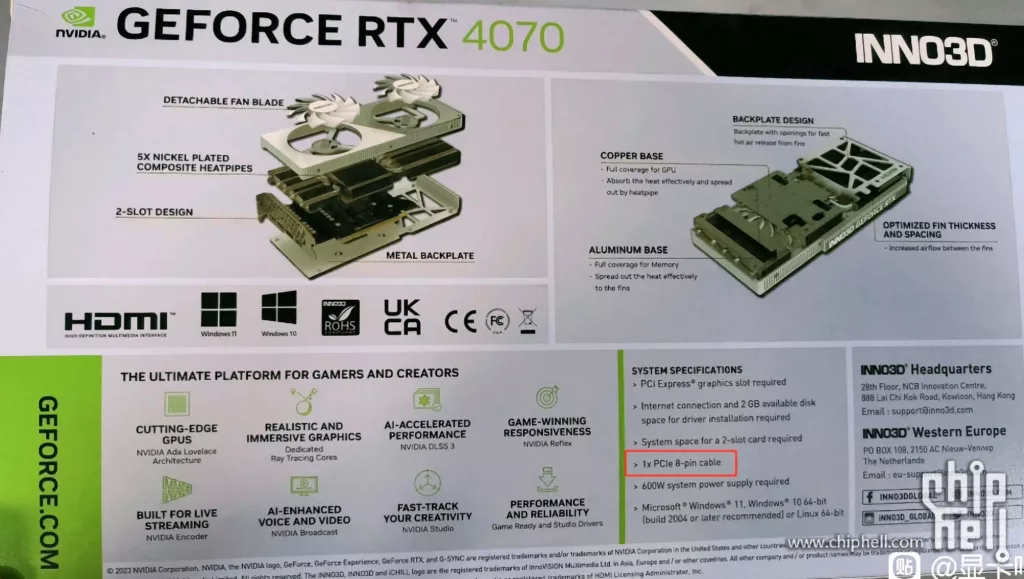 The most recent leak from MSI and Gigabyte confirmed that RTX 4070 would carry 12GB of memory. The RTX 4070 will feature the AD104-250 or 251 GPU with 5888 CUDA Cores. These cards will have a TDP of 200 to 225W.
What do we know about RTX 4070 so far?
Release date: April 13 (Announcement on April 12)
GPU: AD104-250/251(confirmed)
Memory: 12 GB GDDR6X (confirmed)
Memory Bus: 192-bit
CUDA Cores: 5888
Boost Clock: 2475 MHz
Bandwidth: 504 GB/s
TGP: 220W – 225W
Power connector: 1x8pin / 1x16pin (confirmed)
Interface: PCIe Gen4 x16 (confirmed)
RTX 4060Ti and RTX 4060 leaks
The latest leaks from the packaging template for RTX 4060Ti have surfaced but it doesn't confirm any specifications. NVIDIA offers the box and logo design templates in advance to all board partners. This is how they prepare for the imminent release of new graphics cards while also adhering to NVIDIA design criteria.
Packaging is frequently printed considerably earlier than any graphics card, sometimes even a month earlier. The name of the card, 'RTX 4060 Ti,' is more or less confirmed by the template at this point, but the product description does not confirm any of the crucial specs. This indicates that the 8GB memory capacity or PCIe Gen4 x8 must be confirmed by other sources.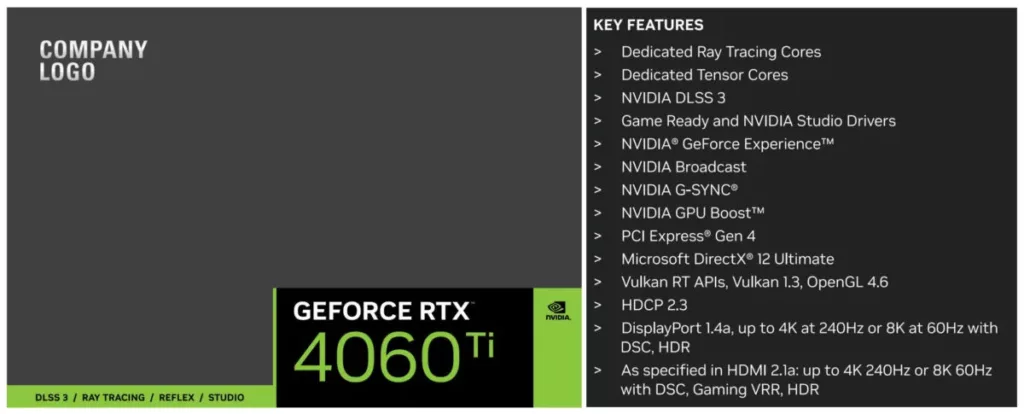 The leaks we have about RTX 4060Ti come from @kopite7kimi which suggests that it will have 8GB of memory and 160W TGP.
The RTX 4060 GPU series will contain two variants, each based on an AD106-350 or AD107-400 GPU. The latter is a full-fledged GPU model with 3072 CUDA cores. The RTX 4060 should utilise this configuration. The Ti edition will gain additional cores, maybe up to 4352, according to several sources over the previous few weeks.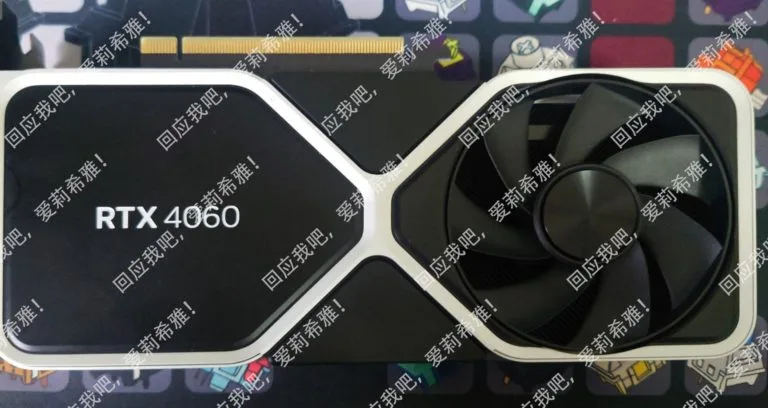 The RTX 4060 series is expected to include 8GB GDDR6 RAM and a 128-bit interface and it looks like both cards support only up to 8 lanes in the Gen4 standard. The RTX 4060 Ti is reported to boost to 2535 MHz, although custom models appear to go far higher, maybe up to 2745 MHz.
According to leaks and reports, NVIDIA's RTX 4060 GPU will be launched in May. It is rumoured that Nvidia will release both Ti and non-Ti variants, however, it is unknown whether they will be launched at the same time.
RTX 4050 leaks
According to the leak, the RTX 4050 will launch in June and not much is known about its specifications. We know that it will feature a cut-down version of AD107 GPU and will have 6GB GDDR6X.

If the reports are true, we might get 4 GPUs in the next three months. The pricing is the biggest concern with the RTX 40 series as the price of even RTX 4070Ti was not very "consumer-friendly". The trend is most likely to continue with mid-tier cards as well.