Netflix, a well-known video streaming service, has started referring iPhone and iPad customers to an external website so they may sign up for the service.
Just a few months ago, Apple began allowing "reader" applications like Netflix and Spotify, which give users access to digital material, to link to account sign-up pages on their own websites.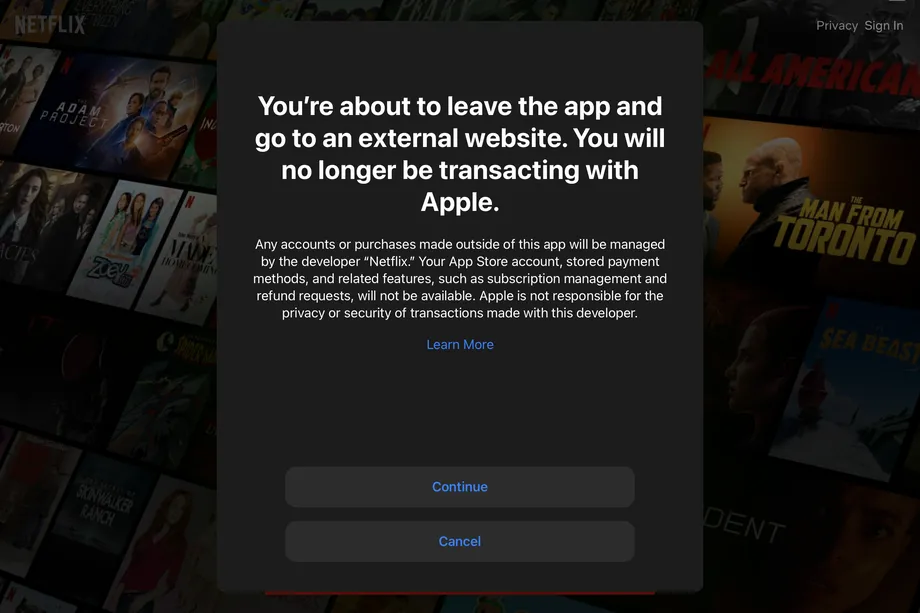 Users of the new option will now see a notification that reads, "You're about to leave the app and go to an external website," when they click the subscribe button. The app also states that Apple will not be responsible for the transaction and that all management will take place on the Netflix platform. The "Netflix" developer will be in charge of any accounts or purchases made elsewhere. You won't be able to access your App Store account, saved payment methods, or connected features like subscription management and refund requests. The disclaimer states that Apple "is not liable for the privacy or security of transactions undertaken with this developer."
By pressing the Continue button, customers are directed to the Netflix website, where they may sign up for a plan, enter their password, and select a payment method. As a result, Netflix will no longer have to pay a 30% subscription fee for subscriptions made using the iOS app.
Apple still has a tight set of rules that developers must adhere to, such as not including any cost information with a link to external sign-up pages, even if it has started to loosen some of its standards for reader apps. The "entitlement" that developers must provide in order to obtain approval to include the external link in their app.
When the EU's Digital Markets Act (DMA) legislation is enacted, Apple will have much more adjusting to do because it would be required to permit the use of third-party payment systems, side-loading, and third-party app stores. By providing developers the option to utilise an alternate billing structure for apps distributed in Europe, Google has already begun preparing for the new legislation.