At Apple's Worldwide Developer's Conference (WWDC) 2023 – there have been a bunch of launches and announcements. One of the important announcements is the latest version of iOS – iOS 17.
"With iOS 17, we've made iPhone more personal and intuitive by deeply considering the features we all rely on every day,"

said Craig Federighi, Apple's senior vice president of Software Engineering.
All the new Features and Updates of iOS 17
With the introduction of the new iOS 17- there is a revamp of the Phone app, FaceTime, and Messages. Also, StandBy charging mode, improved autocorrect capabilities, and various other enhancements, iOS 17 packs many new features and updates.
Users can look forward to a
New Phone Experience
Contact Posters
One of the fun highlights is Contact Posters, a unique customization feature that lets users design the look of incoming calls with photos, Memoji, typography, and font colors. The Contact Posters feature will also be available for third-party calling apps.
Live Voicemail
Live Voicemail is another standout feature that allows real-time transcription of voicemails and the chance to pick up while a caller is leaving a message. This feature, powered by the Neural Engine, ensures privacy as transcriptions are handled on-device.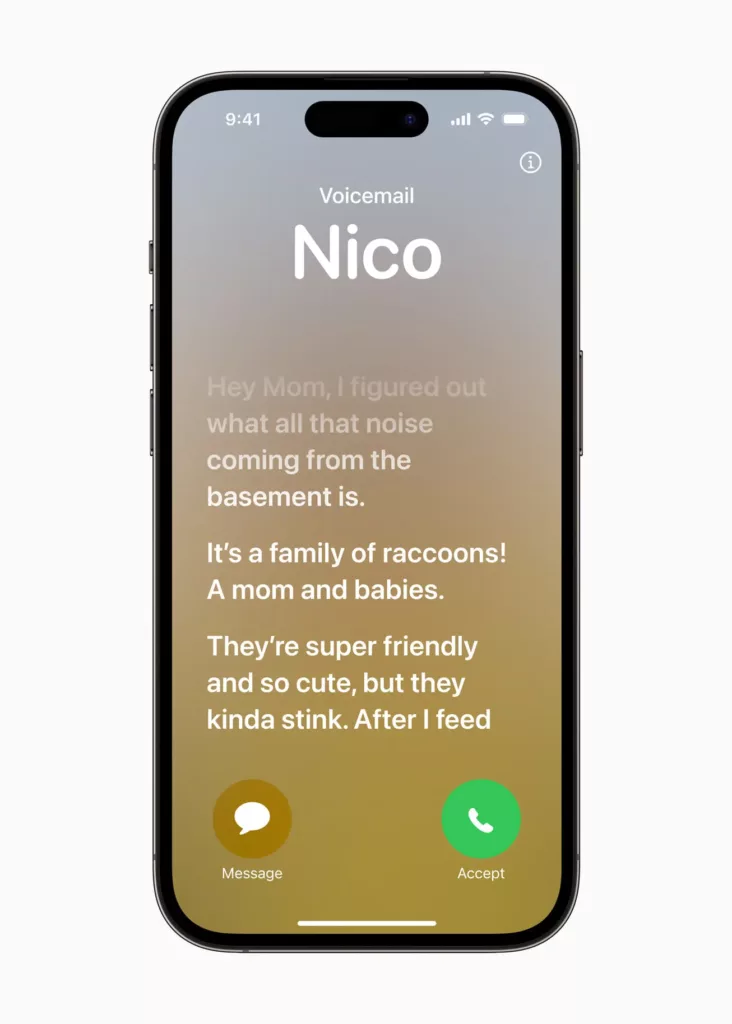 An Improved FaceTime Experience
FaceTime now supports audio and video messages, making the communication experience more dynamic. It also introduces Reactions for expressing emotions during calls. FaceTime extends to Apple TV 4K, allowing users to initiate calls directly from their television, courtesy of Continuity Camera and Center Stage technology.
Messages Gets More Expressive and Secure
iOS 17 presents significant upgrades to Messages, such as an all-new stickers experience and the ability to create Live Stickers. An expandable menu provides a sleeker look, and search filters make finding conversations easier. The new Check-In feature further enhances user security by notifying selected contacts upon arrival at a specific location.
They align with the design aesthetics of the newly redesigned lock screens and support Memoji and bold typography options.
Easier Sharing with AirDrop and NameDrop
The update introduces a new feature, NameDrop, cleverly named after AirDrop. Feature that enables easy sharing of contact information between two iPhone devices or an iPhone and Apple Watch. It promises seamless sharing and encourages engagement with SharePlay for music, movies, or games.
More Intelligent Input with Autocorrect and Dictation
The update bolsters the autocorrect feature with a better machine learning model for word prediction and a new design for better typing support. Dictation gets a revamp with a more accurate speech recognition model.
Additionally , it has in-line predictive typing and sentence-level autocorrections. .
As a fun twist, Apple has finally allowed autocorrect to learn your favorite expletives – "about ducking time," as Apple's Craig Federighi joked onstage
Glanceable Information with StandBy
StandBy introduces a full-screen display of information when the iPhone is charging. It can be personalized to show various widgets, and thanks to MagSafe, remembers a user's preferred view.
Introducing Journal: Your Personal Gratitude Practitioner
iOS 17 now also has Journal, an app that aids users in practicing gratitude through journaling. With on-device machine learning, it provides personalized suggestions for journal entries, ensuring user privacy with end-to-end encryption.
The new built-in Journal app is another major addition, suggesting moments you might want to commemorate in a journal entry. To keep things private, all entries are end-to-end encrypted.
Furthermore, with iOS 17, you can finally drop the "Hey" from "Hey Siri," a feature many users will appreciate. Siri will also recognize back-to-back commands, enhancing the voice assistant's functionality.
iOS 16 vs iOS 17: The Leap Forward
While iOS 16 presented valuable quality-of-life upgrades and centered on making the iPhone more user-friendly, iOS 17 feels like a significant leap forward, offering features that genuinely innovate and change how we interact with our devices.
From StandBy mode, improved autocorrect, live transcription for voicemails, the introduction of Posters, to dropping the "Hey" from "Hey Siri," iOS 17 is shaping up to be an exciting update, setting new standards for smartphone operating systems.
The new iOS 17 promises a significant overhaul of the iPhone experience, from communication to sharing and input. Its focus on user personalization and intuitive features aims to change how users interact with their devices daily.
Availability of iOS 17
The developer beta of iOS 17 is already available for download to Apple Developer Program members at developer.apple.com.
New software features will be available in Fall 2023 as a free software update for iPhone Xs and later.
You can also visit apple.com/in/ios/ios-17 for more details on features.
Overall, iOS 17 is turning out to be one of the most exciting Apple ecosystem software updates to look forward to in 2023.