OpenAI has introduced iOS application of free version of ChatGPT. Now iOS users will be able to access OpenAI's ChatGPT on their iPhones. This development not only simplifies ChatGPT accessibility for mobile users but also reinforces OpenAI's commitment to outperform rival AI services and dissuade imitations.
ChatGPT on Mobile – Seamless transition
Available for download from Apple's App Store, the iOS version of ChatGPT exhibits the same functionalities as its Web counterpart, with the added advantage of speech input support through Whisper which OpenAI's proprietary speech recognition system.
This additional feature makes ChatGPT much easier to use with help of voice input, transforming how users interact with AI on mobile devices.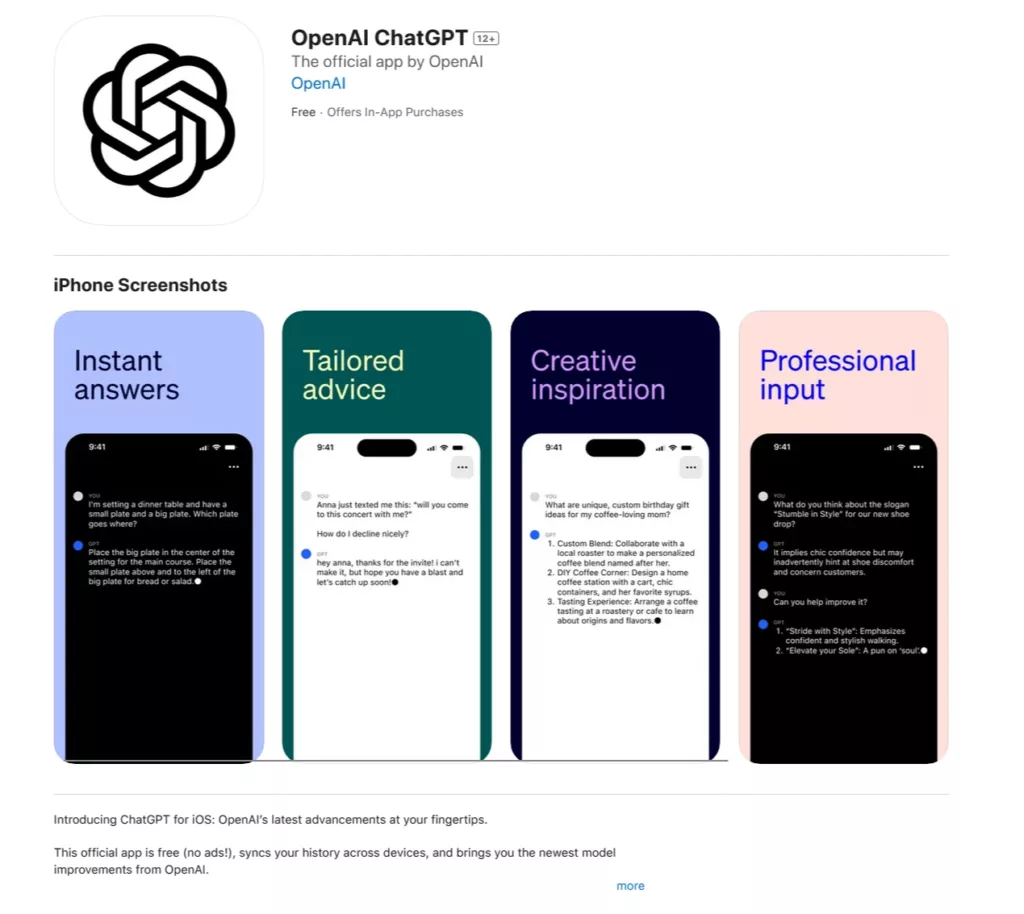 The App listing in App store has following description
"Introducing ChatGPT for iOS: OpenAI's latest advancements at your fingertips.
This official app is free (no ads!), syncs your history across devices, and brings you the newest model improvements from OpenAI.
With ChatGPT in your pocket, you'll find:
· Instant answers
· Tailored advice
· Creative inspiration
· Professional input
· Personalized learning
Join millions of users and try out the app that's been captivating the world. Download ChatGPT today."
Exclusive Features for ChatGPT Plus Subscribers
There is some additional value for ChatGPT Plus subscribers. According to OpenAi ChatGPT Plus users will be access to more advanced capabilities of GPT-4, in the mobile App. Same as Plus users on web interface of ChatGPT
ChatGPT app launched in US First, Global Next
OpenAI's ChatGPT app is initially rolling out in the United States, with plans to extend availability to other countries in the subsequent weeks.
A Defense Against Scams and Rivals
The landscape of mobile apps has been muddied by bad AI apps claiming to be ChatGPT apps. In most the apps even turn out to be fraudulent, either purporting to be ChatGPT or claiming to offer similar features.
Simultaneously, tech behemoth Microsoft has integrated its Bing app with OpenAI-powered chat support. With the official ChatGPT app. Users can stop relying on unoffcial apps.
Android App coming soon
In an official statement, OpenAI highlighted its mission, saying, "With the ChatGPT app for iOS, we're taking another step towards our mission by transforming state-of-the-art research into useful tools that empower people, while continuously making them more accessible."
The Android users eagerly waiting for their turn, OpenAI gave a tantalizing hint: "P.S. Android users, you're next! ChatGPT will be coming to your devices soon."
With this latest development from OpenAI. It seems OpenAI want to stay ahead of competition. With Google's answer to ChatGPT Bard already being improved continuously. Plus arrival of open source AI models.