AMD has released the Ryzen 7040U series "Zen 4" mobile processors primarily used in ultraportable laptops. These are processors with a 15 W TDP that notebook manufacturers can configure up to 30 W to enable improved boost frequency.
AMD technically introduced the whole Ryzen 7040 series at the CES 2023, but only provided details for the 7040HS series, which has a TDP ranging from 28 W to 45 W and is aimed at thin-and-light and mainstream notebook form factors.
This is the first time we've seen information about the 7040U series. The business revealed that processors of the 7040U series are shipping to notebook manufacturers, but no particular date for when these CPUs would be available for purchase.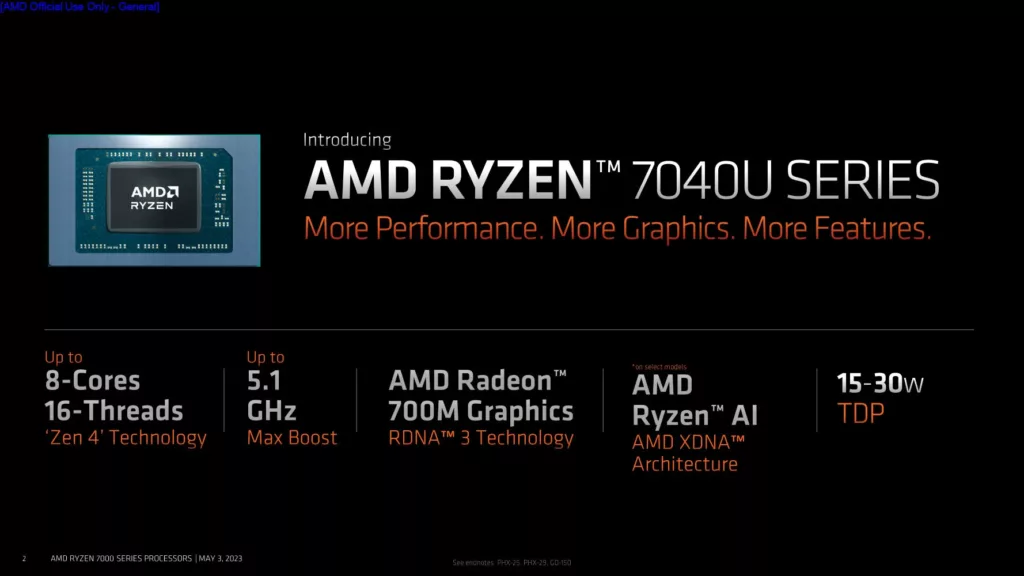 There are four Ryzen 7040U CPU versions (SKUs) in the series. The Ryzen 7 7840U is the most powerful in the series, followed by the Ryzen 5 7640U, Ryzen 5 7540U, and the Ryzen 3 7440U at the base level. The latest "Zen 4" CPU cores and RDNA3 graphics are available in all four processor configurations.
Also Read: How to read AMD processor name
The 7040U series processors are built on the 4 nm "Phoenix" monolithic silicon. This chip contains a single 8-core CCX based on the most recent "Zen 4" microarchitecture. Each CPU core has 1 MB of dedicated L2 cache and can share up to 16 MB of L3 cache.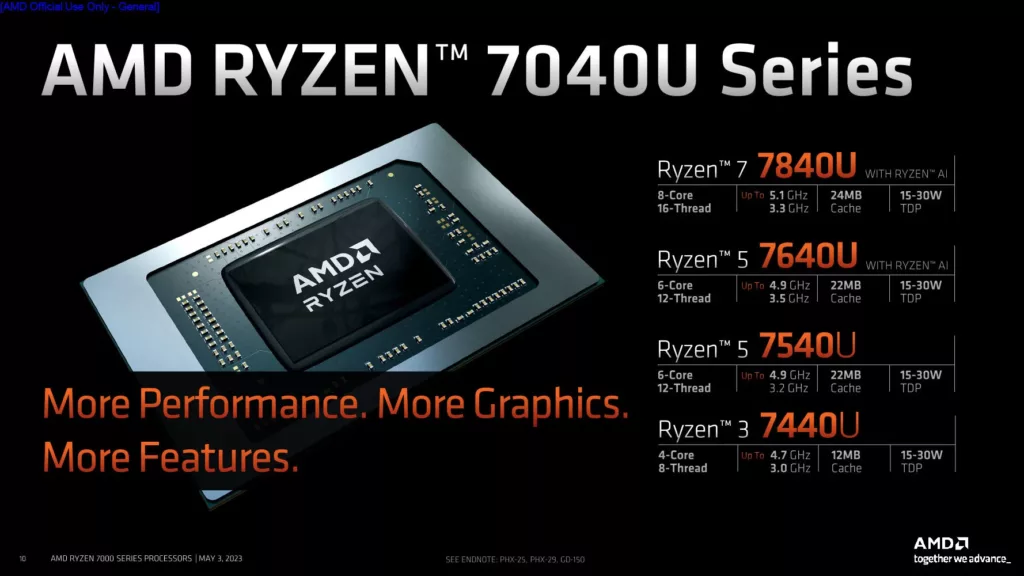 The Ryzen 7 7840U features an 8-core/16-thread CPU running at 3.30 GHz with a boost frequency of up to 5.10 GHz.
The Ryzen 5 7640U is a 6-core/12-thread CPU rated at 3.50 GHz with a boost speed of up to 4.90 GHz.
The 7540U varies from the 7640U in slightly lower CPU clock rates (3.20 GHz with up to 4.90 GHz boost) and doesn't include the XDNA Ryzen AI capability.
The Ryzen 3 7440U has 4-core/8-thread processing power clocked at 3.00 GHz with up to 4.70 GHz boost, 12MB of L3 cache capacity and no Ryzen AI.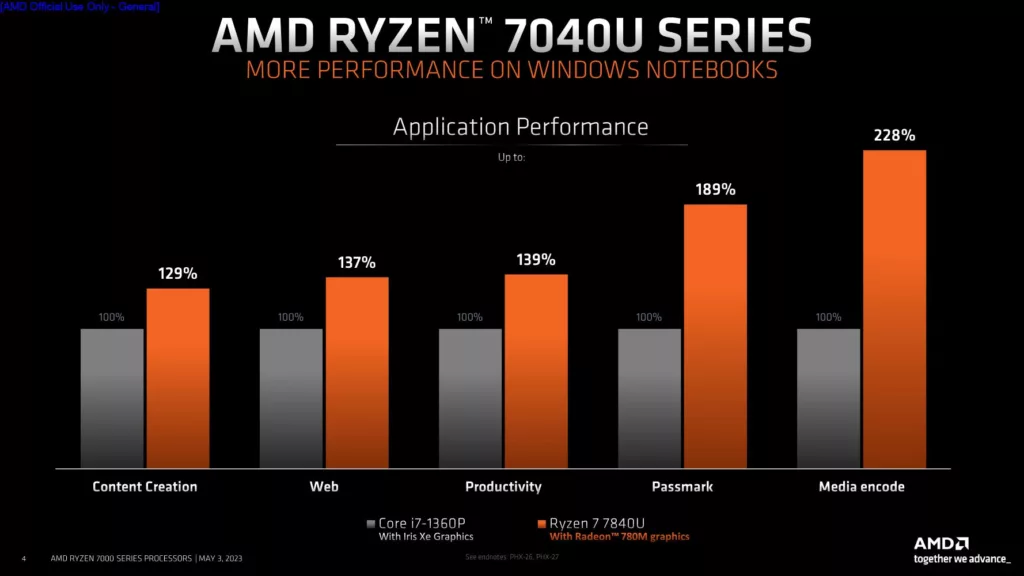 AMD claims that the Ryzen 7 7840U will be faster by up to 128% in media encoding and 89% faster in Passmark and generally around 38% faster in productivity, content creation and web browsing, compared to Intel i7-1360p with Iris Xe graphics.
Ryzen 7040U series iGPU specifications
The iGPU is based on the most recent RDNA3 graphics architecture and contains up to 12 CU (compute units) with a total of 768 stream processors.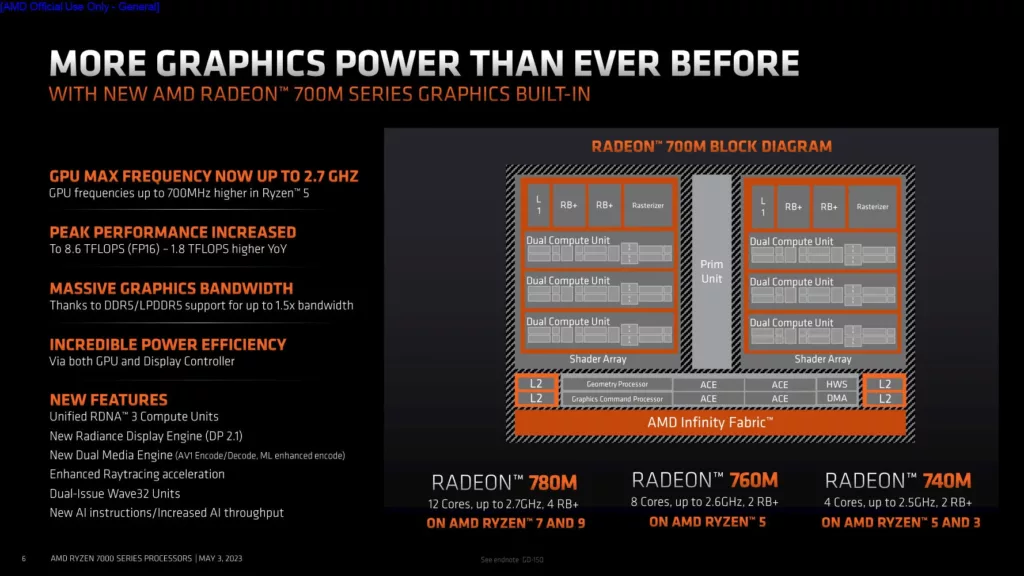 The Radeon 780M incorporates all 12 RDNA3 computing units physically present on the Ryzen 7840U iGPU, which has 768 stream processors.
The Radeon 760M iGPU in the 7640U features 8 CU or 512 stream processors.
The Radeon 740M with 4 CU (256 stream processors) is standard in the 7540U and 7440U.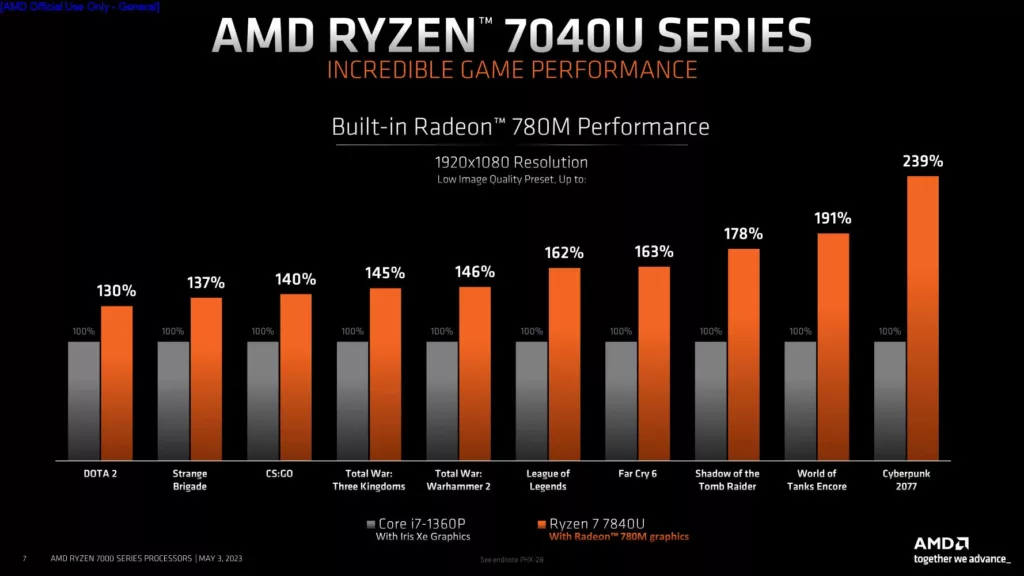 The RDNA3 iGPU, according to AMD, can be 30% to 139% quicker than the Iris Xe (Xe-LP) iGPU powering the competitive Intel Core i7-1360P "Raptor Lake-U" processor. In terms of CPU performance, AMD claims that it is 5% to 75% quicker than the Apple M2 SoC and 29% to 128% faster than an Intel Core i7-1360P "Raptor Lake-U."
| Specs | Ryzen 7 7840U | Ryzen 5 7640U | Ryzen 5 7540U | Ryzen 3 7440U |
| --- | --- | --- | --- | --- |
| Cores/Threads | 8/16 | 6/12 | 6/12 | 4/8 |
| Boost/Base Frequency | 5.1/3.3GHz | 4.9/3.5GHz | 4.9/3.2GHz | 4.7/3.0GHz |
| Graphics Cores | 12 CUs | 8 CUs | 4 CUs | 4 CUs |
| Graphics Frequency | 2.7GHz | 2.6GHz | 2.5GHz | 2.5GHz |
| Cache (L2+L3) | 24MB | 22MB | 22MB | 12MB |
| Ryzen AI | Yes | Yes | No | No |
| TDP | 15-30W | 15-30W | 15-30W | 15-30W |
Ryzen 7040U series availability
Actually, two of these SKUs have already been announced, albeit under different names. Asus's planned ROG Ally handheld console uses a customised version of the 7840U and 7540U, dubbed the Ryzen Z1 Extreme and Z1.
We did start to ramp production of those Ryzen 7040 Series [chips]. Our OEM partners have started shipping those systems. Largely, the 7040HS systems. So those should hit etail and retail over the next several weeks. We started shipping last quarter, and those systems should be available in the next several weeks.

AMD Representative
Various laptops with 7040HS series processors are available albeit in limited quantities. We can realistically expect proper channel availability of the 7040U series laptops by the end of May, with some systems available as early as mid-May but in limited quantities.