AMD has officially announced the Ryzen 7000 series hitting the market soon in September. The processors will go on sale starting September 27 which is not too long. AMD officially confirmed all the details we knew from the leaks.
AMD also showed its next-gen RDNA3 GPU, well teased it with no information whatsoever. The launch event was about Ryzen Zen 4 processors and we will cover everything that was announced at the event.
Ryzen 7000 specs
AMD announced 4 of its processors which include 5600X, 7700X, 7900X and 7950X. All of the Ryzen Zen 4 is on TSMC 5nm process and will support PCIe 5.0 and DDR5. The support for memory will be DDR5 only and unlike Intel, it will not support DDR4.
Overall, the new Zen 4 processors get a 13% uplift in IPC and can clock up to 5.7GHz, 800MHz higher than Zen 3 processors. AMD also claims that Zen 4 has improved its single-thread performance by 29% over its last generation.

Here is a rundown of specs for the 4 processors announced.
Processor
Cores
Clock Speed
Cache
TDP
Ryzen 9 7950x
16-core, 32-threads
4.5 GHz Base clock
5.7 GHz Boost clock
80MB Cache
170W
Ryzen 9 7900x
12-core,
24-threads
4.7 GHz Base clock
5.6 GHz Boost clock
76MB Cache
170W
Ryzen 7 7700x
8-core, 16-threads
4.5 GHz Base clock
5.4 GHzBoost clock
40MB Cache
105W
Ryzen 5 7600x
6-core,
12-threads
4.7 GHz Base clock
5.3 GHz boost clock
38MB Cache
105W
Ryzen 7000 prices and availability
Ryzen 7000 will be more expensive than the previous gen but it won't be a point of contention if AMD really delivers on the performance boost it is talking about.
Ryzen 7950X : $699 (roughly ₹67,000 including tax)
Ryzen 7900X : $549 (roughly ₹51,000 including tax)
Ryzen 7700X : $399 (roughly ₹38,000 including tax)
Ryzen 7600X : $299 (roughly ₹28,000 including tax)
The processors will go for sale starting from September 27.
Ryzen 7000 series performance improvement and Ryzen 9 5950X vs i9 12900K
AMD showed off some amazing performance gains over their previous-gen Zen 3 and its competitor Intel 12th gen. AMD even showed performance gains by Ryzen 5 7600X over Intel i9-12900K.
While the 5% gaming performance gain over the Intel i9-12900K sounds amazing, we might have to be a little sceptical about it. It looks like they have cherry-picked the data to present a more favourable result.
Although if the performance gain shown in Rainbow Six Siege is accurate and reflects real-life results, the performance of 7600X might be better than that of 12900K or at least on par with it.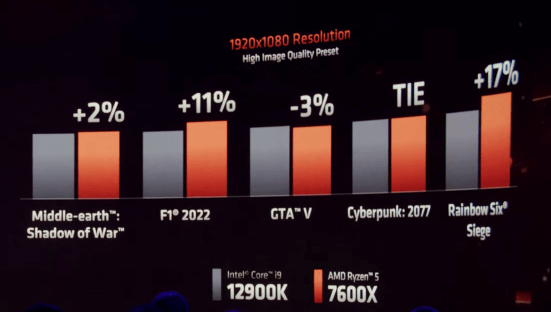 As for the top line of the Ryzen 7000, the 7950X was shown to have up to 62% more performance in content creation workloads. The V-Ray Render benchmark showed a significant performance gain by 7950X over 12900K.
As for the other content creation and gaming benchmarks, AMD showed significant performance gains by 7950X over 12900K.

Having said that people were worried that AMD would be losing the efficiency battle as they drastically increased the TDP but AMD also pressed on the fact that their processors are still very power efficient compared to the Intel counterpart.
AMD claims to have 47% more performance-per-watt when Ryzen 9 7950X was compared with Intel i9-12900K.

AMD also showed off the impressive generational improvement of Zen 4 processors over Zen 3 processors. The comparison was done at 4.0 GHz and majorly reflected the performance improvement due to architectural changes.
AM5 platform, Chipsets and Motherboard
AMD will upgrade its platform to AM5 with LGA 1718 socket to give more headroom for power delivery. AMD Ryzen 7000 will only work with DDR5 memory, unlike Intel 12th gen which has support for both DDR4 and DDR5.
AMD is still standing firm on its longevity and longer upgrade path for its AM5 platform, confirming support up to 2025 and beyond.
AMD also confirmed that AM4 coolers will be compatible with the new AM5 platform which means you can carry over the same cooler if you are using older gen AMD processor. Ryzen 7000 processors will not include Wraith or Prism Coolers in the box but they might provide it for lower-end SKUs when they are released in the future.
Since the TDP is higher in the Ryzen 7000, you might need a beefier cooling solution.

Motherboards for Ryzen 7000
AMD confirmed that there will be 2 classes of motherboards, X670 and B650.
X670: Higher-end motherboard class with overclocking support, and a higher number of PCIe expansion slots. The X670 Extreme will support PCIe 5.0 for GPU as well as storage while the non-extreme will not have PCIe 5.0 lanes for the GPU.
B650: Value-driven motherboard with features striking a balance between price and performance. B650 Extreme will also support PCIe 5.0 lanes for both GPU and storage while the non-extreme will not have PCIe 5.0 for the GPU.
Note that X670 and X670E are not different in terms of specifications but only guarantee the PCIe 5.0 support for GPU. This is the same with B650 as well.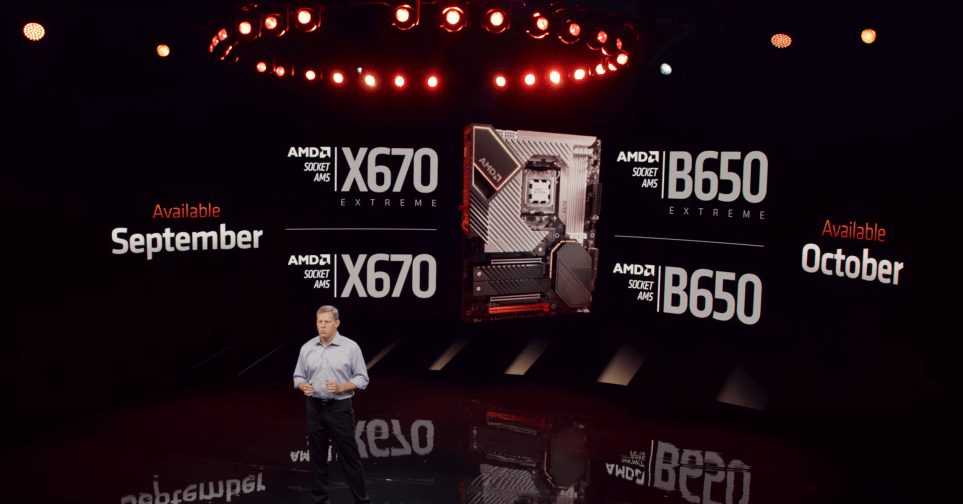 The X670 class of motherboard will be available in September while the B650 motherboard will be available in October. AMD also confirmed that the starting price of the motherboard will be 125$ (roughly ₹12000 in India including tax) which looks like the only worrying factor.
AMD EXPO
AMD EXPO is the XMP from AMD which will allow AM5 users to overlock their memory for improved transfer rate and low latency.
AMD claims that 1080p gaming will see an 11% performance improvement and they also confirmed that there will be around 15 new memory kits with EXPO enabled at the time of launch.

AMD Ryzen 7000's only weak point
AMD Ryzen 7000 sounds great. By the benchmarks shown in the event, even 6-core 7600X seems to be competing against 12900K, at least in gaming. If this is translated well into real-life results as well, the Ryzen 7000 is going to be an instant hit among the masses.
Although there is a bit of worry regarding this and that is the overall build price. Considering the trend around motherboard prices when a new generation of processors is released, the motherboard prices will be insanely high.
Adding to that, the DDR5 memory kits are still expensive compared to the DDR4 albeit it has decreased now significantly.
If you plan to build a PC with Ryzen 7000, the total cost from memory and motherboard will shoot up which might stop many people from building on the AM5 platform.
Conclusion
AMD also teased their future Zen 5 processors and the upcoming RDNA3 GPU which AMD confirmed will be out this year.
Overall, the Ryzen 7000 is confirmed to be a beast at this point and is looking to dominate even Intel's upcoming 13th-gen, Raptor Lake processors. With ray tracing in games becoming more mainstream, the Ryzen 7000 seems to be showing the fact that it has increased its ray tracing performance.
AMD can also learn from its previous mistakes where it launched lower-end SKUs very late which was a total disaster. AMD can release lower SKUs much earlier this time around to keep budget PC builders happy and compete in the lower-end CPU market.