A few days ago, AMD Ryzen 5 7500F was leaked by a user on Twitter and now it has been benchmarked. According to the leak, it was supposed to come out on July 7 but that didn't happen. If it is happening, we are looking at a late July or early-August launch.
The AMD Ryzen 5 7500F is a new processor that does not have integrated graphics. This means that it will need a separate graphics card to be able to display anything on a monitor. The processor has 6 cores and 12 threads, and it has a base clock speed of 3.7 GHz. It is expected to be priced slightly lower than models that include integrated graphics.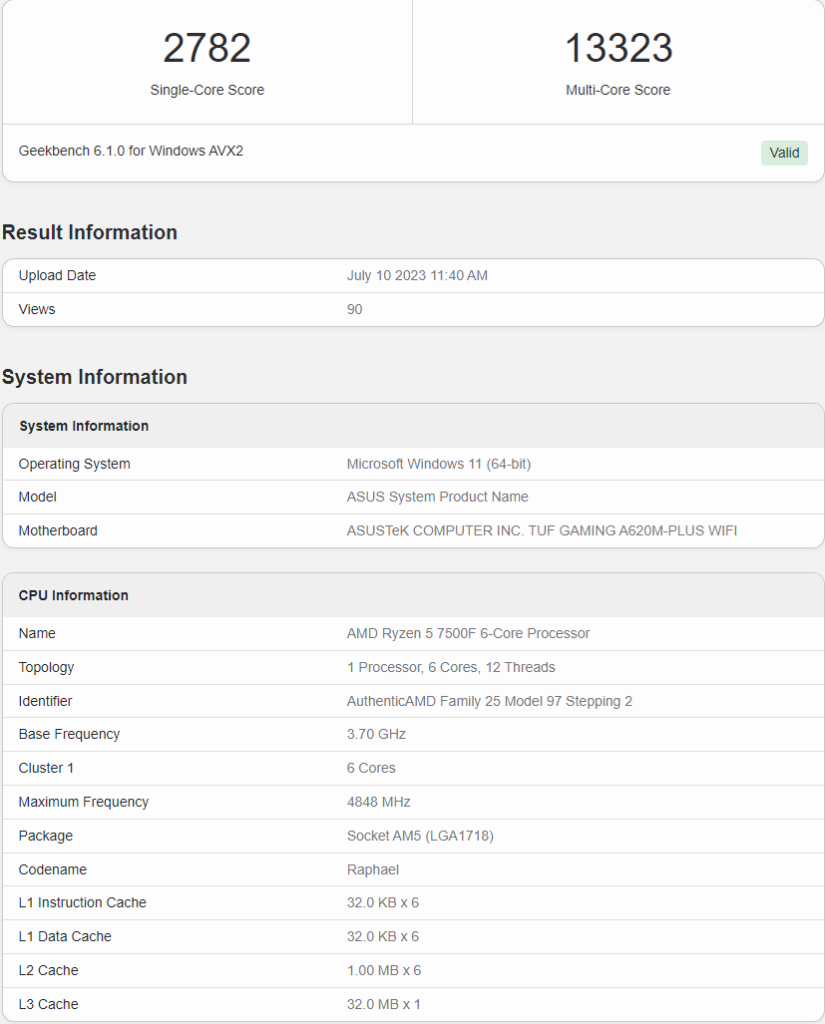 The Ryzen 5 7500F was recently benchmarked, and it achieved scores of 2782 points (single-core) and 13323 points (multi-threaded). These scores are slightly ahead of the Ryzen 5 7600X in multi-threaded performance, but they trail slightly behind in single-core performance.

The Ryzen 5 7500F is a budget-friendly option for gamers who plan to use a discrete GPU. The 7500F is likely to be offered at a lower price, making it a good option for those who are looking to save money. According to the leak earlier, it would be around $170-$180 in the US and around ₹17,000 in India.
Ryzen 5 7500F is China-exclusive and will launch in July
According to Tomshardware, their sources are telling them that AMD will release the Ryzen 5 7500F processor in China exclusively at the end of this month. The chip is built from standard Ryzen 7000 silicon and does not use AMD's APU die.
It will have a 65W TDP and slightly lower boost clock speeds than the Ryzen 5 7600. The Ryzen 5 7500F will be available to retailers and system integrators in China. It will drop into standard AM5-socket motherboards
The Ryzen 5 7500F will not have an integrated graphics engine, unlike other Ryzen 7000 processors. This is because the iGPU resides on the I/O die, and AMD uses the same I/O die on all of its Ryzen processors.
As such, AMD may only use its defective I/O dies on a specialized lower-end chip, such as the 7500F, to minimize the impact on the margins for its premium chips. Even if you have a basic GPU, you won't miss much without the integrated graphics engine on the Ryzen 5 7500F.
The iGPU is small and not meant for any type of meaningful gaming. Instead, it's meant to provide basic display-out capabilities for troubleshooting and the like and enough performance for watching videos and doing basic office tasks.