Ryzen 7 processors are 8-core processors best suited for hybrid users who do gaming and productivity tasks. The previous generation Ryzen 7 5800X was a great processor which provided the perfect balance between top-notch performance and price.
Ryzen 7 5800X3D version of the processor was made with Infinity Cache to improve gaming performance and it did. It is still one of the best processors for gaming in the market.
But, what about Rzyen 7 7700X? Is it a good value processor for gaming and productivity? Should you upgrade to Ryzen 7 7700X? Let's find out the answers to all these questions.
Ryzen 7 7700X quick summary
The specifications of the Ryzen 7 7700X is listed below:
| | |
| --- | --- |
| Cores, Threads | 8, 16 |
| Base Clock | 4.5 GHz |
| Boost Clock | 5.4 GHz |
| L3 Cache | 32 MB |
| Process Tech | TSMC 5nm FinFET |
| Overclocking | Yes |
| Max Memory Speed | 5200 MT/s |
| Integrated Graphics | Yes |
Performance-wise Ryzen 7 7700X has improved well compared to Ryzen 7 5800X. The major change that Ryzen processors have seen is the increased power consumption and complete shift to DDR5 memory.
We will divide the performance metrics into these categories
Core-heavy productivity performance (Multi-core performance)
Single-threaded performance (Lightly-threaded tasks)
Gaming performance
Power load and efficiency
Core-heavy productivity performance
The performance of the Ryzen 7700X shines in the single-threaded workloads but fails to surpass its competitor i7-12700K in some applications. Although the performance has seen a 30% uplift in multi-core performance compared to last-gen Ryzen 7 5800X.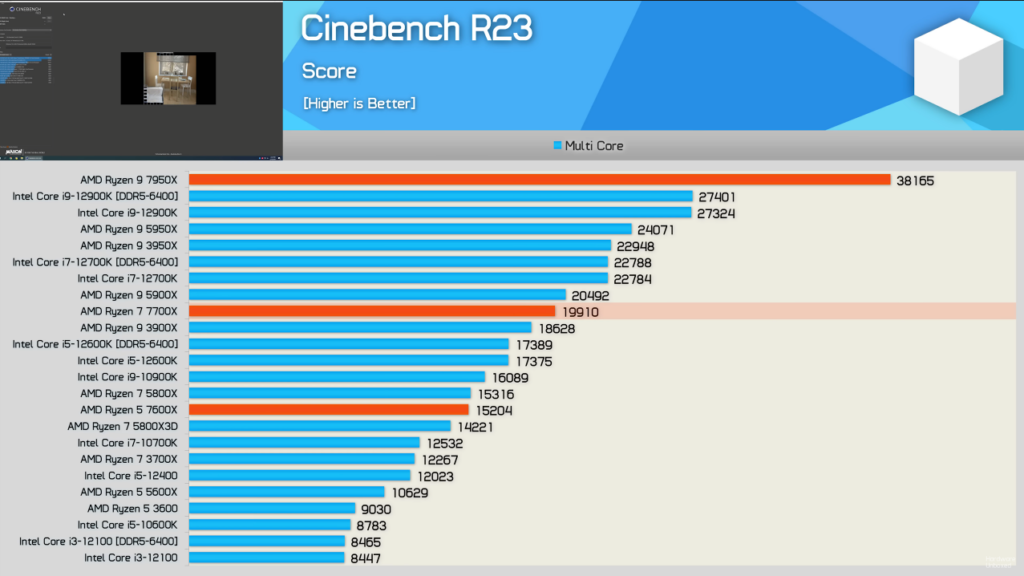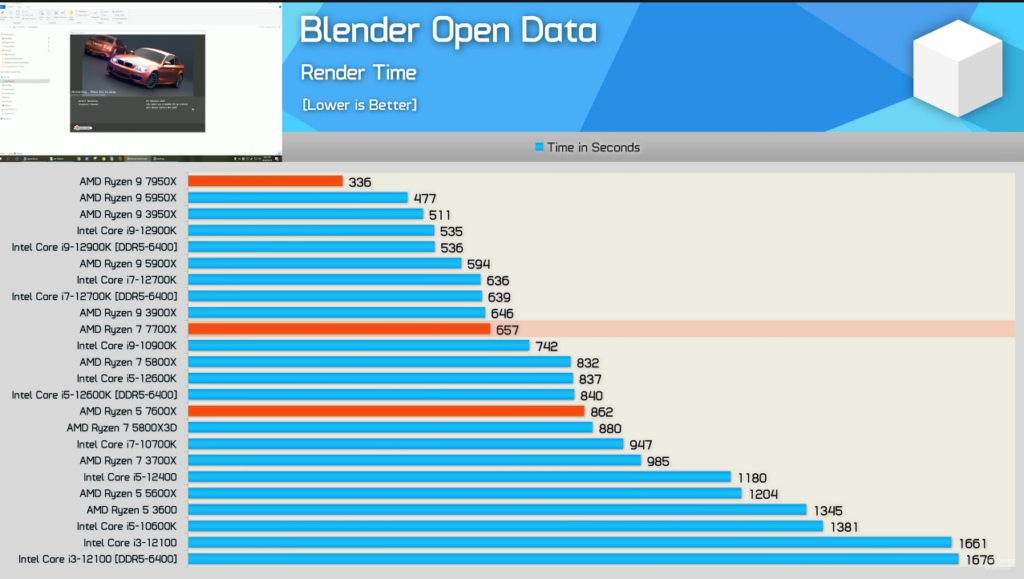 In Cinebench R23 multi-core performance, the Ryzen 7 7700X shows impressive gains over Ryzen 7 5800X but it doesn't surpass the Intel i7-12700K. Since 12700K has more cores than the Ryzen 7 7700X, multi-core performance is just better in Intel 12th gen processors.
Even in Blender Open Data, where time took a render an image is taken, Ryzen 7700X has shown a good multicore performance jump of 26% but it fails to surpass 12700K again. The trend is the same for most applications and tasks which rely heavily on cores.
While the performance uplift compared to the previous generation is good, multi-core performance is not on par with its competitors. Ryzen 7 7700X is about 14 to 16% slower than 12700K which also costs less than the new 7700X.
Lightly-threaded tasks (Single-core performance)
Ryzen 7 7700X excels in single-core performance surpassing its competitor 12700K and performing very similar to the more expensive 12900K.
Ryzen 7 7700X is again 26% to 30% faster than Ryzen 7 5800X in single-core performance but it also surpasses the 12700K and performs the same as 12900K in Cinebench R23 single-core test.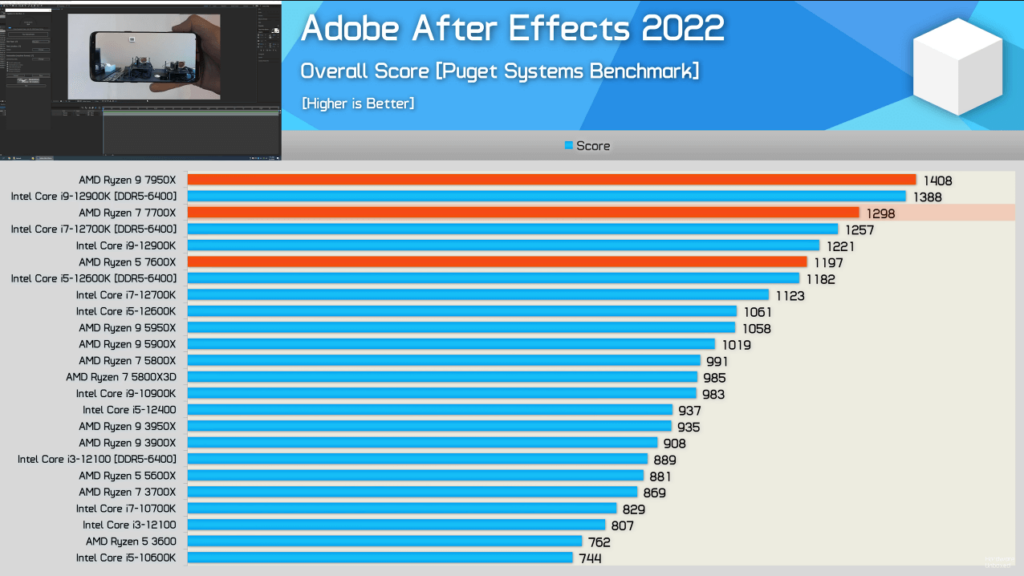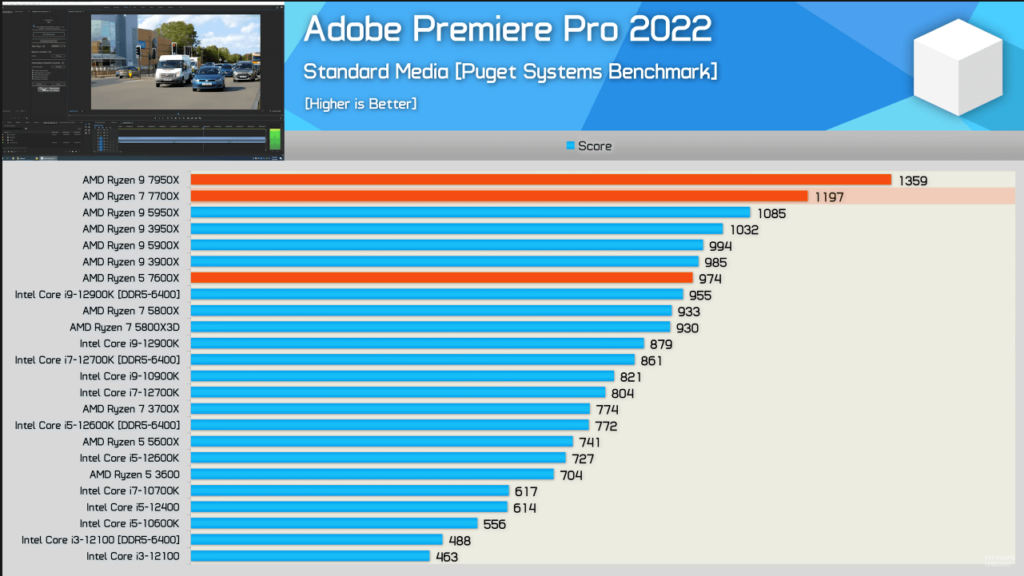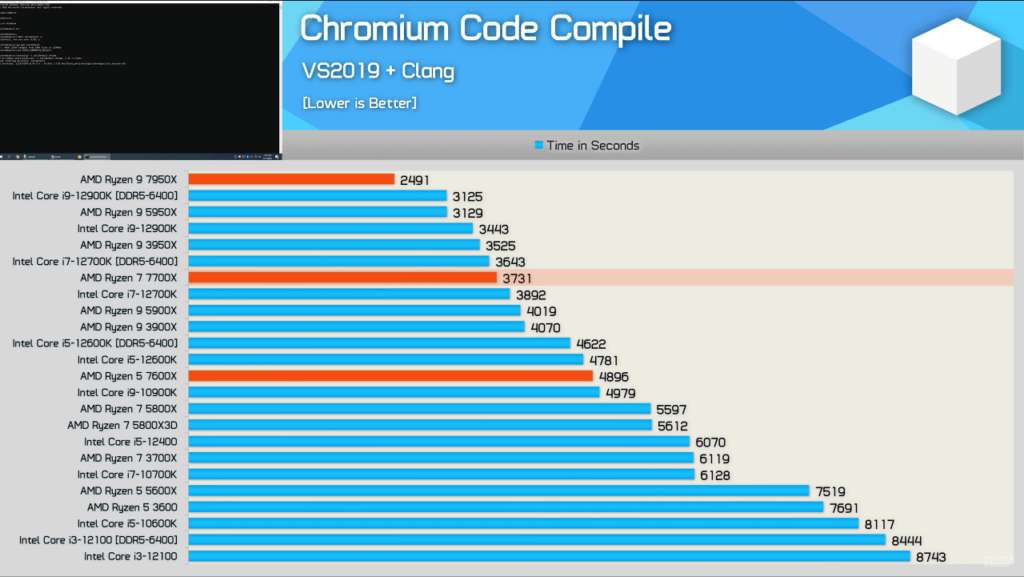 This performance is similar in tasks like Adobe Photoshop, Premier Pro and After Effects with Ryzen 7 7700X surpassing all the Intel 12th gen processors. Even in the Chromium Code Compile test (coding performance), Ryzen 7 7700X is really impressive surpassing 12700K and 12900K.
Gaming performance
Ryzen 5 7700X shines in the gaming performance where it even trumps the more expensive Ryzen 7 5800X3D and i9-12900K. Ryzen 7 7700X tops the chart for most of the games or comes very close to more expensive processors like 12900K.
The gaming performance is simply impressive but the value you get out of it might be debatable. If performance gains over the last generation of AMD processors are amazing and also perform better than 12700K and in many games better than even flagship 12900K.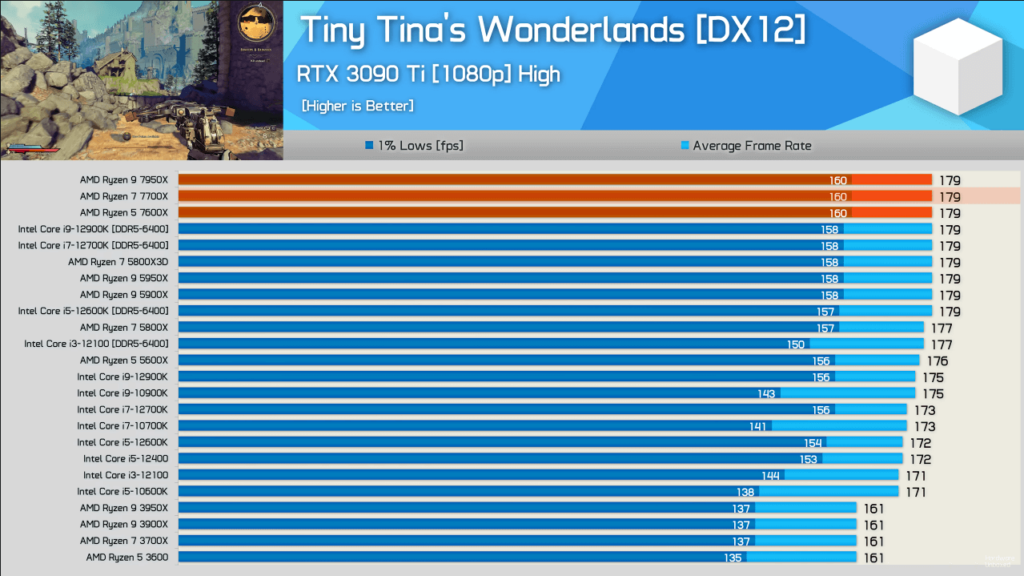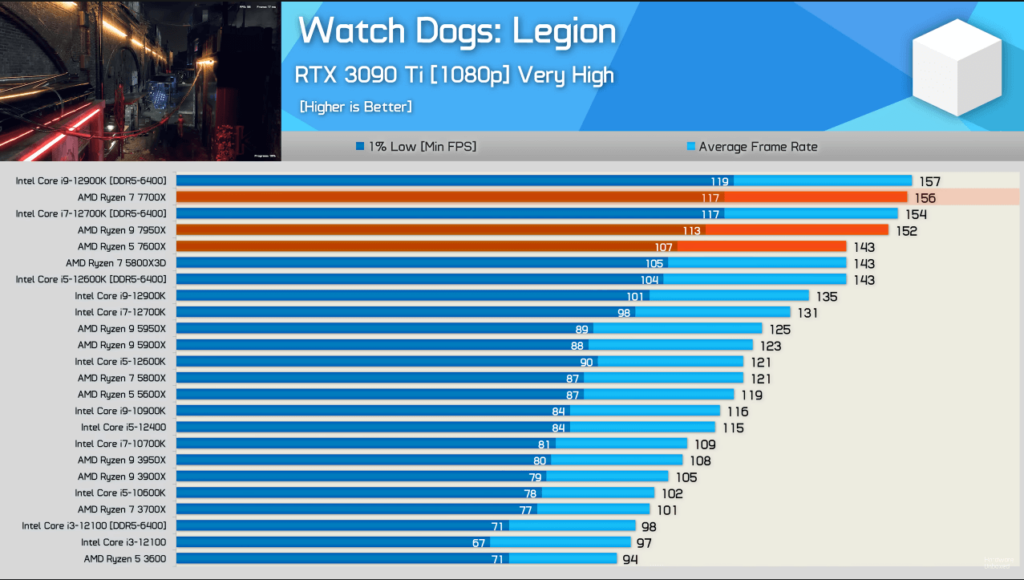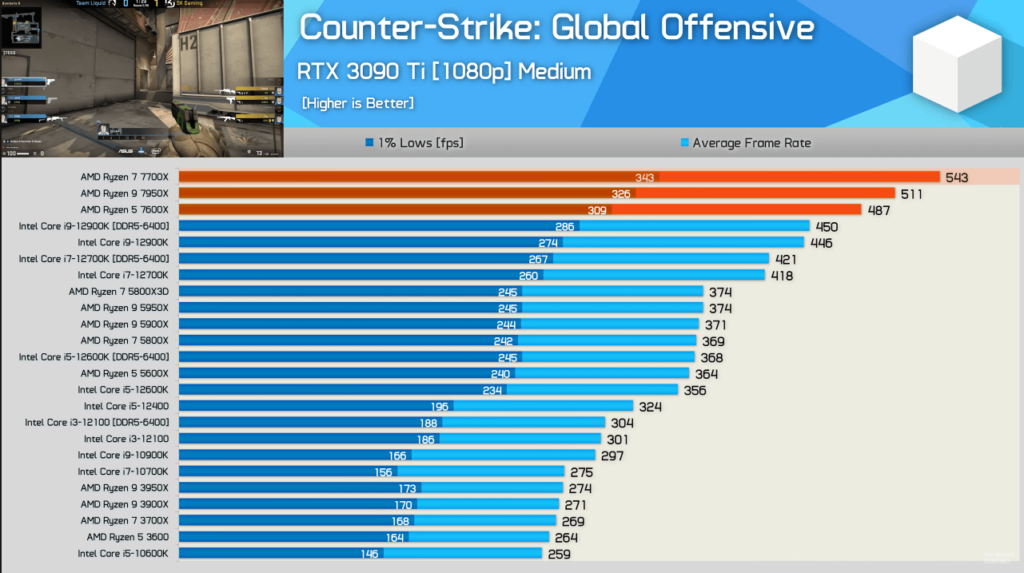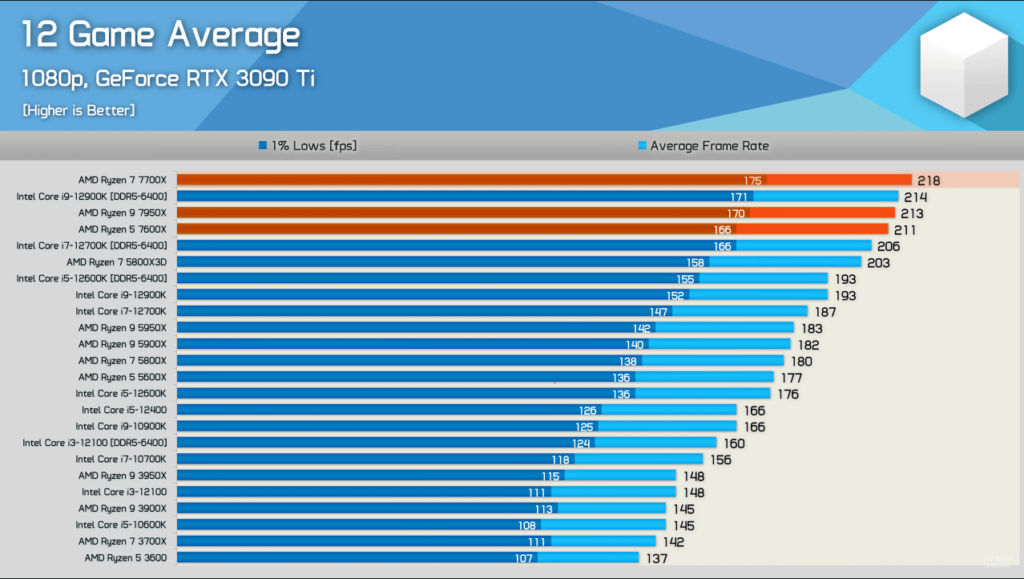 From a very practical standpoint, most modern games are bound by GPU since not everyone has an RTX 4090 on their PC. A game like Tiny Tina's Wonderland is a good example of this.
For gaming: Ryzen 7 7700X has amazing gaming performance matching the likes of 12900K and even surpassing it. If you are on an older generation like the 1000 or 2000 series, upgrading to 7700X provides better value than even 12900K.
Is Ryzen 7 7700X a good value processor?
Let's compare the price and performance ratio for Ryzen 7 7700X alongside 12700K, 5800X and 5900X. Keeping the same GPU and memory in mind, let's see which one will give you the most value for the money you spend.
| | | |
| --- | --- | --- |
| Processor | ₹37,099 | Ryzen 7 7700X |
| Motherboard | ₹29,000 | Asus Prime X670-P |
| Memory | ₹14,270 | DDR5 5200MHz 32GB (2×16) |
|  | ₹80,369 |  |
| | | | |
| --- | --- | --- | --- |
| Intel i7 – 12700K | ₹34,810 | Intel i5 – 12700F | ₹28,409 |
| ASUS Prime Z690M-Plus D4 | ₹17,349 | Asus Prime B660M-A D4 Motherboard | ₹11,950 |
| DDR5 5200MHz 32GB (2×16) | ₹14,270 | DDR4 3600MHz 32GB (2×16) | ₹9000 |
|  | ₹59,020 |  | ₹49,359 |
| | | | |
| --- | --- | --- | --- |
| Ryzen 7 5800X | ₹26,510 | Ryzen 7 5800X3D | ₹38,265 |
| Asus Prime B550M-K AM4 Motherboard | ₹8,600 | Asus Prime B550M-K AM4 Motherboard | ₹8,600 |
| DDR4 3600MHz 32GB (2×16) | ₹9000 | DDR4 3600MHz 32GB (2×16) | ₹9000 |
|  | ₹44,110 |  | ₹55,865 |
If you compare the gains over the previous generation of Ryzen 7 5800X, the cost of upgrading to the new platform is too high. Although this can change with the B650 motherboard coming soon in October. 
While the gaming performance uplift is great, the cost of upgrading to the AM5 platform is too high. The price of the processor is not that high considering it is only ₹3000 more than 12700K but Intel has an advantage in support for DDR4 memory and the low cost of motherboards.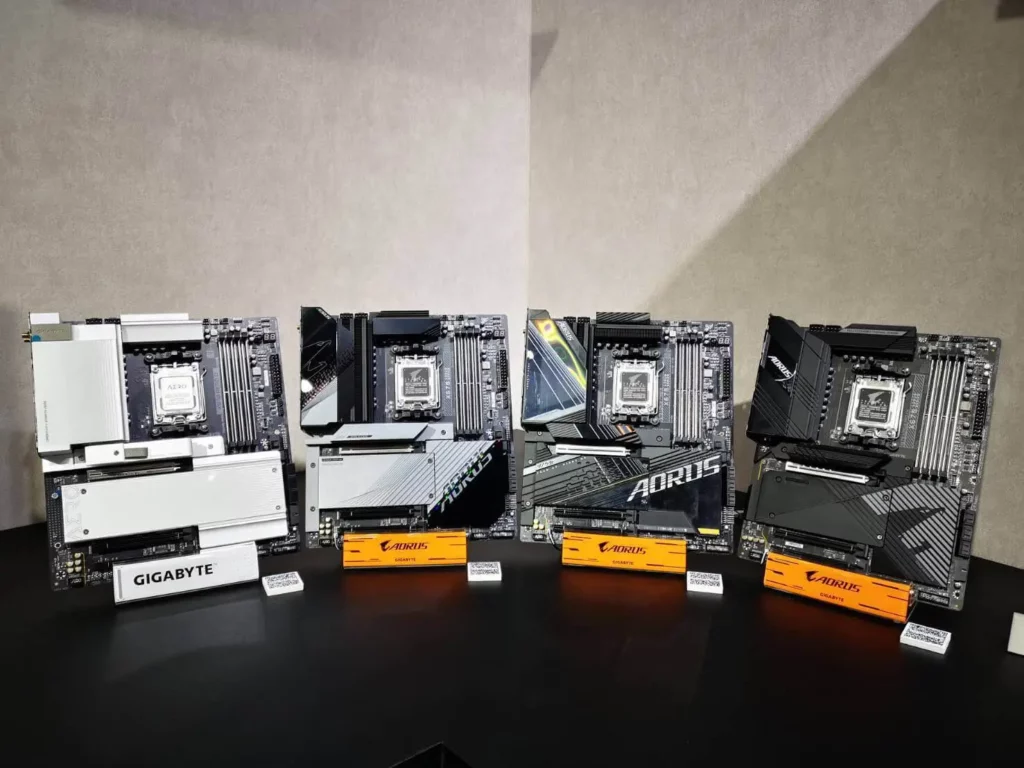 Upgrading to 7700X only makes sense if you are on a very old platform and your main goal is gaming. AMD has promised to keep the AM5 alive for a long time, even after 2025. If your budget is high, you can invest in a good motherboard and use the same platform for a long time.
From a performance standpoint, Ryzen 7 7700X is a great pick and can be a good value keeping longevity in mind. It will be a relevant processor for a long time. The only thing holding it back is the insane prices of motherboards.
Should you buy or upgrade to Ryzen 7 7700X?
It is tough to recommend Ryzen 7 7700X because you have to choose between gaming and productivity. If you are productivity heavy, you can either go higher with 7900X or if you want cheaper for the same performance you can go with 5900X or even 12700K.
For productivity, Ryzen 7 7700X is bested by Intel's 12700K but that is only when your primary tasks are core-heavy like Blender, 3D rendering, etc. While the performance is not bad, the competition provides better value if your build is productivity-focused.
Although, for single-core heavy tasks like Photoshop, Premier Pro, Da Vinci, and coding, Ryzen 7700X defeats the Intel competition and sits on the top as one of the fastest processors in the market. 
For gaming, the gains over 7600X aren't that impressive. Also, considering the price difference and availability of processors like Ryzen 7 5800X3D and Ryzen 9 5900X for the less price and similar performance, Ryzen 7 7700X seems like a weird choice for "gaming" only.
This is because, for gaming, anything above Ryzen 7 5800X will give you a very similar performance considering that not everyone has RTX 4090 in their PC. If you are strictly gaming, it makes more sense to buy a Ryzen 5 7600X or a lower-priced processor and put more money into GPU.
Conclusion
Just keeping the generational improvement in mind, Ryzen 7 7700X has good performance uplift but the "true value" of the processor might change based on your primary tasks.
The price of the processor itself is not bad and it is the same as the previous generation but the overall cost of the platform is what is holding this processor back.
Although, if you want to upgrade to the new platform from a much older generation, Ryzen 7 7700X provides somewhat a good balance between gaming and productivity keeping price in mind. It is recommended to wait for the arrival of the B650 motherboards to evaluate your choices better.