Ryzen's upcoming 7000 series, Zen 4 is coming soon and we can't wait. Ryzen has made remarkable strides with their earlier Zen processors and Zen 4 looks even more impressive. It showed off its Ryzen Zen 4 processor along with the 6000 series back in CES 2022.
We are finally close to its launch and we have quite a lot of information available about the Ryzen 7000 series processors. Let's list down everything that we know about Ryzen 7000 so far.
When is Ryzen 7000 releasing?
All the leaks are pointing towards the release of Ryzen 7000 in September. AMD will launch the Ryzen Zen 4 on the 27th of September alongside Intel's innovation event. Intel will unveil their next 13th gen processors and AMD will reportedly launch their processors on that same day.
Although it has to be taken not official as AMD hasn't announced it officially. The announcement about the Ryzen 7000 will be on 30th August after Gamescom. (Gamescom ends on 29th)
We will get the announcement on August 30 at 4.30 AM IST (7 PM EST, August 29) and the processors are most likely to go on sale soon after in September.
AMD will most likely only release a few SKUs like Ryzen 5 7600x, Ryzen 7 7700x, Ryzen 9 7900x and 7950x initially and they are reported to be at least 10% costlier than the 5000 series processors.
The leaked listings also show the price which is as follows
Ryzen 5 7600x: $423 CAD (₹26,000)
Ryzen 7 7700x: $613 CAD (₹37,700)
Ryzen 9 7900x: $777 CAD (₹47,700)
Ryzen 9 7950x: $1140 CAD (₹70,100)
It should be noted that the prices are for open-tray processors which do not include coolers. The boxed retail version could cost more or less. But the price is definitely more than the Ryzen 5000 counterparts.
Change of Socket: Zen 4 will be on a new socket and platform
Following the huge success of Zen processors, Ryzen has been using the same platform since Ryzen 1000 processor until 5000. This allowed for future upgradability and that is something AMD was lauded for.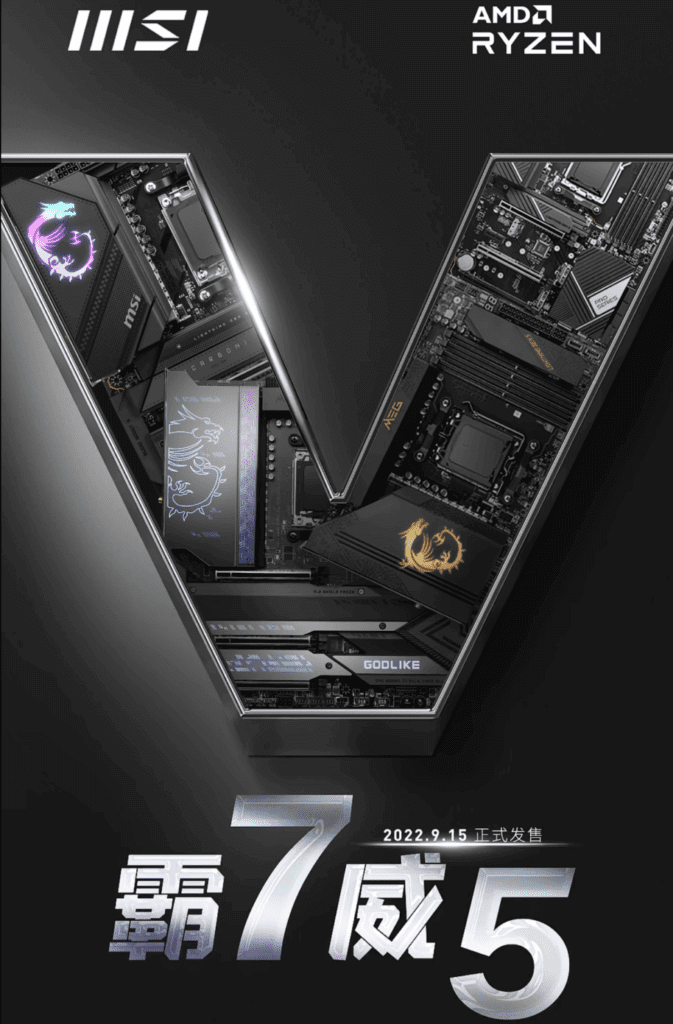 Now that AMD is jumping onto DDR5 and PCIe 5.0 support, they have to upgrade the socket and this time it will use the LGA 1718 socket and the new platform will be AM5. It will only support DDR5, unlike Intel 12th gen which supports both DDR4 and DDR5.
The Zen 4 processors will also come with RDNA2 integrated graphics which could spell trouble for Intel. Before Zen 4, all the AMD processors came with no integrated graphics except the -G series processors which came with Vega graphics.
The integrated RDNA2 is a boon for budget builders or someone who wants to build a simple office PC with integrated graphics that is usable to some extent.
Ryzen 7000 will be a clock beast, Zen 4 to have clock speeds as high as 5.85GHz
The most recent details about the Zen 4 comes from HXL. HXL seems to have gotten a retail sample of Ryzen 9 7950x, which is the flagship processor, can hit up to 5.85GHz.
AMD seems to be going the way of increasing the single-thread performance of its processor and pushing the clock speed limits. On the other hand, Intel seems to be focusing more on multi-threaded performance.
Up until now, it was quite the opposite.
The leaker has also reported on the codenames of the CCDs and the cores along with the block diagram of the CPU.
Performance uplift over previous generations
During CES 2022, the Ryzen 9 7900x was shown to reach clock speeds higher than 5.2GHz. This architecture will make effective use of AMD's manufacturing partner TMSC's 5nm process, which could result in significant efficiency increases, allowing AMD to squeeze even more performance out of its CPU designs.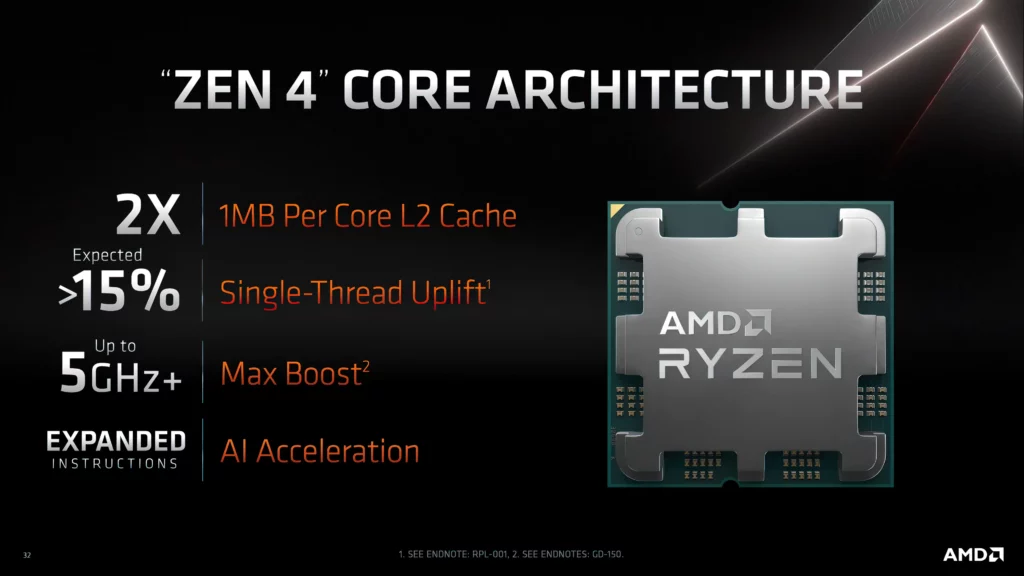 AMD disclosed up to a 10% improvement in instructions per clock, a 15% rise in single-thread performance, a massive 125% increase in memory bandwidth per core, and more than 25% greater performance-per-watt.
All of this adds up to an overall performance increase guarantee of roughly 35%. Oh, and we're all hoping for base clock speeds that are faster than 5.5GHz.
To achieve this performance uplift, AMD is going to increase the power limits as well. The Ryzen 5 5600x ran on 65W whereas the 7600x will run on 105W. Ryzen 9 5900x ran on 105W and the new Ryzen 9 7900x will go up to 170W.
Ryzen 7000 will also see an 8% increase in its IPC count which is given since it will make use of the 5mm process compared to the 7nm. The power increase along with higher clocks is set to make Ryzen 7000 series a beast capable of competing with Intel 12th gen and their upcoming 13th gen processors.
AMD Ryzen 'Zen 4' Desktop CPU Features to Expect
Up to 16 Zen 4 Cores and 32 Threads
15% Performance Improvement in Single-Threaded Applications
New Zen 4 CPU Cores (IPC / Architectural Upgrades)
TSMC 5nm process node with 6nm IOD.
25% Improvement in Performance Per Watt over Zen 3
TDPs of 105-170W
More than 35% Improvement in Overall Performance vs Zen 3
8-10% Improvement in Instructions Per Clock (IPC) vs Zen 3
Support on AM5 Platform With LGA1718 Socket
New X670E, X670, B650E, B650 Motherboards
DDR5 Dual-Channel Memory Supports DDR5-5600 Native (JEDEC) Speeds
There are 28 PCIe lanes (CPU Exclusive)