The newest Ryzen 7000 series are on the market now and it's been a couple of days since its release. The Ryzen 5 processors have always been the "golden egg" for AMD. Ryzen 5 3600 and Ryzen 5 5600X are still very popular choices from the previous generations.
Ryzen 5 is a 6-core processor and they offer the best value for gaming and general productivity tasks. What about Ryzen 5 7600X? Does it offer the same value as the previous generations? What are the generational improvements and how does it stack up against Intel 12600K and 12400K?
Most importantly, should you upgrade to Ryzen 5 7600X? Let's delve into each of these and figure out how good the Ryzen 5 7600X actually is.
Ryzen 5 7600X performance
The specifications of the Ryzen 5 7600X is listed below:
| | |
| --- | --- |
| Cores, Threads | 6, 12 |
| Base Clock | 4.7 GHz |
| Boost Clock | 5.3 GHz |
| L3 Cache | 32 MB |
| Process Tech | TSMC 5nm FinFET |
| Overclocking | Yes |
| Max Memory Speed | 5200 MT/s |
| Integrated Graphics | Yes |
Performance-wise Ryzen 5 7600X has improved well compared to Ryzen 5 5600X. The major change that Ryzen processors have seen is the increased power consumption and complete shift to DDR5 memory.
We will divide the performance metrics into these categories
Core-heavy productivity performance (Multi-core performance)
Single-core performance
Gaming performance
Power load and efficiency
Core Heavy Workloads
Ryzen 5 7600X performance varies depending on the workloads. For core-heavy workloads like Cinebnench, Blender, compression, decompression, etc. Ryzen 5 7600X isn't very impressive as it performs very similar to the Intel i5-12600K and Ryzen 7 5800X and sometimes loses to 12600K.
This is due to the fact the 12600K has more cores than the Ryzen 5 7600X.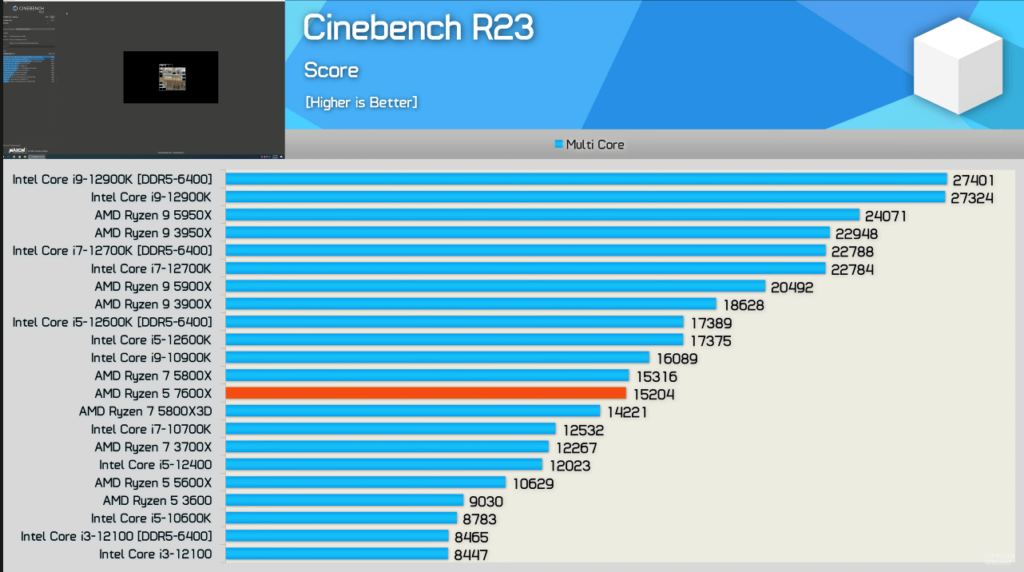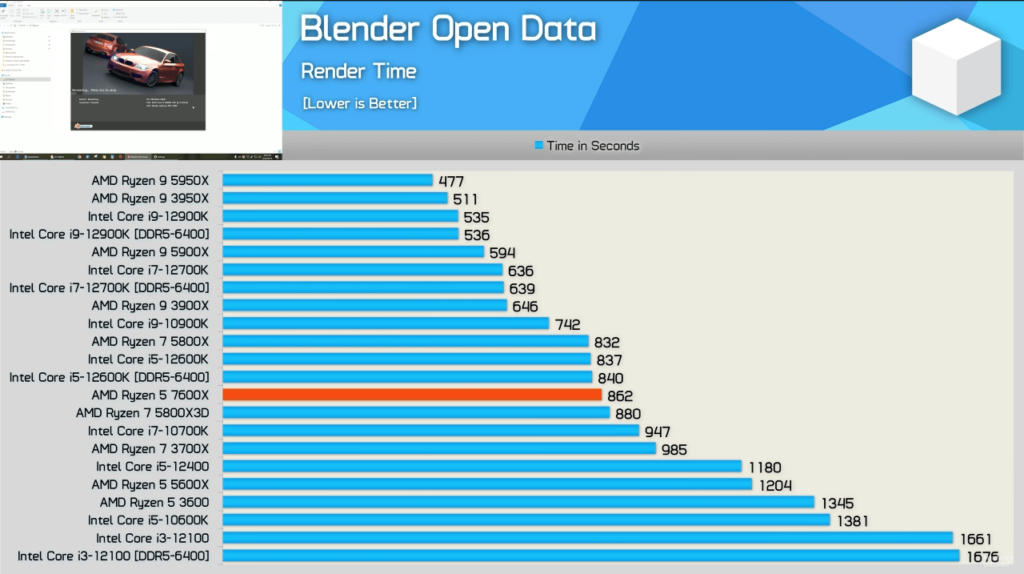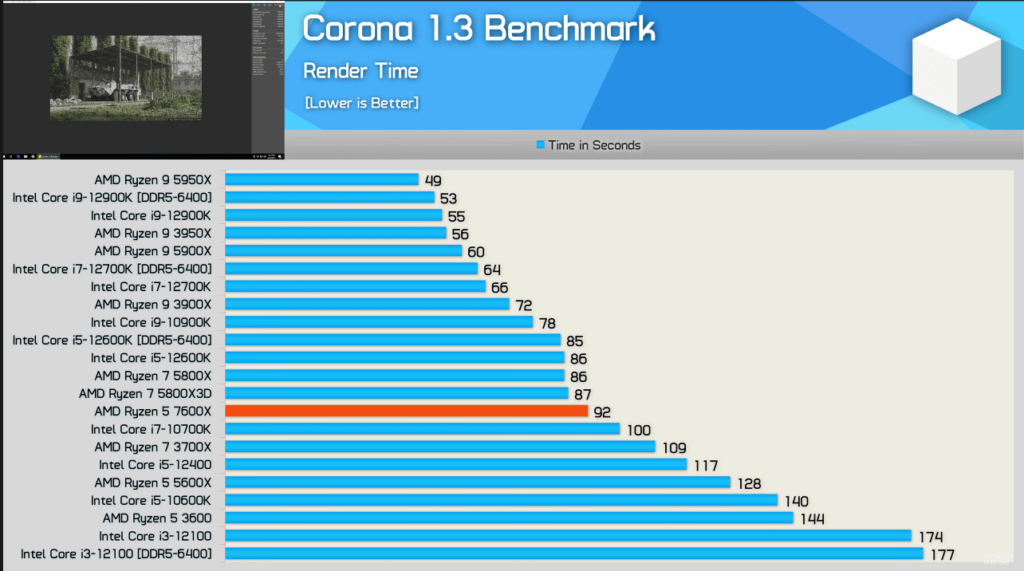 The Ryzen 5 7600X is roughly 28% faster than the Ryzen 5 5600X. It performs slightly worse compared to the 12600K and Ryzen 5 5800X due to having fewer cores.
While the performance in core-heavy tasks is good, it is overshadowed by Intel's 12th gen processor since they have more cores. If you are mostly into core-heavy tasks, Intel Alder Lake provides greater value.
Lightly threaded tasks (Single-threaded performance)
Tasks like Photoshop and Adobe Premier Pro work really well with AMD processes and Ryzen 5 7600X decimates its competing processors like 12600K. If you are primarily using such applications for work and you are a much older generation like the 2000 series, upgrading to this processor wouldn't be very bad.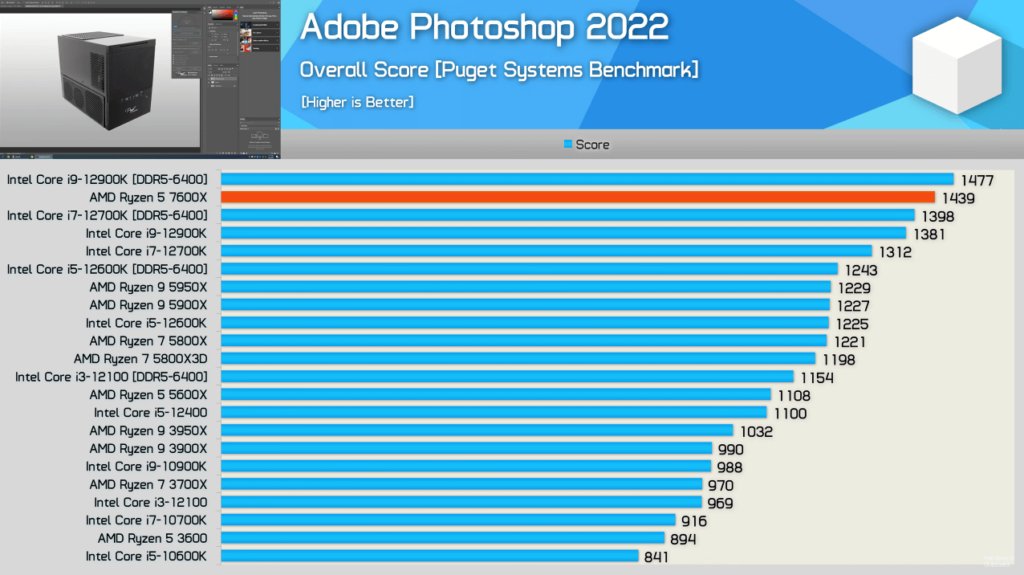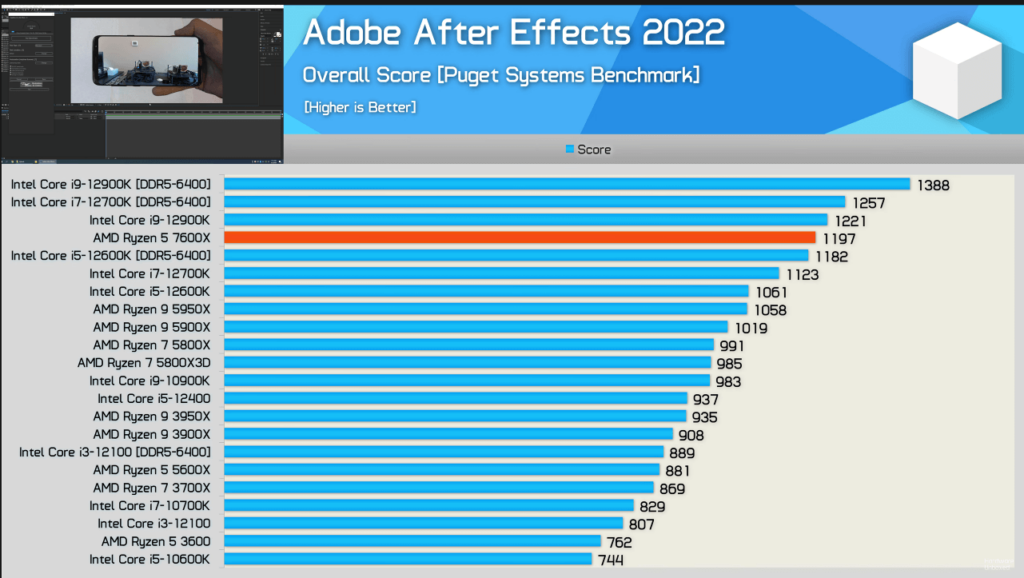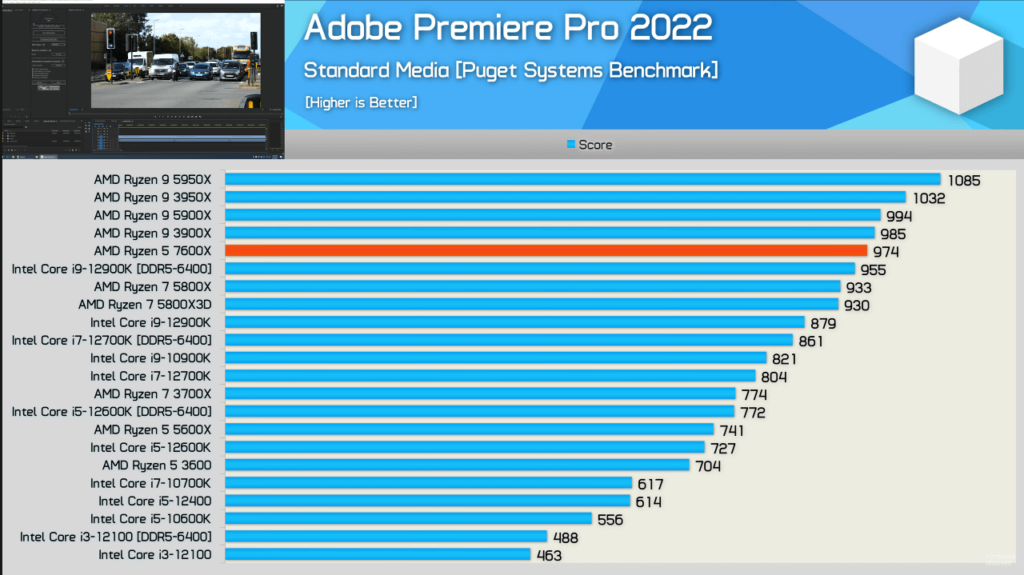 But, considering the overall price of jumping onto the new platform with DDR5 memory and overpriced motherboard, Ryzen 5 7600X is not a good value for productivity tasks as of now.
Zen 4 Ryzen processors and not just Ryzen 5 5600X in particular, shine in single-threaded performance like gaming, Photoshop, etc.
Gaming performance
Ryzen 5 7600X shines in the gaming performance where it even trumps the more expensive Ryzen 7 5800X3D and Intel i7-12700K and i9-12900K. Ryzen 5 7600X tops the chart for most of the games or comes very close to more expensive processors.
No doubt the performance in gaming is impressive but there are a few things to consider. Most of you out there are not using RTX 3090Ti. The upgrade in the processor will not give you too much benefit unless you are on a mid-range processor from much older generations or lower.
If performance gains over the last generation of AMD processors are impressive and also perform better than 12600K and in many games marginally better than even flagship 12900K.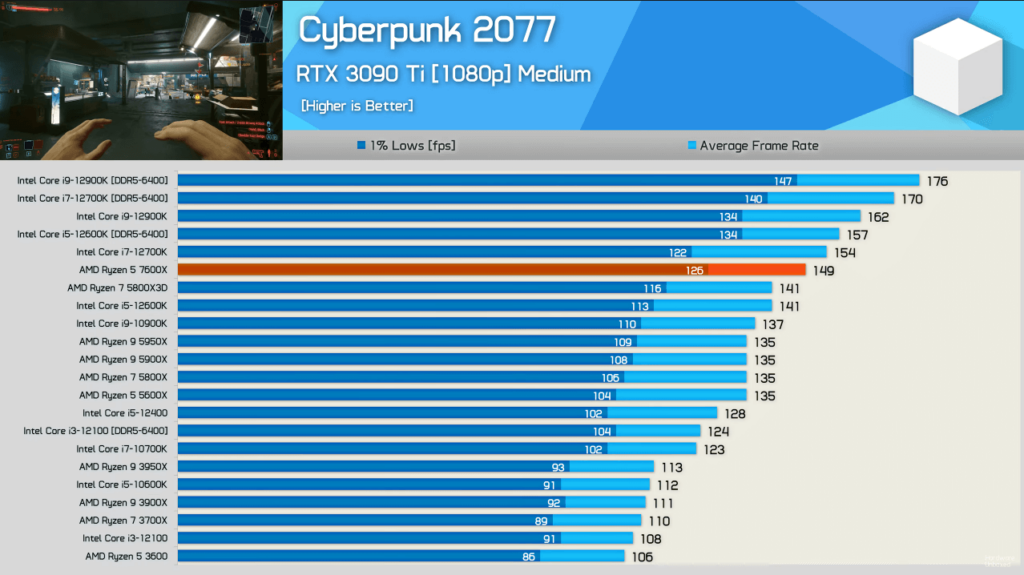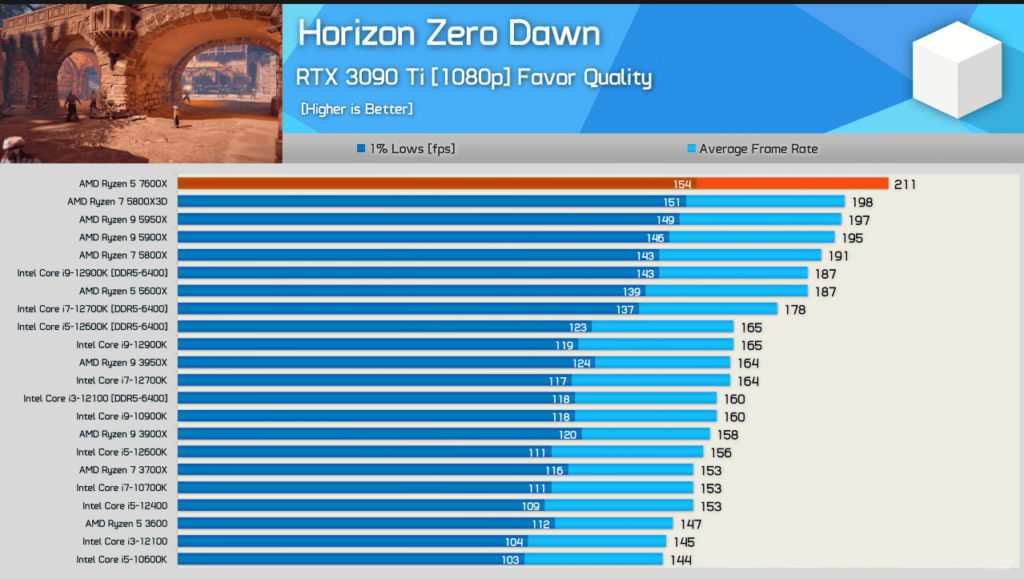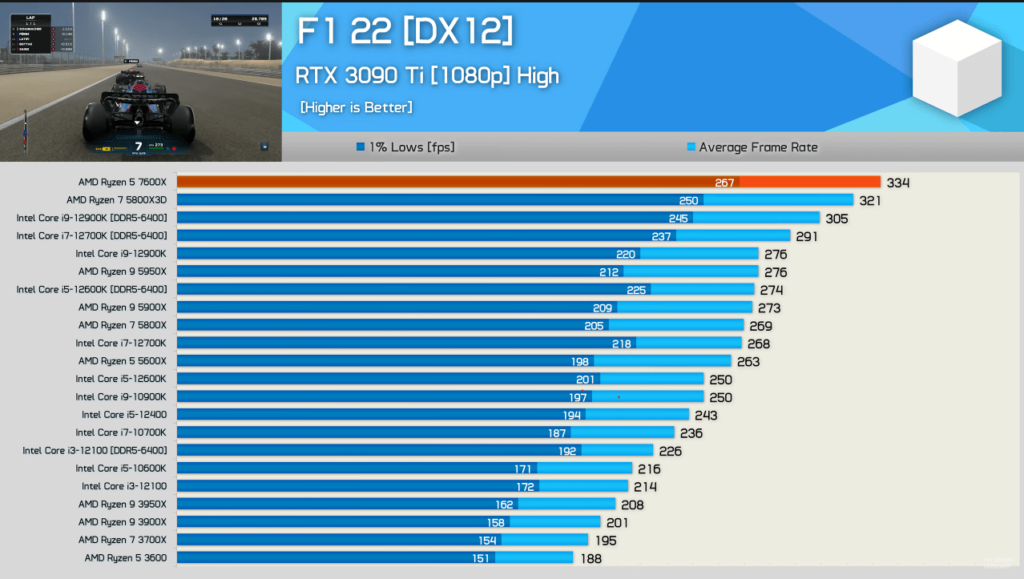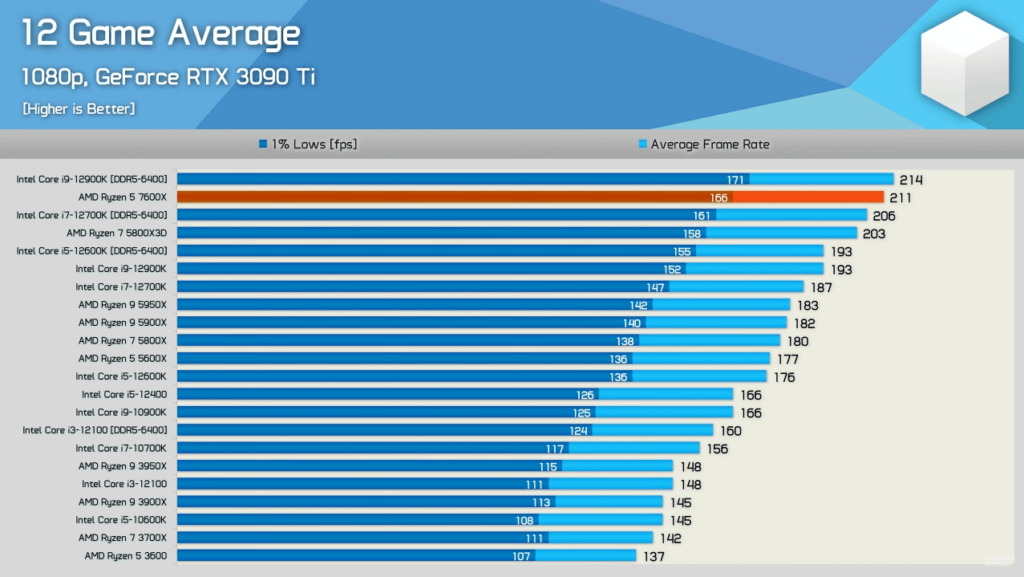 Ryzen 5 processors are usually the go-to processors for value gaming but it is not the case this time around. For budget shoppers, AMD 5000 series or Intel 12th gen is simply a better choice from the perspective of value.
Again, it is the price of the motherboard and DDR5 memory that is holding back AMD for this generation. We will delve into the value proposition deeper in the next section.
For gaming: Ryzen 5 7600X has amazing gaming performance matching the likes of 12900K. Ryzen 5 processors have always been for value, budget gamers but Ryzen 5 7600X is not for budget gamers.
Power load and efficiency
Comparing the power draw with Blender Open Data, Ryzen 5 7600X draws the same power as Ryzen 7 5800X and 12600K. The previous generation Ryzen 5 5600X draws a power of 149 W, making it even more efficient than Ryzen 5 3600.
If you happen to buy this processor, you will notice that your temperature will hit 95 degrees Celcius pretty quickly and there is no need to worry. AMD has clarified that this is normal behaviour.
7000 series chips are designed to operate this way to maximise performance. With increased power consumption and this behaviour, AMD has not included stock coolers for Ryzen 5.
The true value of Ryzen 5 7600X
Let's compare the price and performance ratio for Ryzen 5 7600X alongside 12600K, 5800X and 5600X. Keeping the same GPU and memory in mind, let's see which one will give you the most value for the money you spend.
| | | |
| --- | --- | --- |
| Processor | ₹28,200 | Ryzen 5 7600X |
| Motherboard | ₹29,000 | Gigabyte X670 Aorus Elite AX |
| Memory | ₹14,270 | DDR5 5200MHz 32GB (2×16) |
| | ₹71,370 | |
| | | | |
| --- | --- | --- | --- |
| Intel i5 – 12600K | ₹25,000 | Intel i5 – 12600K | ₹25,000 |
| Gigabyte Z690 UD DDR5 Intel 12th Gen | ₹19,750 | Asus Prime B660M-A D4 Motherboard | ₹11,950 |
| DDR5 5200MHz 32GB (2×16) | ₹14,270 | DDR4 3600MHz 32GB (2×16) | ₹9000 |
| | ₹59,020 | | ₹45,950 |
Note: This is accounting for the same brand and class of motherboard as the one used with Ryzen 5 7600X. The overall cost can be dropped further for no loss of performance by using B class motherboard. You can drop the cost further by using DDR4 RAM and a less pricey DDR4 motherboard.
| | | | |
| --- | --- | --- | --- |
| Ryzen 5 5600X | 16,165 | Ryzen 7 5800X | ₹26,510 |
| Asus Prime B550M-K AM4 Motherboard | ₹8,600 | Asus Prime B550M-K AM4 Motherboard | ₹8,600 |
| DDR4 3600MHz 32GB (2×16) | ₹9000 | DDR4 3600MHz 32GB (2×16) | ₹9000 |
| | ₹33,765 | | ₹44,110 |
The cost of the Ryzen 5 7600X isn't very high and it is just ₹3000 more than the i5-12600K and just ₹2000 more than the previous generation, higher cores Ryzen 7 5800X.
But, the insane prices of X670 motherboards, and the price to upgrade makes it a very bad value proposition for anyone, whether it is for productivity or gaming. The value might increase once the prices of motherboard drop or when the B-class motherboard comes out in October.
The prices of DDR5 memory are coming down but still cost significantly more for the same capacity of memory.
The similar performing Intel 12600K costs way less making it a much more valuable upgrade. But, when the prices do come down, it can make the Ryzen 5 7600X and AM5 more viable.
If you are on a 2 or 3 generations older processor, jumping on the Intel 12th gen platform can give you the best value or even Ryzen 7 5800X can be a good value if your primary use case is gaming.
Should you buy or upgrade to Ryzen 5 7600X?
For every generation, Ryzen 5 processors have been the easiest to recommend to anyone looking for decent performance for gaming and productivity tasks. But, for this generation, I wouldn't be able to recommend this, at least not for everyone.
For productivity, it depends on what kind of tasks you usually run. If you use core-heavy tasks such as Blender renders, and code compilation, Ryzen 5 7600X performs roughly the same as 12600K or slightly worse. The generational improvement is excellent but Ryzen 5 7600X is not the best value if your primary tasks are core-heavy workloads.
As for tasks like Adobe Photoshop, Premier Pro (video editing) and other Adobe applications, Ryzen 5 7600X is pretty much on the top of the charts. If you want to save time rendering your videos and you are running older generations like the 3000 series, this might be a worthy upgrade since you will be getting a 64% improvement in performance.
Considering gaming performance, Ryzen 5 7600X can be a worthy competitor but the sheer price of the platform upgrade will hold back many people. Since 13th gen Intel will be arriving soon in a month, 13th gen might be able to provide better value.
As of now, Ryzen 7 5800X might be the best value for gaming considering not everyone has access to RTX 3090 and for gaming, an 8-core processor like Ryzen 7 5800X is sufficient for all modern titles even with ray tracing.
Conclusion
The generational improvement is really impressive with Ryzen 5 7600X and in gaming performance, it is very close to the much more expensive 12900K and even outperforms Ryzen 7 5800X3D.
Although the performance difference might vary slightly depending on titles, on average, the single core performance for gaming is really impressive on Ryzen 5 7600X.
Since AMD has promised a long upgrade path for AM5, Ryzen 7 7700X might be worth it in the long run if budget is not an issue.
Currently, the motherboard and memory prices are too high to recommend Ryzen 5 7600X which is usually the go-to choice for best-value performance.