Google has not officially confirmed the Google Pixel Fold, but leaks have been plentiful. Now, another leak sheds light on the Pixel Fold's pricing, availability, and specifications, leaving little to the imagination. The Pixel Fold is expected to launch during the Google I/O Event on May 10.
The Pixel Fold is expected to be available for sale starting May 30 in chalk and obsidian colourway. It will include a Tensor G2 SoC, just like the Pixel 7 and Pixel 7 Pro. A live video of the handset has also appeared online, providing a preview of the foldable's design before its expected unveiling in May.
Google Pixel Fold specifications
Google Pixel Fold will be powered by Google's Tensor G2 SoC, coupled with a Titan M2 security chip and 12 GB of LPDDR5 RAM.
According to the Front Page Tech, the Pixel Fold has a 7.6-inch inner display (1,840 x 2,208 pixels) with a 6:5 aspect ratio, 380ppi pixel density, and 120Hz refresh rate. It will have a 5.8-inch OLED outside display (1,080×2,092 pixels) with a 17.4:9 aspect ratio and 120Hz refresh rate. The folding display is supposed to be plastic-coated.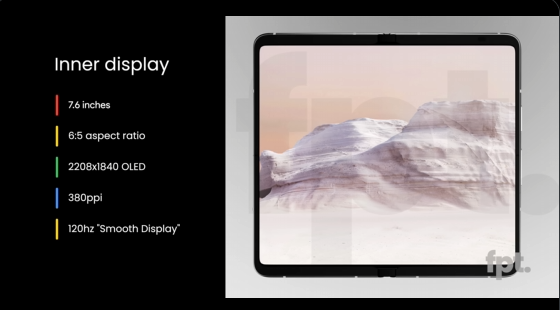 Pixel Fold will have a triple rear camera set with a 48-megapixel main wide-angle lens, OIS, CLAF, and an f/1.7 aperture. A 10.8-megapixel ultrawide camera with a 121-degree field of view and an f/2.2 aperture, as well as a 10.8-megapixel dual PD telephoto lens with 5x optical zoom and 20x Super Res Zoom, could be included in the camera system.
Also Read: Google Pixel 7A is in someone's hands and it hasn't even been announced yet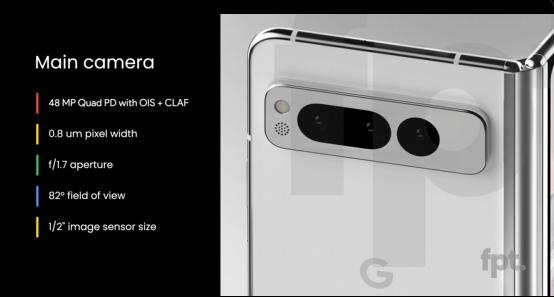 The front camera will have a 9.5-megapixel sensor with a 1.22 pm pixel width, an f/2.2 aperture, and a fixed focus for selfies. It is said to include an 8-megapixel internal selfie camera with an f/2.0 aperture and fixed focus.
The Pixel Fold will have a side-mounted fingerprint scanner and may also allow face unlock. The exact capacity of the battery was not defined, but it is supposed to provide more than 24 hours of playback time and up to 72 hours of standby time. It will be quite heavy at 283 grammes with dimensions of 5.5mm x 3.1mm x 0.5mm.
Price and Availability
Front Page Tech revealed the Google Pixel Fold's US cost. The Pixel Fold will cost $1,799 (approx. ₹1,73,000) for the 12GB RAM + 256GB storage variant and $1919 (approx. ₹1,85,850) for the 12GB RAM + 512GB storage variant. It is believed to be available in chalk and obsidian colours.
The Google Pixel Fold is expected to be available for pre-order on May 10 via Google Store, with a June 27 shipment date. It will also be available for pre-booking through carriers beginning May 30. Customers who pre-order the foldable are likely to receive a free Pixel Watch.