Global OTT platforms show an increasing interest in South Korean content producers after the Squid Game became popular worldwide.
Indian audiences are increasingly being drawn to fiction and historical shows from abroad because of the emergence of OTT platforms and open-gate policies. Non-English content, like Korean dramas, has a large fan following and audience in the country today.
A number of Korean films, such as 'Parasite' and 'Squid Game', and shows like 'All of us are dead', delight audiences with their interesting and innovative stories. Korean music is huge in India, and there's a BTS Army (an Indian band that plays Korean music).
"Korean content has garnered great interest, especially among the millennials because Indian youth are able to relate to the situations and narratives it explores," said Karan Bedi, CEO, of MX Player, whose service has commenced a deal with South Korean television and radio network SBS for 10 plus new shows and is in active conversation with other players in this category.
"The cultural similarities between the two nations are quite fascinating. The belief in family values while pursuing a modern approach towards life resonates really well with the viewers in India," Bedi added.
OTT platforms have opened the door to tons of international content for Indians, such as Korean dramas that have become immensely popular. The lockdown period saw growing traction for international content, including Korean, Spanish, and Turkish. K-drama is very popular with Indians and can be compared to Indian soaps in many ways – stories that focus on family, background music, and creative kinds of storytelling, which are also attracting young viewers to binge-watch.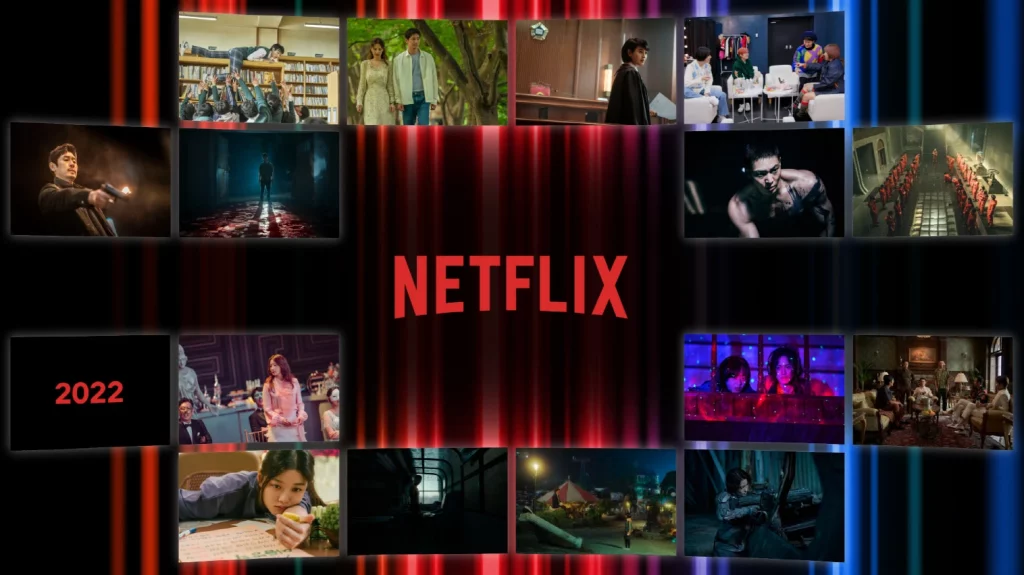 Speaking about this K-wave, Sugato Banerji, Corporate Head – Marketing, D2H, Dish TV India, observed, "South Korean content started becoming popular in India with the song 'Gangnam Style. Since then, not only Korean pop music but also Korean entertainment and TV serials/ shows have been continuously rising in viewership. Korean drama series are shorter than Indian TV serials and finish in one month, so the plots are tight and compact, making them perfect for binge-watching. These series have familiar settings and societal challenges that the youth of India are facing today. These are about breaking free from the shackles of the past, of backwardness, and making a brighter future. They are typically family drama with wholesome content."
The emergence of OTT platforms allows audiences to access content around the world. Elaborating on the same, Mansi Shrivastav, Head – of Content Acquisition and Syndication, MX Player, said, "We are witnessing a high engagement on the platform when it comes to international content dubbed in local regional languages. Though Korean content has been featuring across line-ups for the past 10-12 years, the popularity of K-Pop has pushed the viewership in a positive direction.
We have curated one of India's largest catalogs of foreign dubbed content for our large user base, with international content as a genre contributing 15 percent to the overall watch time engagement on the platform.
Therefore, small niches such as Korean content can also find a sizable audience. In fact, to give you a comparison – our Hindi dubbed Korean shows alone are catering to an audience that is comparable to what an English movie channel is currently doing."
Who are the Indian audiences for Korean content?
Although people love watching a great story, every type of content targets a particular audience, with Korean shows targeting viewers primarily between the ages of 18 and 34. As Korean music/dramas have become a prominent subculture among GenZ and millennials who seek new experiences, Korean music/dramas have become a craze among GenZ and millennials.
"Korean content was initially viewed by people in states such as Manipur, Mizoram, and Nagaland, but post the covid lockdown, we've seen its consumption grow across households," Sugato Banerji, corporate head, marketing, D2H, Dish TV India Ltd said.
Karan Bedi, the CEO, of MX Player, added that Korean drama has seen an increase in popularity in recent years in India given the ease of access through various OTT platforms; K Pop (a genre of South Korean music) has also been trending in India as are popular K Pop artists who are part of leading Korean dramas.
Although people love watching a great story, every type of content targets a particular audience, with Korean shows targeting viewers primarily between the ages of 18 and 34. As Korean music/dramas have become a prominent subculture among GenZ and millennials who seek new experiences, Korean music/dramas have become a craze among GenZ and millennials.
On the contrary, MX's Shrivastav said that, while the core user base is from the metro and Tier 1 cities, they have seen that the appeal of such shows is across India. Smaller towns in far-flung places have also shown a large appetite for Korean dubbed shows. She said, "These users are big on binge behavior with high stickiness. Our consumption data shows that users watch many episodes of each show, indicating high commitment levels."
The global craze for the Korean content has been fueled by subtitles and dubbing
In 2020, Monika Shergill, vice-president (content), Netflix India, said in a blog that the K-dramas viewership in India (on Netflix) increased by over 370% in 2020 as compared to 2019. Similarly, in 2020, Viki, a US-based Korean drama-streaming platform grew from 3% in October 2019 to 46% in September 2020. Korean shows have become so popular in India in the last two years that a Delhi mall commissioned Squid Game wall art recently.
Despite being foreign words to Indians, Ahn-young-ha-se-yo (Good morning), Gahm-sah-Hahm-ni-da (Thank you), and Sa-rang-hae (I Love You) are among the Korean phrases that are familiar to the many of us. In India, there seems to be a growing wave of Korean pop culture, especially K-drama and K-pop (thanks to the Bangtan Boys or BTS). One would recall the craze for the funny dancing Korean pop star Psy and his 'Gangnam Style' in the country in 2012. This increasing Hallyu wave is hitting hard at Indian audiences, subtitles and dubbing play a significant part in it. A large section of the audience relies on subtitles and dubbing to understand the content that drama has to offer.
Some of the credit for this popularity goes to subtitles, says a spokesperson from an OTT platform, adding, "Not just English, but subtitles and the dubbing of foreign shows in Indian regional languages have helped the audience watch international content."
A Netflix spokesperson said, "With subtitles and dubs, our members have discovered and enjoyed authentic K-content from a zombie thriller 'Kingdom', to the romantic drama 'Crash Landing on You'. Netflix offers a diverse and entertaining selection of more than 50 original Korean stories to appeal to existing and new fans of K-content in India."
This is an exciting time for not only Korean content, but content in any language to be successful anywhere. The Netflix spokesperson further added, "The language barrier is lowering and more audiences are discovering great stories made by the world. Netflix has always been a strong believer in Korean storytellers. Our first Korean original film, 'Okja', directed by Bong Joon-ho, was released in 2016. We have been significantly investing in Korean content and are thrilled that the Korean slate available on Netflix has the variety and diversity to appeal to Indians who love great stories. We are happy with the progress, but we know we have a long way to go. Netflix is already doubling down on investment in Korean content, and we hope to amaze our members with more incredible Korean stories across genres and formats."
Marketing facilitates the increase in Korean content consumption in India
It has been reported that Netflix intends to invest 550 billion won, up 65 percent from last year, in content production this year in South Korea. Over 80 South Korean movies and dramas have been made available as Netflix originals since the company entered the market in 2016. It invested 770 billion won in South Korean content from 2015 to 2020.
Disney+ just held a showcase where South Korean content accounted for more than 30 percent of the showcase. Apple TV+ was launched in South Korea on Nov. 4 with South Korean content Dr. Brain.
Furthermore, Netflix reiterated on Nov. 4 that there would be no network fees charged in South Korea. "We are well aware of the fact that the issue is still highly controversial in South Korea and we will keep working with local Internet service providers so that our streaming services can remain effective while giving no burden to their networks," it said. Adding, "We developed the Open Connect Appliance as a content delivery network by investing one trillion won, and this tool is capable of a traffic reduction of 95 percent or more."
Due to the ease of access to Korean dramas through various OTT platforms, Korean dramas have gained significant popularity in India in the past few years; K Pop (a genre of South Korean music) has also gained popularity in India, and K Pop artists who are part of prominent Korean dramas have been trending in India. All
Where to Watch K-Dramas from India?
Netflix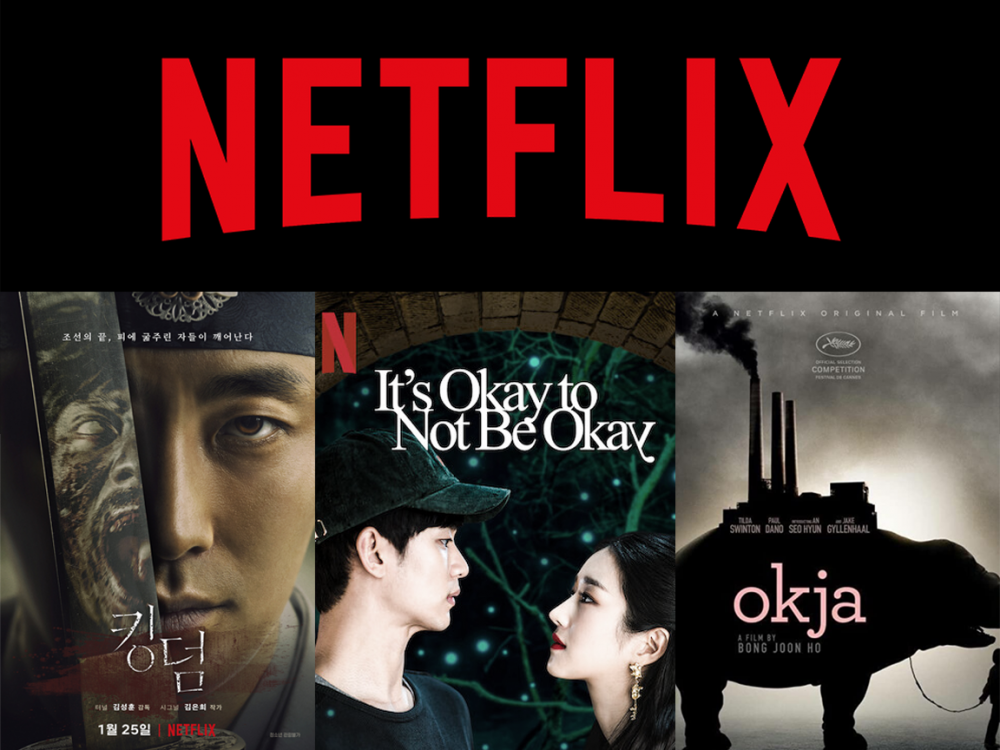 Google Play Store Rating: 4.4/5
No. of Downloads: 1 billion+
We are presuming that 'Netflix' as an OTT platform is not alien to most of you. With the contagious K-craze, Netflix too added various best K-dramas into its content bank. All you have to do is type 'Korean Drama/Movies' in the search box and press enter.
Amazon Prime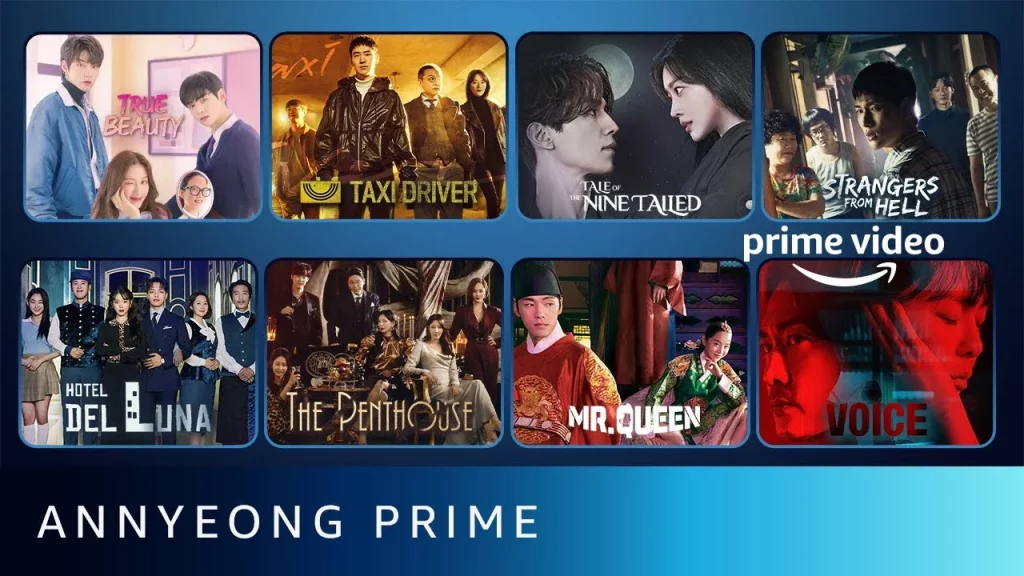 Google Playstore Rating: 4.2/5
No. of Downloads: 100 Million+
Amazon Prime which majorly showcased Hollywood content also didn't remain untouched from the increasing Hallyu 2.0 wave. It began the streaming of some selected k-drama from 21st October 2021.
Best OTT Platform for Viu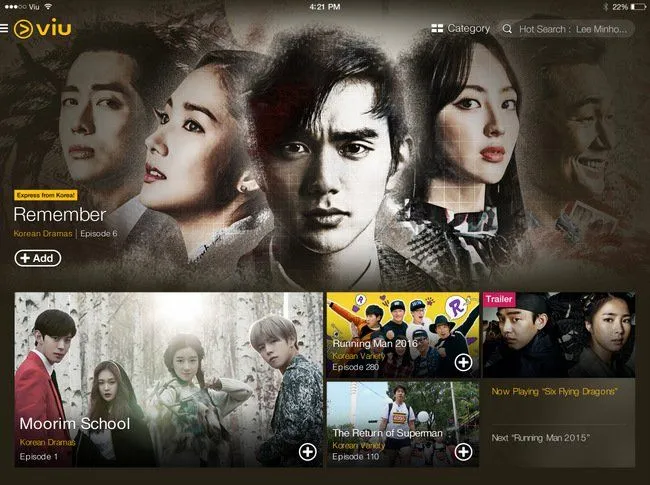 Google Play Store Rating: 4.1/5
No. of Downloads: 100 million+
Viu is probably the most famous application for consuming Korean web series and movies in India. In fact, it has the highest number of Indian users as compared to other platforms offering K-content. Viu premiers web series and movies in real-time and, of course, with subtitles.
Rakuten Viki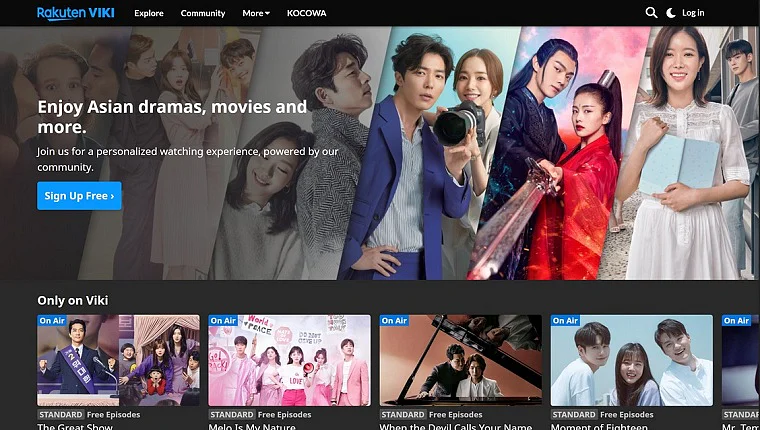 Google Play Store Rating: 4.1/5
No. of Downloads: 10 million+
With Viki, users can watch all their favorite Asian dramas at their fingertips in 150+ languages. Not only this, but they can also join volunteer communities to interact with people with common interests. Its recommendation algorithm is shown to be more effective than other apps. Viki works on both ad-revenue and subscription business models.
SBS
Google Play Store Rating: 3.6/5
No. of Downloads: 5 million +
SBS has similar features to Viki when it comes to offering subtitles in around 150 languages. Moreover, SBS also gives access to Korean music and documentaries. It has a user-friendly interface, which makes it popular among viewers.
KissAsian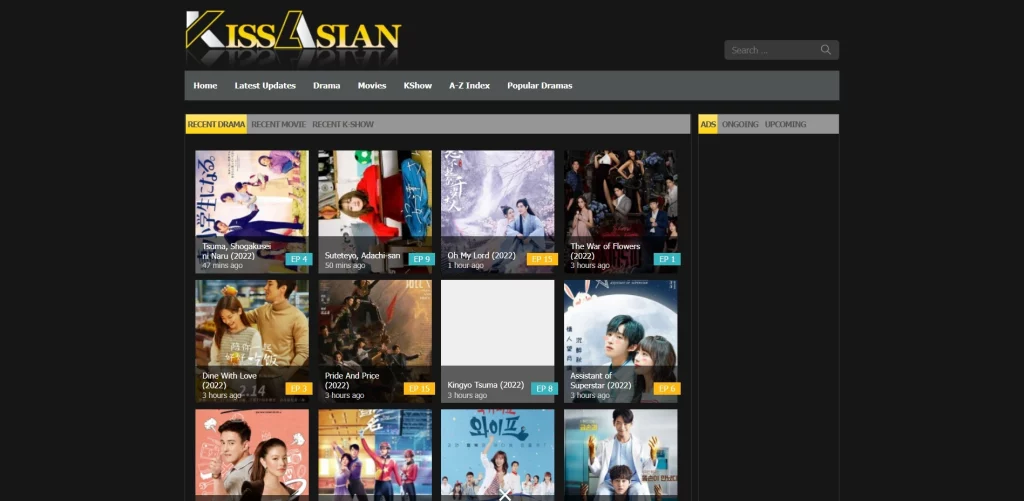 Google Play Store Rating: 3.9/5
No. of Downloads: 100 k+
KissAsian probably has the longest Asian drama list, including high-quality K-dramas. In addition, users can enjoy Korean web series and movies for free.
KORTV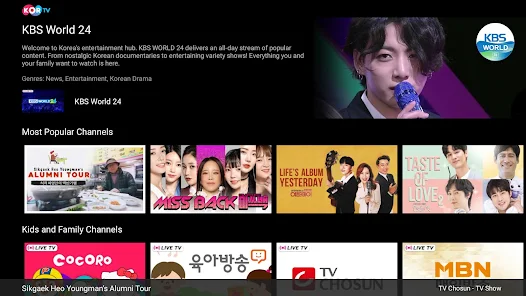 Google Play Store Rating: 3.6/5
No. of Downloads: 10 k+
Considered a global destination for live Korean entertainment, KORTV, is a hub for thousands of Korean shows and movies. Users can improve their viewing experience by downloading videos and watching them later at a more convenient time.
Drama Cool 2.0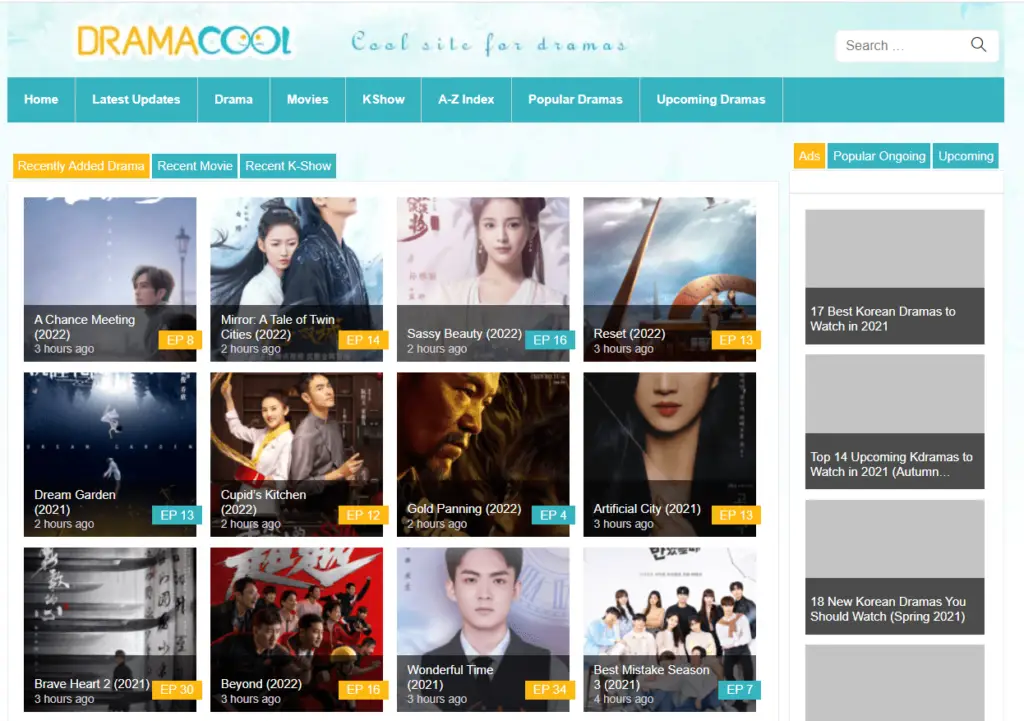 Google Play Store Rating: 3.7/5
No. of Downloads: 100 k+
Dramacool is probably the oldest and most widely-known platform for K-Drama lovers. Naturally, therefore, the K-drama list that you will find here may not be available anywhere else.
K-lovers can easily discover old dramas from the 90s and the newest ones not only from South Korea but also in China, Japan, Thailand, the Philippines, Vietnam, and other countries.