Chrome OS was released by Google in 2011. Now the tech giant Google announced the release of Chrome OS Flex, the company's latest operating system.
The company behind CloudReady, Neverware, was purchased by Google in 2020. Since then, Google hasn't made many changes to CloudReady. The situation has changed, as Google announced the release of a brand new operating system called Chrome OS Flex, which is built upon the CloudReady platform.
Earlier software from cloud-ready was used to run chrome OS on almost any computer using a virtual machine. One place where it may be practical is in organizations with a large number of outdated laptops that would otherwise not be able to buy new ones because of budget constraints. This means there are plenty of companies and schools that still use outdated laptops, which is why Google decided to step in.
Chrome OS in its regular form has long been thought of as a solution for such systems, but it doesn't have a native installer from Google, so it needs to be obtained from the Chromium project, or purchased through a Chromebook.
Google's new updated chrome OS flex is also compatible with Mac and Windows systems. Chrome OS Flex is a cloud-first operating system that is built to install on a Windows PC or a Mac. It is designed to reduce hardware requirements as much as possible. Therefore, even older Windows computers that have hit their Auto-Update Expiration (AUE) and End of life Date (EOL) can run this platform.
Other additional features claimed by the company include quicker app performance on Chrome OS Flex that helps the system to boot up faster. The company also promised the customers to provide regular updates that will keep their devices safe from viruses, malware, and phishing attempts.
All of these features of Chrome OS Flex has been made easy and free to download by Google. Users simply need a compatible device which is mentioned the company on their official website and a USB drive to run this platform.
There are still some minimum requirements. It must be an Intel or AMD 64-bit device (no ARM machines) with 4GB RAM and 16GB of storage. It is important to remember that installing a new OS will erase all of the data. It cannot be tried on a current system as it will delete all the files, applications, and settings.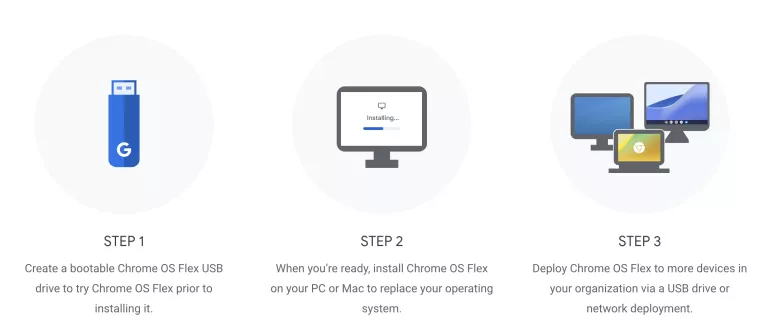 Users can expect to encounter some issues or bugs since this platform is still in its infancy and Google has explicitly stated that. The platform must be booted from a USB drive, then installed on the user's mac or pc to operate.
As of right now, Chrome OS Flex has not been tested extensively, and a stable version will be available soon. If you have an old laptop lying around that you can still turn on, you might want to consider it. As Google said in their blog post ,"Rather than disposing of aging PCs and Macs, refresh them with a modern and a fast operating system to reduce e-waste".