Google's parent company Alphabet Inc. recently breached $2 trillion in market value. The Mountain View, California-based company would become the third US company to reach the $2-trillion mark, joining Apple and Microsoft.
The tech giant also became this year's top performer among the five biggest U.S tech companies with a 70% advance fueled largely by the growth in Google's advertising business. Alphabet's shares rose to a record on Wednesday with an advance of as much as 6.7%. The gain added as much as $110 billion to its market valuation.
The company's market cap has just about doubled from $1 trillion since January 2020. The Google parent company hit $1 trillion in value for the first time in January 2020.
In the third quarter of 2021, the alphabet had a record quarter, earning a hefty $65.1 billion. The company reported that its revenue soared by 41 percent, while its profits jumped by almost 69 percent.
Google Search saw a slight increase in profit, climbing to $37.9 billion from $35.8 billion in the previous quarter. YouTube, another Alphabet company, earned $7.2 billion in the most recent quarter.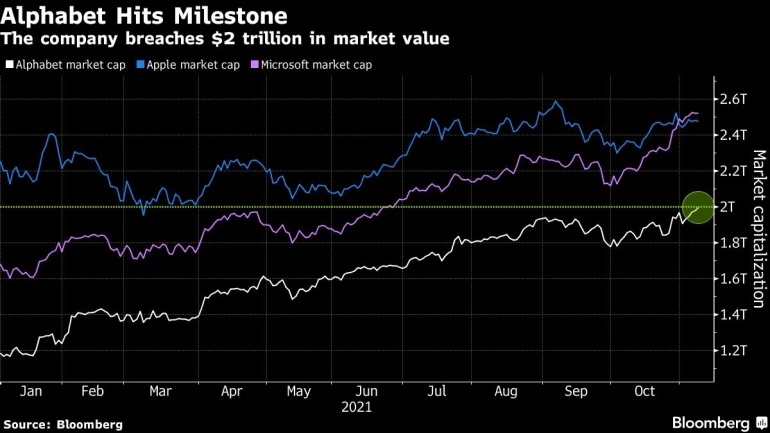 "It's just a number, but I think it demonstrates that these are leading companies," Kim Forrest, founder, and chief investment officer at Bokeh Capital Partners, said in an interview. "It really is that simple — that the market rewards their growth, and their prospects for growth, with big valuations."
CEO Sundar Pichai has tried to keep Alphabet's revenue engine chugging along by prioritizing three areas: e-commerce, YouTube, and cloud computing. That helped the internet giant rebound from a dour 2020 when some marketers pared their budgets as they coped with the initial shock of the Covid-19 pandemic.