Last Updated on January 12, 2022 by Team Yantra
Yes, there is a 3090 Ti coming. At a time when people can't get their hands on any RTX 3080 or RTX 3090, there is a 3090 Ti coming.
Although the details for the 3090 Ti is very scarce at the moment. Although, a few details have surfaced about the 3090 Ti. It is practically the same as the RTX 3090 with a triple-slot design.
It will use GA102 GPU, which is also utilised by RTX 3090, RTX 3080 and RTX 3080 Ti. It is rumoured to have 10752 CUDA cores compared to which RTX 3090 has 10496 CUDA cores.
Well, no one seems to be eager to buy this GPU considering the current high-end RTX 3090 and RTX 3080 is really hard to get.
Although, there is a new 50 series card that might be helpful depending on its availability.
Nvidia launches RTX 3050 for desktop
Nvidia launches 50 series cards in every generation which is targeted for the entry-mid level market. RTX 3050 and RTX 3050 Ti mobile version already exists for laptops.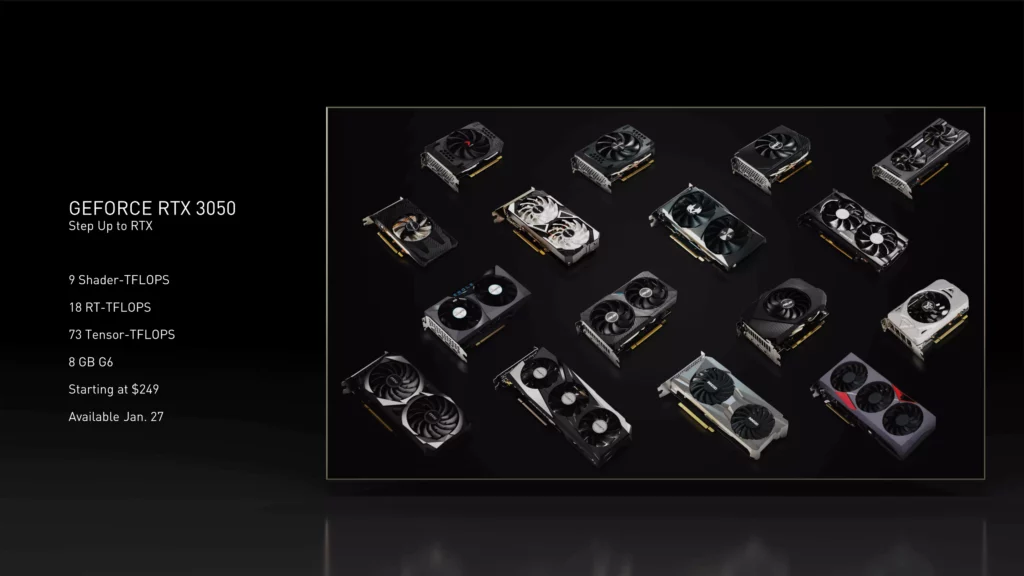 RTX 3050 will provide the budget market with a chance to experience Ray Tracing and DLSS. It is clearly being targeted for 1080p 60 Hz gaming with Ray tracing.
The new card will feature the second generation Ray tracing cores and 3rd-Gen Tensor Cores which will enable features like Ray Tracing, DLSS and AI.
It will feature 2560 CUDA cores with 8 GB GDDR6 memory, a 128-bit memory bus and a 1.55 GHz base clock (1.78 GHz base clock).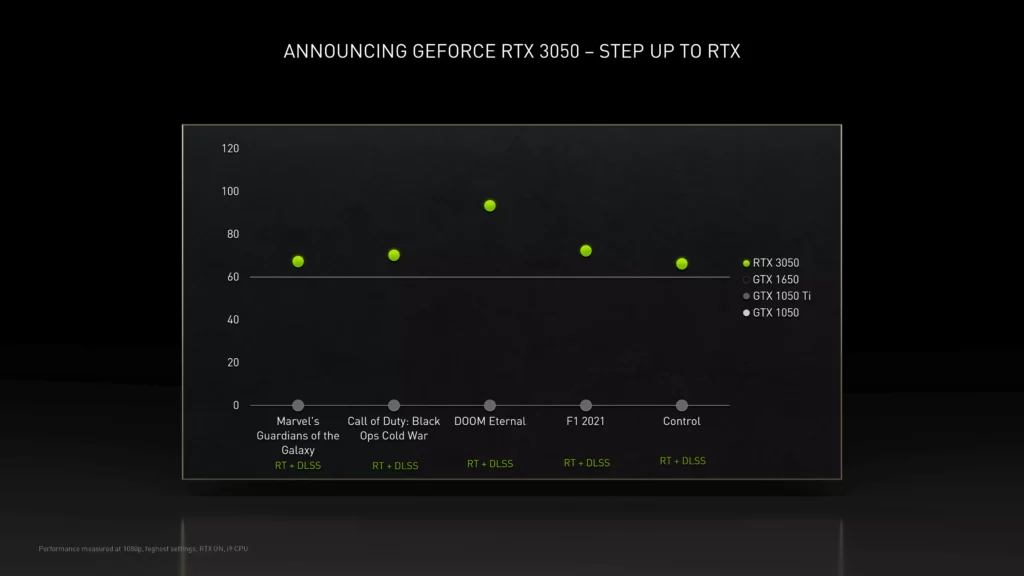 According to Nvidia, RTX 3050 can run Control at 60 FPS, at 1080p highest settings with RT + DLSS on. It might sound impressive but something doesn't feel right here because an RTX 3050 laptop can already run Control with RT + DLSS at around 45-50 FPS.
If the RTX 3050 can run Control at 60 FPS with RT and without DLSS, that would be impressive. According to the price of the RTX 3050, it is comparable to GTX 1660 Super which is priced similarly. In terms of performance, it must be comparable to 1660 Super but with Ray Tracing cores.
Although it is meant to replace GTX 1650 and provide a step-up to RTX cards, it cannot have a performance relative to GTX 1650 at this price. That would be an epic failure.
It will be available worldwide starting Jan 27 and the price will start from $249. In India, it is priced starting from INR 22,200. The price could have been lower but it doesn't matter since we know that they will be sold out very quickly and the prices will be inflated.
New RTX 3070 Ti and 3080 Ti mobile versions for laptops
Nvidia also announced the arrival of laptops with RTX 3070 Ti and RTX 3080 Ti Laptop GPU. RTX 3080Ti gaming laptops are targeted for 120+ FPS Ultra 1440p gaming and it will start from $2499. It will be available from Feb 1.
| | | |
| --- | --- | --- |
| Specifications | RTX 3070 Ti | RTX 3080 Ti |
| CUDA Cores | 5888 | 7424 |
| Boost Clock | 1035-1485 MHz | 1125-1590 MHz |
| GPU power | 80-150 W | 80-125 W |
| Standard Memory | 16 GB GGDR6 | 8 GB GDDR6 |
| Memory Interface | 256-bit | 256-bit |
| RT Core | 2nd-Gen | 2nd-Gen |
| Tensor Cores | 3rd-Gen | 3rd-Gen |
| | | |
While the 3080Ti laptops will be the top-of-the-line laptop GPU, 3070 Ti will be a performance laptop but more affordable starting from $1499.
It is being targeted as 100 FS Ultra 1440p gaming machines and faster than RTX 2070 Super laptops. it will also be available starting from Feb 1.
160 New Laptops
Nvidia also announced their new lineup of RTX 30 Series laptops. Partner brands like Acer, Asus, Dell, Hp, Lenovo, Gigabyte, MSI and Razer are introducing new and updated laptops with RTX 30 Series laptop graphic cards.
With a total of over 160 new products from these partners, laptop buyers can get excited at the new options available to them.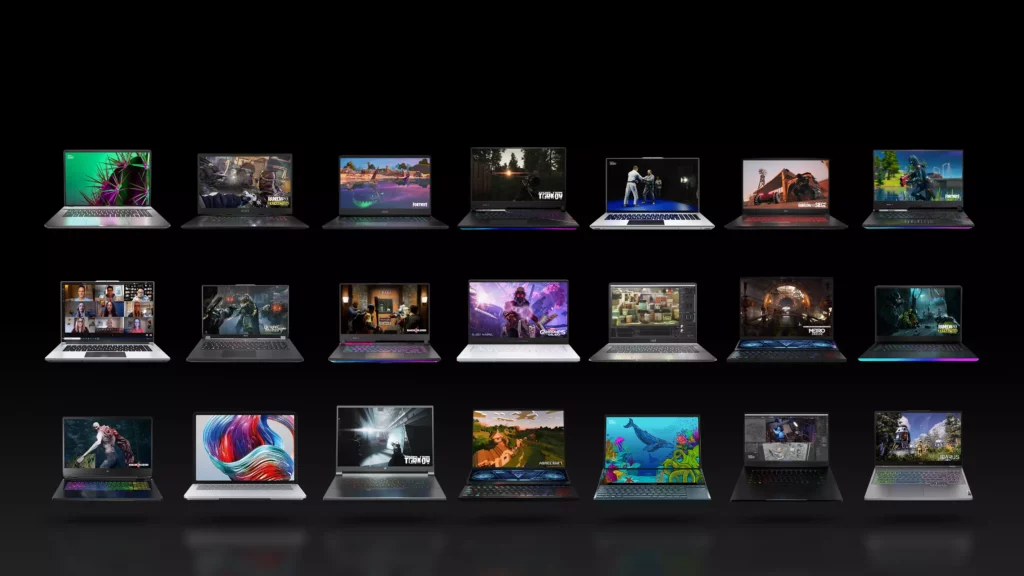 The new models of laptops will range from smaller 14″ ultraportables starting from $799 to 17″ gaming powerhouses.
If you want to know more about the upcoming laptops with RTX 30 series cards, click here.
Nvidia GeForce Now, GeForce studio laptops and new games with Ray Tracing + DLSS
Nvidia also talked about the developments in their GeForce Now service which now has more than 1100 games including 90 free-to-play. It can be played on devices like Chromebook, Mac, Shield TV, iOS, Android phones and any underpowered laptop.
Nvidia has also partnered with Samsung to bring GeForce gaming directly to their smart TVs starting from Q2 of 2022.
New games with Ray Tracing and DLSS were announced which include games like Day Before, Escape from Tarkov, Rainbow Six Extraction, Dying Light 2. Nvidia will also bring their low latency technology Nvidia Reflex to newer titles like God of War, iRacing, Rainbow Six Extraction, Grit, etc.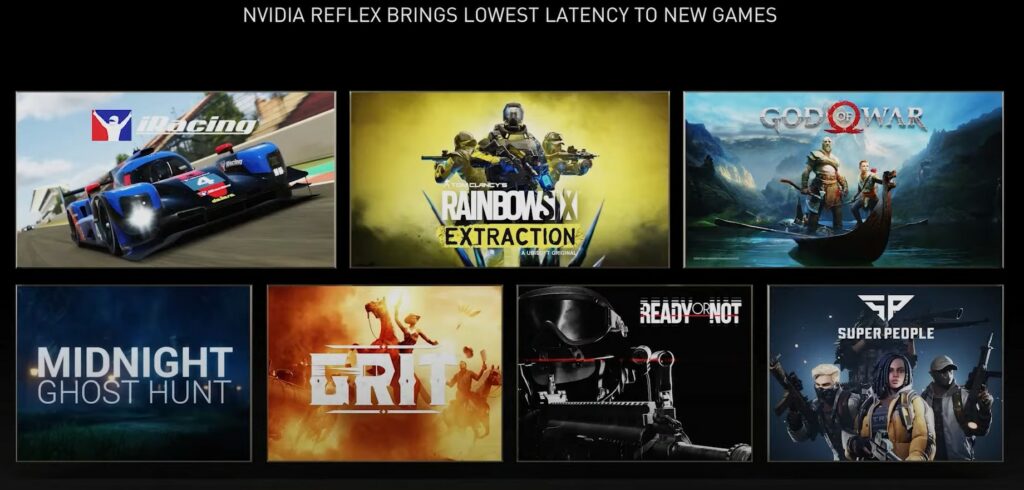 They also announced new 1440p Nvidia G-Sync enabled displays from partners like MSI, Asus ROG, Viewsonic and Agon.
It will feature a 27″ display with 1440p (2560×1440 resolution), up to 320 Hz refresh rate and a Dual-format display that will allow the monitor to turn into a 1080p 25-inch display.
This is a feature for Esport gamers since many prefer playing on 1080p with higher framerates.
Recap
RTX 3050 would be the first entry-level RTX card for desktop and will feature 8 GB GDDR6 memory. It will be available worldwide, price starting from $249.
RTX 3070 Ti and RTX 3080 Ti laptop GPU will soon come to laptops starting Feb 1 starting from $1499 and $2499 respectively.
New games like Rainbow Six Extraction, Escape from Tarkov, Dying Light 2, etc will get Ray Tracing and DLSS support.
Nvidia Geforce Now has 1100+ titles with 90 free-to-play titles and can be played from any device.
Keep visiting yantragyan.com to stay updated with the latest launches and announcements in the Tech world.