Noveto launched its new product N1 in CES 2022. They claimed their new flagship product is an invisible headphone. The N1 made its debut at Pepcom, during 2022's CES in Las Vegas, where it was available for demonstration for the first time.
According to the company, the gadget provides a unique sound experience with the innovative technology used in the N1. Users can get the stereo and 3D experience, and yet the N1 is a single compact desktop device, and you wear no extra hardware device, no headphones, no wires.
For others next to the users, the experience is magical as well, as they only hear a whisper and you can still talk to each other without being isolated by obstructive headphones.
Noveto's proprietary smart audio beaming technology transmits ultrasound silently through the air, converging into audible pockets just outside the listener's ears, creating an experience that's like wearing invisible headphones. Others in the room only hear a whisper of sound while the user is immersed in 3D spatial audio sound. Facial recognition technology that uses motion sensors and AI-incorporated technology helps the N1 to track the user's ears to ensure the 3D immersive sound moves with the user.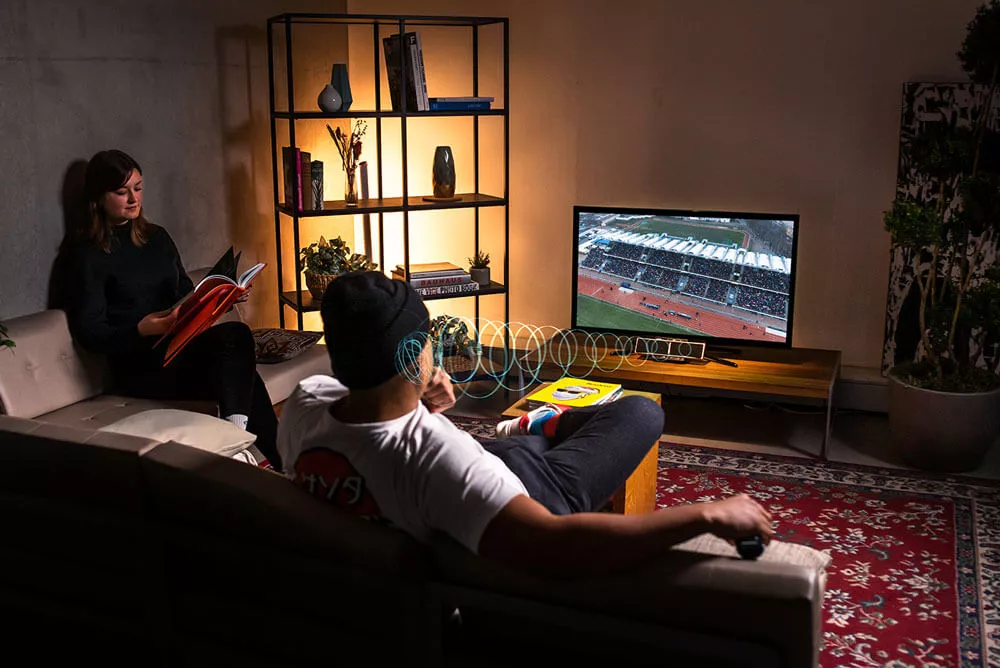 The N1 is the perfect device for the modern professional who works from home or in shared office spaces, values their comfort and efficiency, and whenever possible, uses smart products for communication and interaction experience. The N1 combines Smart Beaming with Alexa and multimodal interaction to create the first all-in-one home office and personalized wellness space.
The built-in AI-based facial tracking and advanced audio monitoring work in unison with Smart Beaming technology, making the speaker compatible with any smart assistant for an entirely natural and new way of communicating in your smart home and office.
"N1 creates a truly magical sound experience," claims Noveto CEO Christophe Ramstein. "It's like nothing we've seen before and has the potential to change how we work and live. Imagine the efficiency and comfort of private conversations with no devices on the body – we're returning to a form of delightful, intuitive communication that currently doesn't exist in our everyday lives with our devices. And this is only the beginning."
Noveto has developed proprietary software, as well as a custom chipset for the N1, making it a versatile device that will be easy to update and remain a smart and advanced communication tool for years to come.
Features:
Smart audio beaming technology for personal 3D sound 
Audio volume up to 85dB SPL 
Audio privacy up to 90% (20dB) audio reduction 1 meter (3 ft) from listener 
Smart assistant compatible desktop device (Alexa) 
Connections: Bluetooth, Wi-Fi, USB-C and 3.5mm analog jack 
HAL (Heuristic Activity LED) embedded LED circle for live feedback 
Built-in microphone array 
Built-in face ID 
Noveto App, available in iOS and Android 
Over the air updates (OTA) 
Noveto N1 will be available at a price of $800 and will be shipped to the customers before the end of Q1 2022. These headphones definitely sound like something straight out of a Sci-Fi movie but only time and customers review will tell about this unique gadget.