There is a new electric vehicle announced at CES 2023 under Afeela brand, which will be a joint venture between Sony and Honda.
Key Highlights
New EV announced by Sony Honda Mobility CEO Yasuhide Mizuno
The Afeela brand aims to combine AI, software, entertainment expertise of Sony with automobile hardware expertise of Honda.
The Electric vehicle will have several high-end features like self-driving, augmented reality entertainment and more
The vehicle will be first launched in US in 2026, followed by Japan and other markets
The vehicle was announced on stage by Sony Honda Mobility CEO Yasuhide Mizuno.
"Afeela represents our concept of an interactive relationship where people feel the sensation of interactive mobility and where mobility can detect and understand people and society by utilizing sensing and AI technologies," said Mizuno.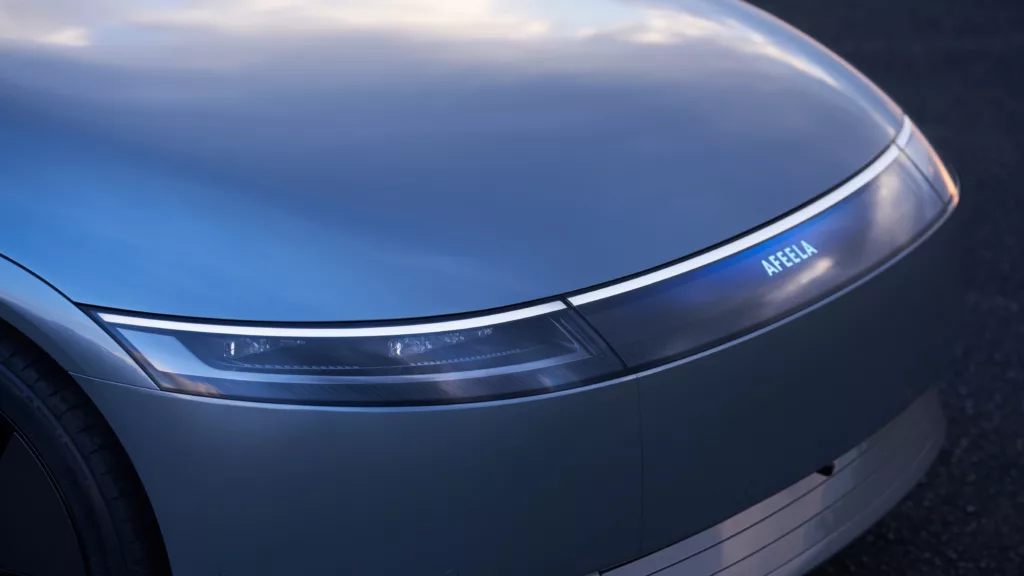 Key technologies
According to Mizuno, Afeela will attempt to embody three main themes, including autonomy, augmentation, and affinity.
The EV brand Afeela is striving for world-class Advanced Driver Assistance Systems & Self Driving. In the sense that they are aiming at level 3 autonomous driving.
To help with this the car has a total of 45 cameras and sensors inside and outside the vehicle, together with radar, ultrasonic, and LIDARs.
Design wise, the EV looks a mix of modern design concepts prevalent in Luxury EV segment from like of Mercedes, Porsche. The design does look somewhat different from the 2020 concept car shown by Sony that year.
Sony first hinted at their EV ambitions at CES 2020 where they showcased their concept EV called Vision-S. This was such a surprise from Sony from PlayStation to EV.
Coming back to present. Sony announced a joint venture with Honda in early 2022. Now, we have Sony- Honda mobility Brand – Afeela.

Sony-Honda Afeela Availability
Sony announced plans to partner with Honda Motor Company Ltd. to develop and produce battery electric vehicles in the US.
Preorders for EV will open in 2025. The EV will be sold first in the US in 2026, and then Japan and Europe at a later date.
You can check more about the preorders on the official website Sony-Honda-Afeela website.
Summing it Up
This new direction into the EV segment from Sony is an interesting one. Sony definitely sees the EV segment as one where they can leverage their existing technological expertise. In other words, Sony sees EVs, — as a crucial platform for the future of its tech and entertainment products.
Of Course, Honda is also upcoming with its lineup of electric vehicles in collaboration with General Motors. Prologue EV range will be launched by Honda in 2024.
Hyundai also showcased their concept EV SUV.
EV segment is getting filled with more companies and innovations.