We enter the third year of the COVID nemesis and this Wednesday, at the LA Auto Show 2021, South Korean behemoth Hyundai announced an all-electric SUV concept vehicle that also brings a special something with it, which Hyundai calls a 'hygienic interior".
This concept is called Hyundai Seven and is built on the automaker's Electric-Global Modular Platform (E-GMP), which also underpins other upcoming EV's like Ioniq 5, Kia EV6, and Genesis GV60.
It is supposed to carry a 77.8 kWh battery, which will hopefully give a 300+ miles range. Although the special feature is that it will be using chargers of 350kW capacity that will charge it from 10 to 80% in 20 mins, which is really fantastic considering it has to charge a 77 kWh battery.
About hygienic interior.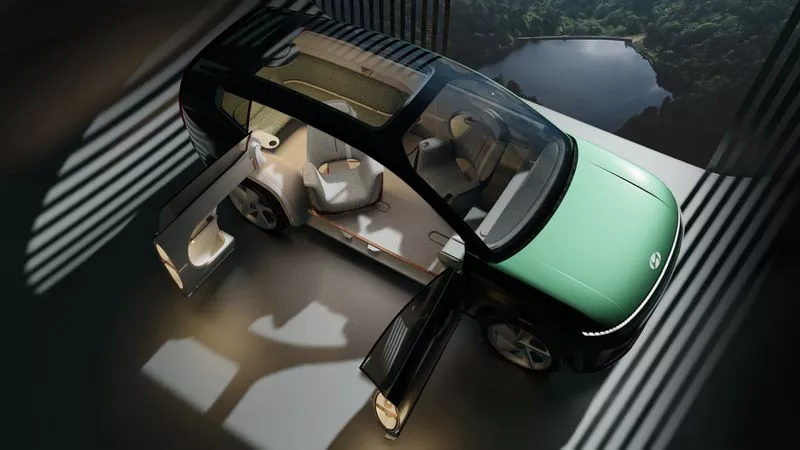 Now coming to the more interesting part, that is the hygienic interiors. The interiors are pretty classy with lounge-like seats that can swivel 360 degrees. There is also a "Hygiene Air Flow" system that can isolate the airflow between front and rear passengers
It has two modes . The Vertical mode is when the air comes in through intakes in the roof rails and exits the vehicle via the wheel vents and the Horizontal mode is the usual vehicle-like flow where air moves from front to back. Hyundai claims that this kind of unique airflow system was inspired by the sophisticated airflow system in airplanes.
The next episode of hygiene is represented by the materials used in the interiors. The interior surfaces are made of renewable and recycled materials like bamboo, as well copper which has antimicrobial features and hygienically treated fabric. Hyundai has even included a "shoe refreshing appliance" that would clean and deodorize your shoes.
The last bit of hygiene is fulfilled by the inclusion of a UVC sterilization cycle that runs after passengers exit the vehicle. UVC or Ultraviolet C light is a disinfectant that kills the SARS CoV2 virus among others. However, it may burn your body surface if you are exposed to it for long. Therefore this sterilization cycle occurs only when the car is empty.
The car industry is pretty much catching up with the tech industry. In the past few years, it has made hefty innovations. The future is driverless and it is not known to all. This concept of Hyundai is built on a platform that will also serve the future. Now although this looks amazing, it is a concept after all, and whether it will come to life or how much of it makes way to reality is a question for time only to answer.