MediaTek has officially launched Dimensity 8300, a part of its 8000 series which is aimed at the premium mid-range segment. The biggest focus of Dimensity 8300 is bringing generative AI to this segment. Apart from that, it also brings various improvements to the CPU, GPU performance and power efficiency.
With MediaTek's optimized Dimensity 8000 series, consumers don't have to pick and choose between accessibility and premier experiences like flagship-grade memory or accelerated AI capabilities—they can have it all

Dr. Yenchi Lee, Deputy General Manager of MediaTek's Wireless Communications Business Unit
MediaTek Dimensity 8300 Specifications
Process
TSMC 4nm
CPU Config
1x Cortex-A715 @ 3.35GHz
3x Cortex-A715 @ 3GHz
4x Cortex-A510 2.2GHz
GPU
Arm Mali-G615
6-core
Caches
4MB L3
4MB system-level cache
AI
APU 780
Up to 10bn parameter LLMs
Stable Diffusion image generation
RAM support
LPDDR5X @ 8533Mbps
Storage
UFS 4.0 with MCQ
4G/5G Modem
LTE/5G (integrated)
Sub-6GHz
5.17Gbps down
Other networking
Bluetooth 5.4
Wi-Fi 6E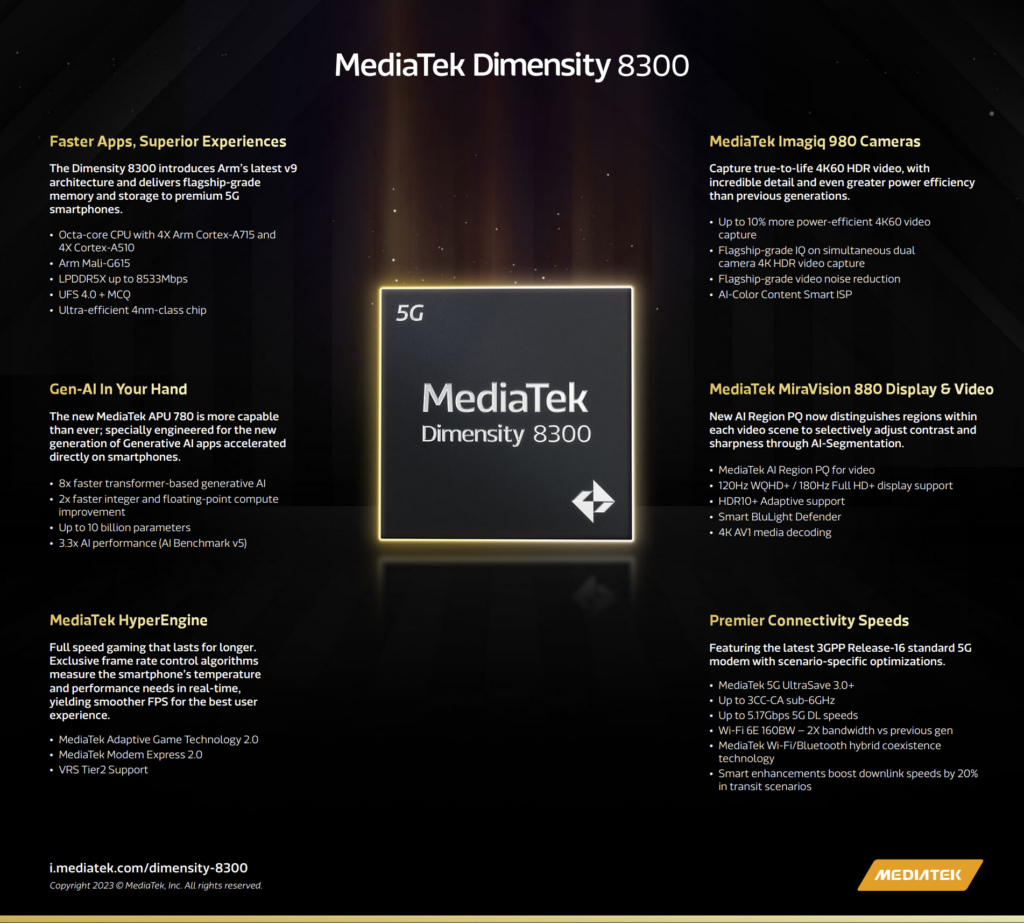 MediaTek Dimensity 8300 CPU
The MediaTek Dimensity 8300 is a flagship chipset that boasts an octa-core CPU based on Arm's latest v9 CPU architecture. It has a CPU configuration with four high-performance Arm Cortex-A715 cores clocked at 3.35GHz and four Cortex-A510 efficiency cores operating at 2.2GHz.
Compared to its predecessor, the Dimensity 8200, the Dimensity 8300's CPU offers up to a 20% boost in performance. Additionally, the Dimensity 8300's CPU is designed for enhanced power efficiency, consuming up to 30% less power compared to its predecessor.
Also Read: Qualcomm Snapdragon 7 Gen 3 launched
MediaTek Dimensity 8300 GPU
The MediaTek Dimensity 8300's GPU is the Mali-G615 MC6, which is a significant upgrade from the Mali-G610 MC6 found in the Dimensity 8200. The new GPU is claimed to offer up to 60% better graphics performance and 55% improved power efficiency.
MediaTek Dimensity 8300 AI Improvements
It is the first premium-tier SoC to feature full generative AI support, thanks to its integrated APU 780 AI processor. This powerful AI processor enables developers to create innovative applications that leverage large language models (LLMs) up to 10 billion, as well as stable diffusion.
The APU 780 boasts the same architecture as the flagship Dimensity 9300 SoC, resulting in a 2x improvement in INT and FP16 computation and a 3.3x boost in AI performance over the Dimensity 8200.
The Dimensity 8300 also features MediaTek's 14-bit HDR-ISP Imagiq 980, which takes premium smartphone photography and video capturing to new heights. Users can capture sharper, clearer videos at 4K60 HDR and record for longer thanks to the Dimensity 8300's extremely power-efficient design.
MediaTek Dimensity 8300 Connectivity
The Dimensity 8300 delivers blazing-fast speeds with its integrated 3GPP Release-16 standard 5G modem. This advanced modem employs scenario-specific optimizations to enhance connectivity in areas with weaker signals.
These optimizations boost sub-6GHz performance and range, ensuring a more reliable and seamless connection experience. The modem supports 3CC carrier aggregation, enabling downlink speeds of up to a staggering 5.17 Gbps.
MediaTek Dimensity 8300 will power 5G devices launching in the global market before the end of 2023.