The next generation Intel processors, Raptor Lake, are here and their flagship model 13900K is a beast but it comes at a massive tradeoff. Intel 13th gen, Raptor Lake, has increased the number of Efficient cores they carry compared to the earlier 12th gen Intel processors.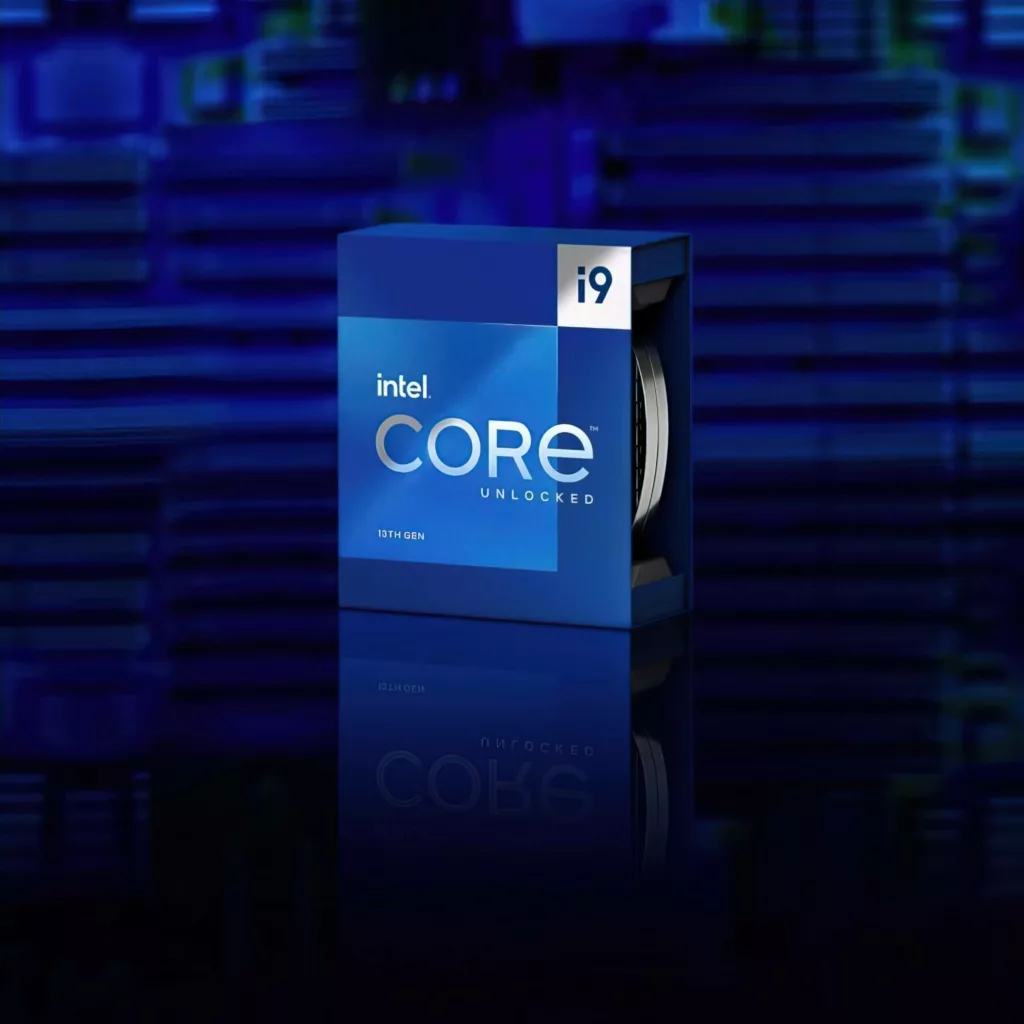 In the battle of flagships, 13900K vs 7950X, let's see who tops the chart and which is worth more value.
Intel i9-13900K quick summary
The specifications of the Intel i9-13900K is listed below:
Cores, Threads
8P cores, 12 E cores
32 threads
Performance core clocks
5.4 GHz
3.0 GHz
Efficient core clocks
3.9 GHz
2.6 GHz
Cache
36 MB Intel® Smart Cache
Processor Base Power
125W
253W (Boost)
Overclocking
Yes
Max Memory Speed
Up to DDR5 5600 MT/s
Up to DDR4 3200 MT/s
Integrated graphics
Yes
Compared to the i9-12900K, the performance upgrade is average and it is neither exciting nor bad. The most concerning part about the 13900K was the power draw and it shows. 13900K pulls a lot more power compared to the 12900K.
The performance upgrade in terms of percentage depends on whether you are gaming or focusing on productivity tasks.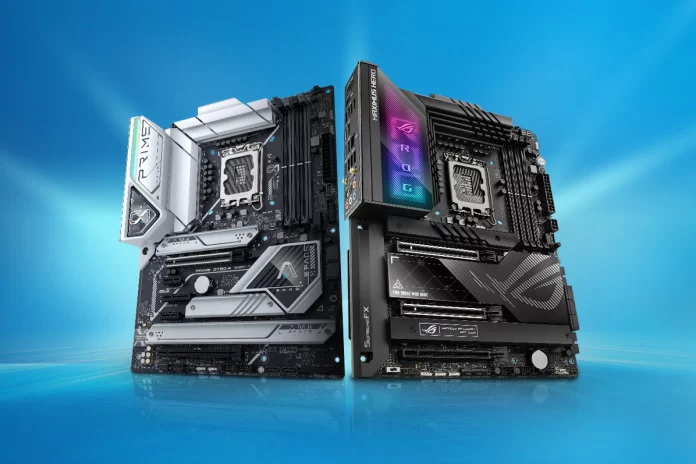 13900K has launched alongside the new line of motherboard Z790 which will support both DDR4 and DDR5 like Z690 motherboards. Although, Z790 is worth nothing since this is the end of platform longevity as the 13th gen is the last generation you can upgrade on this platform.
Check: How to choose the best motherboard for your build
We will divide the performance metrics into these categories
Core-heavy productivity performance (Multi-core performance)
Single-threaded performance (Lightly-threaded tasks)
Gaming performance
Power load and efficiency
Core-heavy productivity performance of 13900K
With 32-thread, 13900K performs about the same as the Ryzen 9 7590X which is also a 32-thread processor. Compared to the 12900K, it has seen a massive performance improvement of 38%. Even compared to Ryzen 7900X, it is much faster by 29%.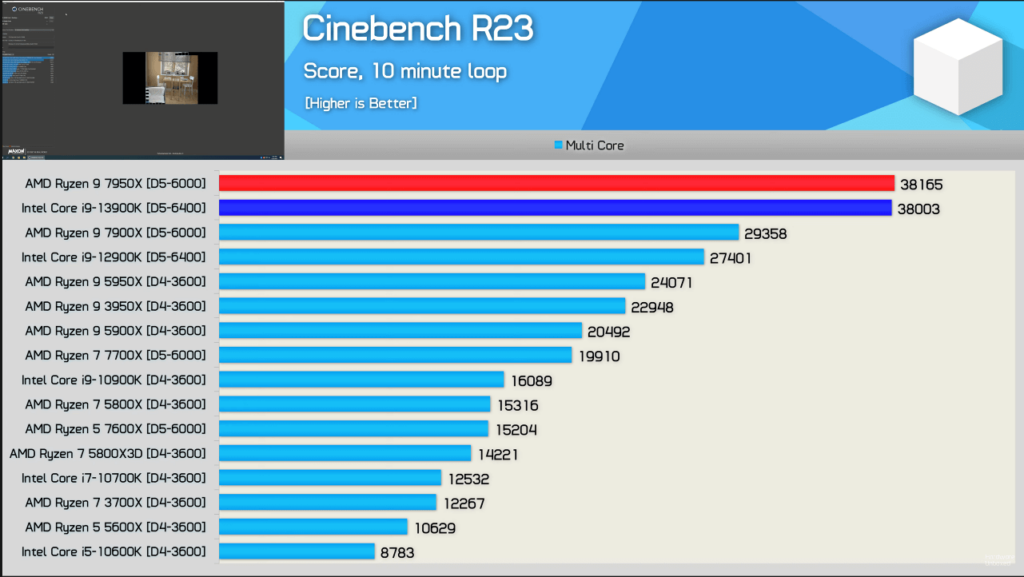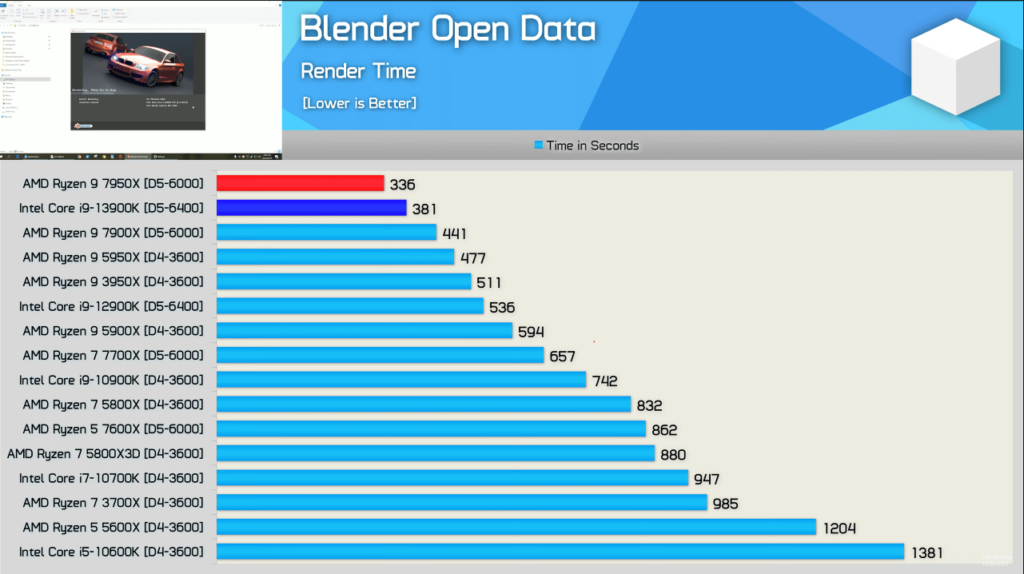 If you constantly work on productivity tasks relying on all-core performance, 13900K and Ryzen 7950X are essentially the same and will provide very powerful performance.
In Blender Open Data benchmark, 13900K trails the Ryzen 9 7950X by 13% which is mainly due to 13900K hitting the thermal throttle. Compared to the 12900K, the 13900K is an impressive 41% faster in this test. The performance data is the same with Corona Benchmark as well.
Overall for core-heavy workload, 13900K is up there with Ryzen 9 7950X but it cuts off its potential due to high temperatures. The generational improvement is massive with a 40% improvement in multi-core performance.
Lightly-threaded tasks (Single-core performance) for 13900K
As for single-core performance, 13900K has managed to beat Ryzen 9 7950X, although not by a huge margin. In Cinebench single-core performance benchmark, 13900K is just 7% faster than the 7950X and 8% faster than the 7900X.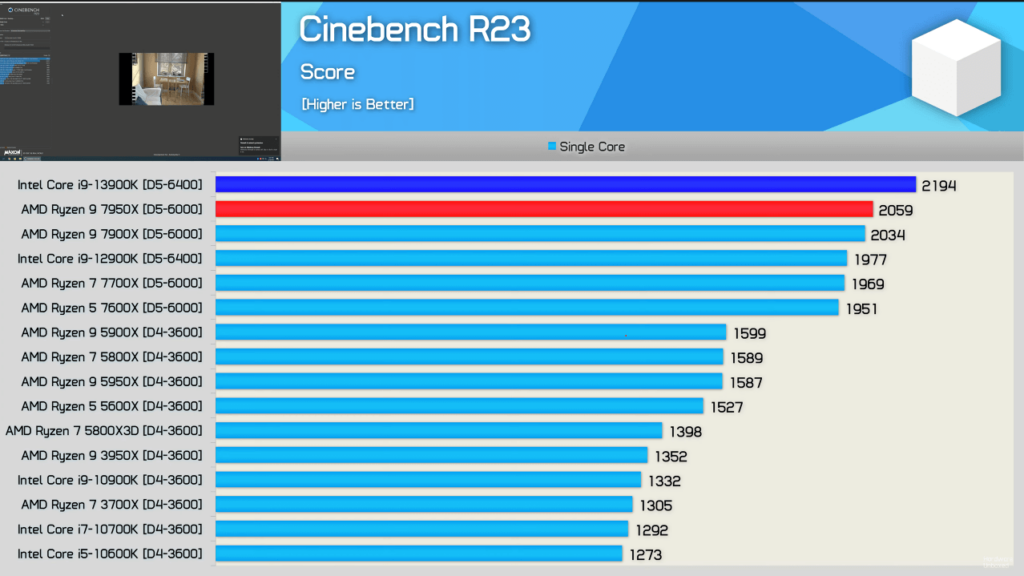 Compare to the 12900K, the 13900K is around 11% faster which is mainly because of the increased IPC count and higher clocks.
As for compression test with 7-Zip File manager, 13900K manages to beat Ryzen 9 7950X with 14% improvement but decompression is favoured by AMD's multi-threaded performance.
In tasks like Photoshop and After Effects which favour single-core performance, 13900K is faster than 7950X by 5% which is not much but still a lead. Overall, compared to the 12900K, single-thread performance has seen an improvement of around 9-10%.
Overall, single-thread performance hasn't improved that much generationally over 12900K or even over the 7950X except in the compression test.
Gaming performance
Gaming performance in the 13900K is dependent on the titles although the performance uplift over 12900K was significant. At this point, the performance of high-end processors just doesn't matter for gaming.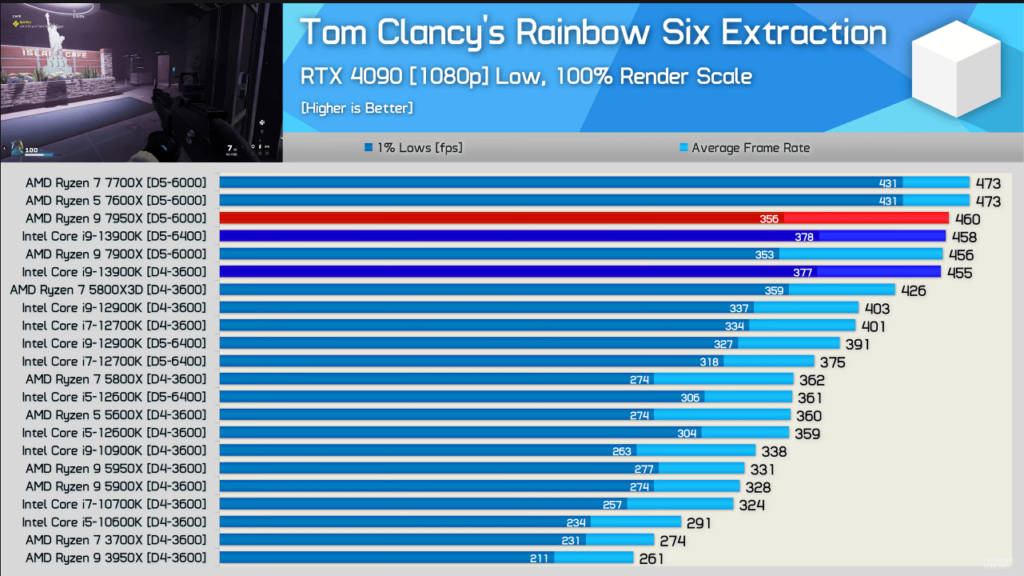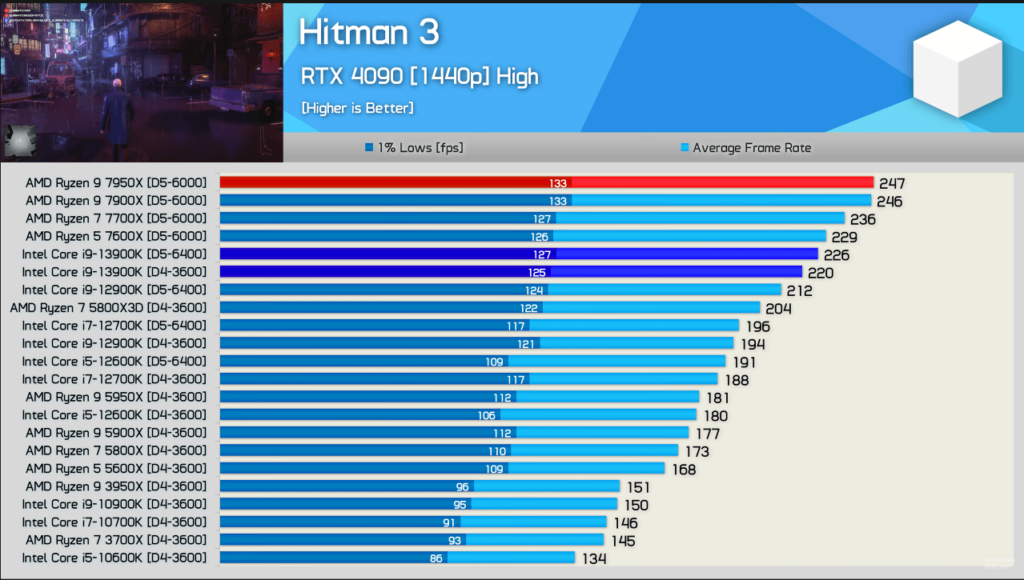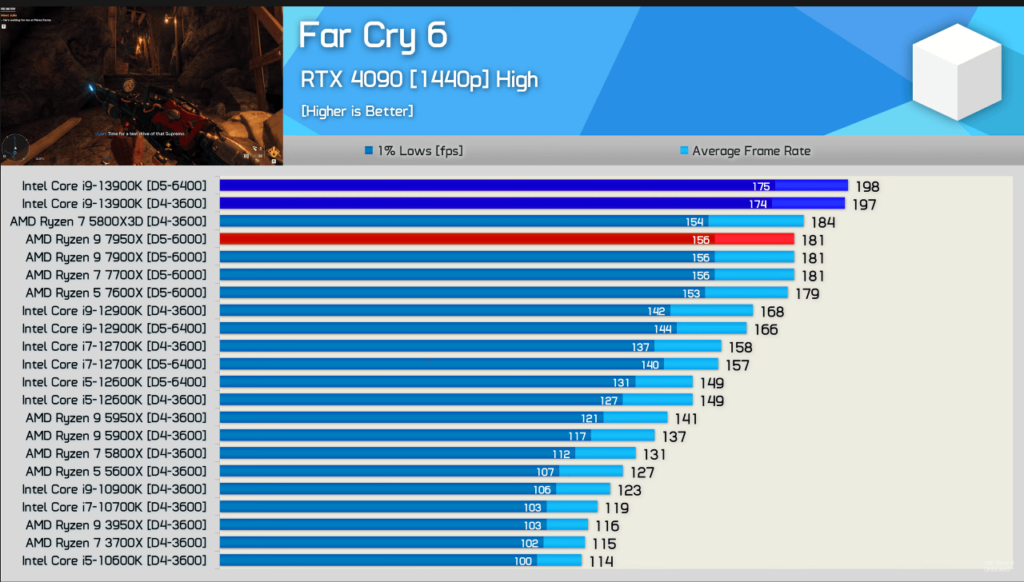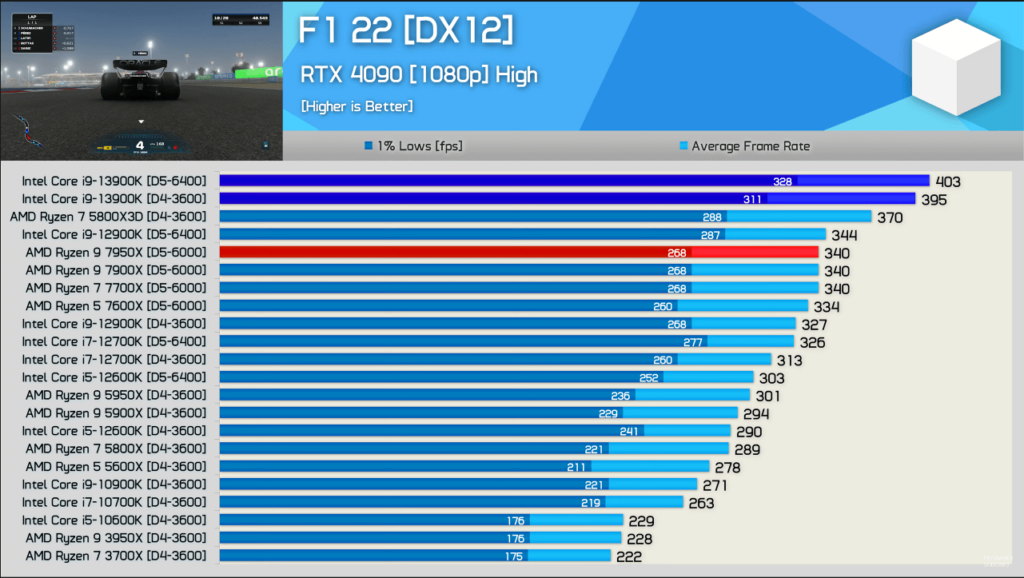 Here are some gaming benchmarks comparing 13900K to 7950X, 7700X, 5800X3D and 12900K.
Power efficiency and draw in 13900K
The power draw on the 13900K is just ridiculous. In Blender Open Data, the total system power draw was 473 Watts with RTX 4090 although the GPU isn't doing much in this test since it's a CPU workload.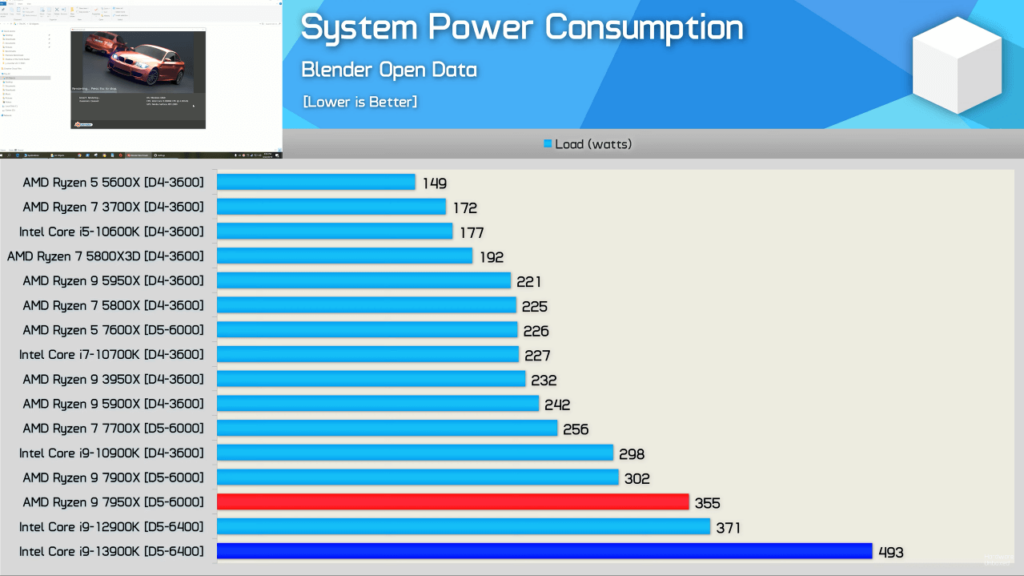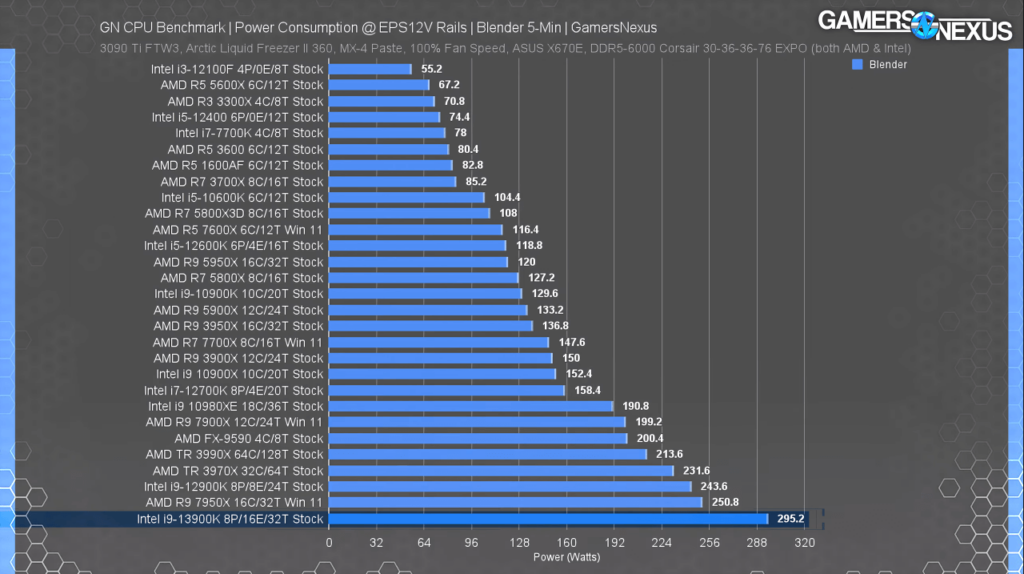 With that much power consumption, it is really difficult to cool the 13900K which is apparent in benchmark tests running into Tj Max of 100 degrees and hitting the thermal throttle.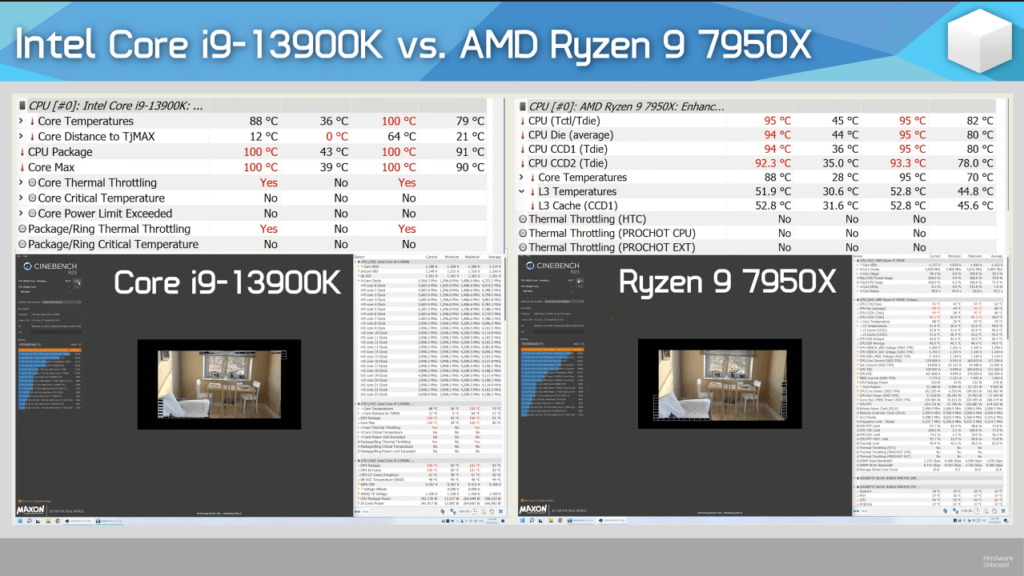 Ryzen 9 7950X also runs hot with all core workloads but it doesn't thermal throttle and doesn't hit 100 degrees with adequate cooling. With Arctic Liquid Freezer II 120mm AIO cooler, it is very apparent that thermals on 13900K are worse compared to the Ryzen 9 7950X hitting max temperature very quickly under load.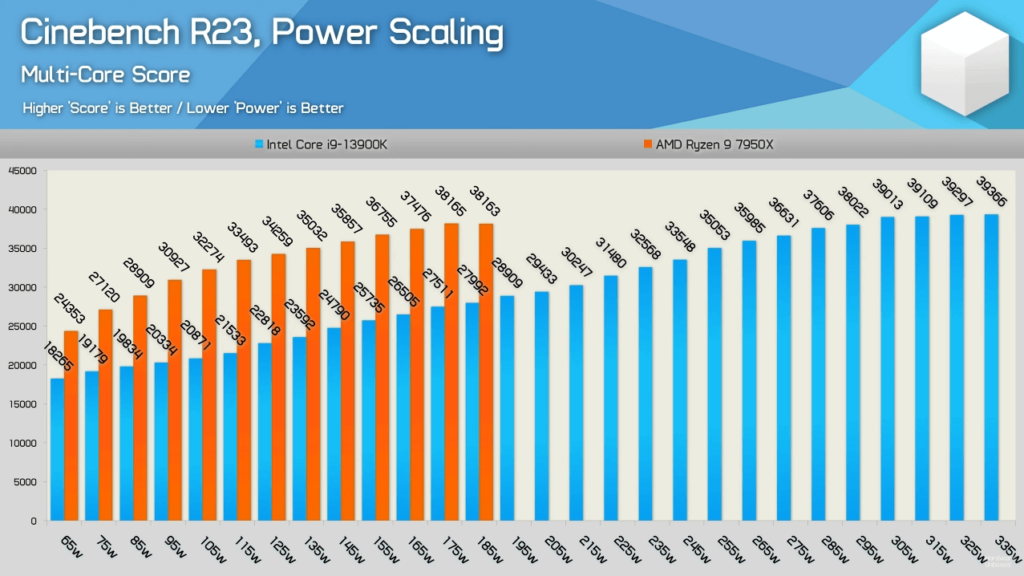 With an average cooler like this, 13900K core clocks drop from 5.2GHz to 4.8GHz but it only drops to 5 GHz in Ryzen 9 7950X which clearly shows how inefficient the 13900K is.
Conclusion
13900K uses brute power, literally, to make it faster than the Ryzen 9 7950X. Sure, it is cheaper than the 7950X and overall better value for gaming. But, keeping efficiency in mind, it is tough to recommend 13900K from a value perspective.
Ryzen 9 5900X still tops the chart for power efficiency and even Ryzen 9 7950X is not far off. 13900K just draws too much power and if you are someone who uses your PC for work and productivity, the electricity cost will be quite high.
Check: Intel i5-13600K benchmark and review
As for gaming, processors like 12700K, 7700X, 5800X3D and 5800X are the best in terms of value as you don't need 16 cores for good gaming performance.
The price of the 13900K is $599 but the street price could be higher for a while and the price in India can be expected to be ₹58,512 including tax although it could be higher.