The i7 processors have always been interesting because of their core count. It sits between cores needed for gaming and cores needed by high-end production loads. Plus, it didn't cost an arm and a leg like the flagship ones and they do provide performance close to it.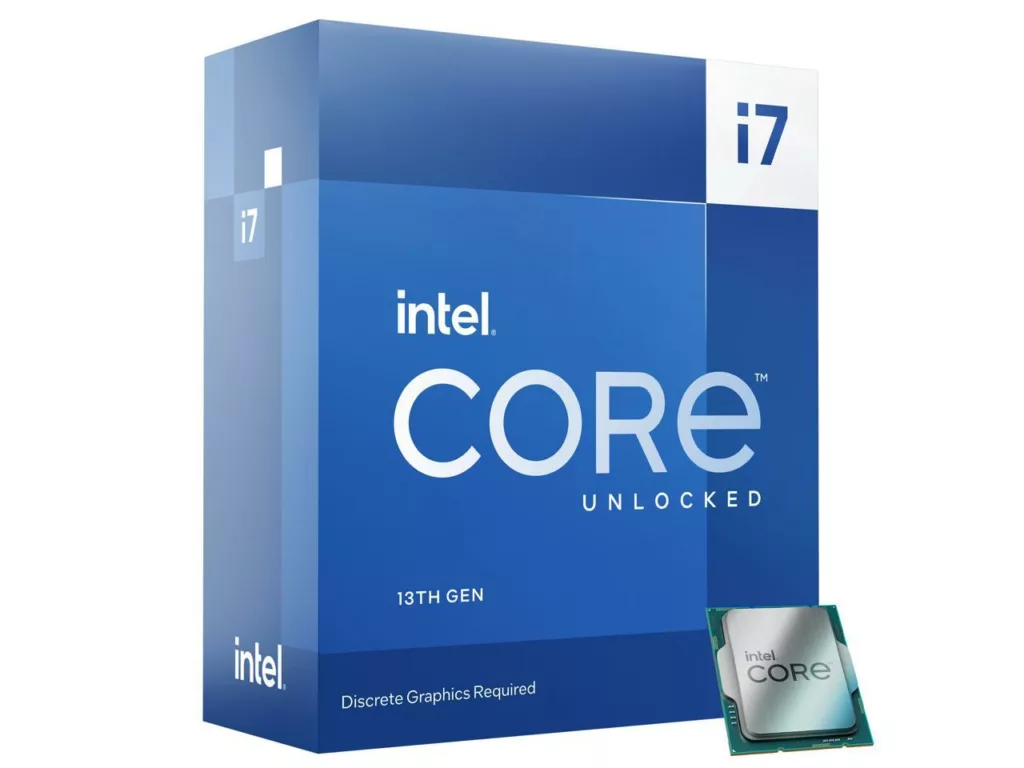 12700K from earlier generations and even AMD Ryzen 7 5800X are great examples of that. 13700K has done a great job in surpassing 12700K and Ryzen 7 7700X too.
Here's how 13700K stacks up against 7700X and other top processors.
Intel i7-13700K quick summary
The specifications of the Intel i9-13700K is listed below:
Cores, Threads
8P cores, 8 E cores
24 threads
Performance core clocks
5.10 GHz
3.50 GHz
Efficient core clocks
4.30 GHz
2.2 GHz
Cache
24 MB Intel® Smart Cache
Processor Base Power
125W
181W (Boost)
Overclocking
Yes
Max Memory Speed
Up to DDR5 5600 MT/s
Up to DDR4 3200 MT/s
Integrated graphics
Yes
13700K is a 16-core and 24-thread processor and the generational improvement over 12700K is impressive although the power draw is a concern with 13700K. It seems to be a great processor to consider for gaming and productivity.
13700K will be the last generation of processors to be on this platform and it will be released alongside the Z790 motherboard but you will be fine with Z690 or B660 as well.
Check: How to choose the best motherboard for your PC build
We will divide the performance metrics into these categories
Core-heavy productivity performance (Multi-core performance)
Single-threaded performance (Lightly-threaded tasks)
Gaming performance
Power load and efficiency
Core-heavy productivity performance of 13700K
With 16 cores of which 8 are E-cores and the other 8 are efficient cores, 13700K has managed to surpass 12900K in multi-core performance which is impressive. In the Cinebench R23 multi-core test, the 13700K managed to gain a 44% improvement over the 7700X and 23% generational improvement over the 12700K.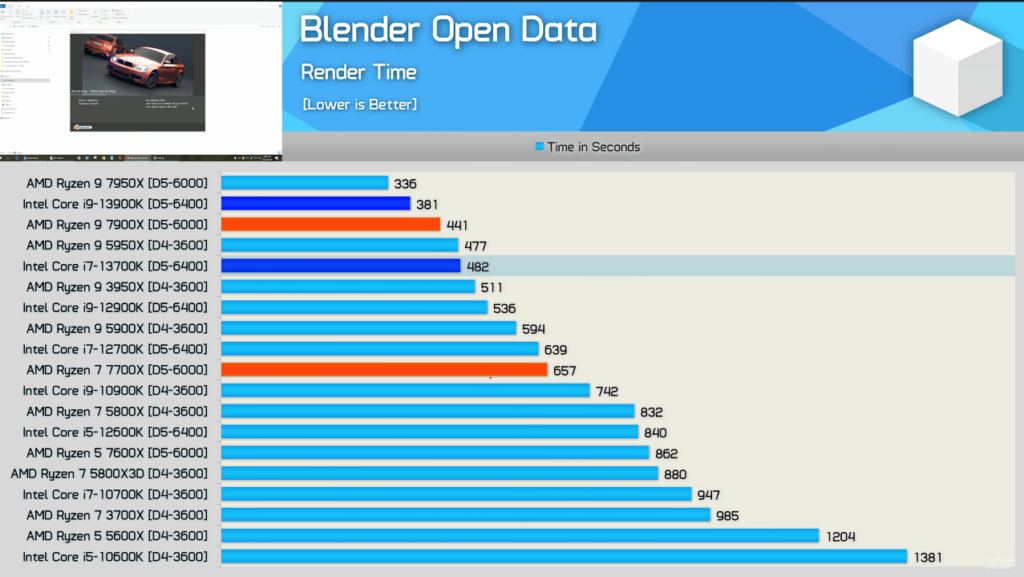 In Blender, 13700K was faster by 36% than 7700X keeping it on par with 12900K and 7900X by a few percent of margin. Even in Corona 1.3 benchmark, it reported similar results with 13700K 48% faster than the 7700X.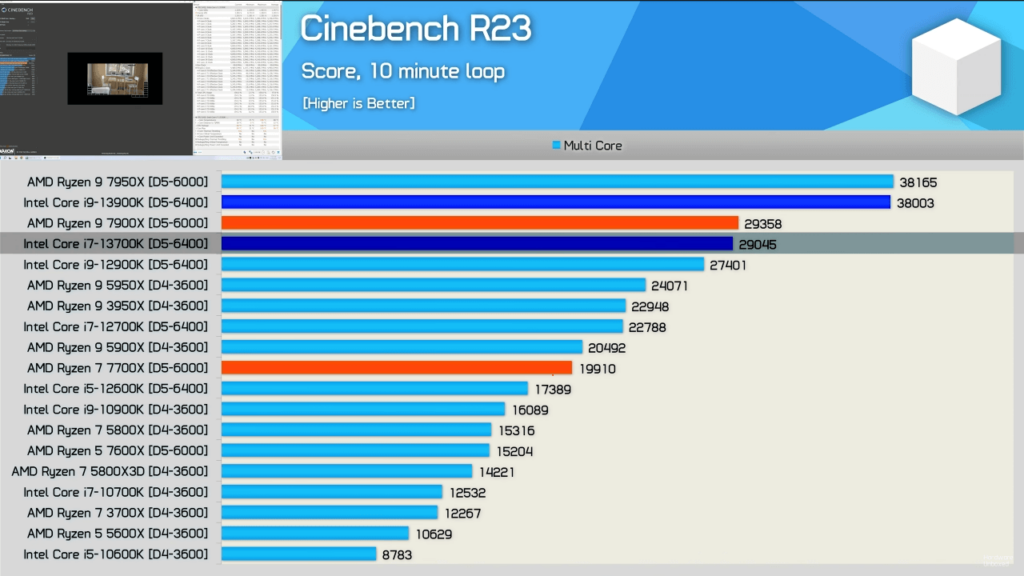 Overall, 13700K has an impressive lead over 7700X in terms of multi-core productivity workloads and even matches the more expensive 12900K, 7900X and is not too far off from the flagship 13900K.
Check: Performance of Ryzen 7 7700X
Lightly-threaded tasks (Single-core performance) for 13700K
In single-core performance, 13700K again performs well but the performance gap isn't too huge like in multi-core performance.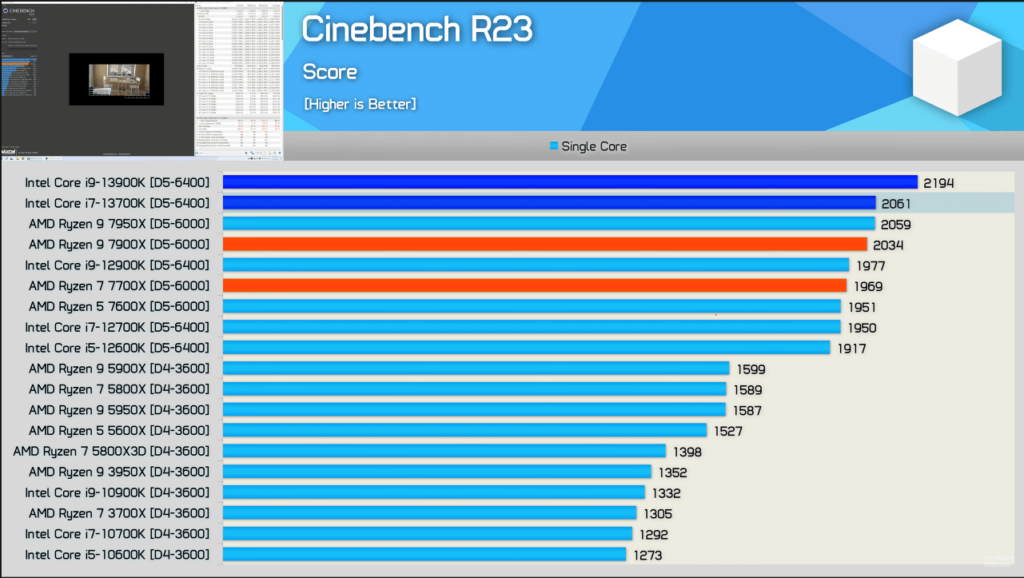 In Cinebench single-core benchmark, the 13700K was just 5% faster than the 7700X and 12900K but saw a generational improvement of 8% compared to the 12700K.
In tasks like Adobe Premier Pro and Photoshop, 13700X tied with 7700X and was 27% faster than the 12700K.
Only in a task like the 7Zip compression test, 13700K is almost 30% faster than the 7700X putting it even above 7900X by 7.5%.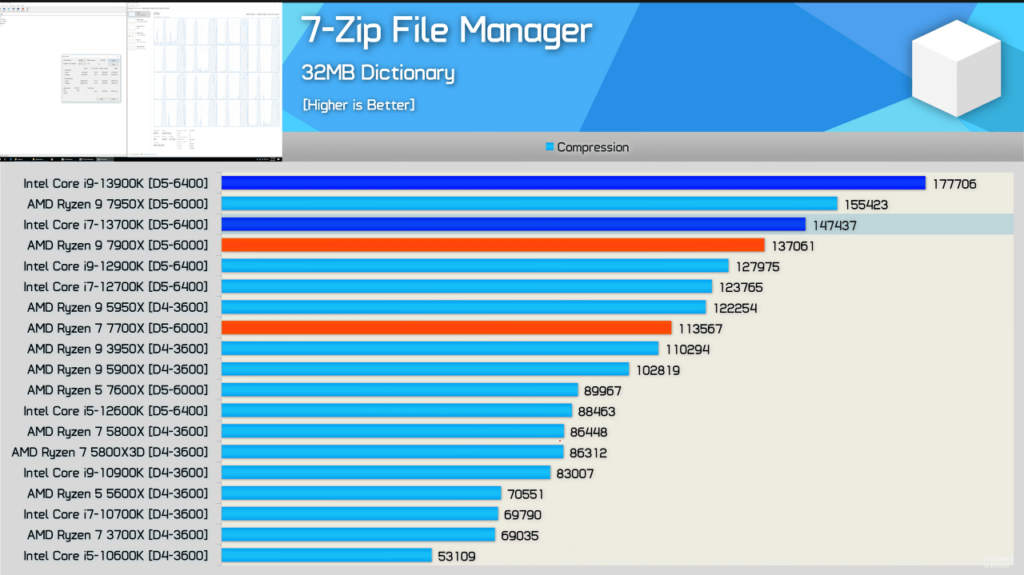 Overall, in single-core performance, 13700K was on par with 7700X or slightly faster but has great generational improvement.
Gaming performance
For gaming performance, it doesn't really matter since both of them lead to another depending on the tile. Although if a larger sample size of games is considered, 7700X does come out at the top.
Check: PC build with 12700K under 1lac that you can build with 13700K too
If you are interested in some specific games, here are some gaming benchmarks.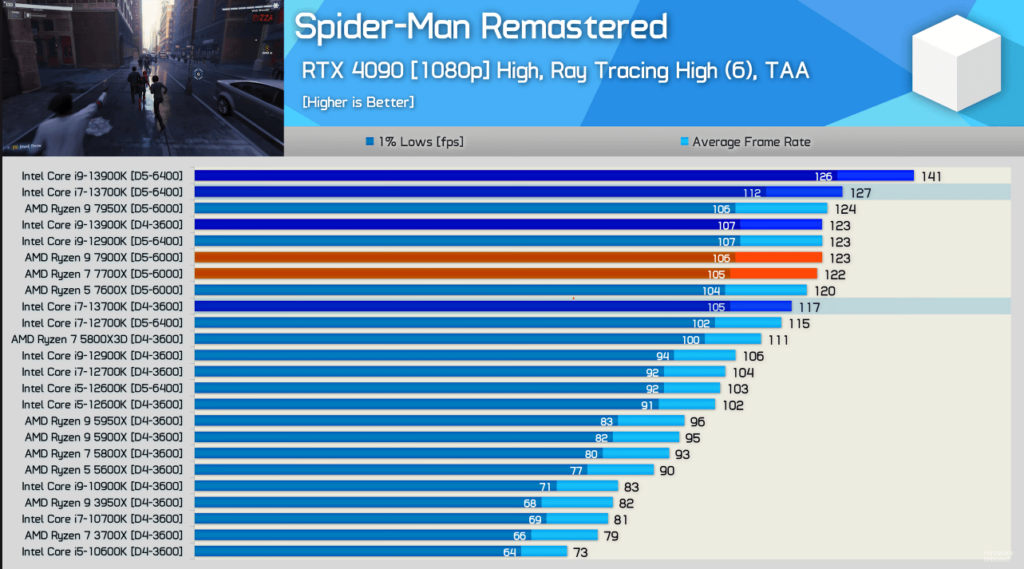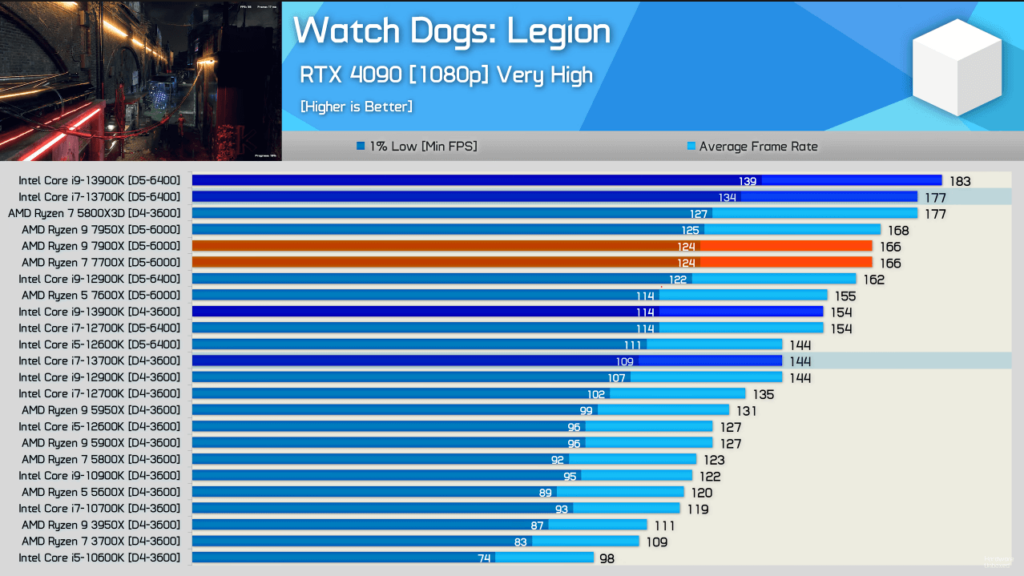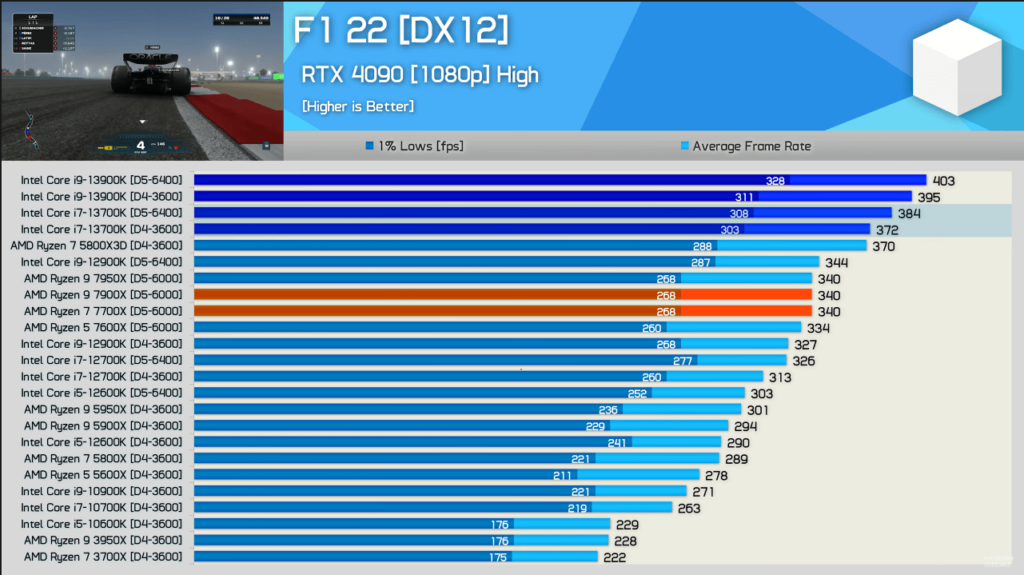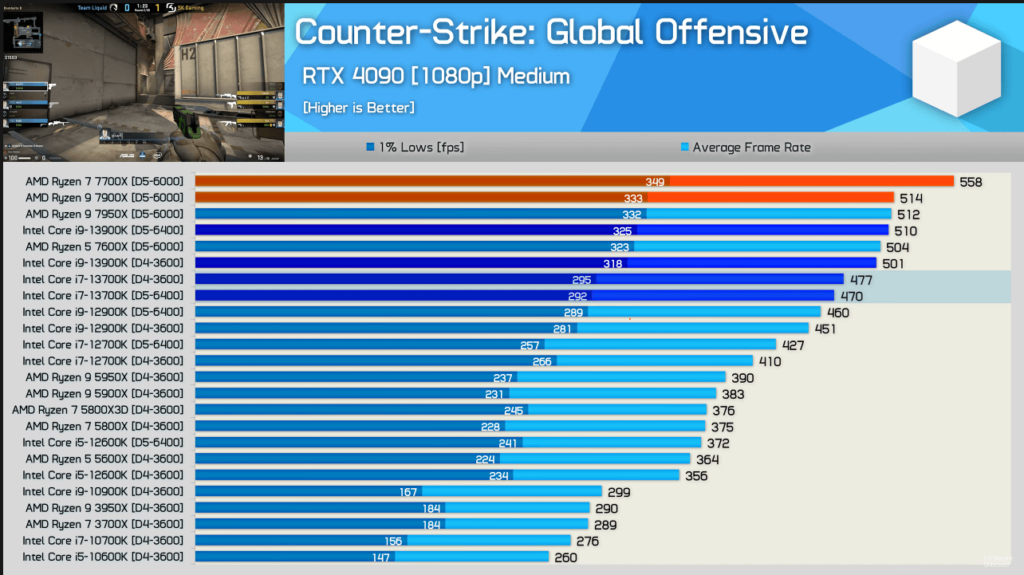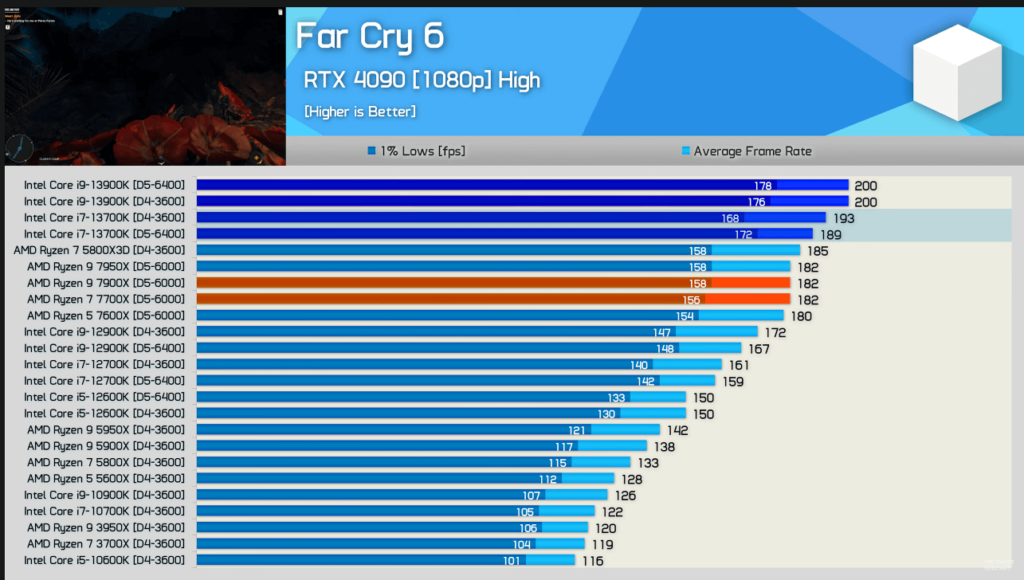 Power efficiency and draw in 13700K
The power draw and temperature are not as bad as the 13900K but it is still not great. The core system power draw (with RTX 4090) is 391W which is 140W more than the 7700X. This can increase the cost of the power supply you use and 140W is a significant amount of power!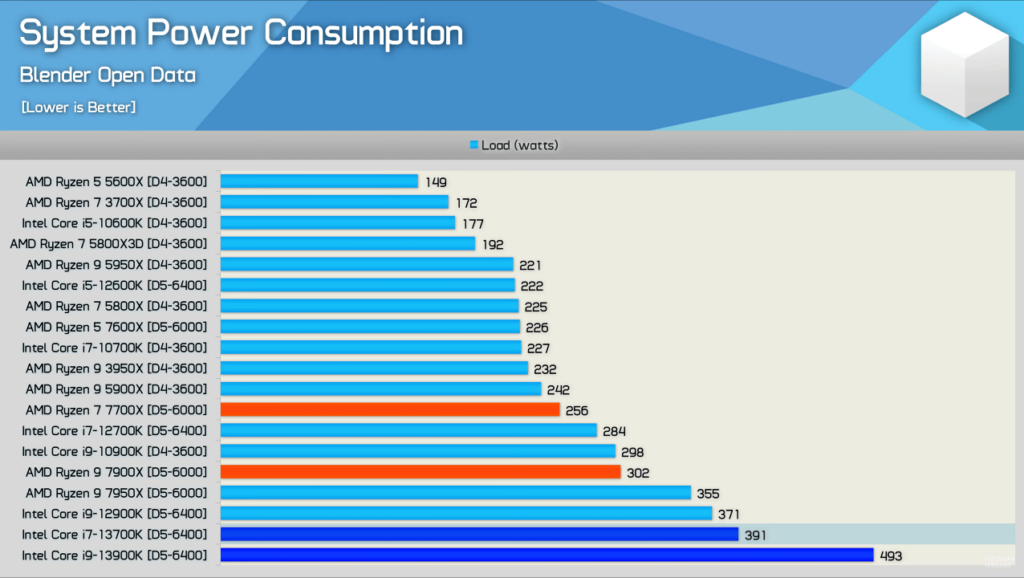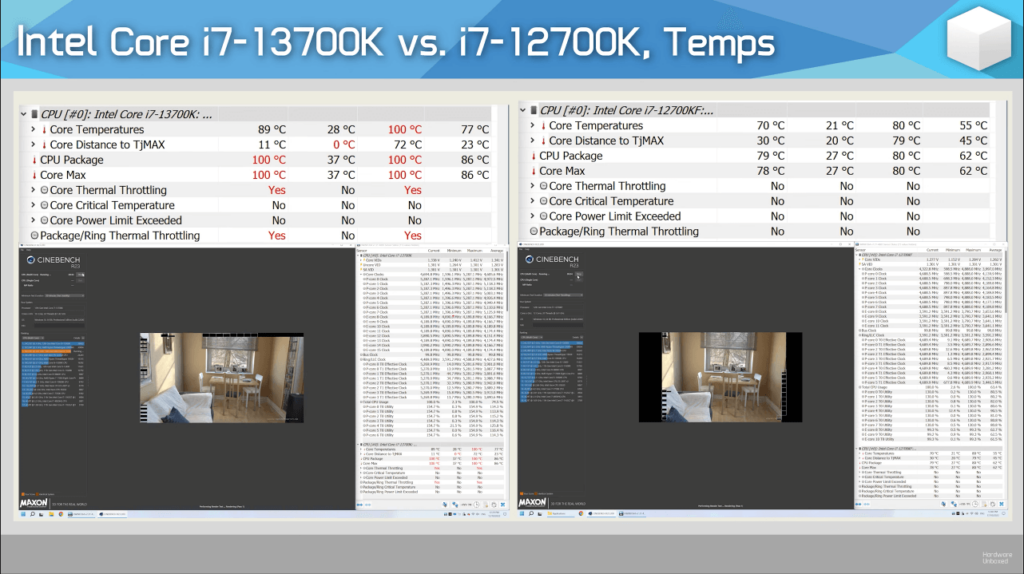 The temperature situation is not also not great with 13700K as it hits 100 degrees in under 20 seconds under all-core load. In comparison, 12700K hits 80 degrees with the same cooler.
Conclusion
13700K is a great processor and if you want a high-end processor for gaming and productivity, this is a great option to consider. While the performance is great, it comes with two tradeoffs.
One is its power consumption and the second is the end of an upgrade path. If you are someone who will use your PC for a long period of time for production, you will see your operating cost (or electricity costs) go up significantly. If efficiency is important to you, 13700K might not be the best option for you.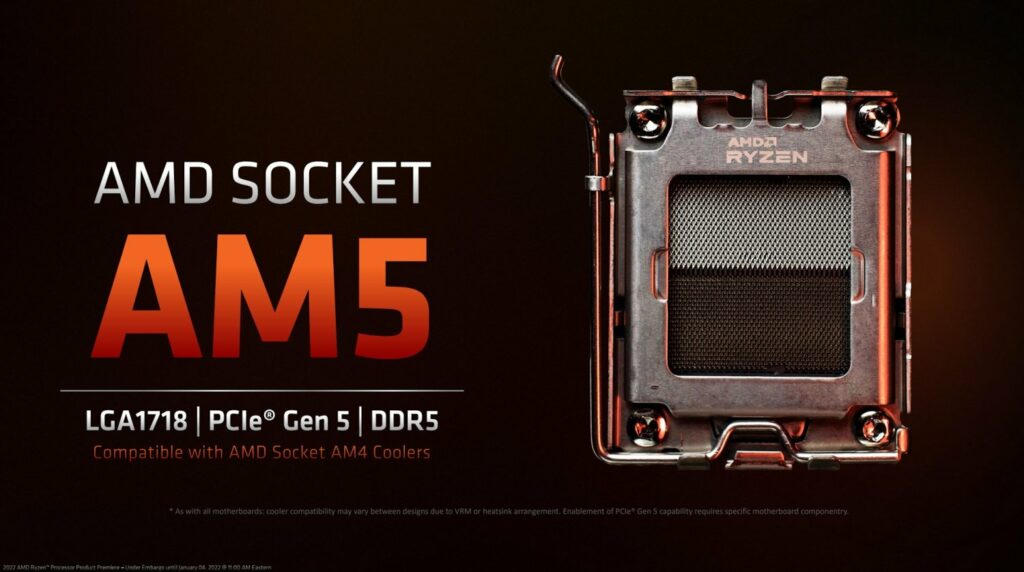 Second is the upgrade path. The current Intel platform will end the support with the 13th gen and you won't be able to upgrade to the next generation in let's say 3 years on the same platform. On the other hand, AMD has promised support for AM5 through 2025 which is a minimum of 3 years of same-platform support. This is a dealbreaker for many buyers who usually upgrade in 3 to 5 years.
Having said that, 13700K is the most sensible high-end processor keeping price and performance in mind.