Google has made it more complex over time to distinguish between advertisements and actual search results quickly. When consumers conduct a search, the only differentiation between the two is "ad" printed in bold, which is difficult to see.
The business stated that it now wants the branding to be noticeable and obvious on all forms of paid content. Instead of the previous "Ad" tag, paid results will now include a "Sponsored" tag in bold, huge letters.
According to Mona Vajolahi, Group Product Manager, Search, this new label and its prominent position continue to fulfill high criteria for being distinguished from search results and build on prior efforts to make information about paid content evident. At the moment, Google is gradually implementing this upgrade across mobile, and it has not yet announced when it will begin testing similar changes on desktop.
However, consumers might not yet be able to distinguish between advertising and genuine search results due to these modifications. The difference between "ad" and "sponsored" is obvious if you read this narrative and compare the changes side-by-side, but when you scroll through thousands of search results on a daily basis, you might not be thinking about these changes.
In order to make it simple to quickly identify the website that is connected to each result, Google said it is also adding page names to google results on mobile. "We're also updating the size and shape of the favicon (a website's logo or icon) that appears in Search, to make it easier to see on the page. We'll extend these changes to Search ads to increase clarity and advertiser transparency at a glance," the company informed.
The visual history of the company's ad labeling has been often tweeted by Ginny Marvin, Google's Ads Product Liaison, over the years. While the captured tweets only show developments through 2019, it is clear how Google has gradually merged search results with advertisements.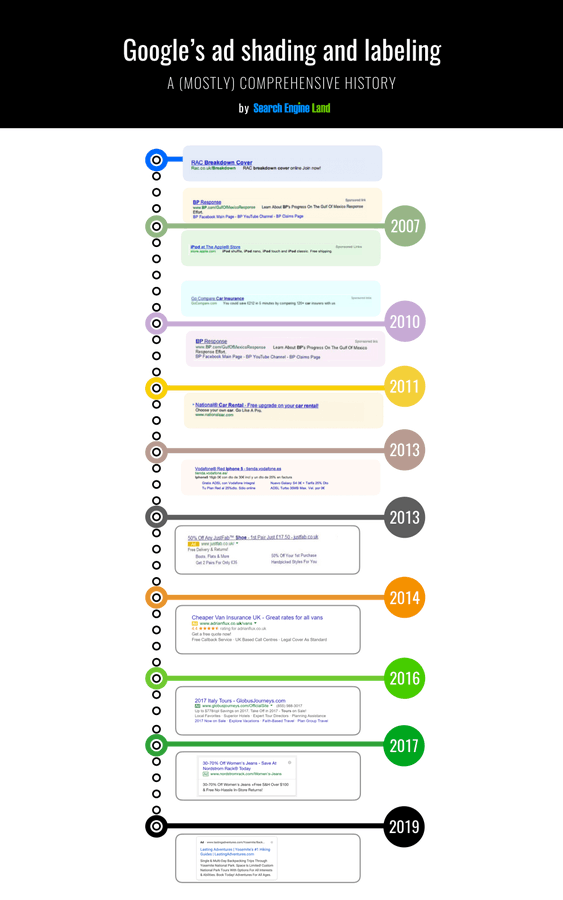 Many people pointed out the dark patterns in the design modifications that forced visitors to strain to distinguish paid content when Google introduced the new strong "Ad" label in 2020. However, it took the businesses two years to implement any sort of reform. Google's primary source of income is its advertising division, which brought in $56.3 billion in Q2 of 2022. Therefore, it's crucial for the search engine behemoth to continue pumping cash via that channel.