Google has announced its latest flagship phones, the Pixel 8 and Pixel 8 Pro. These phones are packed with new features and improvements, all powered by the new Google Tensor G3 chip. Here's a closer look at what's new and what makes these phones so special.
Google Pixel 8 and Pixel 8 Pro Specifications
| | | |
| --- | --- | --- |
| Specification | Pixel 8 | Pixel 8 Pro |
| Display | 6.2-inch Actua display | 6.7-inch Super Actua display |
| Processor | Google Tensor G3 | Google Tensor G3 |
| RAM | 8 GB | 12 GB |
| Storage | 128GB | 128GB, 256GB, or 512GB |
| Rear Cameras | 50MP main camera, 12MP ultrawide camera with Macro Focus | 50MP main camera, 48MP ultrawide camera with Macro Focus, 48MP telephoto camera with 10x optical zoom |
| Front camera | 10.5 MP | 10.5MP with autofocus |
| Battery | 4575mAh | 5050mAh |
| Operating system | Android 14 | Android 14 |
| Software support | 7 years | 7 years |
Display and Build
The Pixel 8 and Pixel 8 Pro are both beautifully designed phones with metal finishes and recycled materials. The Pixel 8 has a 6.2-inch Actua display that's 42% brighter than the Pixel 7 display. It also has a contoured edge design that feels great in your hand. The Pixel 8 comes in three colours: Rose, Hazel, and Obsidian.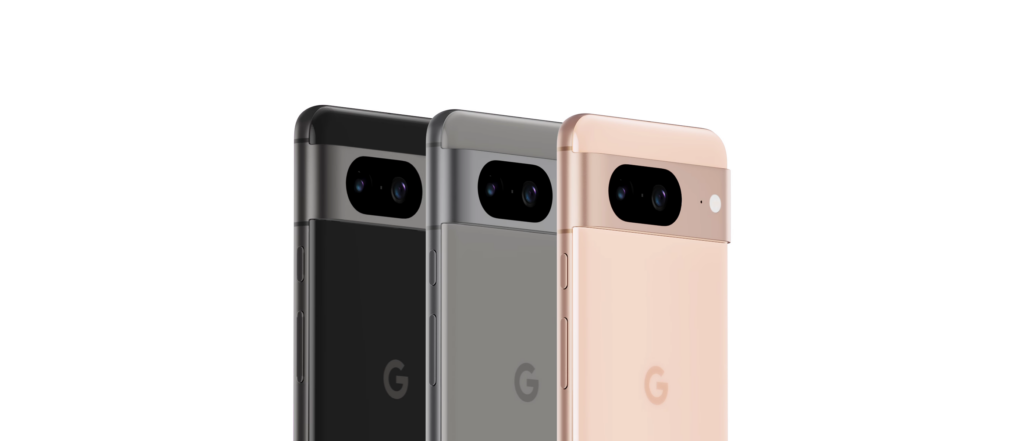 The Pixel 8 Pro has a 6.7-inch Super Actua display that's our brightest display yet. It also has a matte glass back and a polished aluminium frame. The Pixel 8 Pro comes in three colours: Porcelain, Bay, and Obsidian.
Camera improvements
The Pixel 8 Pro has a new temperature sensor that lets you quickly scan an object to get its temperature. Google has also submitted an application to the FDA to enable the Pixel's Thermometer App to take your temperature and save it to Fitbit.
Every camera on the Pixel 8 Pro has been upgraded, starting with the main camera. According to Google, the bigger ultrawide lens delivers even better Macro Focus, the telephoto lens captures 56% more light and takes 10x photos at optical quality, and the front-facing camera now has autofocus for the best selfies on a Pixel phone.
The Pixel 8 has the same updated main camera, plus a new ultrawide lens that enables Macro Focus.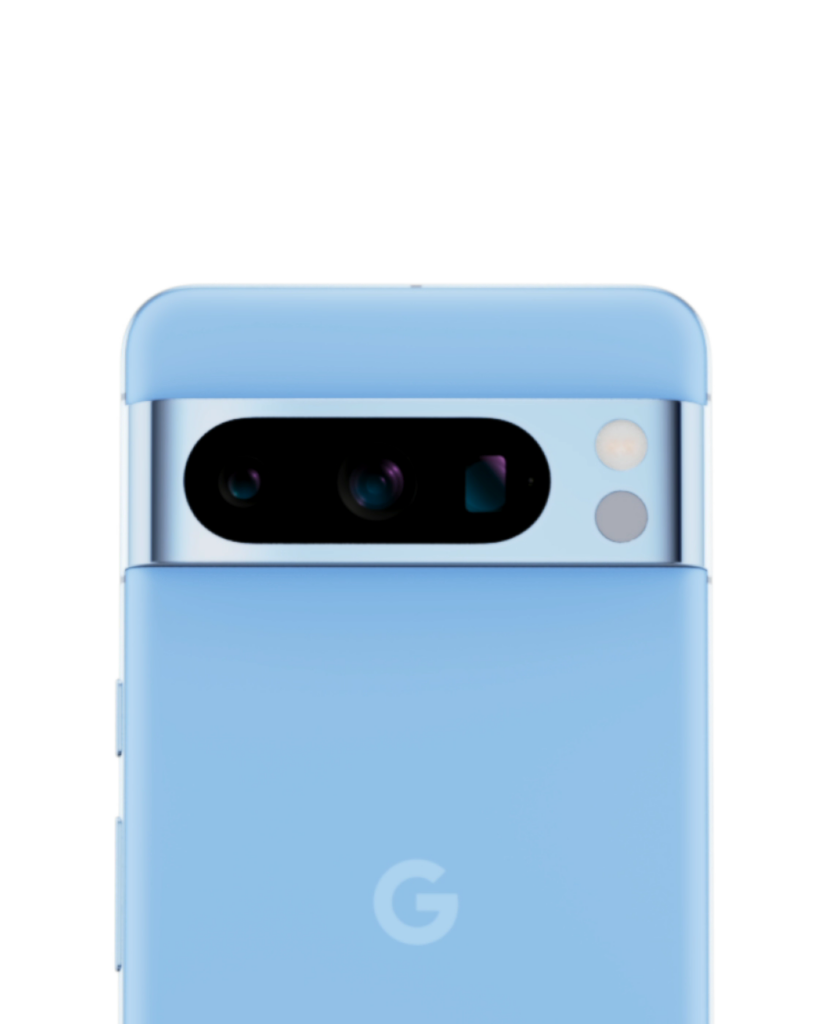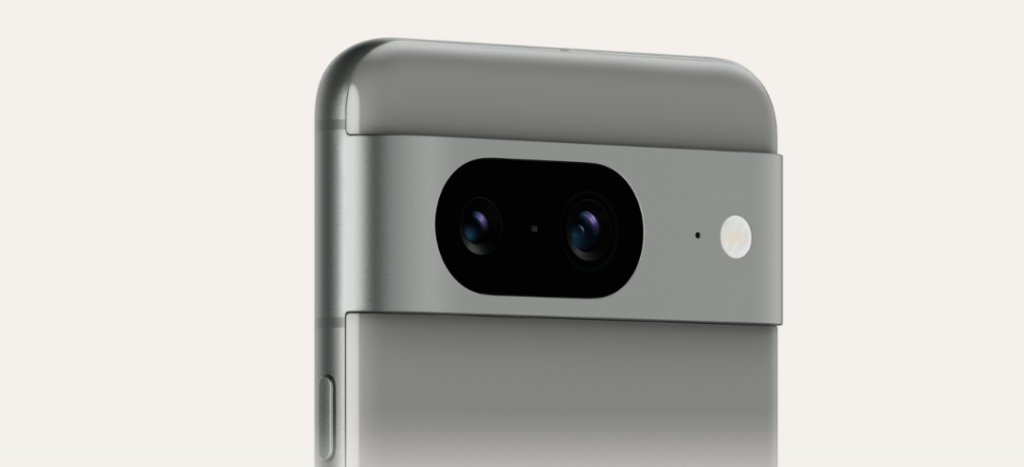 The camera app has an intuitive, redesigned interface, letting you quickly find and capture content in your favourite photo and video modes. And for Pixel 8 Pro, you'll have access to Pro Controls, giving you more creative control of the Pixel Camera with settings like shutter speed, ISO, 50 MP photos throughout the zoom range, and more.
7 years of updates
Google Tensor G3 works with the Titan M2 security chip to protect personal information and make your Pixel more resilient to sophisticated attacks. And now, Face Unlock on Pixel 8 meets the highest Android biometric class, allowing you to access compatible banking and payment apps like Google Wallet.
With Pixel, you receive exclusive features and updates that keep your phone getting better over time. For the first time, Google is providing seven years of software support for Pixel 8 and Pixel 8 Pro—including OS upgrades, security updates, and regular Feature Drops.
Some more features
Google has also added a number of new features to the Pixel 8 and Pixel 8 Pro that are designed to help you save time and get things done.
Summarize: Pixel can now generate a summary of a webpage, so you can quickly understand the key points. You can also have Pixel read aloud and translate webpages for you so you can listen to articles on the go.
More natural voice processing: Pixel is now better at understanding the nuances of human speech, so you can talk to it more naturally to get things done. If you take a pause or say "um," it will wait until you're done before responding. You can use your voice to quickly type, edit, and send messages, even if you speak multiple languages.
Improved Call Screen: Call Screen now helps you receive 50% fewer spam calls on average. It will silently answer calls from unknown numbers with a more natural-sounding voice to engage the caller. It's also smart enough to separate the calls you want from the calls you don't. Soon, Call Screen will suggest contextual replies for you to tap to quickly respond to simple calls, like appointment confirmations, without having to answer the phone.
Pricing and Availability
Pixel 8 and Pixel 8 Pro pre-orders are now available, starting at $699 and $999, respectively. Pixel 8 and Pixel 8 Pro will be available at the Google Store and other retail partners beginning October 12.
You can pre-order the Pixel 8 Pro to get a Pixel Watch 2 for free. You can also pre-order the new Pixel phones on Google Fi Wireless and get their best deals yet.