Nvidia RTX 4060 was announced along with other -60 class GPUs on May 18. RTX 4060 Ti 8GB was launched on May 24 for ₹41,000 ($399) and aimed at 1080p gamin which turned out to be an utter disappointment. RTX 4060 Ti 16GB is due for launch later in July but the RTX 4060 will launch earlier. Here's everything we know about the RTX 4060.
RTX 4060 Specifications
At this point, we know the specifications of RTX 4060 as it is officially launched. Based on AD107-400-A1, it will have 128-bit memory bandwidth and PCIE 4.0 x8 lanes. Both of these are the most disappointing aspects of its specifications.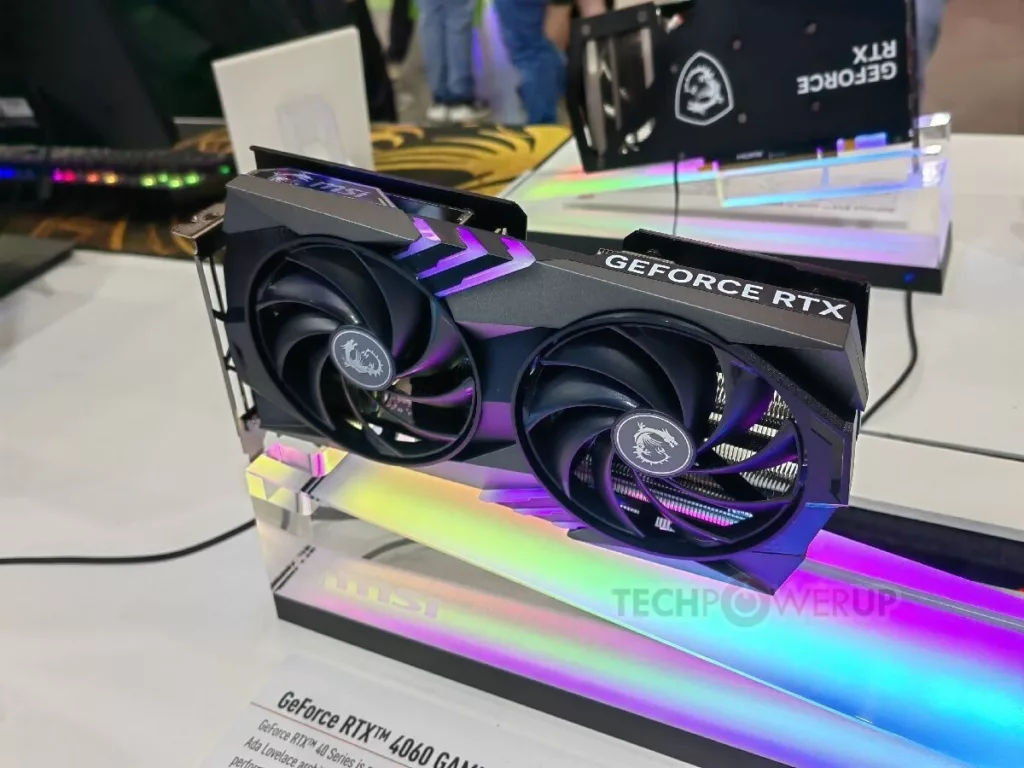 Here are the detailed RTX 4060 specifications compared with the previous generation RTX 3060.
| | | |
| --- | --- | --- |
| Specs | RTX 4060 | RTX 3060 12GB |
| CUDA cores | 3072 | 3584 |
| Boost clock | 2.46 GHz | 1.78 GHz |
| Base clock | 1.83 GHz | 1.32 GHz |
| Memory size (VRAM) | 8 GB GDDR6 | 12 GB GDDR6 |
| Memory width | 128-bit | 192-bit |
| Memory clock | 2125 MHz | 1875 MHz |
| Ray Tracing Core | 24 / 3rd generation | 28 / 2nd generation |
| Tensor cores | 96 | 112 |
| PCIE | Gen 4 x8 | Gen 4×16 |
| L1 cache | 128 KB (per SM) | 128 KB (per SM) |
| L2 cache | 24 MB | 3 MB |
| TGP | 115 W | 170 W |
| DLSS | DLSS 3 | DLSS 2 |
In almost every way, RTX 4060 seems to be a downgrade from the previous generation RTX 3060 which is a mainstream card for many gamers. The biggest disappointment is the memory specifications which downgrade in VRAM, memory width and even the PCIE lanes.
As we have seen in RTX 4060Ti 8GB, the lower memory width holds it back even with the increased cache memory, as Nvidia claims it will compensate for the performance loss from the reduced memory bus width.
This will seriously limit the RTX 4060's ability to scale well with increasing resolution. It is a shame that in 2023, a $299 GPU is considered an entry-level 1080p gaming graphics card. Given how badly the games are being optimised, 8GB VRAM is not enough for many modern AAA titles.
Well, it needs to be seen how well it translates into real gaming performance which we will see soon!
RTX 4060 release date
RTX 4060 was announced along with RTX 4060 Ti 8GB and 16GB but the official launch date wasn't given. A leaked embargo document from @MEGAsizeGPU has confirmed the RTX 4060 release date on June 29.
RTX 4060 Ti 16GB was expected to launch earlier and RTX 4060 was supposed to launch in July. The review embargo will be lifted on June 28 and RTX 4060 will be available on-shelf on June 29.
Also read: Everything you need to know about Nvidia RTX 40 Series (Ada Lovelace)
RTX 4060 price in India
RTX 4060 MSRP price will be ₹31,000 in India with AIB partner models costing a little more than that depending on the brand. The RTX 4060 price in India is a little more than RTX 3060 MSRP which was ₹29,000.
If the card reviews are not good, the Indian market can expect the prices to go down a little as was evident with the RTX 4070 and RTX 4060 Ti 8GB which saw price drops in less than a week from its release day.
RTX 4060 expected performance
Since the card is not out yet, these are just from the leaks and synthetic benchmarks. The performance of RTX 4060 is expected to match the GTX 1080Ti in rasterisation and about 4-5% more than RTX 3060, which is just amazing!
Nvidia has heavily relied on DLSS 3 frame generation to market their lower-end and mid-range cards and it will be the same with RTX 4060 as well. It needs to be seen whether the RTX 4060 will really perform better or fail like the RTX 4060 Ti 8GB.
Nvidia has released some performance numbers and graph comparing it to RTX 3060. According to Nvidia, RTX 4060 is about 20% faster than the RTX 3060 without any AI frame generation.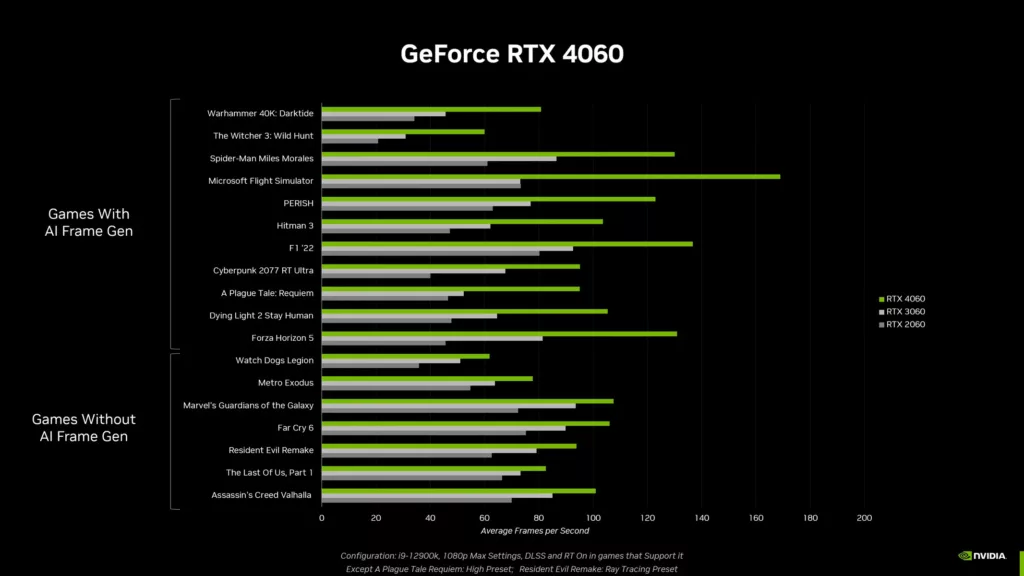 As expected, Nvidia also talked about how DLSS3 can benefit RTX 4060 to achieve even higher framerates of up to 70% more performance. Compared to RTX 3060, RTX 4060 has narrower memory bus and less memory bandwidth but it is still faster than RTX 4060 and the higher L2 cache improves the 1% lows significantly.
However, we need to see some real third-party gaming benchmarks to confirm this. Surprisingly, Nvidia also talked about power savings with RTX 4060 which runs at 115W, compared to 170W in RTX 3060.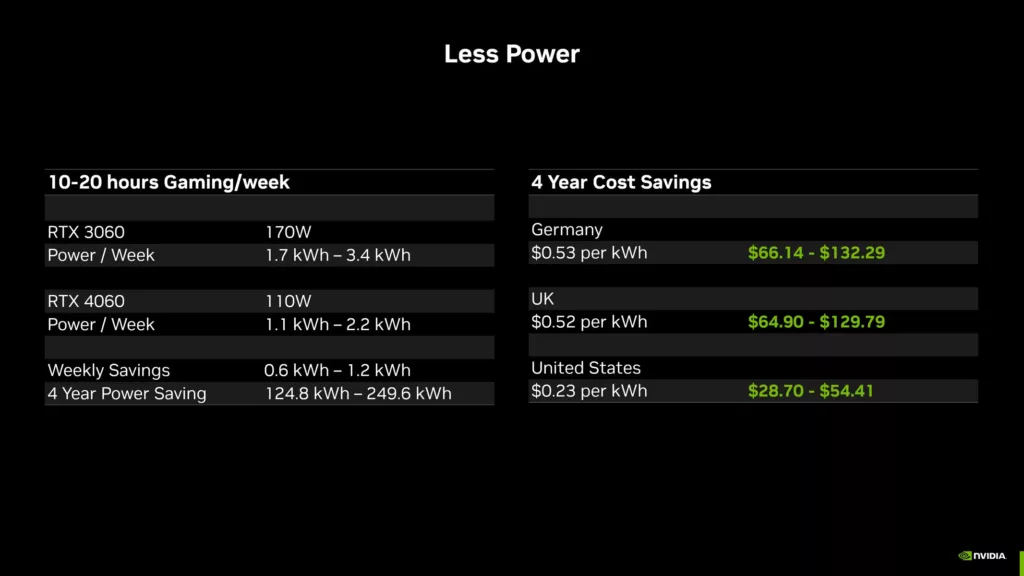 A time where power cost has gone up significantly, especially in European countries and UK, this is kind of a clever marketing from Nvidia. Dependng on the region, you can get up to $130 cost savings over 4 years, as it is claimed by Nvidia.
It may not seem much but we can't deny the fact that RTX 4060 is a lot better in terms of power efficiency.
Also read: RTX 4070 vs RX 6800XT: Which is a better value?
Stay tuned to Yantragyan to check out its performance when it comes out and its comparison with other graphics cards.