According to the leaked embargo timeline, the NVIDIA RTX 4060 Ti 16GB is scheduled to be released on July 18, 2023. It will have a price of $499, which is $100 more than the RTX 4060 Ti 8GB.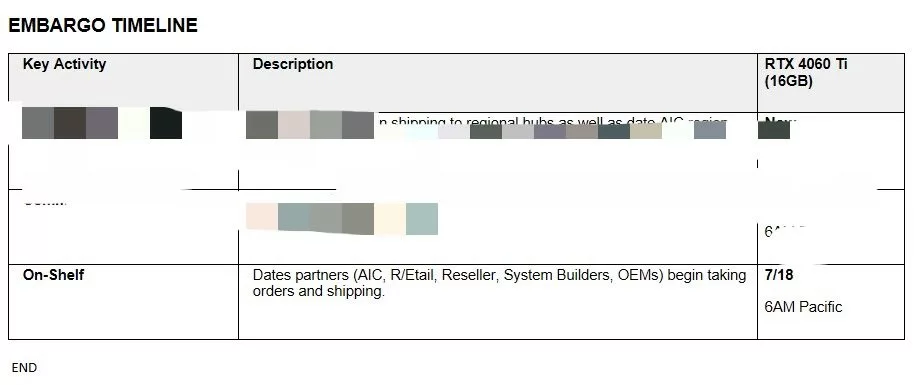 The main difference between the two cards is the amount of memory. The RTX 4060 Ti 16GB has 16GB of GDDR6 memory, while the RTX 4060 Ti 8GB has 8GB, obviously. The RTX 4060 Ti 16GB is expected to offer better performance than the RTX 4060 Ti 8GB in memory-intensive applications such as gaming at high resolutions and ray tracing.
Also read: RTX 4060 Review Roundup
Since the memory specifications are the exact same except for the VRAM of 16GB, it will likely suffer from poor resolution scaling. A difference of ₹10,000 ($100) with not much of a performance difference can piss off many people and can make it dead upon arrival.
Of course, it will have much better performance than the 8GB model in games like The Last of Us Part 1, Star Wars Jedi Survivor, and some other AAA titles that are memory hungry. However, it needs to be seen how the extra VRAM will factor in the gaming performance of titles that are not very memory hungry.
The RTX 4060 Ti 16GB will be an AIB-exclusive model, which means that it will only be available from third-party graphics card manufacturers. There will be no Founders Edition from NVIDIA.
AMD and Intel competition
AMD has not yet announced any mid-range graphics cards that compete with the RTX 4060 Ti. Intel is also expected to release its Alchemist+ GPUs in the second half of 2023, but it is not clear if they will be competitive with the RTX 4060 Ti.
RTX 4060 Ti 16GB Price in India
According to the official announcement, the price of RTX 4060 Ti 16GB in India is ₹51,500 which is utterly insane for a "1080p graphics car", especially in the Indian market.
Stay tuned for a review roundup of the RTX 4060 Ti 16GB.