Facebook has unveiled a few enhancements that boost the platform's video creation experience, including new editing tools for Reels, as it works on improving its video services. To compete with YouTube and TikTok, the site has added additional video-related services from editing to discovery. Additionally, it is renaming its "Watch" tab to the "Video" tab to consolidate all its video experiences under one heading.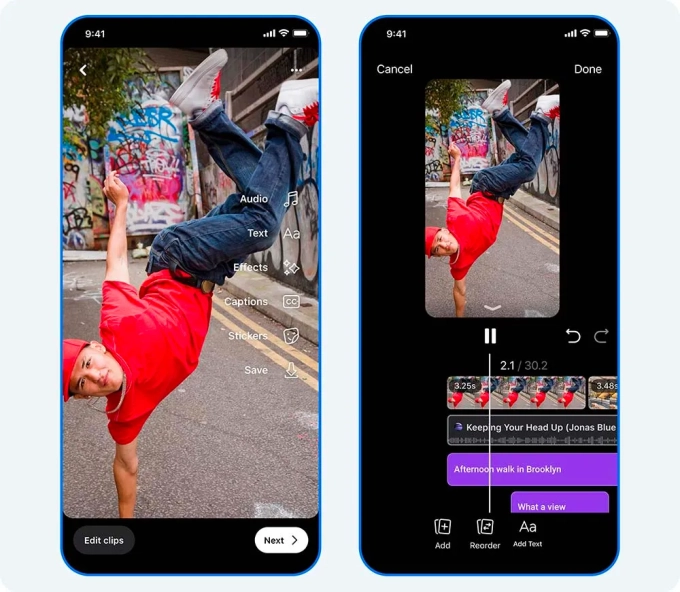 Facebook's new improved editing tools include the option to submit HDR videos. Users can add music, filters, and other effects to their movies using the new editing tools. Additionally, they will be able to add titles and captions and crop and edit their videos. Users will be able to share videos with more vivid colors and contrast thanks to the ability to upload videos in HDR.
Users on Facebook will find and view videos more easily thanks to the new Video tab. It will soon appear on the shortcut bar. According to Meta, it is "the one-stop shop for everything video on Facebook, including Reels, long-form videos, and Live content." The "Video" option will be available in both the top and bottom sections of the iOS and Android apps.
A "personalized feed" of videos with a separate Reels section will be available for users to browse vertically. As a result, users will be able to instantly add audio, text, and music to their films when posting from the app because the firm has announced that it is bringing the Reels editing capabilities to the Facebook feed.
Additionally, Meta is introducing new editing features, such as the capacity to alter the speed, reverse, or substitute a clip. Facebook is attempting to make it simpler to choose the right audio track, reduce background noise, and record a voiceover for a video's audio.
The explore page will be accessible to visitors behind the search button in addition to this video-focused feed of videos. Users who tap it will get a list of hashtags and themes along with short and long videos that are linked to those topics. Reels can be shared across Facebook and Instagram by creators using Meta. Through Facebook video discovery, people will now be able to comment on Instagram Reels they watch. The way users can do this is by adding both of their accounts to the Accounts Centre.
Meta has been working to increase the popularity of Reels as a video format on Facebook and Instagram over the past few months. Facebook increased the length of each Reels clip from 60 to 90 seconds in March. Despite ceasing to reward creators for posting Reels on Facebook and Instagram, the firm began experimenting with a performance-based ad revenue sharing programme in May.