Asus ROG line of laptops, monitors and peripherals was announced a day earlier at CES 2023. Asus has a very vast line of hardware and peripherals and we were eagerly waiting for other laptops from the likes of TUF and Vivobook.
Asus has announced its latest TUF lineup along with creator-focused laptops like Zenbook and Vivobook.
Here's everything that Asus announced at its second address of CES 2023.
Asus TUF 2023 lineup
The Asus TUF laptops are the mainstream choice for mid-range and budget gaming laptops and the TUF laptops have continually improved over the last 2-3 years. The 2023 lineup will see the latest generation of AMD and Intel processors along with the RTX 40 series graphics.
Also check: 32 new Intel mobile processors announced at CES 2023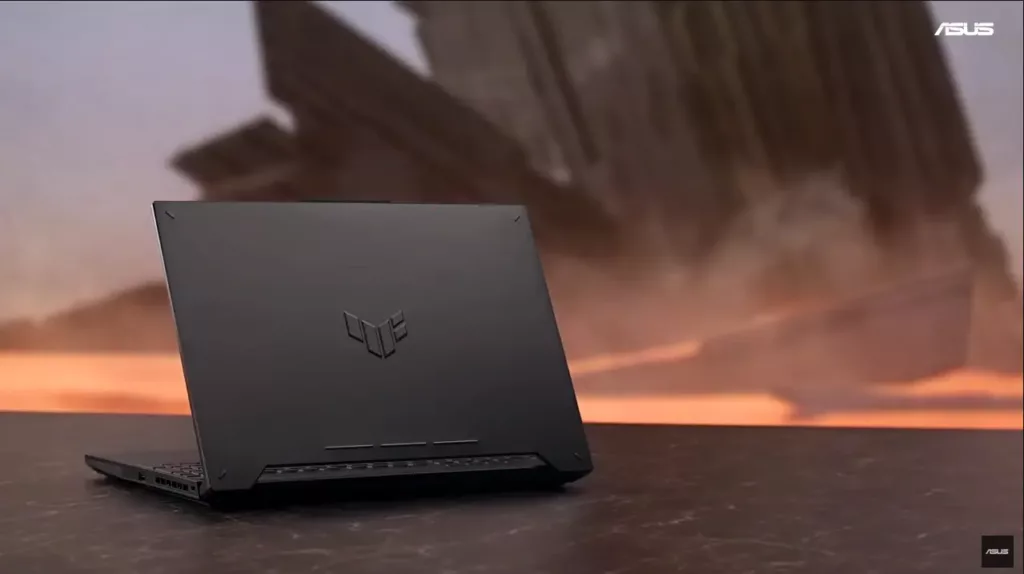 The Asus TUF F15 and F17 will feature Intel 13th gen processors up to Intel i9-13900H and the Asus TUF A15 and A17 will feature the latest AMD Zen 4 processor up to Ryzen 9.
All 4 models will feature Nvidia RTX graphics up to RTX 4070 with a max TGP of 140W.
All the TUF models will feature MUX Switch and Advanced Optimus which will let you switch the connect the display directly with the GPU to improve performance and reduce latency.
Also check: Nvidia announces RTX 40 series laptop GPU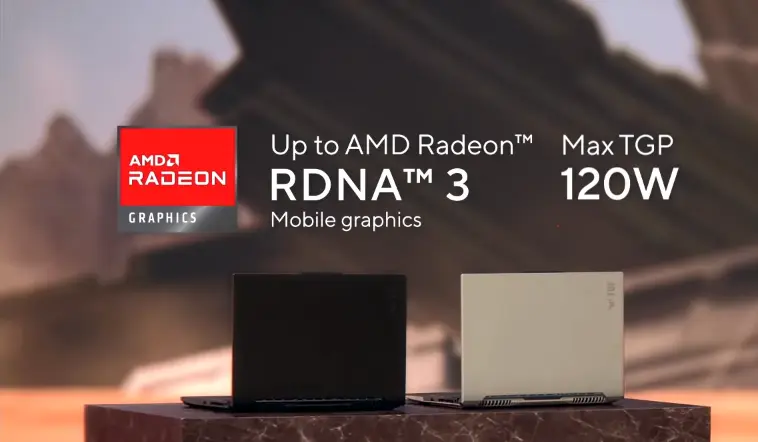 This time around, the Asus TUF will also include all AMD TUF Gaming A16 Advantage Edition. It will feature up to Zen 4 Ryzen 9 processor and AMD Radeon RDNA 3 graphics up to RX 7700S with a max TGP of 120W and SmartShift.
As it uses AMD for both graphics and CPU, it can leverage the Smart Access Memory to boost performance in games.
The TUF Gaming A16 Advantage Edition will feature a QHD display with a 240Hz refresh rate and Freesync Premium. The display has a 16:10 ratio with a screen-to-body ratio of 90%.
Also read: Is 1440p gaming worth it?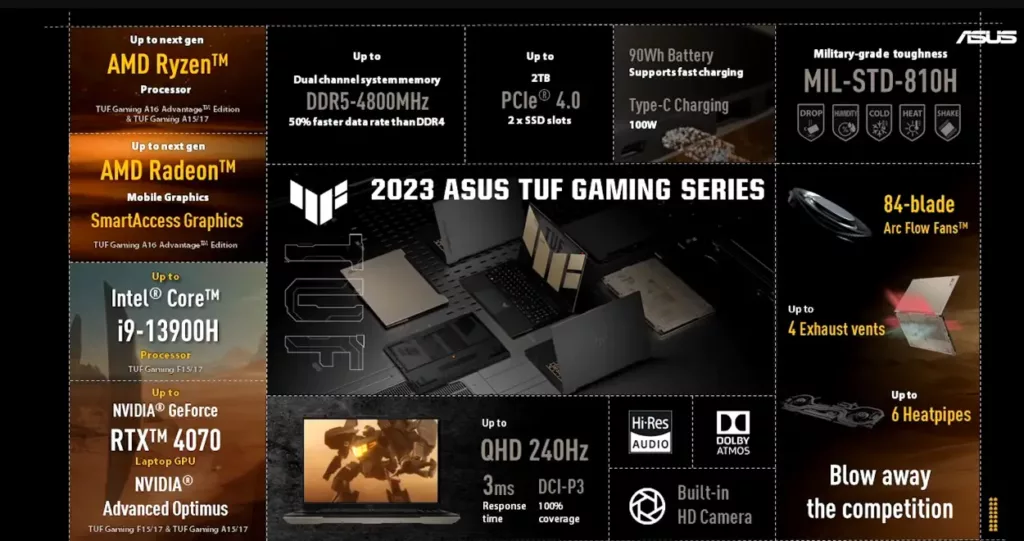 2023 TUF Gaming models will have a new colourway called Sandstorm. For cooling, the TUF models will have up to 6 heat pipes, 4 exhaust vents and 84 curve blades Arc Flow fans.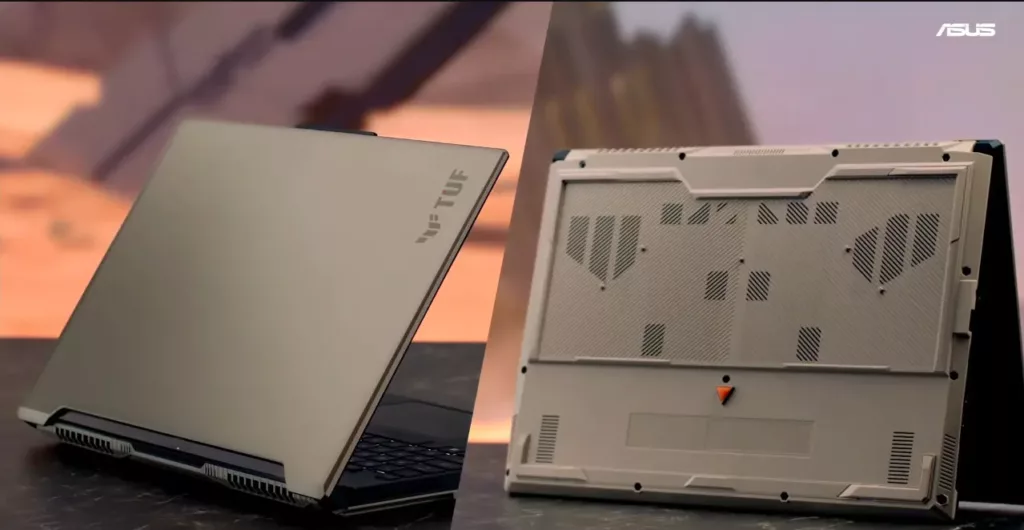 Also Read: How to buy the right laptop?
The Gaming Chromebook? Asus Chromebook Vibe CX34 Flip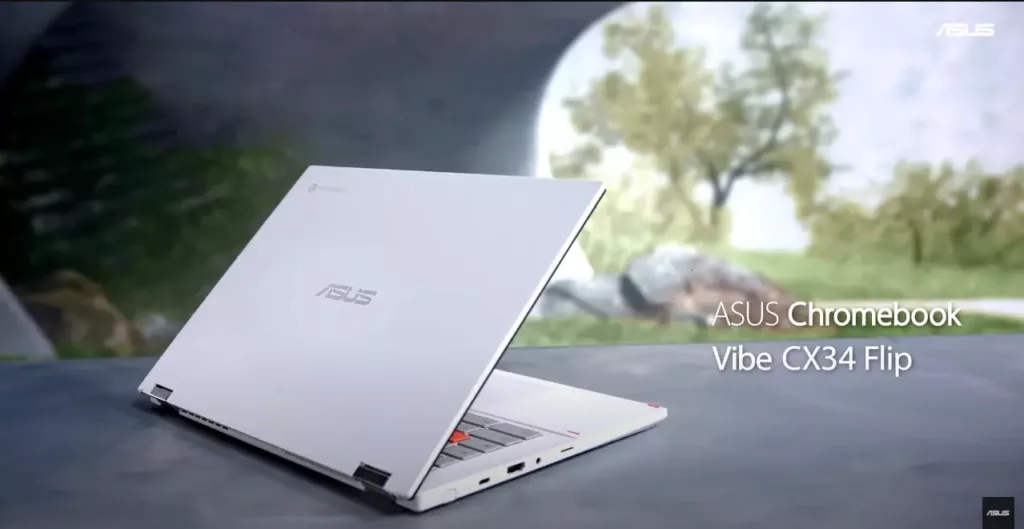 Asus is dubbing the Vibe CX34 Flip as the cloud gaming Chromebook which will feature a more premium 16:10 (WUXGA) ratio, 144Hz refresh rate display and a panel response time of 9ms.
It also features an anti-ghosting and 4-zone RGB keyboard. It will also use Intel Wi-Fi 6E for a Wi-fi connection for more stable cloud gaming. You will get a free 3-month subscription to GeForce Now along with the Chromebook.
Also read: GeForce Now will include UItimate membership with RTX 4090 superpods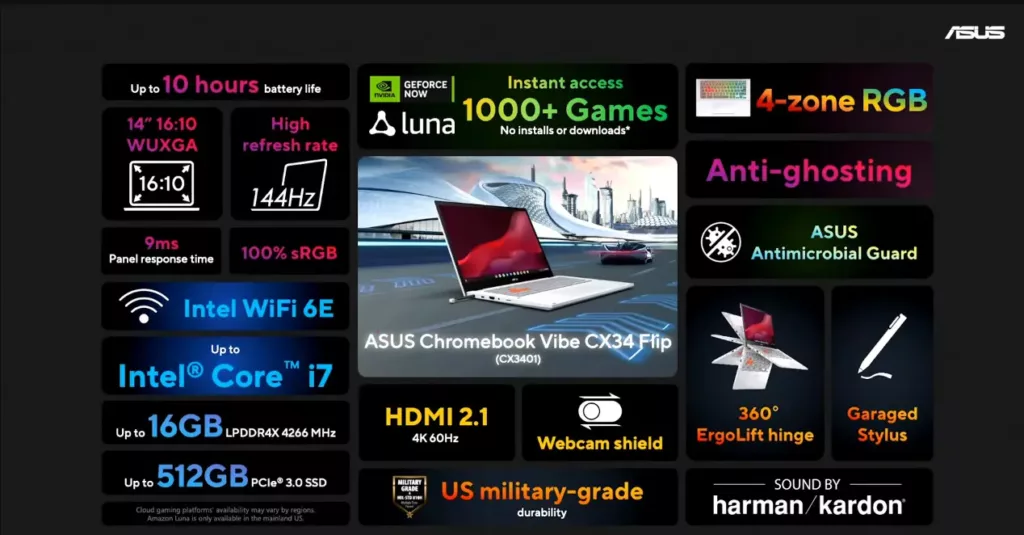 Asus also revealed a list of complete Asus Chromebook.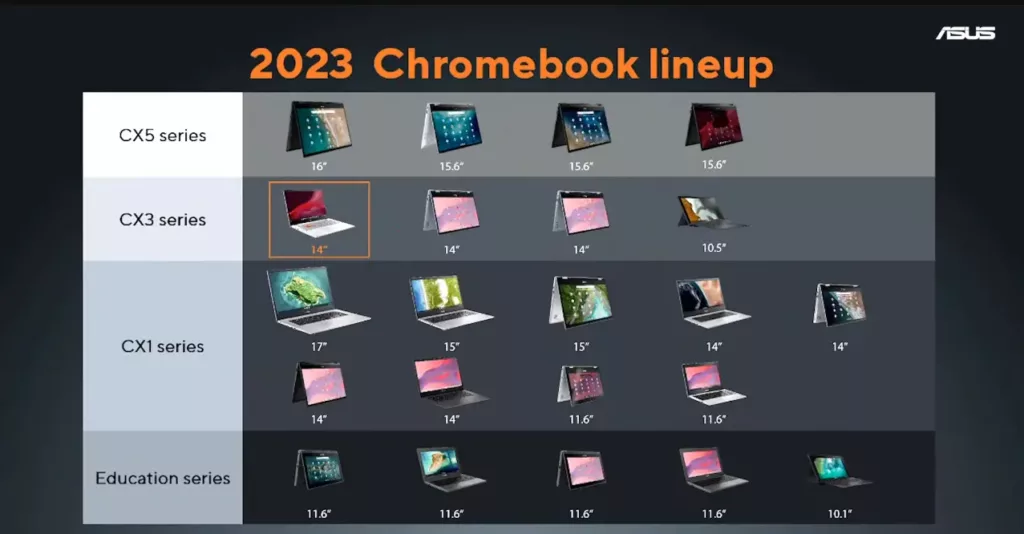 Asus ProArt Studiobook with 3D OLED display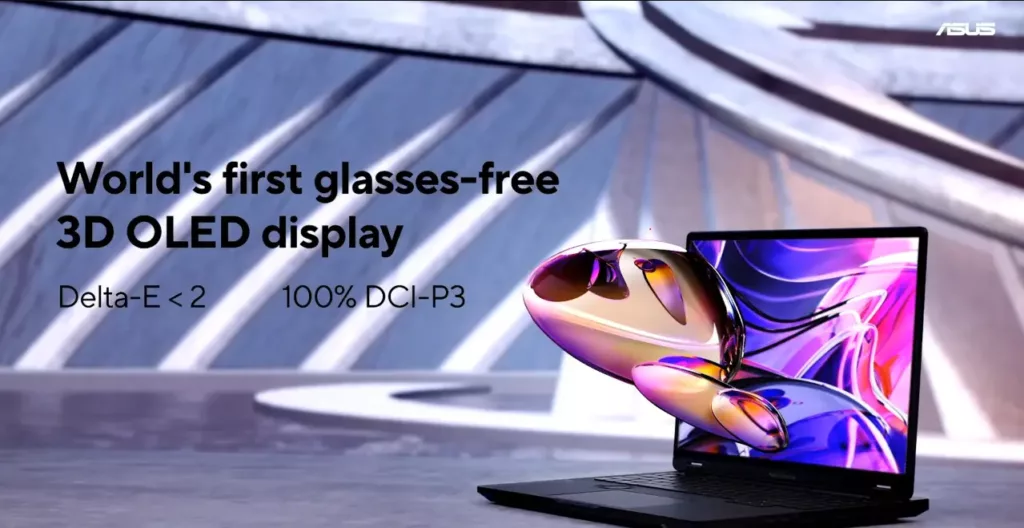 This unique laptop will feature a 3D OLED display without any 3D glasses with the help of Asus' Spatial Vision Technology. The display will feature a 3.2K resolution with a 120Hz refresh rate and 100% DCI-P3 colour coverage.
The ProArt Studiobook will be powered by Intel 13th gen processor up to i9-13980HX and Nvidia graphics up to RTX 4070 laptop GPU. It will have up to 150W of total TDP including CPU and GPU power.
It offers 2 upgradeable M.2 slots for up to 8TB PCIe 4.0 NVMe SSD and up to 64GB RAM with 2 upgradeable SODIMM slots.
Also read: Is it time to upgrade to DDR5 memory?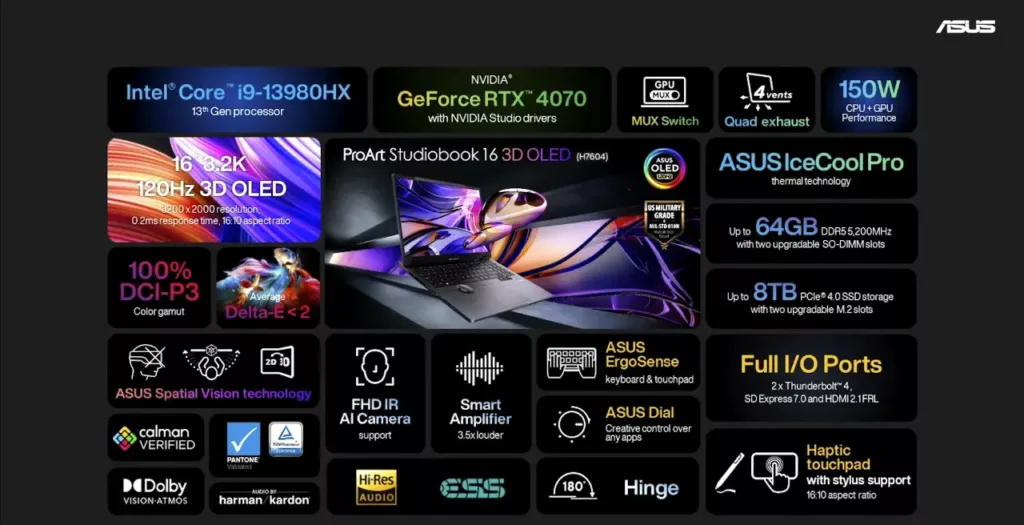 You can also flip the laptop to 180 degrees and it has a dial that lets you intuitively control some features in Adobe software, media, productivity and entertainment apps. It also supports a haptic trackpad and Stylus.
Also check: Lenovo's dual screen OLED laptop, Yoga Book 9i launched at CES 2023
Asus Vivobook Pro 16X 3D OLED
Like the ProArt Studiobook, this will also feature a similar display with Spatial Vision Technology. The Vivobook Pro is the flagship model of the budget Vivobook laptops and this laptop isn't appreciated enough.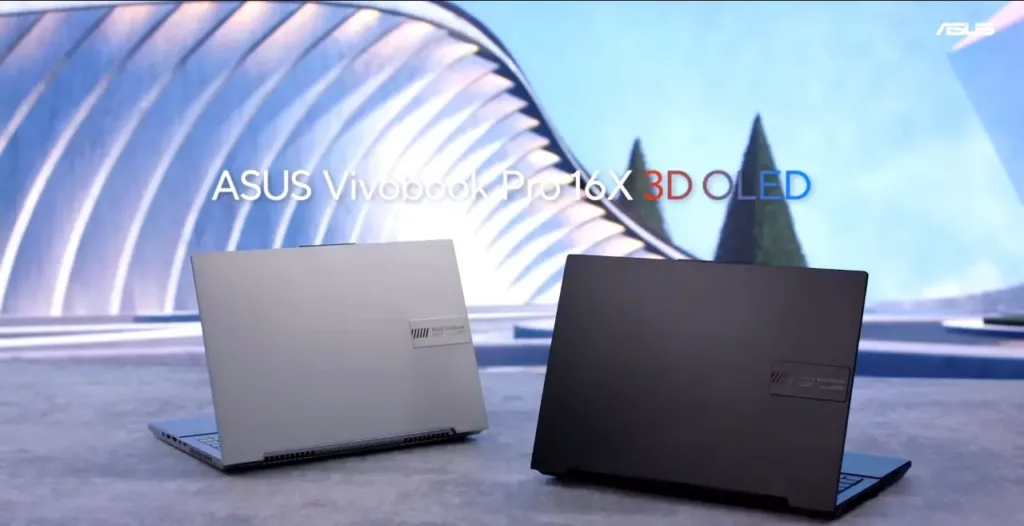 The Vivobook Pro 16X will also be powered by Intel 13th gen processor up to i9-13980HX and up to Nvidia RTX 4070 laptop GPU and will support MUX Switch. The total TDP (CPU+GPU) of the laptop will be 150W, similar to the ProArt Studiobook.
You get two choices for display; one with a 3.2K 120Hz OLED panel and another one with a 2.5K 165Hz IPS panel. It will also feature a 90Wh battery for longer life and improved cooling with thinner blades, 5 heat pipes and 2 fans and 4 exhaust vents.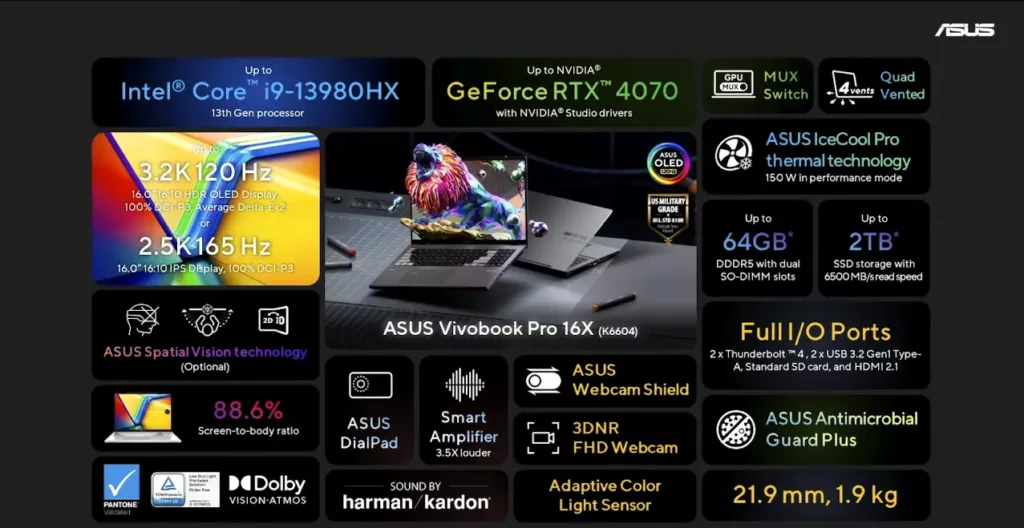 Asus Zenbook line of laptops for 2023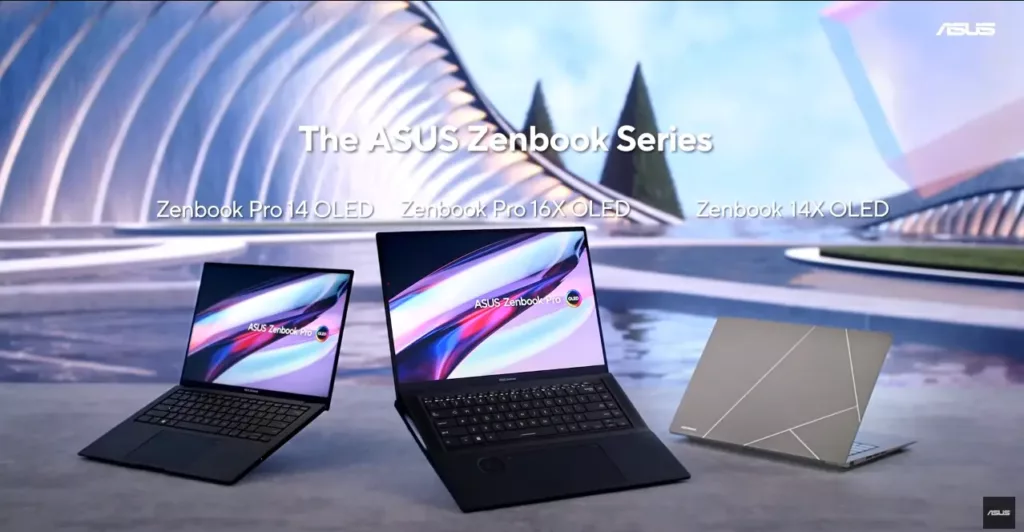 The Asus Zenbook Pro 16X OLED is the flagship model for the Asus Zenbook line and this time it will feature a unique "System-on-Module" design featuring the Intel 13th gen i9 processor.
The Asus Supernova SoM design will allow the motherboard core area to get smaller by 38% allowing more space and higher TDP for the GPU. It will also be integrated with LPDDR5X RAM with a frequency of up to 7500MHz.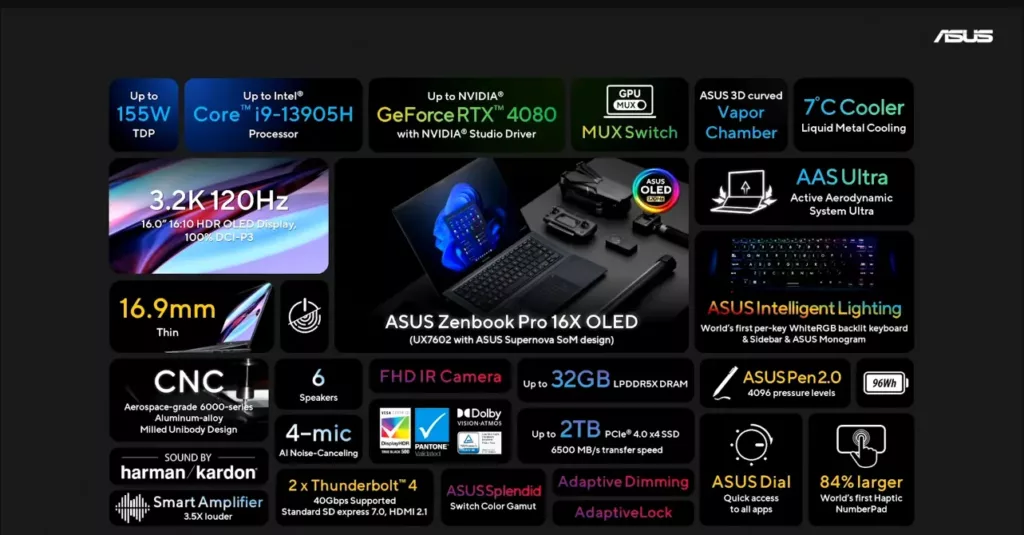 The Asus Zenbook Pro 14 OLED is a light compact laptop weighing 1.6kg. It will be powered by Intel 13th gen processor up to i9-13900H and Nvidia RTX 4070 laptop GPU (supports MUX switch) and it will have a 76Wh battery capacity.
The Zenbook 14X OLED will be similar to the Pro 14 OLED but will feature a GPU of up to RTX 3050 only.
Asus ProArt OLED PA32DCM monitor revealed at CES 2023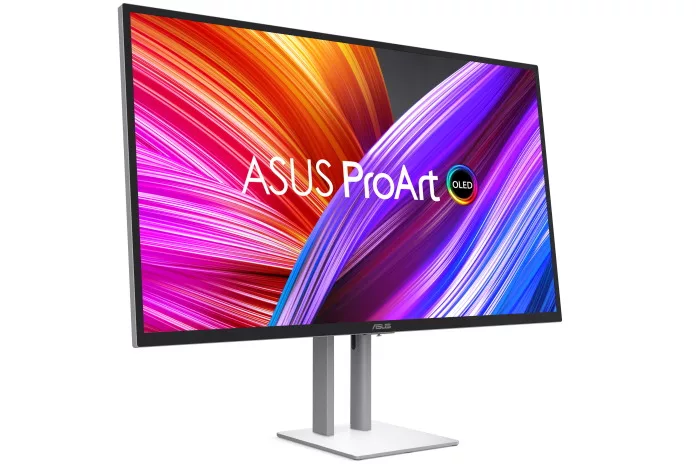 ProArt is primarily geared towards creative professionals and this monitor will feature a 31.5-inch 4K OLED panel with a peak brightness of 700 nits and a 99% DCI-P3 colour gamut.
If you are using multiple ProArt displays, the new ProArt Color Center will let you manage the colour accuracy of multiple ProArt displays. It also allows you to check when the monitor was last calibrated and set up calibration even if they are in different locations.
Also check: 500Hz refresh monitor from Asus and Dell announced at CES 2023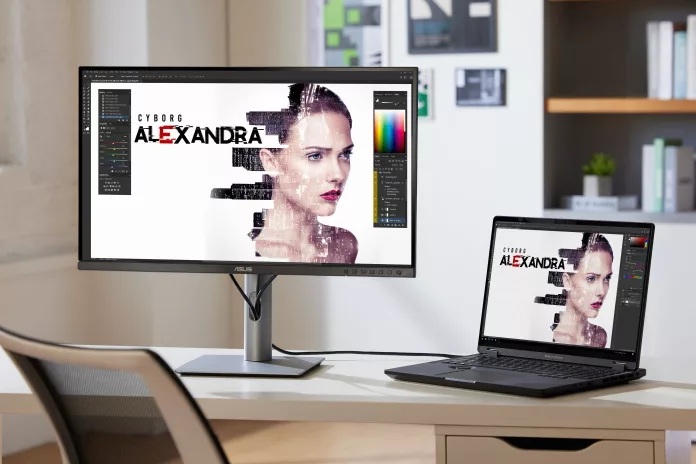 Asus unveiled another ProArt display PA279CRV which will be more economical than the OLED display. This monitor wil feature a 27-inch, 4K IPS panel and a 99% DCI-P3 & 99% Adobe RGB colour gamut.
This series will also include 24 and 32-inch models.
Asus also unveiled some mini PCs, a compact ProArt tower PC and a business-class laptop, Expertbook B9 OLED.